Win 2 Tickets to Desert Daze 2015 and Enter Another Dimension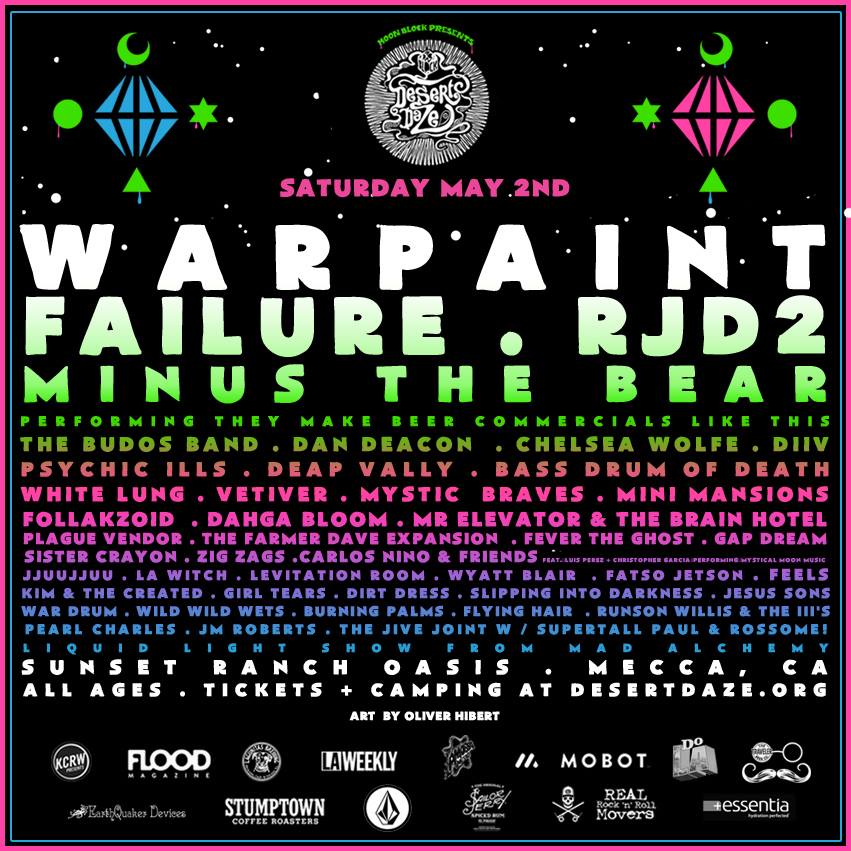 On Saturday, May 2nd, Moon Block will take over Sunset Ranch Oasis in Mecca, California to bring to you the next installment of Desert Daze 2015and we're giving away a pair of tickets to one beautiful soul.
Take a pilgrimage out to Desert Daze festival this year for the music and chances are you will come back with new friends, new inspiration and a new outlook on life. I don't think I am overstating things. There might be a chance that the lenses you are viewing your life through right now are bit dusty and scratched up. The mundane daily activities of fitting into society take the sheen off the miracle of our very existence. But there is beauty all around us that is present whether you can see it or not. Amongst all the leeches that drain the love and spirit out of the essence of our souls exists a community that connects, gives, loves, plays, sings, listens, expresses and feels. Come join us.
Conversely, you might have the world in the palm of your hands right at this very moment. You are looking for every opportunity to celebrate the amazing vibrations that reverberate in your soul. You want to connect with others who feel their blessings deeply and share all the gratitude in your heart with those without any of their own.
We want to give this to you. We want to give you music. We want to give you a ticket to experience life and the celebration of it. We want to put you in the vehicle that can unlock dimensions beyond the pineal gland. There are a billion different experiences and sensations to be had in this world. Our friends at Desert Daze have given us a pair of magic slippers to give to you to experience some of those.
We want EVERYONE to experience what we have at Desert Daze and fortunately, we have one pair of tickets to giveaway. If you don't win, rest assured that you CAN make it happen for yourself. Desert Daze 2015 is NOT like other festivals. The beautiful souls at Moon Block could easily charge triple the price for the caliber of bands and the caliber of people that will be attending, performing and participating in the event but there are enough things on this planet that are prohibited only by the cost to access them. Desert Daze 2015 is not one of those experiences. If you are not able to win tickets then you can purchase tickets here.
Contest rules for entry:
1. Share or retweet our contest posts on Facebook, Instagram or Twitter using the hashtag #DESERTDAZE2015 and tag @jankysmooth – You must share from our posts, not create your own.  On FB, make sure you grab all the text, links and hashtags when reposting.
2. Comment in the comment section of the post on our website stating you completed this step and give us a reason why we should pick you..
The winner of two tickets to the Desert Daze Festival will be selected on Monday, April 13th at 11 am pacific time.  Only those completing all the above steps will be considered. May you be blessed with either the luck or motivation to attend this one of a kind event.
Here are Phil Pirrone, father of Moon Block and Desert Daze along with wife, Julie Edwards Pirrone and Lindsey Troy of Deap Vally discussing Desert Daze and Moon Block Party.

http://desertdaze.org
http://facebook.com/desertdazemusicfest
http://instagram.com/desertdaze_official
https://www.facebook.com/moonblockparty
http://instagram.com/moonblockparty#
https://twitter.com/MoonBlockParty
DESERT DAZE 2015 LINEUP:
WARPAINT
FAILURE
RJD2
MINUS THE BEAR
(Performing They Make Beer Commercials Like This)
THE BUDOS BAND
DAN DEACON
CHELSEA WOLFE
DIIV
PSYCHIC ILLS
DEAP VALLY
BASS DRUM OF DEATH
WHITE LUNG
TEEBS (with live band)
VETIVER
MYSTIC BRAVES
MINI MANSIONS
FOLLAKZOID
MR ELEVATOR & THE BRAIN HOTEL
PLAGUE VENDOR
THE FARMER DAVE EXPANSION
FEVER THE GHOST
GAP DREAM
SISTER CRAYON
ZIG ZAGS
CARLOS NINO
(& Friends Feat. LUIS PEREZ + CHRISTOPHER GARCIA Performing
Mystical Moon Music)
WYATT BLAIR
LA WITCH
JJUUJJUU
KIM & THE CREATED
FEELS
GIRL TEARS
DIRT DRESS
SLIPPING INTO DARKNESS
JESUS SONS
WAR DRUM
WILD WILD WETS
BURNING PALMS
FLYING HAIR
RUNSON WILLIS & THE III's
PEARL CHARLES
JM ROBERTS
THE JIVE JOINT w/ SUPERTALL PAUL & ROSSOME!