The Replacements: Alt-Heads, Why the Palladium sucks and Whole Foods Blues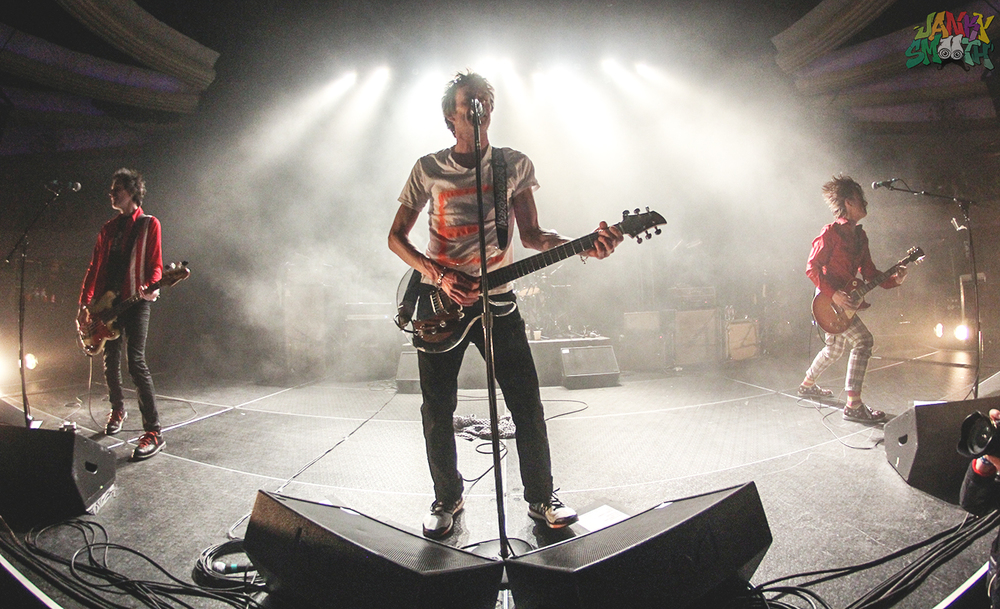 Words: Brent Smith
Photos: David Evanko
I typically bemoan the fact that kids and grownups are listening to the same music nowadays. Where that's not annoying is in the case of seeing The Replacements live—that notoriously 'unpopular' no-band band. They're hard to pin down. I mean what do you call The Replacements? They're a formidable mix of hard rock, punk, blues, maybe a hint of new wave, etc. which is why they were ultimately pigeon-holed as the godfathers of 'alternative rock' and opened the door for the bands that dominated the 90s.
I attended the 'Mats second consecutive sold out show at the Hollywood Palladium, the fourth pit stop on their 2015 Back By Unpopular Demand tour, wedged between both weekends of that big festival thingy happening in the desert (those of you who caught it last year know they rocked it on Day 1 to a scanty crowd). I arrived dodging traffic and bad noise. 7pm is an ugly time to get anywhere in Los Angeles, especially Hollywood, where they're currently building L.A.'s New Great Slums in the form of corporate-living skyscrapers with shopping malls for lobbies.
The last time I saw a show at the Palladium, embarrassingly enough, was back in 2004, when mere months before anybody knew who they were, Yellowcard, Story of the Year, and S.T.U.N. all opened for The Used. The last time The Replacements were in Hollywood was back in 1991, when nobody had heard of Nirvana, heroin was hot, and WeHo wasn't a one-percenter's wet dream.
David the photographer, AKA Minivan Photography and I both showed up wearing X-Files and Close Encounters of the Third Kind shirts, respectively. I took it as an omen, for what I'm not exactly sure. After getting our tickets from Will Call I got in the security line, and, of all things, they immediately confiscated my pen (fascists!!) It was a good pen too, one of those Precise Needle Rollerball types (so if this article sucks, you know who to blame).
David was subjected to more extreme draconian measures. Since he was 'press' he had to wait in a different line, where he was then 'escorted' to a coat-check and had to check-in his camera until The Replacements took the stage. Once they did, he would be 'escorted' to the press pit where he was allowed to shoot for 'the first three songs,' after which he'd be 'escorted' back to the check-in. "I don't get it," he lamented to me, "I've shot everywhere and nobody's as gnarly as they are…" lending credence to the ugly notion that Sunset venues west of Western Avenue suck. So we bought some PBR on bottoms up draft and drank about it, mainly discussing the virtual non-existence of music scenes in SD.
The Palladium is basically one huge pit save for the small balcony spaces on both sides, and the diehards had already claimed their front row spots.
Reading over the reviews of The Replacements other sold-out shows in Seattle, Portland, and San Francisco, I was expecting two things: 1) a rowdy crowd with a huge generation gap, and 2) theatrical antics onstage that aren't so much about the music as they are about who these guys were thirty years ago. The generation gap part was certainly the case. There was a healthy amalgam of young and old—the young weren't particularly hip but they were definitely alternative (which is refreshing in this town), and the old were the type you see working in guitar shops or still burlesquing in the few neighborhood dives that haven't been bulldozed. Needless to say, there were lots of tattoos, flannel, long grey hair, and black-rimmed glasses.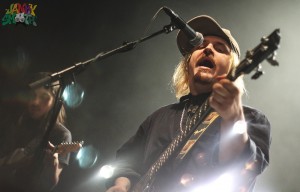 The opening act was together Pangea, a raucous 4-piece with plenty of distortion, solid bass, and hard drums, who usually play much rougher shows in much smaller venues. "Kids go fucking nuts at their shows," David told me, "I've seen them a million times. I usually go just to get crowd shots." After digging a few more songs, I realized they're what I wished the 'punk' bands of the early 00s sounded like. One lyric that stuck out—"My dick is soft, this means nothing to me."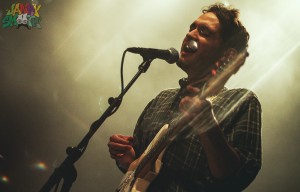 There was no shame in the amount of 'Mats shirts worn either, which was also refreshing. No sense of self-consciousness or cool kid cliques here, just love and music. And that's where my second expectation fell short. Instead of all the hoopla in the press about antics like stripping their clothes off or frontman hellcat Paul Westerberg zipping himself up in a tent, once the 4-piece post-punk collective finally materialized in front of a screaming crowd, they didn't waste any time. It was straight into the music, right for the jugular, opening with "I'm In Trouble" (from one of my favorite 'Mats albums next to Stink). It was as if Westerberg anticipated what we were anticipating and he knew there was no taking us for a ride, no room for theatrics here, in the land of theatrics—play or die.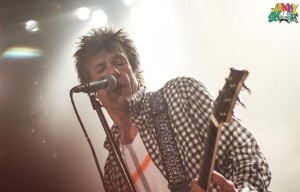 Westerberg took his jacket off revealing a white shirt with a big orange 'E' on the front that glowed in black light. (Apparently, it's a different letter every show.)
The tempo was steadfast and manic with songs mostly from the albums Tim and Pleased To Meet Me. It was a completely different set list from the previous night's show. "Little Mascara", "Waitress In The Sky", "Can't Hardly Wait", and "The Ledge" all bled into each other, including "Kissing In Action" which eventually cranked into Black Sabbath's "Iron Man", and "Bastards of Young" which devolved into their rendition of Millie Small's "My Boy Lollipop" (classic 'Mats move).
All the while I was getting knocked around trying to stay within the taped off, 'designated' areas whenever I came back from going to the bathroom or getting another beer (thanks again, Palladium!)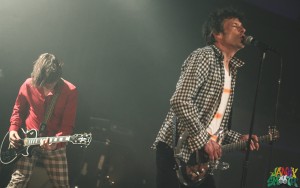 Bassist Tommy Stinson jokingly gave the audience our only chance to take our phones out and get "one good pic" of the band as they posed, after which Westerberg was quick to tell us, "Okay, now put your phones away!!!" The cheeky humor was coupled by their new song "Whole Foods Blues" –a down n' out ballad which entails the lyrics "I went down to Whole Foods to get something good to eat. All I got was attitude from your hippie hair to your punk rock feet."
Westerberg's vocals were matched by his guitar solos, still a mad, adolescent glory but also refined, controlled, cool. The show's tone was brought down to a hush when Westerberg donned his acoustic and performed "Ghost On The Canvas" and "Skyway" solo. He then breathed humor back into the room and told us, "It's tough to lose somebody… it's also tough to lose a band, where the fuck are you guys?" After which he was once again flanked by his bandmates and they started back up with "Left Of The Dial" much to the crowds' delight.
They vanished and came back out onstage one last time for an encore that started off as the Jackson Five's "ABC 123" and ended appropriately with I.O.U. and Westerberg tossing his guitar offstage.
The Replacements is a band, or rather, a spectacle a lot of people my age (30 gasp!) and younger aren't terribly in touch with. Which is a good and a bad thing. Good because it tells you they're not a band that gets shoved down your throat on KROQ or ALT 98.7's monotonous playlists. Bad because they represent a sound and attitude that the depressed, over diagnosed youth of today could use. But like all good things, The Replacements are not merely given to you, they are something to be sought out—sought out by the lost, the disaffected, the pissed off, the dissident, the malcontent. Like a Buddhist master, they appear when the student is ready.
And yet, behind all the distortion, blaring vocals, and rambunctious troublemaking is pure sincerity and sentimentality. Which may hint at why such an obscure, 'unpopular' band is somehow still being discovered year after year. Westerberg and crew ran the gamut of balls-out gusto, to not-so-tongue-in-cheek satire, to pure sentimentality, and back to balls-out gusto.
It's an authentic alt rock sound in a time when 'alt rock' no longer has any real meaning. I'm glad I was there to witness its revival.