Rubblebucket & Vacationer join the circus at The Echoplex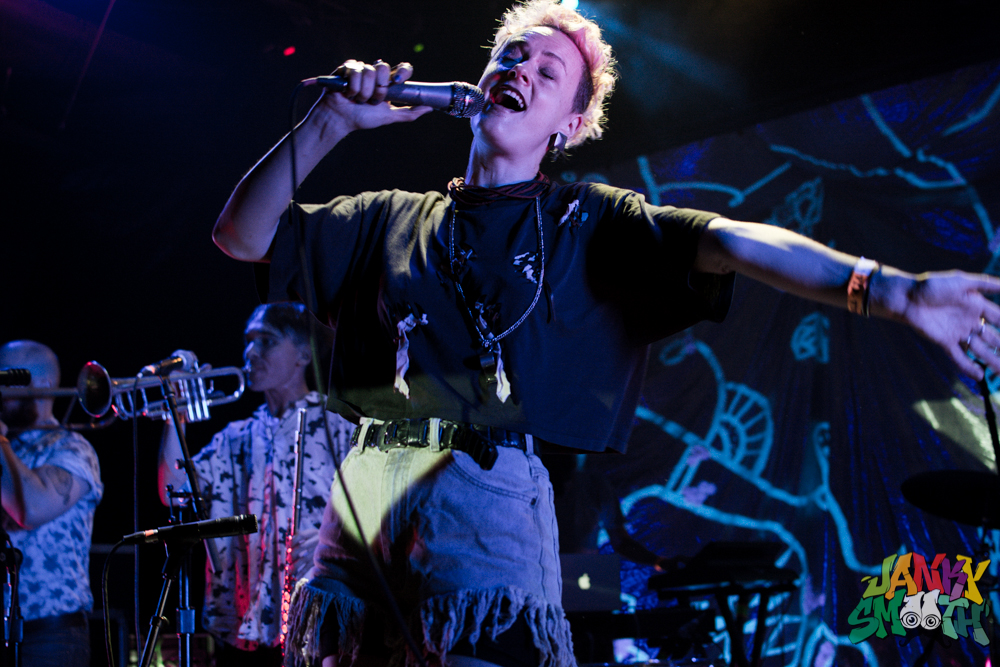 It's a Tuesday night and I found myself waiting for the doors of the Echoplex to open. I'm a bit out of it from working non-stop all week and packing as I am in the midst of moving. All of a sudden I hear a loud thud and some one scream. Someone just hit a person with their car under the bridge right next to the Echoplex. I walk over to the scene where the driver had stopped to call 911. I looked for a while and walked back to the line a little shaken up but knowing that some one had already taken the responsibility of calling for an ambulance. There was nothing in my power  that I could do to help this person at this point. No one else in line even knew what had just happened.
I didn't lose my appetite.  I walked in and ordered a couple of slices of pizza and a Red Bull. I  was unable to drink to drink due to antibiotics, so you know I am not making any of this up. The bill for the night was a co-headlined show by Vacationer and Rubblebucket, with opening band SWIMM.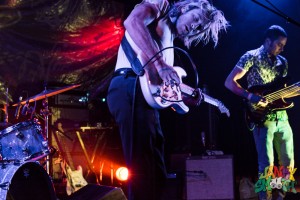 SWIMM took the stage around 20 minutes after the doors opened. I had seen them open for How To Dress Well at Sayers Lounge in Hollywood which was a more intimate setting. This was SWIMM's first performance ever at The Echoplex. They were a lot more still during this set compared to the last show which was in front of a sold out crowd. The crowd was thin but still groovin and people were even blowing up balloons to throw around.
This was day 2 of The Vacationer and Rubblebucket tour but the last night of the co-headlined shows. I got to see both bands play a 1 hour set each and you guys won't- suck it. Both these bands remind me of the kids I hung out with in high school. Very musically talented kids who probably went off to college and while in college dropped acid or ate some shrooms and realized their true potential. I call it Prep Psych. Anyway, that is just my theory since I've known many kids like these guys growing up.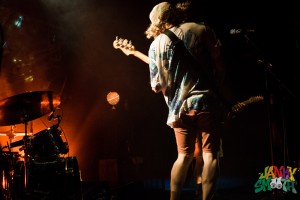 Vacationer is a Pilly based band led by front man Kenny Vasoli. Kenny Vasoli is also the frontman of The Starting Line– let that sink in for a minute. Vacationer was able to play through almost all of their newest album, Relief, as well as bangers from Gone. In my opinion every song is a banger. They open with "Good As New" and played songs such as "Trip", "Gone", and "Paradise Waiting." I've never seen such an interesting crowd. The entire audience was made up of preppy college kids and hairy pitted hippie girls on hallucinogenics, dancing like they were front and center at Woodstock. One girl started throwing raspberries at Kenny who had to ask what this gesture meant. The girl responded that it was a symbol of her love- he had no idea what to do with that. That was one thing I really loved about Vacationer- Kenny actually talked to crowd members directly. The other thing I loved about their performance is not one person was standing still.  Even I was swaying back and forth and I don't dance. This performance was very special to me because during 2012 I was couch surfing for a while and their first album had just come out. Listening to that album made anywhere I was staying, feel like home.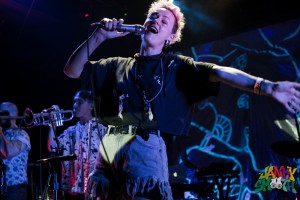 After a chance to get a bit nostalgic with Vacationer I was ready to check out something new. I had never heard Rubblebucket before today, I mean, other than in the car on the way there. I was blown away. The band consisted about 6 people with the most amazing female front woman I had ever come across- Annakalmia Traver.  There were two guys playing multiple brass instruments which included Flutes, Saxaphone, Trumpet, and Trombone. Her back up dancers, Alex Toth and Adam Dotson also had choreographed moves through out the set. The crowd was dancing even harder than they were before- participating in every direction Annakalmia took them. This set was like a crazy circus act. Alex Toth created a marching band parade as he climbed on a crowd member's shoulders and the band followed- Annakalmia was crowd surfing in her bra right behind them. At one point she even had the entire audience crouched to the floor and not one person standing. This show was the most fun I have had at a show with out drinking in quite a while.
Words and Photos: Taylor Wong