NSA Fundraiser and Launch w/ The Garden & Punk Rock Karaoke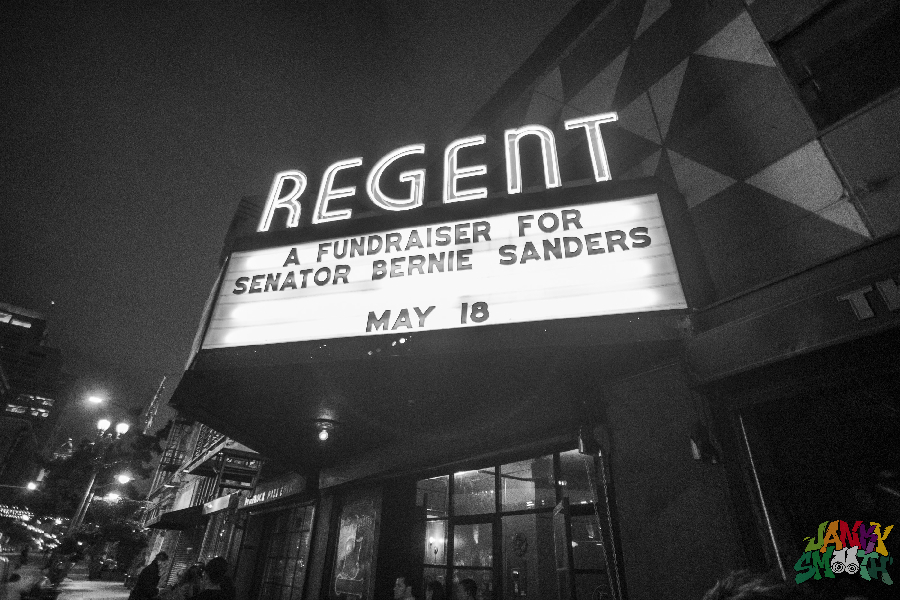 On Wednesday, May 18th, the New Sound Alliance held it's very first event at The Regent Theater in Downtown Los Angeles; A Fundraiser for Senator Bernie Sanders. And while raising funds for Sanders to insure a significant showing in the California Primary to make legitimate claims to storm the floor at the DNC Convention in Philly this July was the primary purpose of our party, introducing the New Sound Alliance to the Los Angeles music community was just as important.

There is always a fear in art, business and activism when attempting to launch a new project. While there is always a risk of bearing your heart to attract like minded people to join you in a quest for understanding and action, there is little more exhilarating in life when your passion is validated by sparking the passion in others. Young and old fans and key figures in the L.A. music scene turned out in droves to support Senator Sanders and check out some of the best, young talent in L.A., as well as to sing live Karaoke with legends of punk rock like Greg Hetson, Stan Lee, Steve Soto and Darryn Pheiffer aka Punk Rock Karaoke.

We only had about 3 and a half weeks to promote the event and in that time, our newsletter subscriptions swelled but ticket sales were slow. We poured every bit of energy we had into making people aware this event was happening, independent of the Sanders campaign and any affiliated organization. I made a lot of mistakes. I had to cut some corners. I picked a venue that might've been too large for the first event of it's kind. But the people who came out to our event filled up the room with their powerful energy and that energy transferred back and forth between entertainer and fans and filled up my heart with love and filled up my mind with rage and defiance towards the powerful forces that need to be fought to insure a reasonable existence for the downtrodden and oppressed by a rigged financial system.
The bands and fans have inspired me to keep seeking out more of both, along with people who make their business in music to continue building a critical mass of like minded people who WILL NOT allow themselves to be divided by race, gender, class, sexual preference or religion, just so that the monied interest can continue to loot our treasury and take away our rights as they poison our minds with their cable news and a poisoned environment and food supply. Their profits are not more important than the well being of the people they profit from.
Stay tuned for broadcasts from our newsletter for our next event as well as leadership meetings scheduled to happen sometime in July. Whether Bernie Sanders makes it through this primary process victorious or not, we MUST continue to build unity amongst those who support his vision. A vision that is already a reality in most major countries in the world but not here in the US where those who's bottom line would be hurt most keep telling us is impossible. Nothing is impossible.
Special thanks to Burger Records and The Regent Theater for helping us spread the word and make this first get together a reality.
Photos: Taylor Wong & Josh Allen