Phosphorescent at the Park Plaza Hotel for Day 23 of 30 Days in LA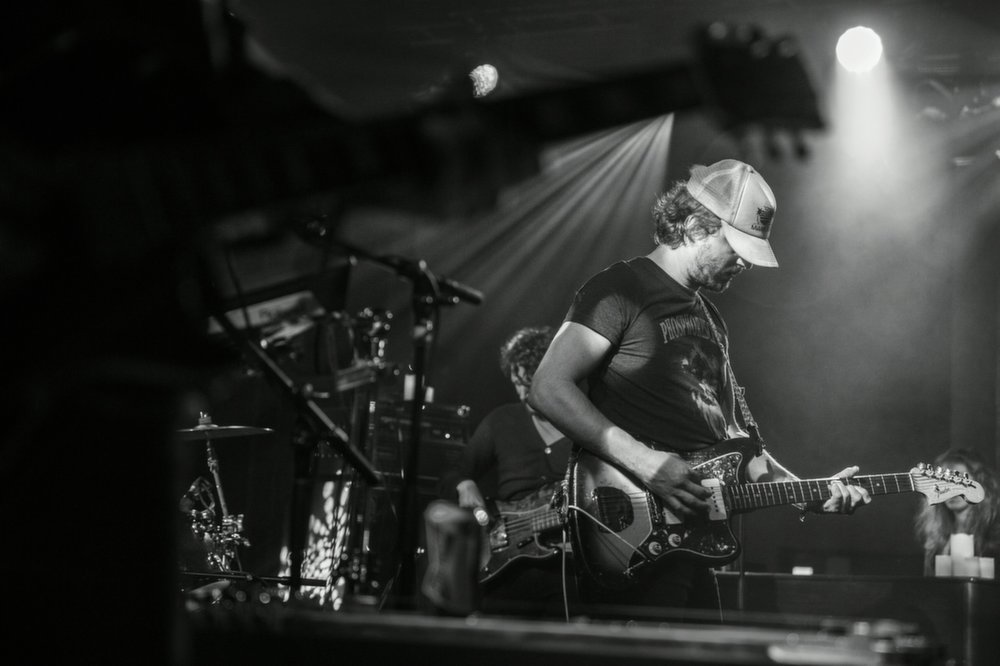 Janky Smooth chose to cover Red Bull Sound Select's, 30 Days in LA in conjunction with our launch because we totally respect what Red Bull is doing in music. It's a departure for me, personally, because I have always railed against corporate music. What Red Bull is doing is a bit different, though. They are not looking for the next Justin Bieber or Beyonce. They are looking for an army of independent minded bands who are most concerned with art, not business. Make the best music possible and they'll run the numbers and think about the bottom line.
With all the love and respect we've shown Red Bull and they've shown us, I am starting to get fatigued after 23 days. Anyone would be physically tired after working day and night but not that kind of tired. The later we get into these 30 days, the more these shows start to resemble "pay to play". In defense of Red Bull, they are the ones picking up the tab but the way some of these bands are being put together is baffling. Electro pop bands with country rock groups like Shy Girls opening for Phosphorescent reminds me of the Whiskey A Go Go on a pay to play Tuesday night. Pay to Play venues will book bands based on their commitment to pre sell tickets, rather than putting a group of complimentary bands together to keep fans of one band engaged with another band that they might have never heard before.
It's hard to criticize Red Bull too much on this point since they aren't building their business on the backs of their bands but rather, building bands on the back of their business. But as a lowly critic, it is my job to point out the good and the bad and I have already pointed out all of the good Red Bull is doing. This is really the only bad I can see, so far but the type of mismatching that has occurred on a number of occasions really puts a damper on many otherwise amazing nights of music.
This was my sentiment when Shy Girls walked off the stage after their set. They are a great band that was not my cup of tea but if they had opened for Dum Dum Girls or Future Islands, it would've given the them the type of exposure Red Bull was looking for in the first place when they decided to move forward with this massive and ambitious undertaking called, 30 Days in LA.
Red bull also added another band to the bill last minute called Little Wings that Phosphorescent mastermind Matthew Houck referred to as his favorite band. They, too, were decent enough but following Shy Girls, electro ultra pop vibe, they were way out of place with their straw hats and slide guitars.
I was not ready for Phosphorescent by the time they took the stage but Matthew Houck is so talented that it didn't take long to win over the audience who had come to see them in the first place. Houck's voice was hoarse for the first 10 minutes of the set. He couldn't hit his highest notes but he warmed up quickly and played an extended and amazing set of country rock. Houck remarked, "I guess this IS a rock show. I didn't know that coming out", suggesting that he was puzzled by the opening band as well.   The most special moments were when Houck was on stage by himself, where he could display some amazing and innovative performances of his song writing.  Songs like "Not right, you know" showed some of the incredible things that can be done with a loop pedal, guitar, vocals and nothing else. Houck layered his voice and riffs on top of each other to create some of the most lush soundscapes and harmonies I've heard made by just one man.
The crowd was thin by the time Phosphorescent launched into their extended encore. That wasn't necessarily a bad thing. By the time the band was in the tail end of their set, the earlier parts of the night were a distant memory and a very intimate audience remained to see an amazing songwriter perform to a smaller than usual crowd at the renovated and restored, Park Plaza Hotel in Los Angeles.
Words: Danny Baraz
Photos: Red Bull Content Pool