The Shrine and Dirty Fences Support Olivia Jaffe's Obey Collab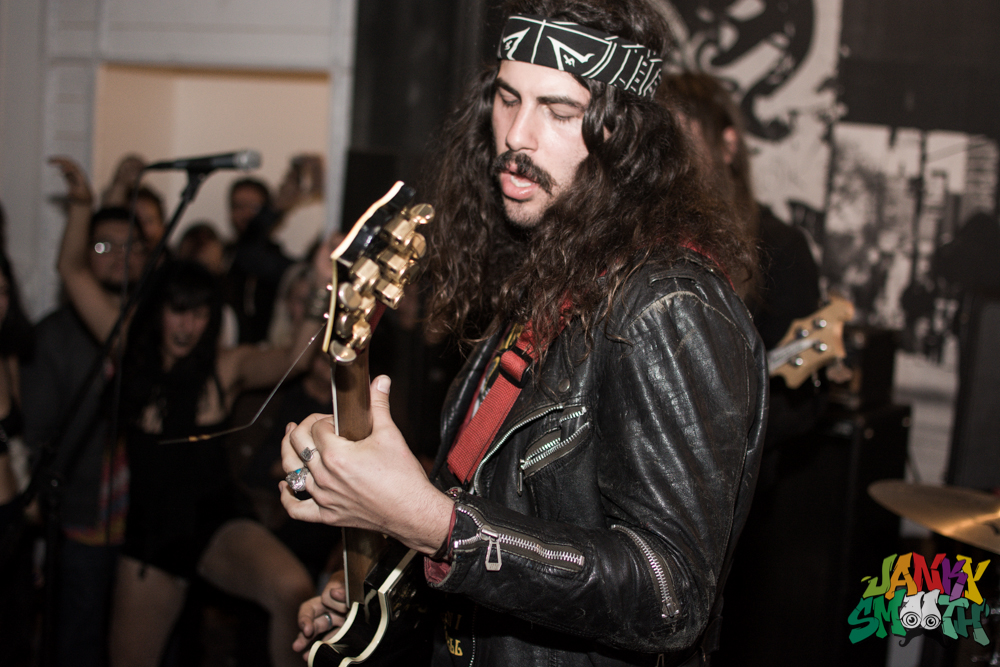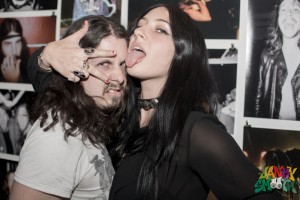 Friday night- Olivia Jaffe had a photo gallery that was over run with bikers and rock n' roll vixens that could make a grown man cry. The show was backed by sponsors such as Pabst Blue Ribbon, Sailor Jerry, Obey, Dice Magazine, Rolling Heavy Magazine, Death Lens, Ashbury, and L.A. records, making this one epic party. Oh, did I also mention Dirty Fences and The Shrine played as well? Andrew Huggy wasn't fucking around when he put this one together. In the past, Huggy has brought us some fantastic free shows with fantastic open bars, some of those previous shows had headliners such as Restavrant, Divola, and Jesus Sons. Although these parties are usually hosted at some secret motorcycle garage between DTLA and Echo Park, this specific show moved locations to a place called The Paper Agency. The Paper Agency is an awesome little art studio a couple shops over from The Well.
With a line up like this and free booze you could only expect one thing, Bikers, babes, and a shit ton of hair. The street in front of the venue was lined with motorcycles and vans straight out of the 70's. This was my kind of show. Although all the great music, beautiful women and free booze were a plus, what I was really there for was to support my old friend Olivia Jaffe's special night. Olivia and I started shooting photography together on the high school year book staff about 8 years ago. We both had a huge love for Rock N' Roll and it blows my mind that we've both succeeded in pursuing our dream of documenting it.  If you made it out to the show you were able to pick up one of the zines by Obey with all her photos in it. Also if you were rad enough to spend some dollars, you picked up one of her prints off the wall. Don't sleep on grabbing Olivia Jaffe's prints, she is one amazing photographer and is going to be huge in a few years.
Dirty Fences opened the show up with a crazy set. They have a very bubble gum punk sound, kind of similar to the Ramones early career. although their set wasn't very violent, vocalist Max Roseglass mysteriously started bleeding from his eye towards the end of their time on stage. Other than my high school nostalgia, I was fighting a mean hang over, this means I took great advantage of the open Sailor Jerry bar and motorcycle grease covered joints that were being passed around outside. I was dazed and confused. My altered state of mind had me in and out of the pit during Dirty Fences and The Shrine with my camera.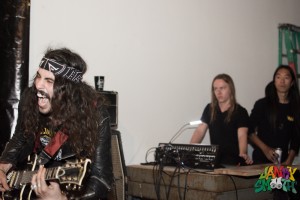 The Shrine followed up with a set around midnight with a very drunk crowd. The Shrine have really developed a following out here in Los Angeles, the entire room was packed to the brim by the time they played. Undoubtedly, their fuzzed out, rock and roll, musical purism is the reason most attendees showed up that evening.
I love shows like these where every one was sweating all over each other, grabbing onto each other and singing in each others faces. You feel this sense of unity and love when a show gets like that, even if that love is coming from a bunch of grimy bikers.  One thing I can say with pride after this show is that my Jewish brethren in The Shrine and Dirty Fences really know what's up with Rock N' Roll.  Shalom.
Words and Photos: Taylor Wong