New Album Review: Radkey- Dark Black Makeup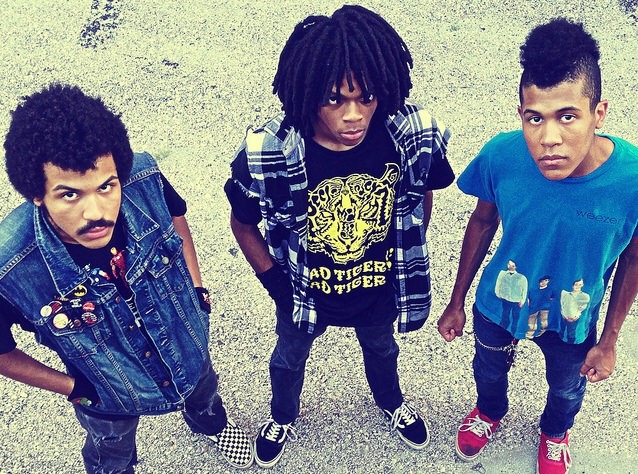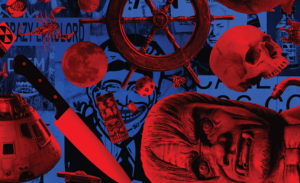 Radkey was always a young band with an old soul. Now, with a more-than-polished debut LP finally under their belts, becoming festival circuit regulars, and amassing a fan base that dates back five years, the three notoriously young Radke brothers from the Show-Me State aren't so young anymore.
Dark Black Makeup—recorded alongside producer Ross Orton (Artic Monkeys, The Fall, Jarvis Cocker)—is a testament to the work the three duders Dee (vocals/guitar), Isaiah (bass) and Solomon (drums) put into their first two EPs, Cat And Mouse and Devil Fruit.
There's definitely some mainstream appeal here, and I don't mean that derogatorily. I want to hear these dudes on KROQ someday. (If they're not already?! Clearly, I listen to KROQ).
Dee's baritone pipes makes him sound like a veteran rocker twice his age. He can also shred like one too; guitar isn't soaked in reverb; void of any noisy effects (except for maybe the awesomely dirty track "Glore"); mainly good old fashioned distortion and clever riffs; lots of great twangy solo moments. It hit me in a sort of The Cramps meets (proto-punk) Death collision, with a sheen of gritty 60s pop. Simply put, it's a solid rock album.
I know we love our subgenres, which is why honest rock is probably so hard to recognize, especially when it's right in front of our face. The press release describes the band as "blistering punk," but I get more The Black Angels or The Black Keys than I do Black Flag. The punk profile is often known to be impulsive recklessness. Radkey didn't assault the scene like FIDLAR, for example—with its meth-addled howls, cheap beer IVs, and spilled guts on the stage.
Dark Black Makeup is a punch in the face to their fellow youth nonetheless, albeit a very methodical punch. In an interview with Upset Magazine, in which they cite influences that range from Iron Maiden to Stanley Kubrick, they spoke to the album's name and title track: "A lot of young people these days… not everyone, but there's just a lot of waste. It seems that a lot of people are trying to be cool and doing whatever they feel they are supposed to do. It's like mass-produced shit. If you could just be an individual and make your own decisions, you would spend more time doing what you want to do instead of sitting around being mad at some shit. Just disconnect from whatever's towing you down." They may not be dangerous, but they're certainly saying something.
If I were to peg their sound as anything it'd be more like psychobilly rock with boyish moxie. Although, I only say 'boyish' knowing the ages of the Brothers Radke (Isaiah and Solomon are still teenagers, while Dee can now legally buy beer). Like I said—young band, old soul (as if their Old Testament names weren't any indication).
I was going to list some notable tracks, but it was hard to pick only a few. This is definitely one of those albums you can play all the way through and be surprised when it suddenly ends; you're not stuck on just a few singles. I will say that tracks like "Love Spills" and "Feed My Brain" speak to the old pop rock refrains of teen angst and dealing with school, dating, drugs, and isolation. The title song sets the tone as the first track, but I really feel the album finds its footing with the proceeding song "Romance Dawn." My favorites are "Le Song," "Glore" and "Feel".
These three homeschooled brothers have tapped into something fundamental via the psychic, distorted backdoors of the flat Midwestern void. It's definitely different than—though complimentary to—a lot of the psyched-out garage fuzz we get in L.A. Imagine The Stooges revving more pop and doing less acid. In any other circumstance, I'd probably cringe at what that analogy might sound like, but Radkey is one of those bands that gets me excited about popular rock.
Dark Black Makeup released on August 21st on CD, digitally and LP on the band's own Little Man Records under exclusive license to Strange Loop Records with worldwide distribution through Kobalt Label Services.
"Parade It" Track Stream:
https://soundcloud.com/radkey-band/parade-it
"Dark Black Makeup" Track Stream:
https://www.youtube.com/watch?v=pqkIsn70rSw
"Love Spills" Track Stream:
https://soundcloud.com/radkey-band/love-spills
"Love Spills" video:
https://www.youtube.com/watch?v=2exIQQxe8i4
Find Radkey at:
Radkey are also currently on a worldwide tour supporting Dark Black Makeup.
Aug 20 Hasselt, BE @ Kiewit
Aug 21 Hasselt, BE @ Pukkelpop Festival
Aug 22 Osnabruck, DE @ Kleine Freiheit
Aug 23 Bochum, DE @ Matrix
Aug 25 Berlin, DE @ ://about blank
Aug 26 Hamburg, DE @ Molotow Bar
Aug 29 Reading, UK @ Reading Festival
Aug 30 Leeds, UK @ Leeds Festival
Sep 01 London, UK @ Old Blue Last
Sep 08 Minneapolis, MN @ 7th Street Entry
Sep 10 Omaha, NE @ Waiting Room w/ Desaparecidos & Joyce Manor
Sep 11 Denver @ Larimer Lounge
Sep 12 Salt Lake City, UT @ Music Garage
Sep 14 Vancouver, BC @ The Cobalt
Sep 15 Seattle, WA @ Barboza
Sep 16 Portland, OR @ Hawthorne Theatre Lounge
Sep 18 Oakland, CA @ Leo's
Sep 19 San Diego, CA @ Soda Bar
Sep 20 Long Beach, CA @ Alex's Bar
Sep 21 Los Angeles, CA @ The Echo
Sep 22 Scottsdale, AZ @ Pub Rock
Sep 26 St. Louis, MO @ The Demo
Sep 27 Springfield, MO @ The Outland Ballroom
Sep 29 Atlanta, GA @ Masquerade
Sep 30 Richmond, VA @ Strange Matter
Oct 01 Hudson, NY @ The Half Moon
Oct 02 Allston, MA @ Great Scott
Oct 03 Philadelphia, PA @ Kung Fu Necktie
Oct 04 Washington DC @ Black Cat Backstage
Oct 07 New York, NY @ The Studio at Webster Hall
Oct 08 Pittsburgh, PA @ Smiling Moose
Oct 09 Toronto, ON @ Phoenix Concert Theatre
Oct 10 Chicago, IL @ Township
Oct 15 Vienna, AT @ Fluc
Oct 16 Muchen, DE @ Strom
Oct 17 Stuttgart, DE @ Zwölfzehn
Oct 18 Wiesbaden, DE @ Kulturzentrum Schlachthof
Oct 20 Paris, FR @ La Boule Noire
Oct 21 Nijmegen, NL @ Merleyn
Oct 22 Amsterdam, NL @ Paradiso Kleine Zaal
Oct 23 Utrecht, NL @ EKKO
Oct 24 Brussels, Beligum @ AB
Oct 26 Brighton, UK @ Green Door Store
Oct 27 Bristol, UK @ The Exchange
Oct 28 Birmingham, UK @ Hare and Hounds
Oct 29 Sheffield, UK @ Leadmill
Oct 30 Nottingham, UK @ The Bodega
Oct 31 Manchester, UK @ SOUND CONTROL
Nov 03 Newcastle, UK @ 02 Academy 2 Newcastle
Nov 04 London, UK @ The Dome Tufnell Park
Nov 05 London, UK @ The Dome