Makaha Bowl Jam and Food Drive 2014: Charging hard at Venice Skatepark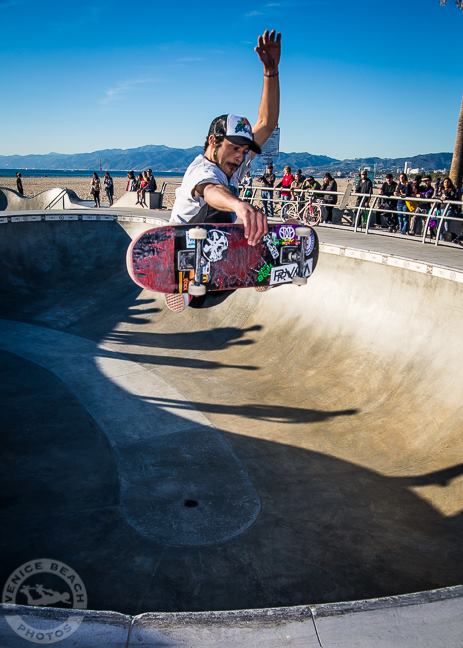 Janky Smooth was proud to sponsor this year's annual Makaha/Vans Bowl Jam and Food Drive at the Venice Skatepark. There is nothing like the community spirit that is displayed in Venice whenever surfing, skating and outreach are involved. The last time the neighborhood got together was for the Jay Adams Memorial which assembled all the the original, remaining Z-Boys and the next event on the schedule is National Go Skateboarding Day, scheduled for Jun 21st 2015.
This years Makaha Bowl Jam was originally scheduled to take place before Xmas on December 13th to get hungry folks a helping hand before the holiday. The event had to be rescheduled for Sunday, Dec 28th due to wet concrete in the bowls which is common this time of year. Unfortunately, there are hungry people all year round so feeding them is just as important before and after the holidays. You can donate, year round at the Makaha Skateboards website.
The day started at 9am with the 10 and under division. The groms charged right out of the gate and shit didn't stop until sunset when the 16 and older heads broke off stylish, clean lines throughout the snake run and the minibowl. The top 4 kept pushing each other and it was obvious, all of them REALLY wanted the win. It could've gone a few different ways but not surprisingly, Powell Peralta team rider, Charlie Blair took home the top spot. Haden McKenna, Jesus Correa and Sean Johnson showed out, as well. Check out this edit of the 16+ event at the Makaha Bowl Jam and Food Drive, shot and cut by Travis Moore
The ladies represented hard with a good turn out of competitors, tricks and good vibes amongst them.
10 and older boys was surprisingly stacked and unsurprisingly, Asher Bradshaw put on the usual, mature, spectacular performance for the crown in that division.
There is nowhere in the world I like skating more than the Venice Skatepark. Jesse Martinez and crew do an amazing job of keeping that park like a fuckin sparkling gem. Even with the surf/seawater at Venice Breakwater a couple hundred yards away, with 75% percent of the park surrounded by sand, the concrete in the park remains the smoothest, cleanest and pristine sculptured monument to skateboarding that I've ever seen. Seems appropriate since Venice is skateboarding's mother.
Special thanks to Lauren Wiley and the Venice Skate Alliance
The Makaha bowl Jam: Division Winners!
10+Under: #1 Desmond Shepherd #2 Dylan Powell, #3 Luke Kahler.
LADIES: #1 Pauline Arema Branom, #2 Sarah Thompson, #3 Roxzi Bokolas.
15+ Under: #1 Asher Bradshaw, #2 Kiko Francisco, #3 Tyler Edtmayer.
16+Over: #1 Charlie Blair, #2 Haden Mckenna, #3 Jesus Esteban Correa

Words: Danny Baraz
Video and Editing: Travis Moore
Still Photos: Ray Rae at Venice Beach Photos