Obliterations Annihilate Jewels Catch One and Leave No Left Overs After Thanksgiving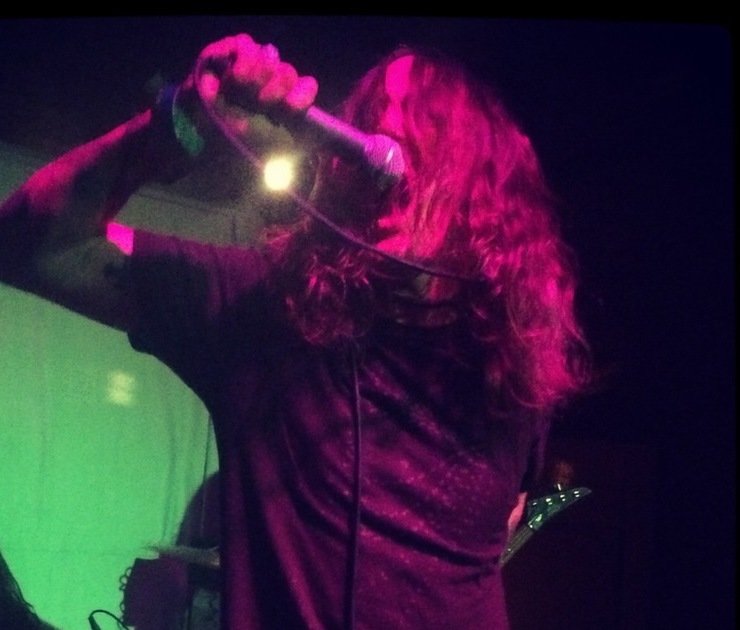 Sometimes, the soul needs to be bathed in blood to wash away the afterbirth of the current indie music scene. While I am a fan of the current psych/surf revival, I do find myself asking often- "where is the rage?"
The band, Obliterations are sand paper in a sea of soft toilet tissue. The first time I heard their album, Poison Everything, I was completely blown away by the fury and raw rage that was channeled into that release. Last night, the Friday after Thanksgiving, Obliterations brought their lack of gratitude to the newly reformatted Jewels Catch One in Mid City Los Angeles, along with openers Arctic and Creative Adult.
I got to the venue just in time to catch Arctic. Arctic is a sludgy, psychedelic, 3 piece instrumental metal band made up of pro skaters Justin "Figgy" Figueroa, Don "The Nuge" Nguyen and drummer, Frex. I had been hearing some buzz about Arctic but this was my first time seeing them live. It's good to see that skaters are still finding new lines in music. Straight punk rock was the status quo for skateboarders who popped out of the bowl to pick up instruments. Bands like The Faction, McRad and more recently, G.F.P. have set the standard of sound for skaters who can also shred on their instruments. But now, bands like The Shrine and Arctic are takin it back to a long haired, metal, stoner vibe. Figgy can really hit those guitar solos like he hits hand rails while the rhythm section locks in to a tight pocket.
Next up was the Bay Area's, Creative Adult. Ex Lifelong Tragedy front man, Scott Philips and lead guitarist, Michael Bingham are a powerful duo to front this band that can be pre fixed with every "post" moniker available. These post hardcore, post punk mindbenders can inspire both violent and hypnotic states of being. After releasing a string of EP's and participating in a handful of compilations, Creative Adult finally released a full length album this year called, Psychic Mess. The entire band was tight, in contrast to the completely disheveled appearance that Philips sported both aesthetically and in his eyes. By the time Creative Adult was wrapping up their set, the people in attendance were set in motion and ready for Obliterations to take the stage.
The refreshing thing about Obliterations is that there is nothing psychedelic about them. If one had to draw that parallel then it would be easy to see it inducing bad trips in the smelliest of peace loving hippies. I've heard them compared to everyone from Discharge, Alice Cooper and The Stooges but the truth is that Obliterations are a one trick pony that has mastered that trick very well. There is no diversity of sound and I could never see a stitch of Alice Cooper or any other cock eyed comparison that some dumb music critic pulled out of their ass. Obliterations are pure aggression and their first full length release, Poison Everything has been a staple blasting through my speakers since it's initial release on October 14th. I missed their show at Los Globos with Excel and Torch Runner so this was my first opportunity to compare their live show with their studio work and it would be an understatement to say that I was thoroughly blown away. Lead singer Sam James Velde is a madman of flailing body parts and hair and in the rare moments when his hair is wiped from his face, the look in his eyes reveal that he is most likely, a deeply disturbed individual. Drummer Flo Schanze is a hard hitting, sweat spitting machine of arms and legs. Flo and bass player Austin Barber lock into each other and guitarist Stephen McBean furiously lays his riffs on top of everyone like some deranged musical rapist. Highlights of the night included The One That Got Away, Mind Aint Right and Head Wound. The title track off Poison Everything served as the "slow jam" of the night with all it's nefarious, heavy brooding. I started moving the audience in a circle and my elbow collided with Velde's swinging mic, not knowing until this morning what a painful and sweet contusion this collision caused.
It was a sweet night of feedback and distortion. All the beautiful women were sporting a resting bitch face which is probably pretty appropriate given the mood of the music. The Shrine front man, Josh Landau was also in attendance at this show to witness the total destruction that is, Obliterations.
Words and Photos: Danny Baraz