Janky Fest w/ The Dwarves & 15 Bands Celebrating 2 Years of Jankiness
It ain't easy standing out in the sea of L.A. music blogs all looking for ad dollars, access and an invite to the after party. Janky Smooth doesn't post ads on our website and we're still not sure what the end game is here but what we do know is that it's been a hell of a ride so far. As a thank you to Los Angeles for bringing us into it's cold embrace, we bring you Janky Fest, November 19th in Outer Space from 3pm- Midnight.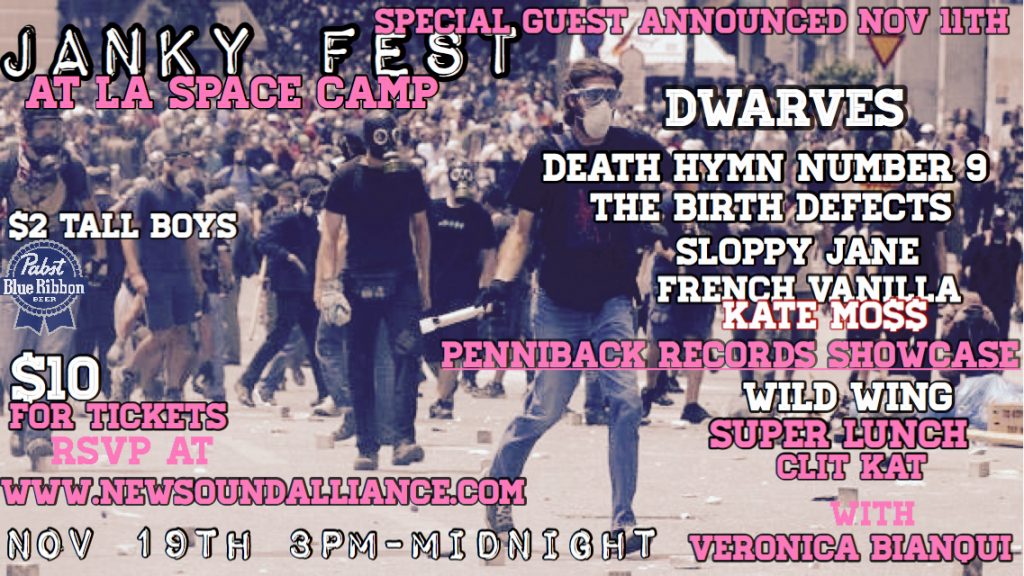 To attend Janky Fest with the Dwarves, The Birth Defects, Death Hymn Number 9, Sloppy Jane, Wild Wing and so many other bands, just RSVP by joining our newsletter at www.newsoundalliance.com and we'll get back to you on instructions for making your $10 donation to fund Janky Fest. Special thanks to Pabst Blue Ribbon for donating all the $2 Tall Boys. RSVP now before we make an announcement on our super secret special guest band that we can't publicize due to contractual obligations.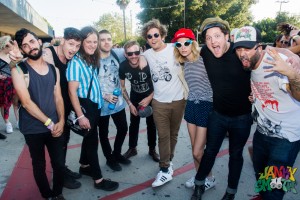 For the past 2 years, Janky Smooth has attempted to give our readers an honest take on the independent music scene that is exploding, both in Los Angeles and all around the world. We haven't been looking to gain favor with bands, venues or publicists- even though we've made some wonderful friends along the way. Sometimes, our obsessive need to tell the truth as we see it has had us fall out of favor with people we like and the gate keepers that hold the keys to the photo pit. But people who understand that we're here for the fans, not the bands, always appreciate it when we give an honest review that might be critical of a particular performance or album. Because we are fans ourselves and putting a pretty bow on a subpar performance from a band we love isn't doing them or the ear of the beholder any favors.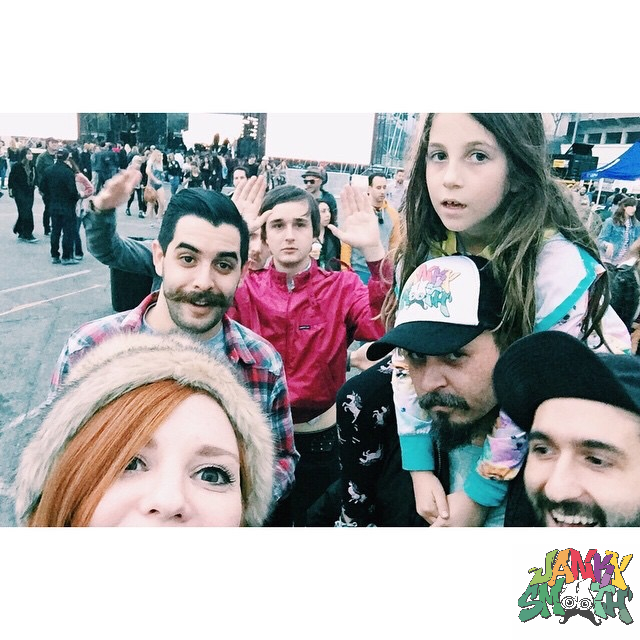 The Janky Promises by Danny Baraz
I've never had a desire to watch the show back stage- the sound is so much better in the house.
I never wanted to know the bands I listen to- I prefer not to let the sometimes shittier parts of human nature effect my love of someones music or my affection for a person allow me to compromise our obligations.
I've always had an inner dialogue at shows that's being written in my mind whether I ever transfer it through tapping the keys on my computer or not.
I always insist that our contributors never temper their opinion to spare feelings because if you can't take an honest critique, then the business of art might not be for you.
I hope this list doesn't come off as self important but I take the integrity of our publication seriously. Our end of the year lists are coming soon but here are some highlights from the past two years.
Janky Smooth launched strategically during Red Bull's 30 Days in L.A. of November 2014 because I knew some people at Red Bull Sound Select and I knew an unknown publication might have a difficult time gaining access to shows of that caliber- a lineup they have not been able to match since. Here is all our coverage from all Red Bull Sound Select events for the past 2 years. Special thanks to the first Janksters- Taylor Wong, Justin Cornwall, Dani Meigel, Travis Moore and David Evanko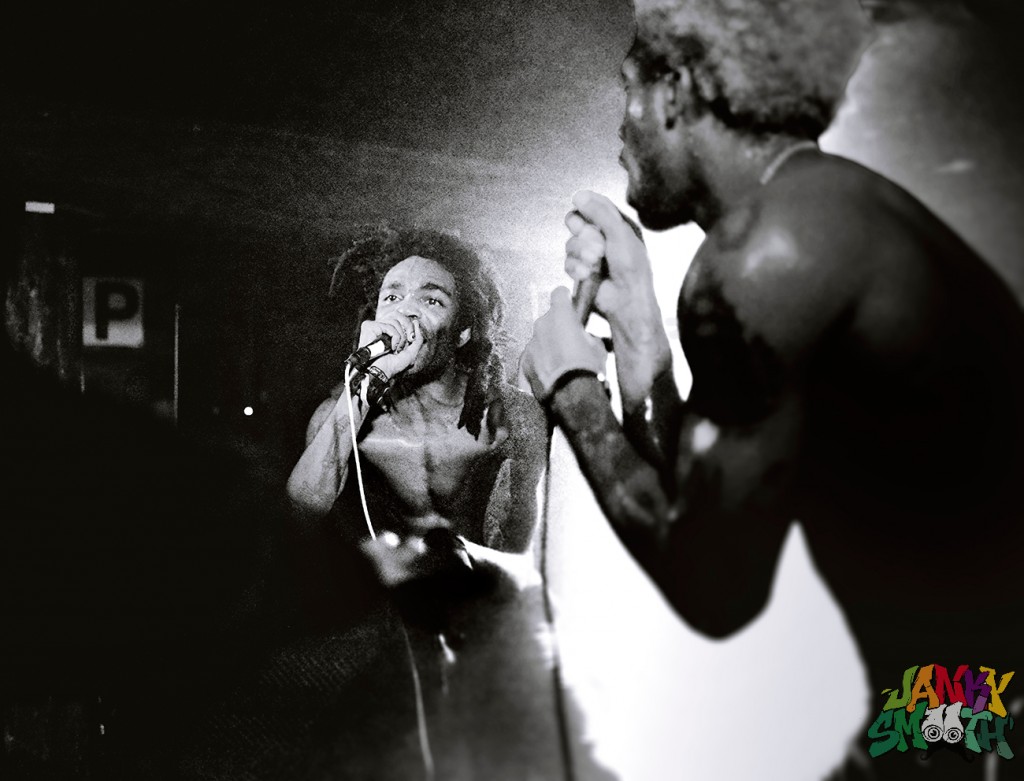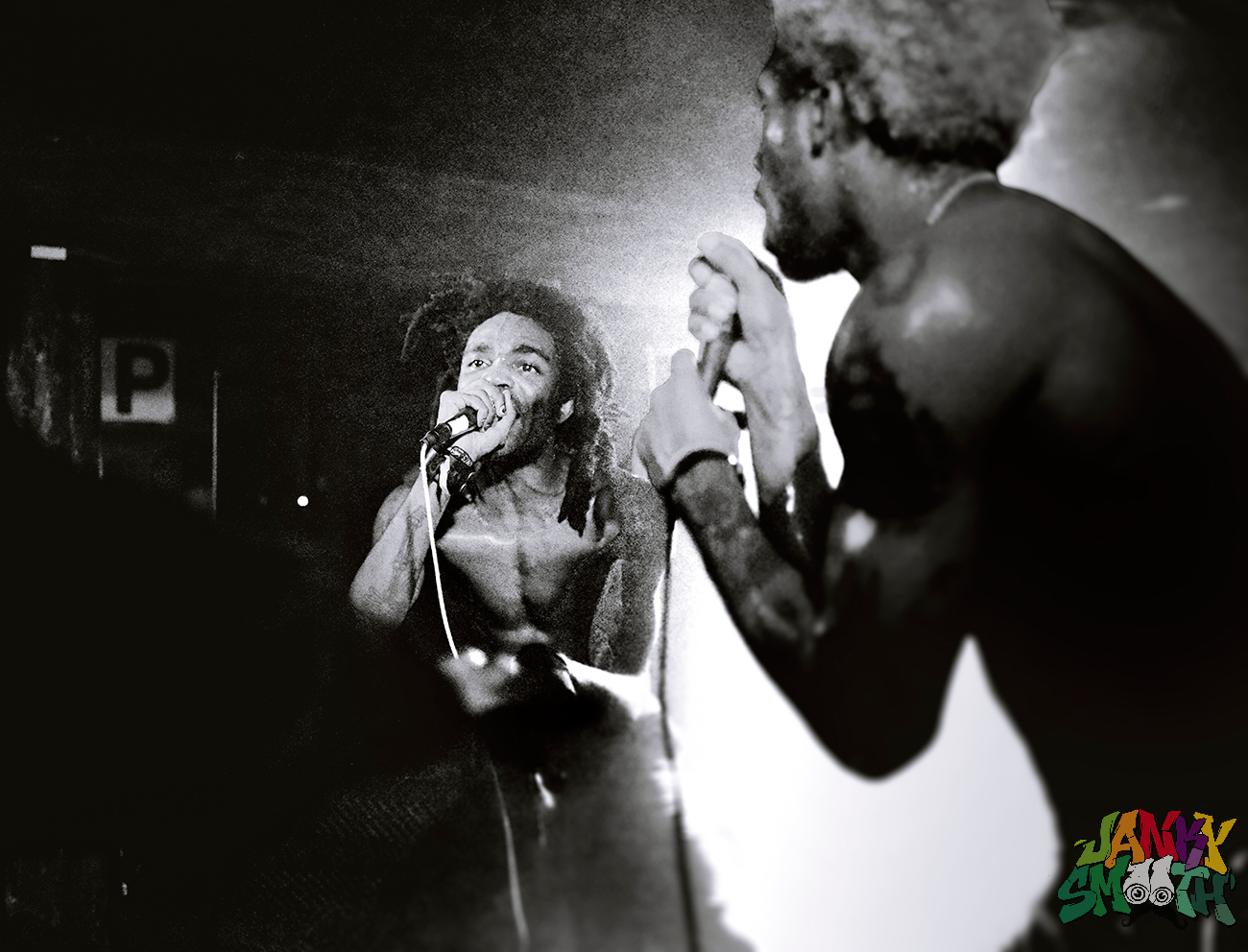 Punk Rock Bowling is an honest institution of a medium that has been exploited like any other genre. We pay homage to BYO and the Stern Brothers whenever possible.
You can't talk about Los Angeles music without talking about The Echo. Where would our music scene be without Mitchell Frank, Liz Garo, the legacy of Spaceland and the entire team? We might have a few more DIY venues in L.A. without their influence but we take the good with the bad.

Speaking of DIY venues, SAVE THE SMELL
And a shout out to one of our favorite new venues, The Teragram Ballroom and it's Jack of All Trades, Scott Simoneaux.
And of course, L.A.'s Frankensteins Monster of Promoters and Festivals, FYF.
And lastly, we here at Janky Smooth were excited about the candidacy of Bernie Sanders. I believed he could've been a transformative figure. We launched the New Sound Alliance in response to his run. The NSA will live on both on our show on Dash Radio and in other ways I have yet to determine. My outlook on politics in America has always been a grim realism but even more so now after the 2016 election. Janky Fest is not only a celebration but hopefully, a small microcosm of the healing we need after such a damaging election to the national psyche. Tune into Janky Smooth and the NSA on the Los Anarchy Station of Dash Radio Mon & Wed 6-8pm pst and Tuesday and Friday 6-8am pst.