Future Islands at The Wiltern: Torn Shirts, Gargled Roars and Bouncy Blue Orbs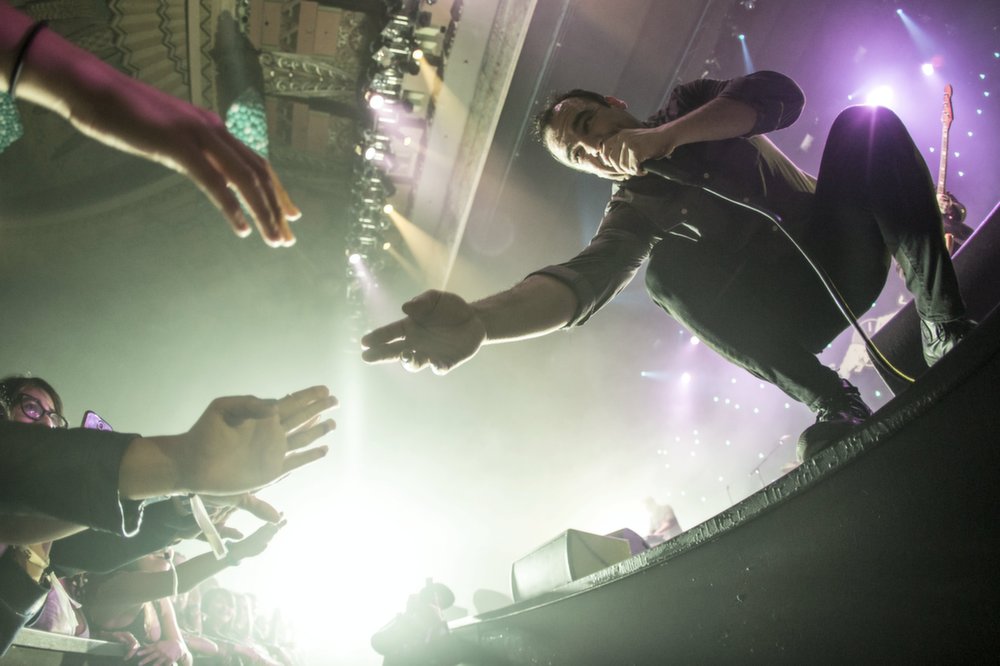 On the 20th night, Red Bull's 30 Days in LA gave us Future Islands to continue the trend of one great show after another. It was obvious everyone was driven to The Wiltern to see Future Islands and their lead man, Samuel T. Herring aka Hemlock Ernst. However, two upstarts with a very similar vibe took the stage first.
The first band, Speak from Austin, took the stage to an almost empty room. They opened with just a drum machine and synth. The young, black clad upstarts are interesting but the two gentlemen on strings sort of reminded me of a younger Skolnick and Gilbert from the Lambda Lambda Lambda fraternity. The lead's voice is high and reminiscent of a younger Ezra Koenig, at times. It took him and his crew about five or six songs to be adopted by the crowd but for the most part this crowd was saving up for the next course on the menu tonight.
I went out for a popcorn and came back to a much fuller room of jihadi hipster beards and the stronger scent of quickly smoked, fermented barley. I hurried back to my spot and noticed 4 guys take the stage in all white like they're going to a kabbalah lesson. Rose Quartz wasted no time and dropped in on an anxious crowd with their unreleased track Leaving Now. These Denver boys are neatly produced and have more potency than a lot of the analog-pop outfits that have been emerging, as of late. The lyrics felt genuine. Much of their synth arrangements reminded me of Giorgio Moroder's work on a lot of my favorite 80's films. They induced feelings of a chase. These guys were high energy, know their way around a stage with a cowbell and have a guitarist who could have been in an extra in Point Break. What's not to love? I am definitely copping their upcoming release, "Axis of Love" come January 6th!
Twenty minutes after Rose Quartz exited the stage, dinner was finally served and the plate was hot. Herring picks up the mic and immediately screams "What the fucks up, yo?!" Engaging the crowd is honestly a lost art but not tonight! Herring then collapses and whispers, "That's all I can tell". Welmers pushes a few buttons and keys that tag team with Herring with every thump and tap. What is this music?! To put  Future Islands in any genre is a sin and disservice to new, original sounding music. Herring's stage walk/dance and his calf slapping while crouching is like an indigenous war drumming ritual. At the end of every line he rushes to the edge of the stage and belts a gargled roar. He turned the guardrails and masses into a frenzied mob. By the 12th song he's torn his shirt from the chest pounding and his heaven reaching roars. The synthesizers have become our pacemaker. Every lyric is being sung back to him. Lovers in the crowd are embracing and jumping up and down as if no one could get high enough. This mad man is more punk than EDM. His primal roars rip a hole in the ceiling to signal the release of the blue orb balloons from the top of the Wiltern and onto the manic crowd, as he preaches to us about the seasons and the longing we all have felt at one time or another.
Words: Amir Kashani
Photos: Red Bull Content Pool