Your Peace is our Peace: David Lynch's Festival of Disruption at the Ace Hotel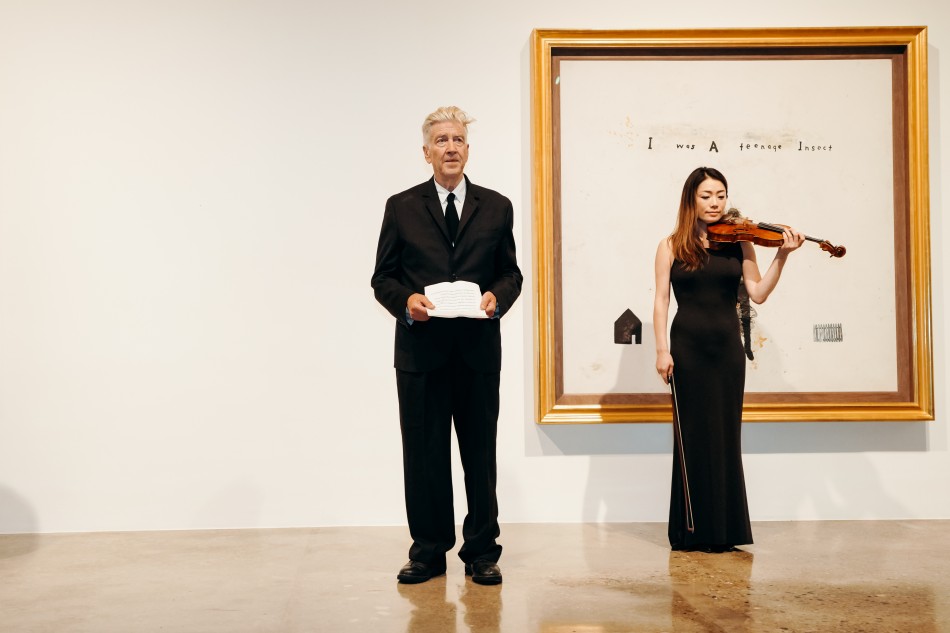 My relationship with Transcendental Meditation began with my admiration for the cinema of auteur filmmaker, David Lynch. For the longest time, Eraserhead was my favorite movie. Lynch was able to synthesize certain abstract ideas that invisibly reside in the air and within the deepest part of our souls into images the heart understands but the mind cannot completely rationalize.
David Lynch credits arriving at these ideas to Transcendental Meditation, a specific form of meditation influenced by Vedic tradition and popularized by Maharishi Mahesh Yogi, the man the Beatles once considered their guru. I was so in love with David Lynch's directing style that I decided to attend a Q & A that he was participating in but not the focal point of. The focal point of the Q & A was Dr. Norman Rosenthal, who was discussing his book Transcendence: Healing and Transformation Through Transcendental Meditation. Dr. Rosenthal spoke about the psychological, emotional, professional, and health benefits of TM while David Lynch gave us his take on the creative benefits. At one point in the discussion, Vice President of The David Lynch Foundation, Bob Roth, told the audience
if anyone wanted to learn TM but couldn't afford it they could write him a letter requesting lessons. After the Q & A was finished, I shot out of my chair to Bob and got his email. Bob Roth received my letter, read it, and gifted me free TM lessons.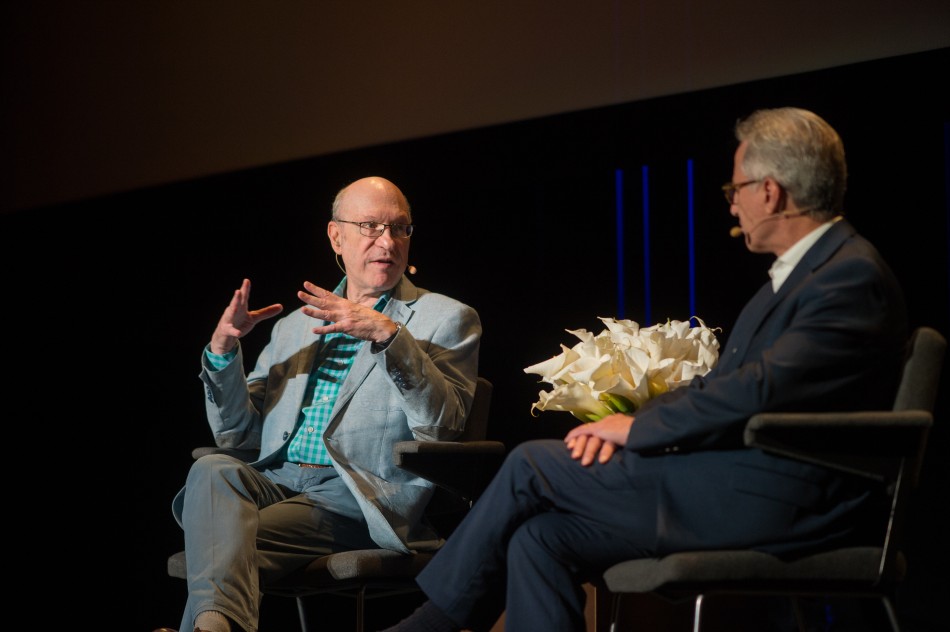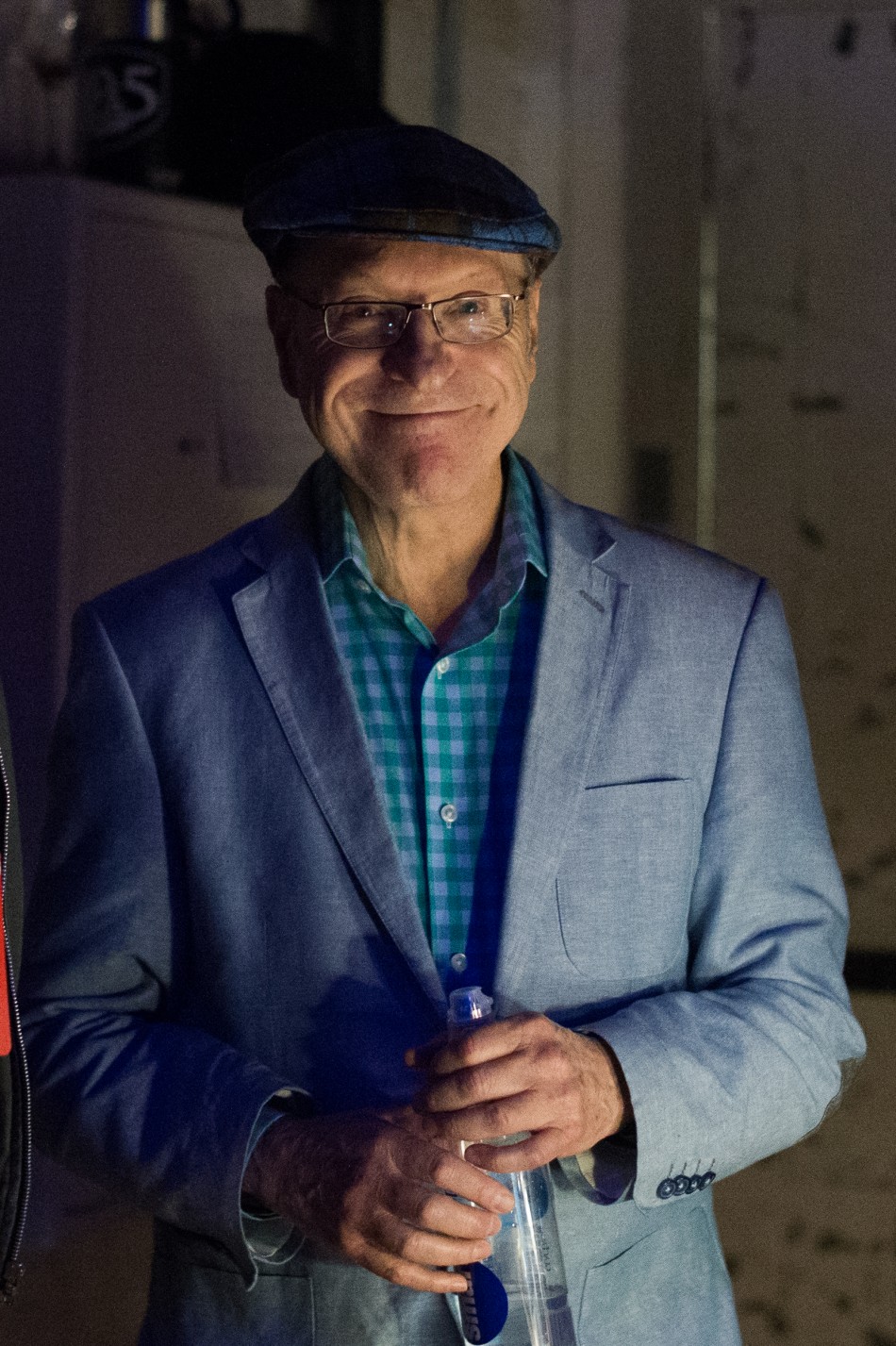 The mind is a vulnerable organ and when you tinker with it using its own natural mechanics, it's an intense and visceral experience. When I first practiced TM properly, it was so intense, I cried. I could feel my "Self" shed its baggage and shrink to its most essential element. That "Self" then sort of went on a deep dive, as if in the ocean, swimming through the murky black waters of the unconscious. Every beat of meditation felt like a swimming stroke through a thick liquid, constantly treading deeper down into an aether within. There's a texture to that aether, almost a weight. The body resists this process of the mind trying to reach the bottom and mundane thoughts enter your head to thwart your progress to transcendence. If you meditate long enough though, you reach this bright, surging treasure and pleasure point of pure joy. Arriving here turns your mind into a happy goop of sorts. A goop so joyous and peaceful that you know, all people deserve to feel this. David Lynch always quotes Luke 17:21 to make the point that this wellspring of happiness in each of us has always been known of by the sages of history.
"Neither shall they say, 'Lo, it is here!' or 'Lo, it is there!' For behold, the Kingdom of God is within you." – Luke 17:21, King James Bible
You see, Christianity's mingling with Eastern traditions, namely Buddhism, led to similarities in Christ's and Buddha's stories. These two heroes had the same goal: Transcending death. Lynch is surely aware of this thread between the two philosophies and as someone that understands the nuances of the language of cinema, I believe he alludes to transcendence of death in his work. I sometimes wonder if David Lynch believes TM can awaken some ability to avoid death, which was the reason why the Buddha used meditation in the first place, he didn't want to die.
Two examples of David Lynch films that feature moments alluding to this concept are 1) In Twin Peaks: The Return, when Agent Dale Cooper is stuck in the black lodge (a representation of this unconscious space within us all that connects us all) then escapes the black lodge by taking over the body of Dougie Jones. 2) Bill Pullman's character in Lost Highway, saxophonist Fred Madison, is sentenced to life in prison and to escape, he takes over the body of Balthazar Getty's character, mechanic Pete Dayton.
Here we see two instances of escaping a physical setting only using the mind. The Buddha transcended the prison of his body using meditation, these characters transcended their own literal prisons using the mind. This method of escape connects two characters in each story. But it connects more than that. If the aether within is a place we can all enter and connect in, in theory, we can use this aether as a highway to enter each other. Both Agent Dale Cooper and Saxophonist Fred Madison used this highway, the universal unconscious within, to enter different bodies as a means of escape.
Phew. I'm glad I got the philosophical film analysis portion of my review out of the way. Sorry about that, everybody. Just had to get it off my chest. Now I can get to the Festival of Disruption. The David Lynch Foundation's annual two day festival at the Ace Hotel gives people a place to enjoy meditation, music, speakers, film, coffee, and donuts. This was the festival's third year and my first time attending.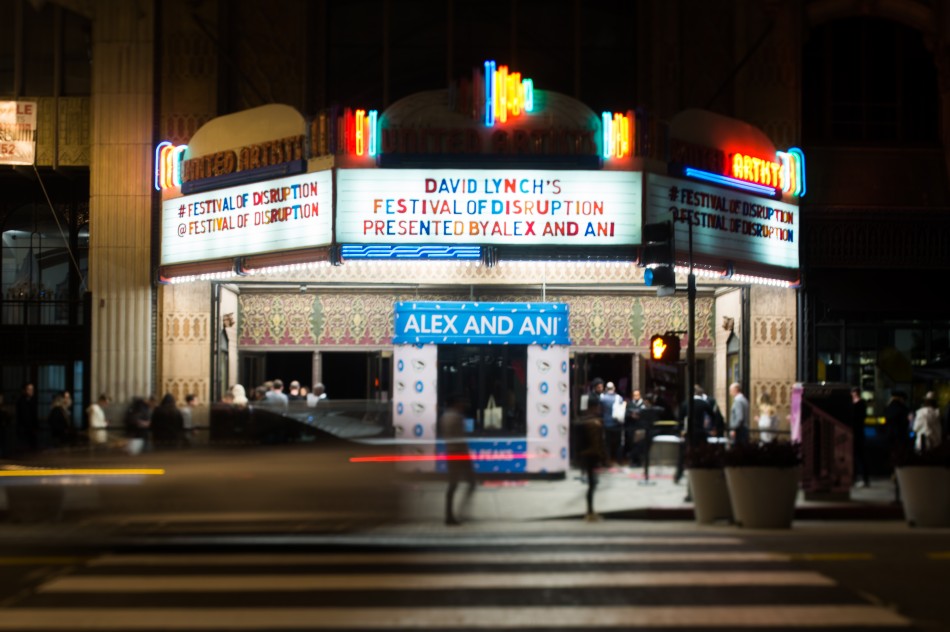 DAY 1
I arrived on day 1 in time to see Bloodlight and Bami, a documentary closely following Grace Jones on her tour through her homeland of Jamaica. The film delved deeply into the charisma, mind, and style that makes this performer so iconic. I understood above all things Grace Jones is a professional. In her own words, she can put on a stellar show as long as she has a stage. If the lighting and sound malfunctioned and she forgot the words to her own songs, she would still put on a jaw dropping show. After the film, Grace Jones took the stage with Judith Casselberry to answer questions about the documentary and her career. Grace Jones' beauty and power were so palpable, the audience was infused with jive just watching her speak.
The highlight of the festival was Liminal.
lim·i·nal

|

\

ˈli-mə-nᵊl

\

1: of, relating to, or situated at a sensory threshold : barely perceptible or capable of eliciting a response. liminal visual stimuli.

2: of, relating to, or being an intermediate state, phase, or condition: IN-BETWEEN, TRANSITIONAL in the liminal state between life and death.
Liminal was a sound bath experience taking place on the 11th floor of the aptly named Cooper Design Space. You walk inside and are immediately immersed in a red haze, only being able to make out the vague impressions of people's bodies strewn all over the floor on mats, balloons randomly dispersed through the room, and the numerous candles that rested on the ground. I found a mat and laid down to have my senses tested and manipulated by the aromas, sounds, and sights. Atmospheric music provided by Jonsi of Sigur Ros, Alex Somers, and Paul Corley soothed and disrupted the mind with mellow vibrations and visceral noise. Jonsi's voice soared on top of these insane sounds to make for a discomforting balance between harsh and soft. Meanwhile, the lighting danced down the color spectrum and four half-nude men walked along the spiral of candles until reaching the center for an interpretive dance sort of performance. I walked out of the building with a contact high, my mind disassembled like a jigsaw then put back in place after having let each piece have a moment to apart to breathe.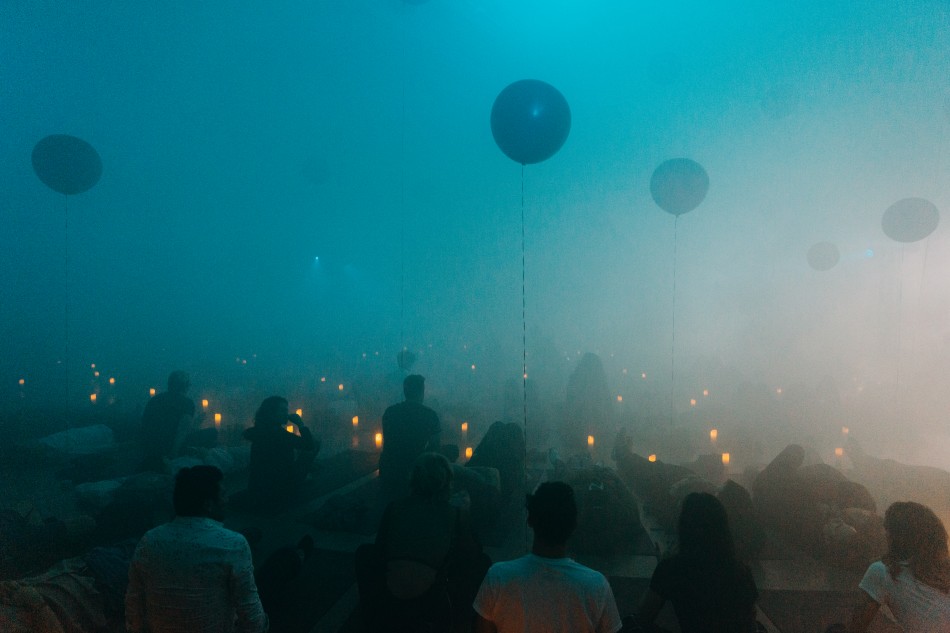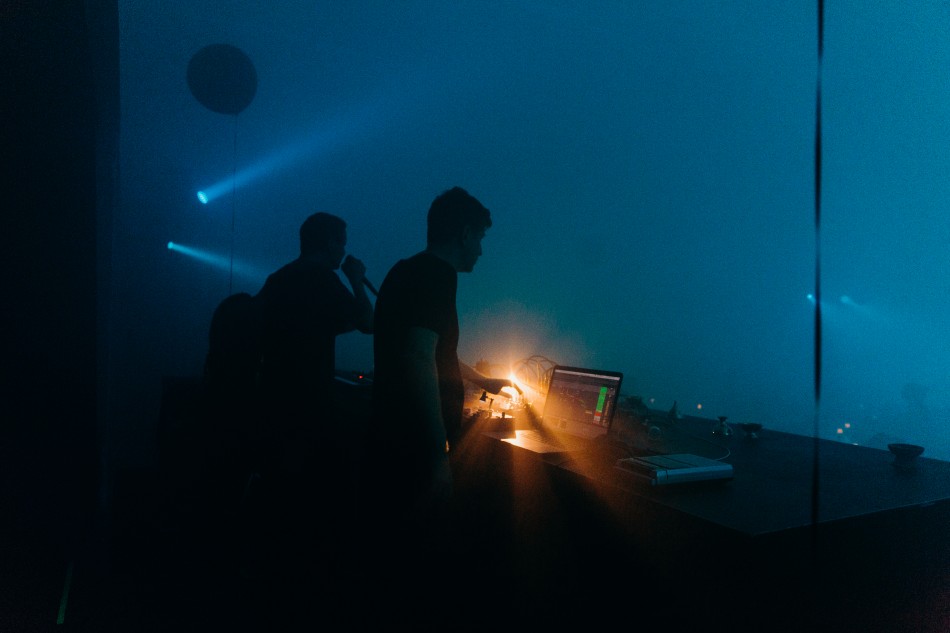 The night's music began at the Ace Hotel Theatre at 7:30 with Justin Johnson playing a set in the lobby. His grungy, blues guitar licks were the perfect supplement to the Lynchian images every attendee carried with them in their heads.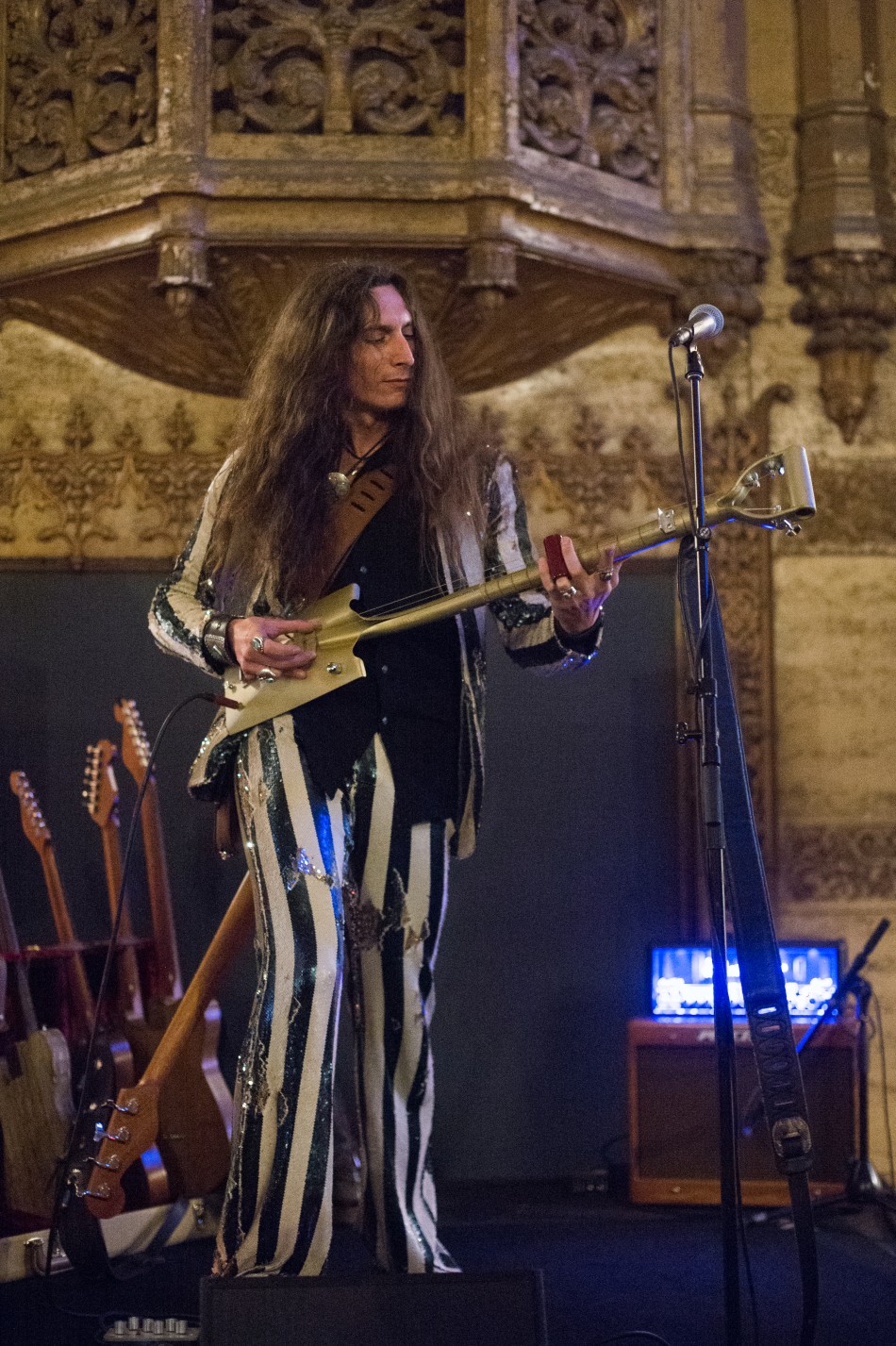 Taking the main stage in a purple suit was legendary doom metal guitarist, Dylan Carlson of the band Earth. A son of Seattle and sonic brother to former roommate Kurt Cobain, Dylan's guitar work really let you soak in every nuance of his riffs. Without lyrics, the set let your mind fill in the narratives of each song.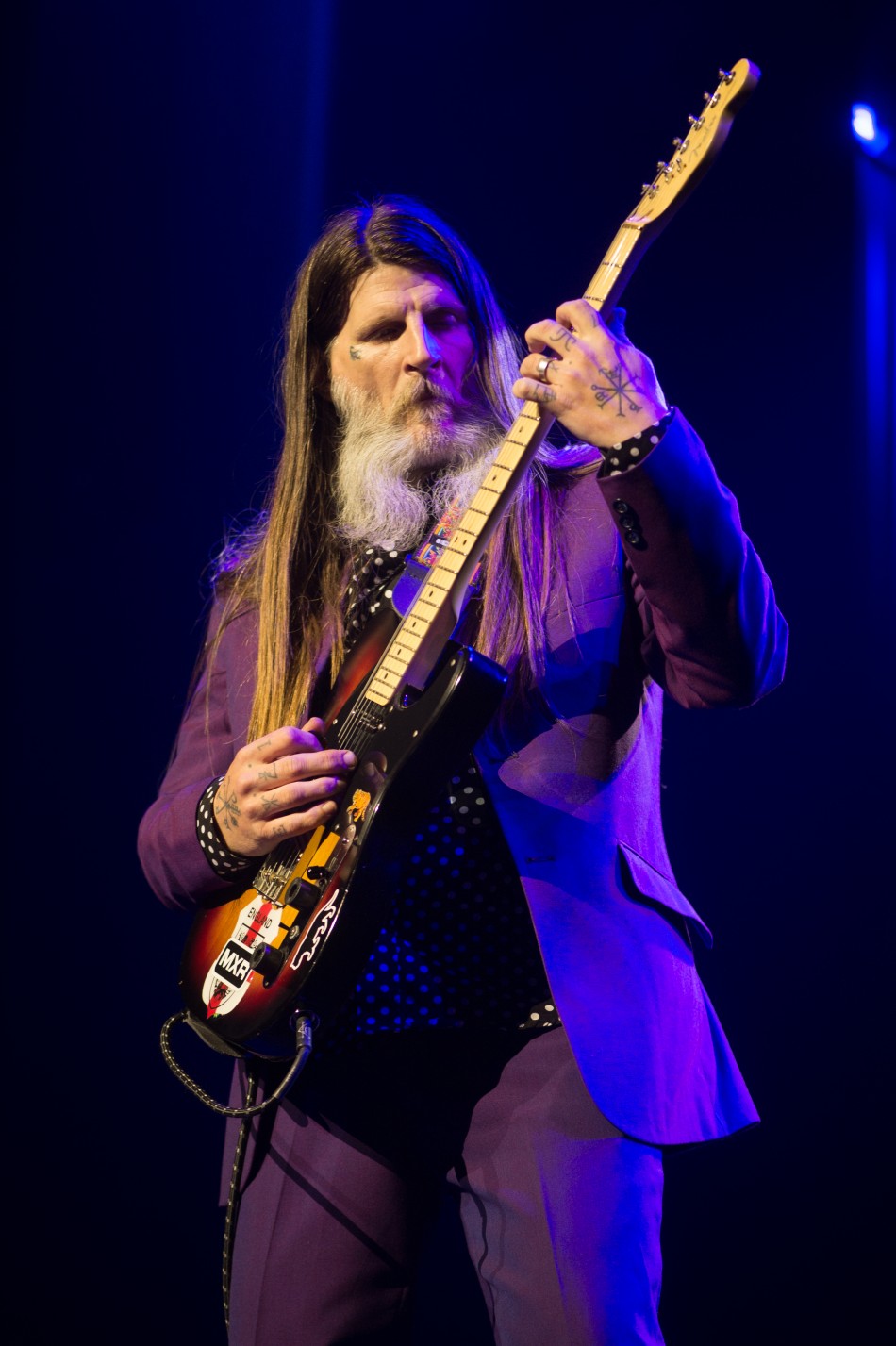 Performing a David Lynch inspired drag show in between music sets, Katya, came out dressed as Laura Palmer in a plastic body bag then stripped down to a dress with zig-zagging black and white stripes ala the Black Lodge. Lip-synching to the Twin Peaks theme "Falling" and Llorando's "Crying" from Mulholland Drive, the audience loved her performance.
One of the biggest draws for me at this festival was Mike Patton and DJ QBert. Their performance of "Falling" tore my heart to pieces and let the light inside shine. It was a rapturously beautiful thing to hear those lyrics coming out of Mike Patton's mouth. The erratic and epic nature of Mike's musical tastes allowed their set to span various genres then take radical turns in difficult directions. In line with the festival's theme, this set challenged boundaries.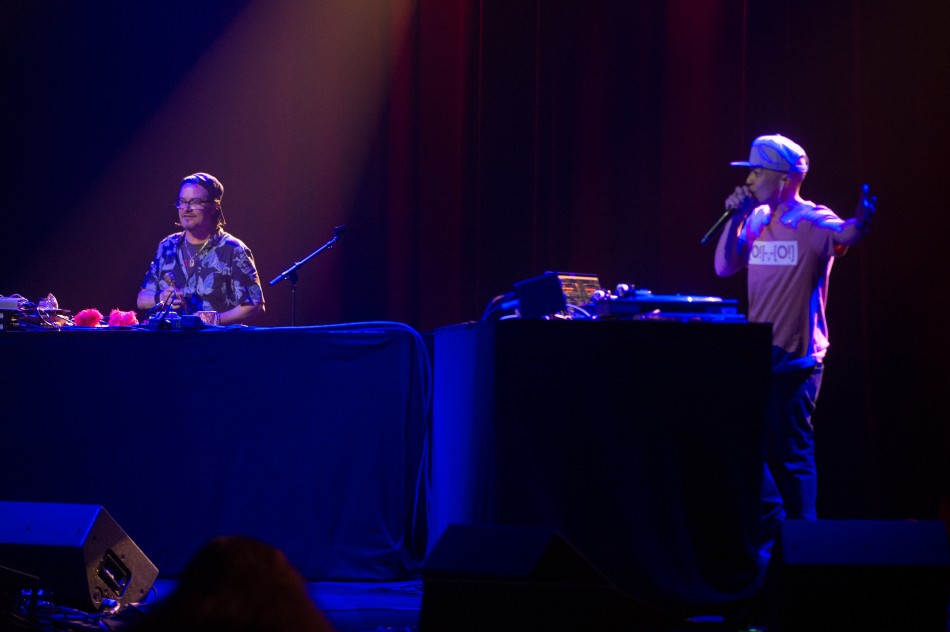 RZA of the Wu-Tang Clan was next to perform a live score to 36th Chamber of Shaolin. It was one of the coolest cinematic experiences I've ever had but musically, I can't tell you I wasn't wishing the RZA would step away from behind the decks and start spitting bars.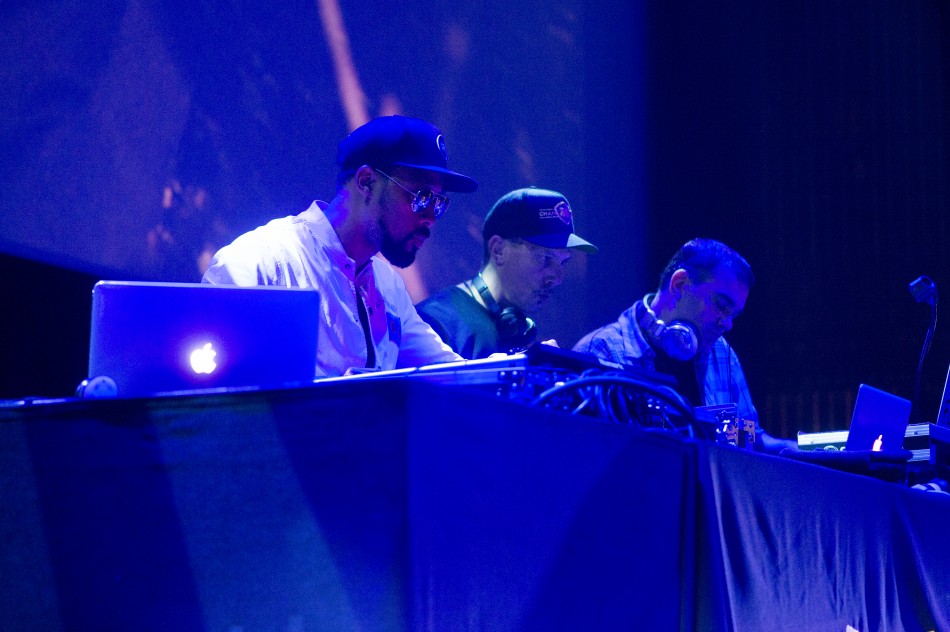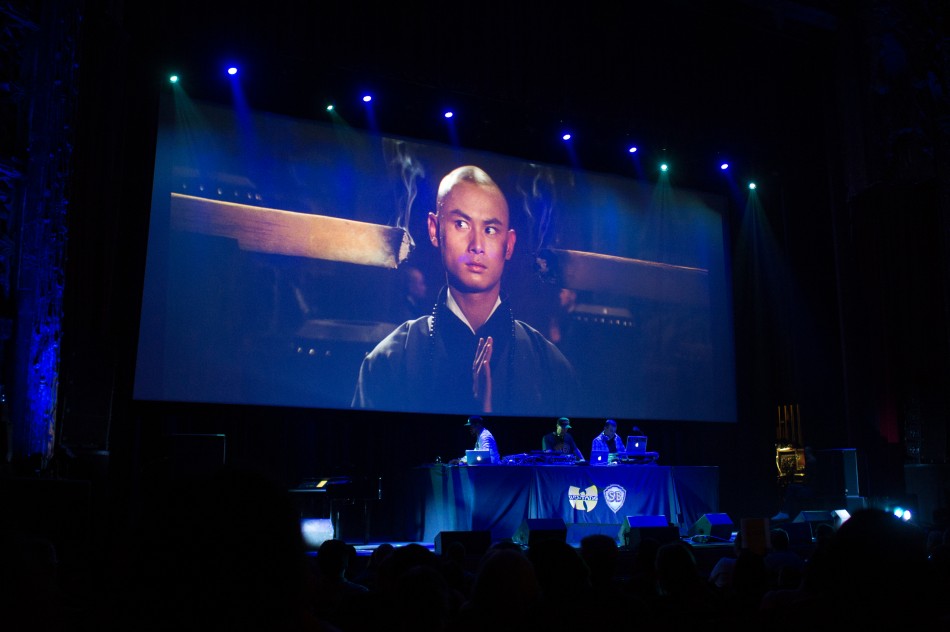 DAY 2
I arrived on day 2 early to see Frances Ford Coppola introduce and discuss what he claims is his worst movie, Jack, starring the late, great Robin Williams and the imprisoned rapist, Bill Cosby. Although I don't think it's his worst film, I'd say that award goes to Youth Without Youth, Jack still has a few cringe-worthy moments. Namely a ten year old child telling Jennifer Lopez she's a good enough reason for him to want to be a gynecologist when he grows up. Still, the film gave everybody a deep sense of nostalgia and warmth. Jack played into the festival's theme of inner peace. Children are happy and perceive the world through fresh eyes, as our vision gets cloudier in adulthood, we lose that happiness. Meditation is how we can clear up the clouds and find clarity.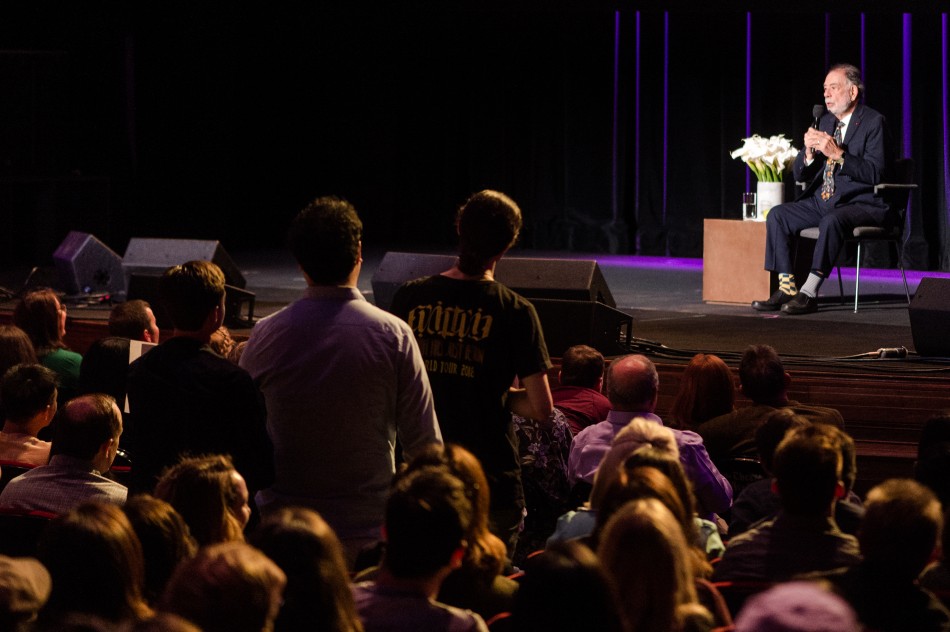 Day 2 was far more packed than day 1. David Lynch's Q & A was enough of a draw that it nearly sold out the huge Ace Hotel theatre. He answered a range of questions regarding how to catch ideas and use transcendental meditation as a way to achieve inner peace then from there contribute to the world's peace. Members of the Twin Peaks cast asked him a few questions and I realized even Lynch's casts are mesmerized by his imagination. Once Lynch's discussion was finished, the Ace Hotel theatre was closed until the night's musical performances. In the meantime, I checked out the festival's art gallery, called "Fetish", on the second floor of the hotel. Featuring photos by David Lynch and shoes designed by Christian Louboutin, the pieces danced between the macabre and the chic.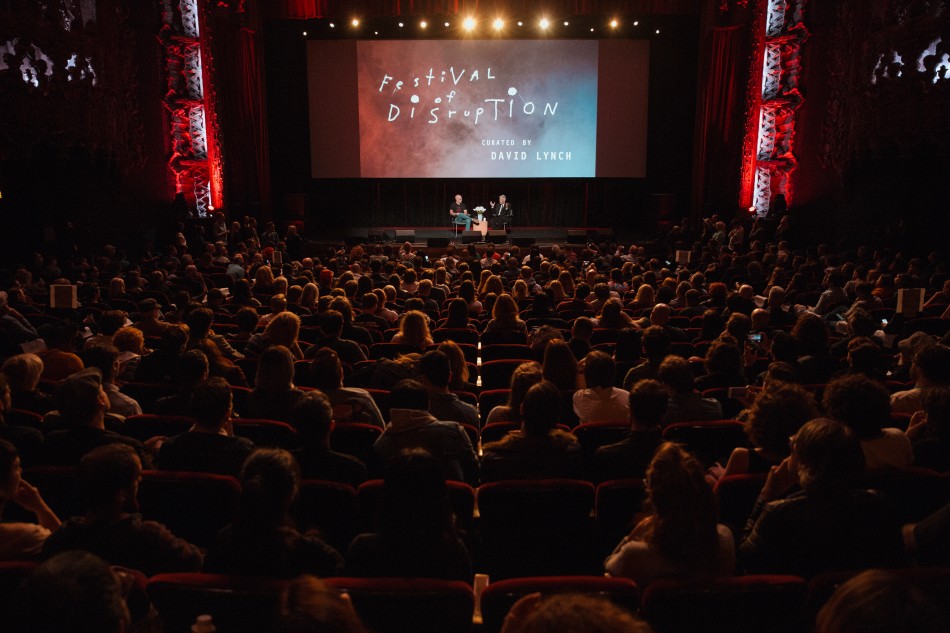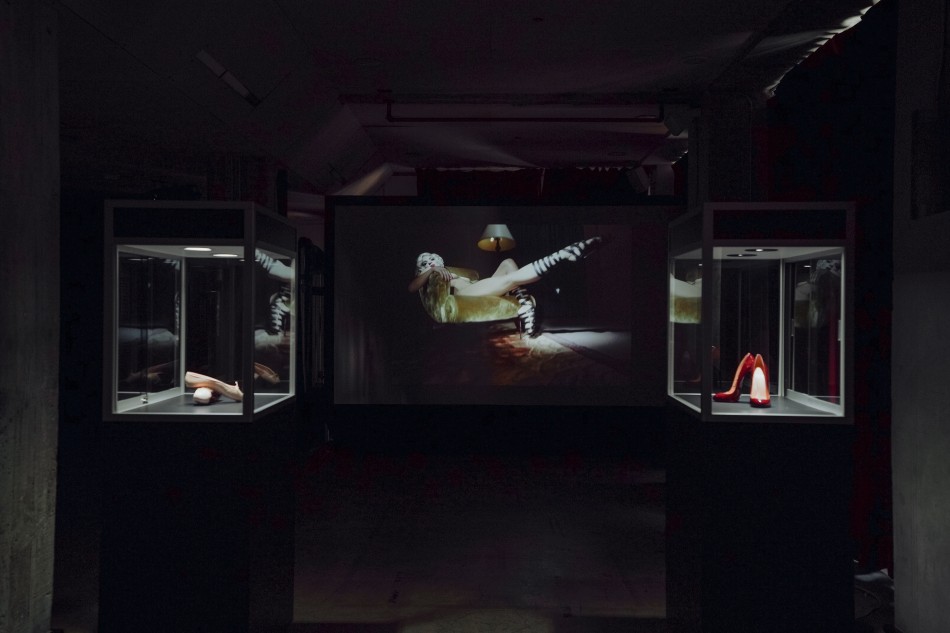 The first musical act of the night I saw was Richard Reed Parry, who's band incorperated hypnotic electronic music and raw folk acoustic beauty. In an incredibly poignant and clever move, Richard finished his set by sitting on the stage and meditating as the electronic noise swelled up into a trance-inducing drone.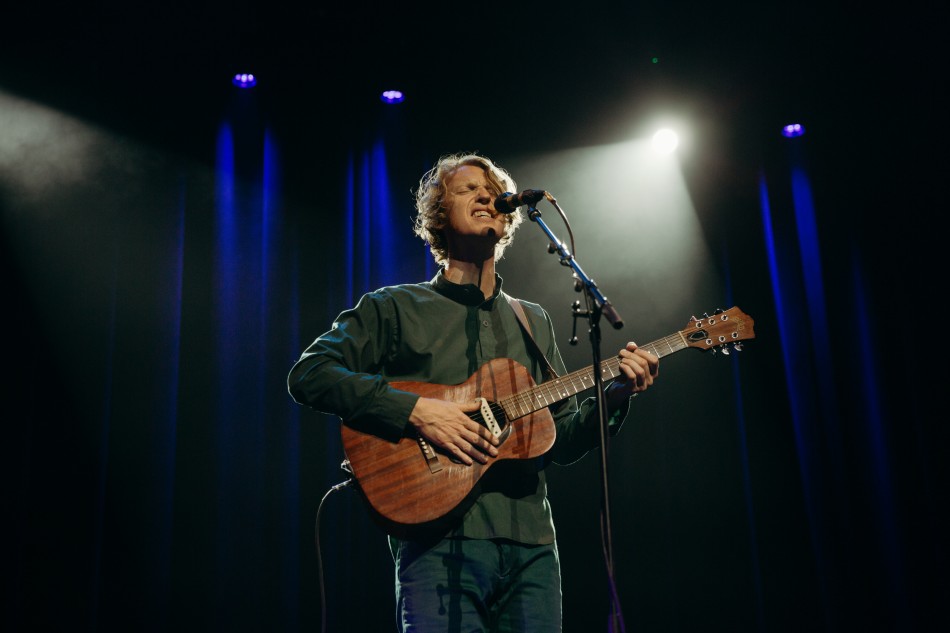 Giving poetry the platform it deserves, the festival hosted Amber Tamblyn next to read her poems. She's a featured poet in Amy Poehler's Smart Girls series. Tamblyn's poetry was more transgressive than I expected, some line about Dario Argento fucking someone up the ass. So deep. Not the butt sex, the poetry.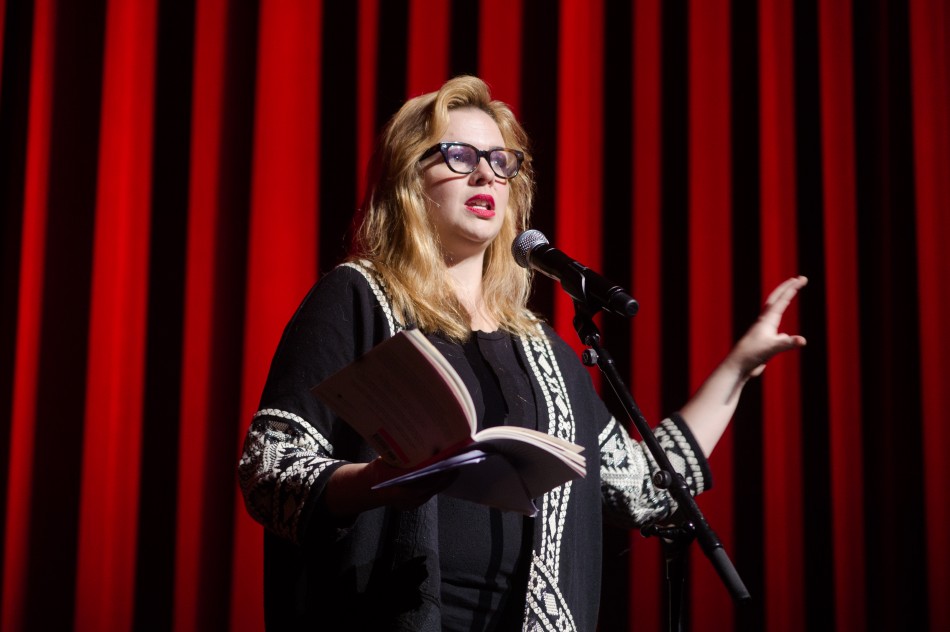 TOKiMONSTA was next, performing a heavy, trance electronic set while behind her a giant screen displayed the trippiest visuals you could ever see, juxtaposing images of the macro and the micro to find similarity, from nerve endings to the universe. The Ace Hotel's theatre might not be the best place for EDM but TOKiMONSTA makes some of the best EDM so the latter compensates for the former.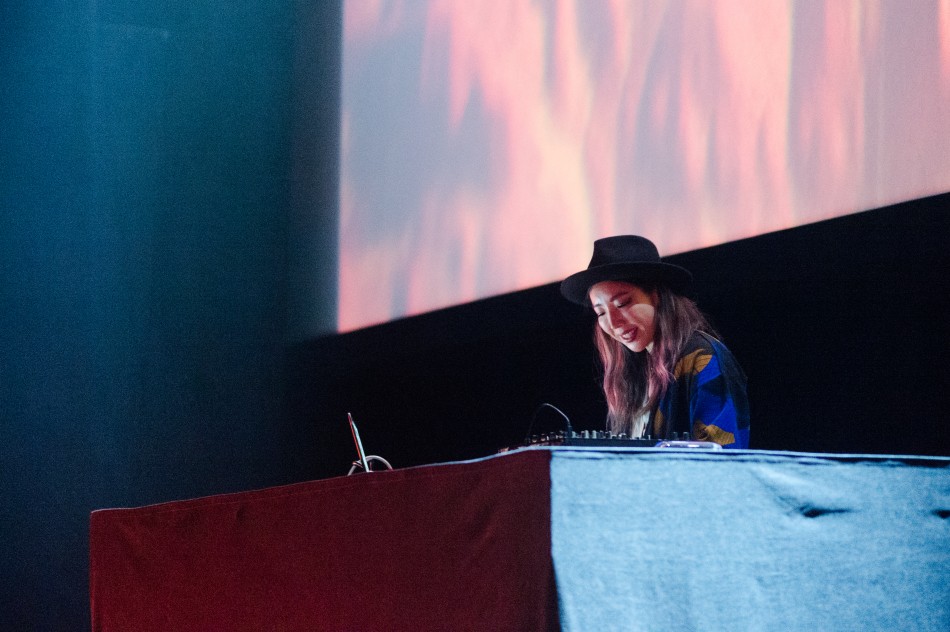 Following their reunion set at Desert Daze the night before, Mercury Rev made its way to the Festival of Disruption to perform their whimsical and dreamy psych rock. The stage exploded with their sound and presence, transporting the Ace to a far away land, some place out of a fairy tale. The band was tight and they held down the stage with a mastery of performance. I left the Ace in a dreamy state, feeling the underlying conduits that brighten up the world. The Ace had become a bulb shinning at full capacity and expanding outward, making every bulb in range look less dim.
Words by: Rob Shepyer
Photos courtesy of the David Lynch Foundation