Dead Kennedys- There's no room for Jello at the Roxy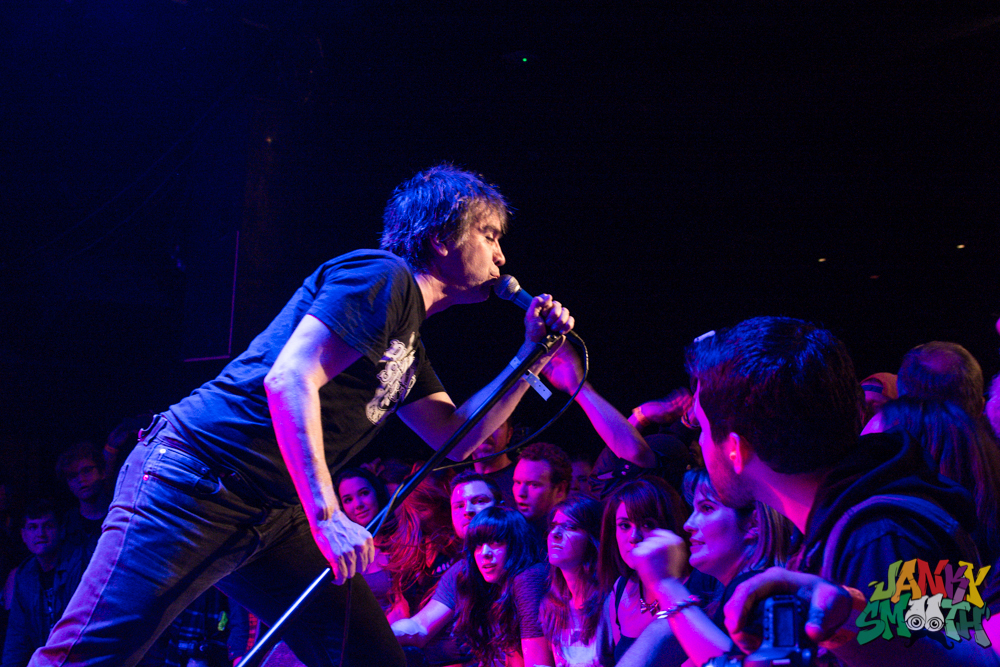 West Hollywood was invaded by a variety of West Side punks, from young skin heads to old Venice Suicidals. From the sounds of it you would think this show head lined by the Dead Kennedys was an all out blood bath, but every one other than the Suicidals were on good behavior.   (See editors notes) The setting for the evening was the infamous Roxy on Sunset. I was stoked on tonights line up primarily for Tartar Control, DFL, and Dead Kennedys. I didn't know what to expect or how to feel about Luicidal but I will get into that in a little bit.
I rushed to the Roxy and unfortunately, I ran into an accident on the way. I was under the impression that I had still made it in time for Tartar Control, unfortunately i walked in at the end of their set. I have only heard amazing things about Tartar Control and the little bit I saw blew me away. Two men dressed as mormons preaching to the crowd and joining the pit. They said their good byes in a comedic manor and left the stage. View our previous coverage of Tartar Control here:
Clepto and Tartar Control Raise Hell and Money for Brain Injured Children
DFL or Dead Fucking Last for long, Quickly took the stage after Tartar. DFL was formed in the early 90s by Tom Davis,  Monty Messex, Ad-Rock of the Beastie Boys, and Tony Converse. Mike D of the Beastie Boys also played in DFL for a minute on drums. Tom Davis is still the current frontman for the band and is joined by Monty Messex, Nick Manning, and Bigg Nick Trevino. DFL was my number 2 to Dead Kennedys at this show. Tom gave that youthful performance that many of the older punk bands lack these days. Jumping off his monitors and stomping around the stage got me in the mood for some movement. There was constant banter between Tom and Monty that kept the crowd entertained.  They are one of the very few resurgent, old school punk bands still worth seeing.
Notes from the editor:  The review of the Luicidal show was edited due conflicting reports.  Taylor Wong was not a fan of Luicidal or how he thought "The Venice Suicidals" ran the pit but due to lack of recognition on "who is who" we edited out most of his words because it dealt with statements that were not factual.  It turns out the OG's, most of whom now support Louie, rather than the current incarnation of the old band, were all watching their friend open a show for the Dead Kennedys from the VIP section.  When I inquired further about who the "Suicidals" were that Taylor thought were violent, I got the quote, "We have no idea who those posers were".  Louie Mayorga is a great father to his community and his own children and as one of the biggest fans of the first Suicidal Tendencies record, I think Mayorga is as entitled to those songs as much as the Dead Kennedys are to theirs, since he wrote a large portion of them.  We here at Janky Smooth believe in complete honesty of our opinions but as journalist, facts are facts.  We love Taylor Wong.  A hungry kid who loves music and does A LOT of great work for this magazine.  These kids would never have survived the 80's and 90's punk scene!  Here's a link to my review from last year of Louie playing a show with H.R. when I writing for grimygoods.com.  That review probably got me banned from the Whiskey though.  We do talk shit here, I guess, but we insist on factual details.

Dead Kennedys finally took over and the gang mentality left the room. For some reason people still had hope that Jello Biafra was going to take the stage. As much as I would have loved to have seen that happen, Ron "Skip" Greer of The Wynona Ryders did the best job anybody could have hoped for. Skip practically channeled the spirit of Biafra on stage and probably fooled many uneducated punks. The band was all original members other than Skip, including East Bay Ray, Klaus Flouride, and D. H. Peligro. The Dead Kennedys had the best banter I have heard from a punk band. We all know Dead Kennedys to have been a political band in the past but Skip took a different approach this time around. Between playing hits like Police Truck and California Uber Alles Skip would joke about Obama Care ruining the country and to get sick on your own time. "I mean that's what vacation days are for, right?" At one point Skip even asked the crowd if they follow politics, and followed up with the question "how is that working out for you?". Like at most punk shows, people were throwing shit at Skip through out the show and at one point he was pegged in the head with a cell phone. He picked it up and when he realized it was no iPhone 6 he chucked as far as he could to the other side of the room. The Dead Kennedys surprisingly pulled off 2 encores. The first encore included Viva Las Vegas which they slightly butchered but it was the only song butchered that night. The Final encore closed out with Chemical Warfare. Fuck what all the other die hard punks say, I am a giant Dead Kennedys fan and I say that Skip was amazing last night!
Photos and Words: Taylor Wong