Bass Drum of Death kill in Long Beach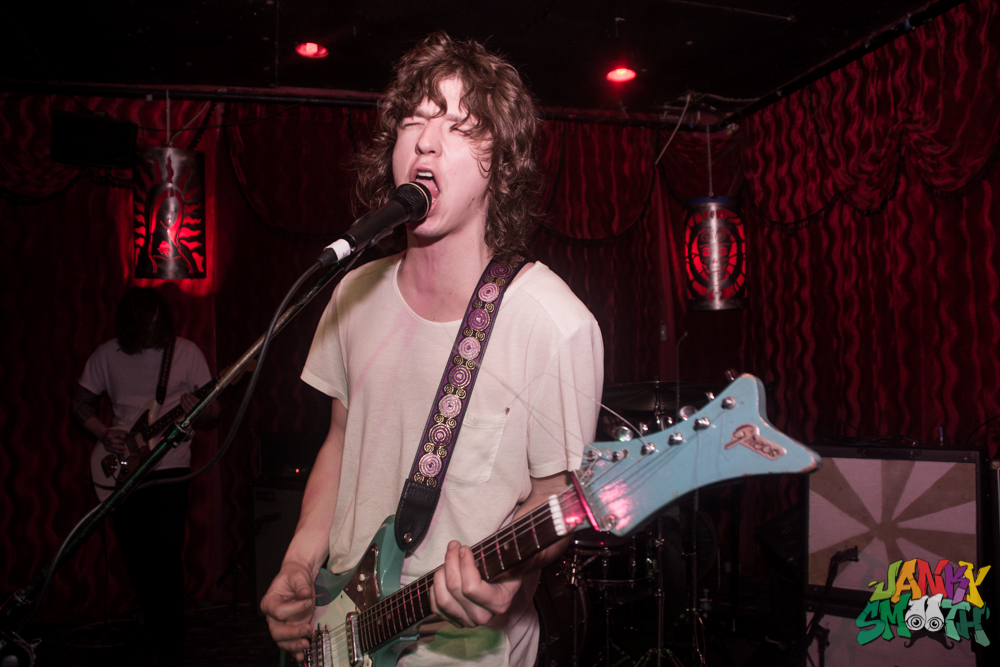 I'm sure Long Beach has plenty of great bars and venues but lately it seems that Alex's Bar is really the only one worth going to. Affordable drinks and some of the best line ups I've ever seen at a bar. Last night Alex's Bar brought us a performance from Bass Drum of Death with a great cast of opening acts: The Vespertines, Zig Zags, and Rudy De Anda.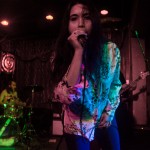 The first band of the night was a local, Long Beach band. The Vespertines had the unfortunate, first time slot. Although the room was almost desolate at this point, Vanessa Acosta was still a ball of energy on stage. I could really appreciate what the Verpertines were trying to do because they don't have the standard, 4/4 beat of a garage band. Vanessa reminded me of Pedro Torres of Them Howling Bones mixed with Cassandra from Wayne's World. Not only did Vanessa have a talented voice but she can also play a mean trumpet.
Following the Vespertines came the Zig Zags and they were on point last night. It seemed like they were a little annoyed that they had been bumped down a position in the line up. I can understand why with their most recent success after recording an album with Ty Segall. None of that changed how great of a performance they put on. Zig Zags is a 3 piece metal band that formed in Los Angeles in 2010. Donning a very Black Sabbath meets Danzig kind of sound and very similar to The Shrine. The band jammed through their set with precision. Zig Zags are the kind of band that probably started out in their moms basement, jamming to old KISS and Sabbath records.
The last opening band was the self titled project of another local Long Beach act, Rudy De Anda, frontman of Wild Pack of Canaries. I had seen them open for The Dodos at Alex's bar a few months ago and totally overlooked them. I was blown away last night by their performance. The band has that new sound that has taken over LA that is similar to The Mystic Braves, The Growlers, or Mr. Elevator- you just feel like dancing around when they start playing. The band is one of those bands that can jam around for a good 5 minutes with out ever singing a lyric of the song and you will never have guessed that 5 mins had passed. The band is currently on Porch Party Records who are most well known for having had Wild Pack of Canaries on their label. I'll be keeping an eye and ear out for future Porch Party and Rudy De Anda show's in the future, as you should too.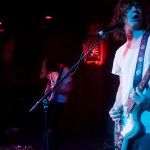 Finally after building up a healthy bar tab, Bass Drum of Death took the stage. You could tell by the looks of their faces that the previous night at The Echo had been a gnarly one. I've been trying to see these guys for god knows how long. All I was hoping for is what I had seen in pictures from the previous night. I wasn't too stoked on their newest album, "Rip This", which seemed a little over produced compared to their previous work. I didn't know what to expect that night and what I soon saw comforted me. Bass Drum of Death got their new songs out of the way in the beginning of the set and moved on to their first two albums. I didn't expect Alex's Bar to be as packed as it was for this show, mainly because I have never really known Long Beach to be that big into Garage Rock. People were crowd surfing and pitting through the whole show. Bass Drum Of Death were extremely on point in every sense, including sound. You can tell they pay very close attention to spotify because the last 5 songs they played were their top 5 played songs on spotify. The band left the stage and the crowd started chanting for an encore, a rare site at a bar show. As the singer passed me to get to the stage I whispered "Spirit In the Sky" a song by Norman Greenbaum they have been closing out their sets with during this tour. The crowd went absolutely nuts when they started playing it and it was the perfect way to close out a great show.
Words and Photos: Taylor Wong