Dirty Laundry TV presents: The Abigails at Harvard and Stone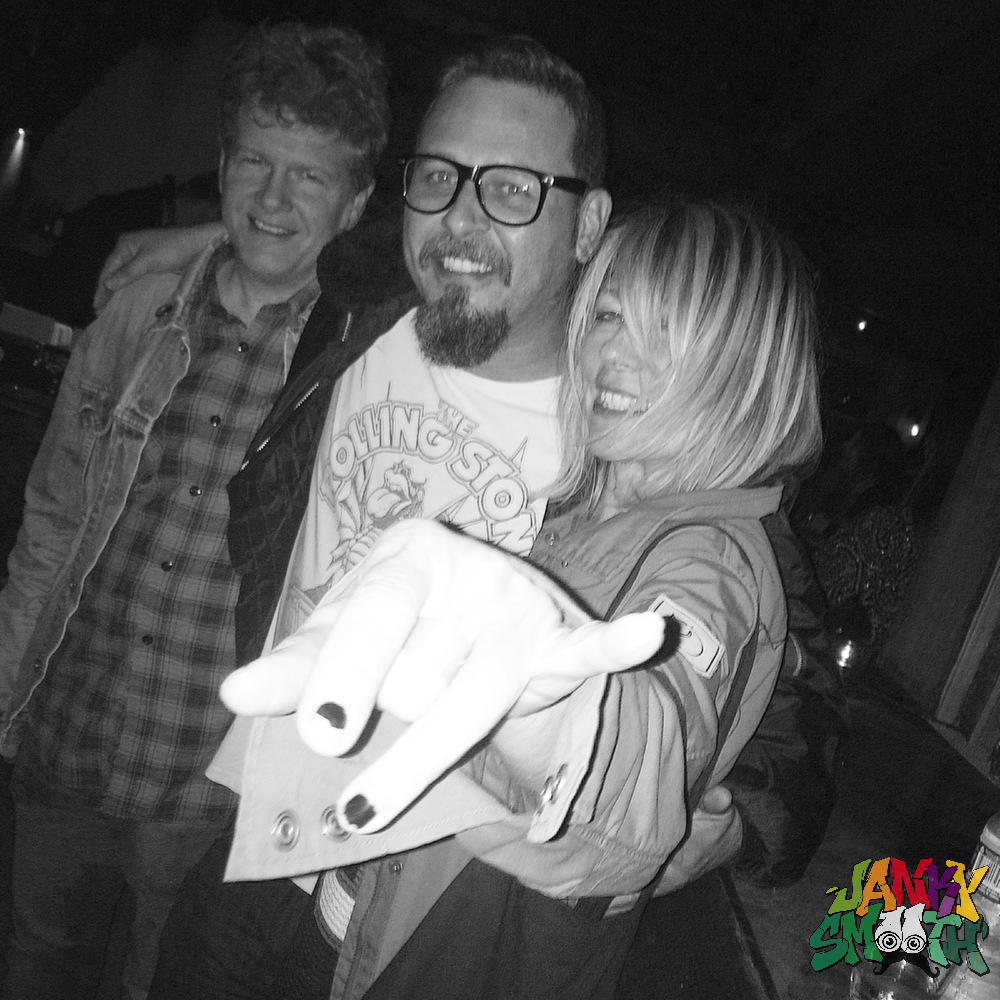 Our friends at Dirty Laundry TV not only have the whitest whites while keeping your colors bright and vivid, but they also really know how to throw a party. For the past 5 years, Dirty Laundry TV have made interviewing your favorite indie bands fun and hygienic and along the way, they have put together some pretty incredible live shows. On Thursday February 5th Dirty Laundry TV had their first night of their monthly residency at Harvard and Stone and The Abigails were the headlining act.
The Abigails seem to draw much respect from fellow musicians. Every time I've seen them play there has always been notable members of other big SoCal indie bands in attendance and last night was no exception. While it wasn't a surprise seeing Brooks Nielson of The Growlers at the show given that Warren Thomas is an ex member of that band, it was a surprise to see Kim Gordon of Sonic Youth at the Abigails show. I turned instant fanboy and she was very gracious and accommodating about taking a picture with me and Michael of DLTV.
The instant the Abigails start playing music it's easy to see why other musicians are a big part of their fan base. The band is tight and Warren Thomas is super charismatic and was far more lucid than any other time I've seen them play. He seemed healthy and dare I say, happy? It instantly dispels the notion that artists need to be clinging to the edge of death and sanity to produce a great performance. I've always looked at partying and performing like shooting pool and drinking. A couple of beers and the looseness might produce a better game but once you pass a certain point, scratch central. The set seemed short but The Abigails still plowed through favorites like Satan Taps My Head and newer tracks like Medication.
There were two other bands on the bill. Wild Pack of Canaries opened the night with their unique sound and time signatures. Front man Rudy De Anda is becoming quite prolific. His other band that shares his name opened for Bass Drum of Death the night before in his home town of Long Beach.
Dirt Dress came on after Wild Pack of Canaries and warmed the crowd up for The Abigails. They were a bit underwhelming which is odd because I've seen this band play some great shows.
I'm looking forward to more Dirty Laundry TV nights at Harvard and Stone. They also have a show coming up at The Smell on February 27th with Slutever, No Parents and Batwings Catwings. See you there!
[button color="pink" size="normal" alignment="center" rel="follow" openin="newwindow" url="https://www.jankysmooth.com/jonny-2-bags-abigails-break-hearts-echo/"]Check out our previous coverage of The Abigails playing with Jonny 2 Bags[/button]
Words and Smartphone photos: Danny Baraz