Barb Wire Dolls Kick Off 2 Month Residency at The Whisky a Go Go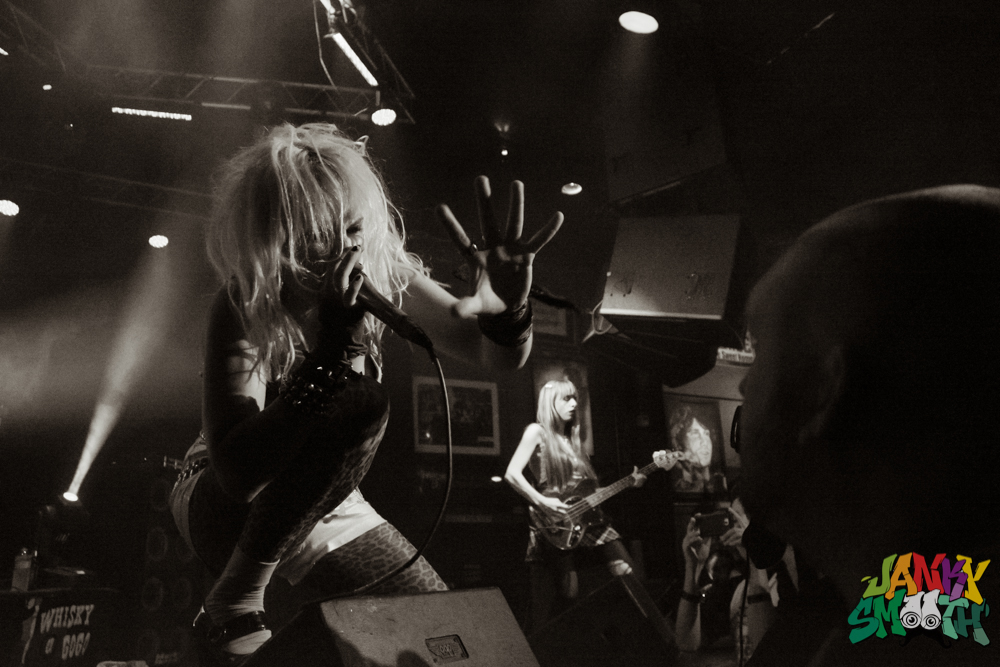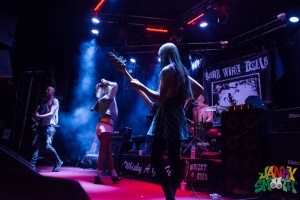 Last night, Taylor Wong and I met at The Whiskey A Go Go to check out Barb Wire Dolls, Clepto and Tartar Control. Really, I was interested in Clepto and Tartar Control but after all the years of buzz, great reviews, touring and an endless stream of sexy photos, I decided to finally check out Barb Wire Dolls– a band that hit the punk scene as hard and fast as a Japanese Bullet train. Up to this point, nothing I had heard from the band had really resonated with me but I decided to watch and listen with an open mind.
As we approached the Whiskey, Taylor informed me that he had never seen a show there. I was blown away. It shows just how irrelevant The Whisky has become that this 24 year year old music fan and journalist was entering the Whisky for the first time in his life. This historic venue that has helped launch the careers of acts like The Doors, Van Halen, Sonny and Cher, Guns and Roses and thousands of other bands has sustained itself on the pay to play model for about 15 years now. Almost every show I've seen there over the course of the last decade featured a headliner that was supported by up to 5 or 6 pay to play bands which always creates a disjointed mix of people, many of whom just came to see their friends open for a headliner they have never heard of. Honestly, is there any art based business model that is lazier or more predatory? Let me know if you think of one.  Last night was a bit different though. Barb Wire Dolls seem to have a great relationship with the Whisky and they hand picked their supporting acts.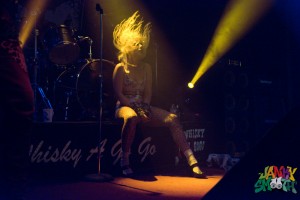 We walked into the venue just as Barb Wire Dolls were about to take the stage. I honestly had my review of their performance half written in my head already, prior to ever seeing them live. I had pre-conceived notions about their authenticity. I looked at them as being more style than substance. I had convicted them in my mind of piggy backing off the INCREDIBLE beauty and sexiness of their lead singer, Isis Queen. To me, their music was OK, at least the little that I heard. There is nowhere in my life that I am more judgmental than how I feel about music and unfortunately, as diverse as my musical taste is, it has probably caused me to miss out on some good stuff. After last night, I feel differently about Barb Wire Dolls. By no means does that suggest that I am running for president of the Barb Wire Dolls fan club but the power of the band comes from their live show and to me, that is the most important aspect of ANY band. Isis and guitarist Pyn Doll have great stage presence. There is nothing new or ground breaking about this band but they tapped something specific and they do it well.  I will say that it seemed as if their bass player could not find the pocket all night and what made that worse was that the bass was the loudest instrument in the mix.  After last night, I will revisit Barb Wire Dolls studio work. There were a handful of songs that stood out but all in all, whether or not I ever see them live again is 100% based on who they hand pick to play with them. Last night was the first night of their 2 MONTH LONG, free Monday night residency at The Whiskey and what drew me out were the bands who were picked to support them. Bands like CLEPTO and Tartar Control.
Everytime I see CLEPTO, I am left wondering why they aren't the most famous band on planet Earth. They are one of the most technical bands I have seen in quite some time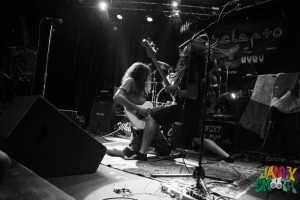 but their complex arrangements serve the songs they write. What makes their prodigious playing even more remarkable is how easy they make it all look. This band of gypsies frolic on stage like toddlers in a sandbox and the chaos is controlled mathematically with interesting time signatures and hilarious subject matter. I have previously written about them in great detail. Please check out my in depth review of CLEPTO and Tartar Control Raise Hell and Money for Brain Injured Children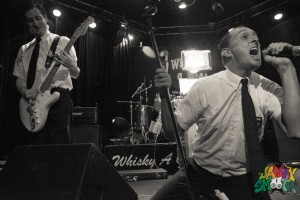 What more can Janky Smooth say about Tartar Control? They might be the most entertaining band in punk rock. I have yet to see a sub par Tartar Control performance. I have yet to see an audience that lead singer Robert Selander couldn't place in the palm of his hand. His comedic timing is impeccable, his banter with the audience… borderline abusive and his vocals are powerfully hardcore. Sean Hart seems to make the whole thing stick together, both in his relationship with their robot bandmate, his injection of a more melodic vocal and his shredding guitar riffs. It is impossible not to smile when Tartar Control are playing a set and even in the rare occasions like last night when they closed out the show with a midnight set to a smallish audience, Robert is always able to get the crowd moving. They were the only band all night to achieve this with the somewhat subdued crowd that attended this show.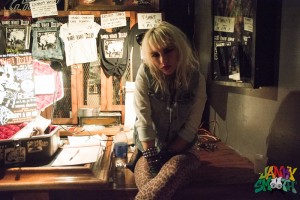 Last night was fun. I'm happy that I was mostly wrong about Barb Wire Dolls. Go check them out on one of those Mondays in July or August and decide for yourself.
Words: Danny Baraz
Photos: Taylor Wong