Wavves Announces New Record and Shares 1st Track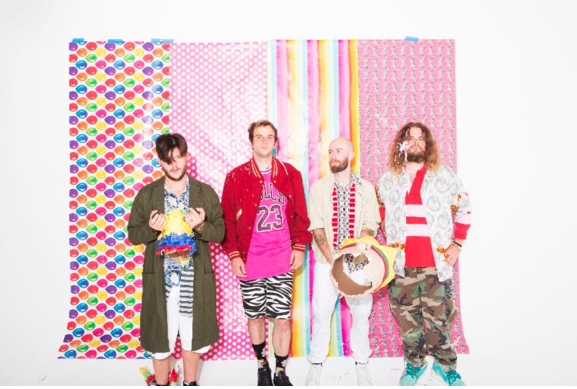 Wavves 5th studio album, "V" has been announced and is set for release on October 2nd via Ghost Ramp/Warner Bros Records with Woody Jackson as the producer. As a part of the announcement, the band is previewing a new track called, "Way Too Much".  You can pre-order the album here on iTunes
Track list:
1. Heavy Metal Detox
2. Way Too Much
3. Pony
4. All The Same
5. My Head Hurts
6. Redlead
7. Heart Attack
8. Flamezesz
9. Wait
10. Tarantula
11. Cry Baby
Nathan Williams reports that the new album is much more of a group effort and songwriting duties were shared across the entire band.
It's set to be a busy year for the band between the new record, the collaboration with Cloud Nothings and a tour that starts in September and runs through October.

Wavves Tour Dates:
9/8/15 – Seattle, WA @ Neptune *
9/9/15 – Portland, OR @ Wonder Ballroom *
9/10/15 – San Francisco, CA @ Bimbo's *
9/11/15 – Orange County, CA @ Constellation *
9/12/15 – Los Angeles, CA @ Troubadour *
9/14/15 – Los Angeles, CA @ Teragram Ballroom *
9/15/15 – San Diego, CA @ North Park *
9/16/15 – Phoenix, AZ @ Crescent Ballroom *
9/18/15 – Austin, TX @ Mohawk *
9/19/15 – Dallas, TX @ Prophet *
9/20/15 – Lawrence, KS @ Granada *
9/21/15 – Madison, WI @ Majestic Theatre $
9/22/15 – Minneapolis, MN @ Varsity $
9/24/15 – Milwaukee @ Rave $
9/25/15 – Chicago, IL @ The Vic $
9/26/15 – Detroit, MI @ Majestic Theatre $
9/27/15 – Toronto, ON @ Opera House $
9/29/15 – Columbus, OH @ Newport $
9/30/15 – Philadelphia, PA @ TLA $
10/2/15 – Brooklyn, NY @ St Vitus $
10/3/15 – New Haven, CT @ College Street Music Hall $
10/5/15 – Boston, MA @ Paradise $
10/6/15 – New York, NY @ Irving $
10/7/15 – Washington DC @ 930 Club $
10/8/15 – Chapel Hill @ Local 506 $
10/9/15 – Athens, GA @ 40 Watt $
10/11/15 – Houston, TX @ HOB Peacock $
* w/ Twin Peaks and Swimmers
$ w/ Twin Peaks and Steep Leans