Chillin with Thurz and Tapioca and the Flea at the K-town Karaoke Throwdown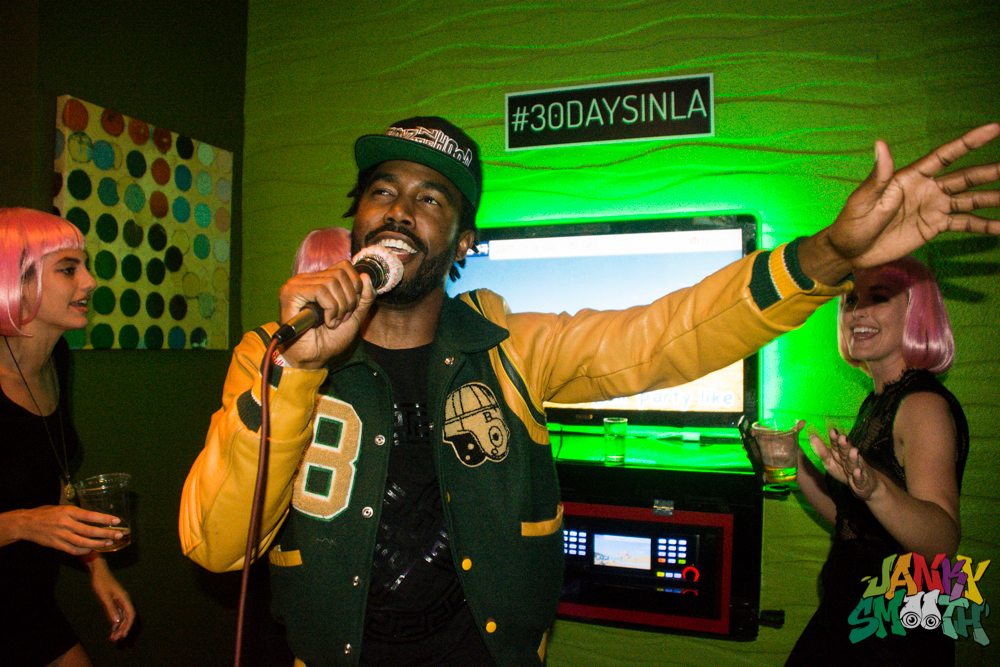 Last night I hit day 8 of Red Bull Sound Select's, 30 days in LA. This night was a laid back Karaoke night with the title K-Town Karaoke Throwdown and was hosted by good friends of mine Tapioca and the Flea. When I got to the location and realized the event was split up into 20 rooms, I thought to myself "how the hell am I going to cover this?" Then Samuel Lopez of Tapioca and the Flea told me they had their own room for the night. "fuck yeah!" I exclaimed as I heard that. So for the following review I give you my night spent with the guys from Tapioca and the Flea.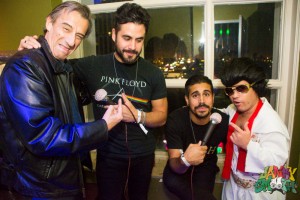 The night started off with just Samuel Lopez, Ronnie Watson, and I hanging out in the karaoke room. Sam serenaded us with music from The Beatles as we ordered up bottle service and food. Now the bottle service was actually decently priced and Tapioca and the flea was given a generous tab from Red Bull, but the food selection was just kind of odd. There were four food options to choose from, lychee, french fries, "cheese sticks" which were just mozzarella sticks with some weird marinara sauce, and some asian chicken salad. we ordered everything other than the lychee. We also started off with two bottles of Jack Daniels.
As the night started to move a long we had a pretty empty room for the first hour or so. To kill time Ronnie kept pouring us shots. Seriously the dude had us take 4 shots with in 20 minutes. We grubbed down all the weird food and even ordered a second plate of cheese sticks. After we put down the second plate of cheese sticks some babes wandered in our room, which they later found out was not the room they had been looking for. These girls had some drinks and sang some songs with us. Then it happened, the creepy Robert De Niro and Mini Elvis impersonators made their way into the room which scared the ladies away.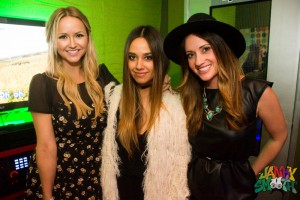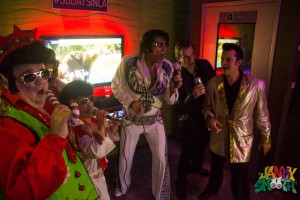 At this point the three of us decided to see what was going on in the other rooms of this crazy, asian massage parlor, looking building. One room we wandered into which was way bigger than ours was full of dudes in mustaches singing hair metal ballads. A total sausage fest, so we moved on to the next one, A Club Called Rhonda's room. Now I used to really enjoy going to Rhonda back when i was into disco and deep house and loved seeing all the babes and gays that filled the club. I was hoping to run into a few familiar faces which i did, but as soon as some one started singing a Paris Hilton song we split quick.
We make it back to our room and all of a sudden in follows a whole group of babes, 5 Elvis', and creepy Robert De Niro. Now we had a party going. At one point all 5 Elvis' did Hound Dog and it was amazing! You better believe i recorded the whole thing. More and More babes kept coming in, eventually even the pink wigged Red Bull girls came in and they were amazing.
Thurz, another artist and sick M.C. on the Red Bull label who was hosting the night, joined us at the very end of the night and did a duet with Sam Lopez of TATF. The song they chose was Hey Ya! by Outkast and it was amazing. Then Thurz chose a song by 50 cent that he couldn't handle and was shown up by one of the pink haired Red Bull girls as she stole the mic. She was so on fire that she even said the N word but shortly realized what she did. She had that face that white people usually get when they know they just got caught slipping. Thurz thought it was absolutely hilarious and so did I. Who knew i would have more fun doing karaoke as an adult than I ever had with a fake ID in Hollywood.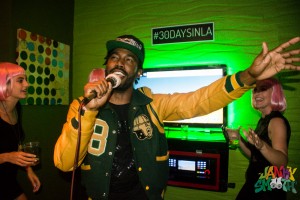 Words and Photos by: Taylor Wong