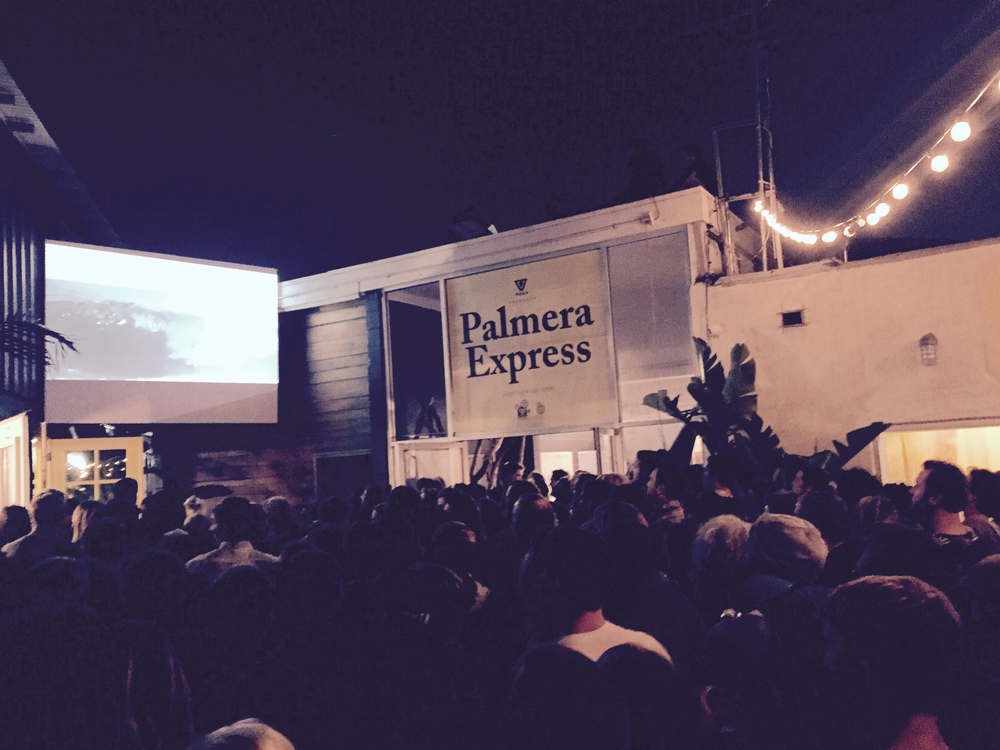 Ahh there is nothing quite like an industry party; the drinks are free, morals are low, and there is entertainment for all!
The weekend has finally landed last night at the Byrd's Nest in Culver City. Vissla, a recently launched surf brand via action sports conglomerate Stokehouse Unlimited, premiered their newest film offering, Palmera Express. Directed by Eddie Obrand, Palmera Express is surf film shot on location in Mexico, Hawaii, Indonesia, and other tropical locales. Also billed for the evening was an open bar courtesy of House Beer and Jose Cuervo, with live music from Laguna Beach transplants, Mr. Elevator & the Brain Hotel, and records spun by Reverberation Radio.
The vibes were high, the flannel was staggering, and the drinks flowed like they weren't tacked to the consequences that were sure to come. Arriving punctually around 8 PM, there was already a strong air of drunken chatter and cigarette smoke. Per usual, I darted straight to the bar where I quickly sunk a jalapeño margarita and shoved some beers in my girlfriend's purse. I may be coming across as an alcoholic, but when the demographic can surely drink enough to sink a pirate's ship, you need to get your free-drinks money's worth before its all gone. Luckily in this case, the well didn't dry and the debauchery ensued according to plan.
The Byrd's Nest is a graduated treehouse-esque building pinterestly assembled by several adjacent reclaimed shipping containers. Byrd is a "Hairdo" brand that produces mens grooming products such as pomades and soaps and to say they have created an awesome space with the Byrd's Nest, would be an overwhelming understatement.
I missed half of the new Vissla film because I was stuffing myself with the shitake mushroom tacos and "loaded" french fries from the Lime Truck, conveniently parked outside. The film was met with hoots from the rowdy crowd. Palmera Express had great surfing, a killer soundtrack and a vintage vibe. Great job Vissla!
After the film, and several rounds of drinks for everybody in attendance, Mr. Elevator & the Brain Hotel took the stage with their psychedelic sound straight out of 1967's Monterey Pop Festival. The organ driven quartet are not your typical rock band, with an obvious absence of a lead guitarist and a singing drummer, they are truly a rare find. Mr. Elevator & the Brain Hotel melted the crowd with their heady melodies and energy infusing, organ driven cuts. A true throwback, reminiscent of bands their parents probably tripped out to such as Booker T. & the M.G.s, Mr. Elevator & the Brain Hotel's set was highlighted by the kaleidoscopic enthralled jam, "Nico". Mr. Elevator & the Brain Hotel were met with dancing and even a lonely crowd surfer who quickly met the beer drenched floor before they left the stage. Their set was truly a blessing from the gods of psych rock.
Before they took the stage, I had a brief conversation with singer and organist, Thomas Dolas, in which we talked about their 1960's hallucinatory vibe. He said; "People think we do a bunch of drugs, but in reality it's not like that al all." They could've fooled me, their mind-altering jams had the crowd moving until last beer was sunk.
Words and Photos: Justin Thomas