The Dickies Dry Hump The Roxy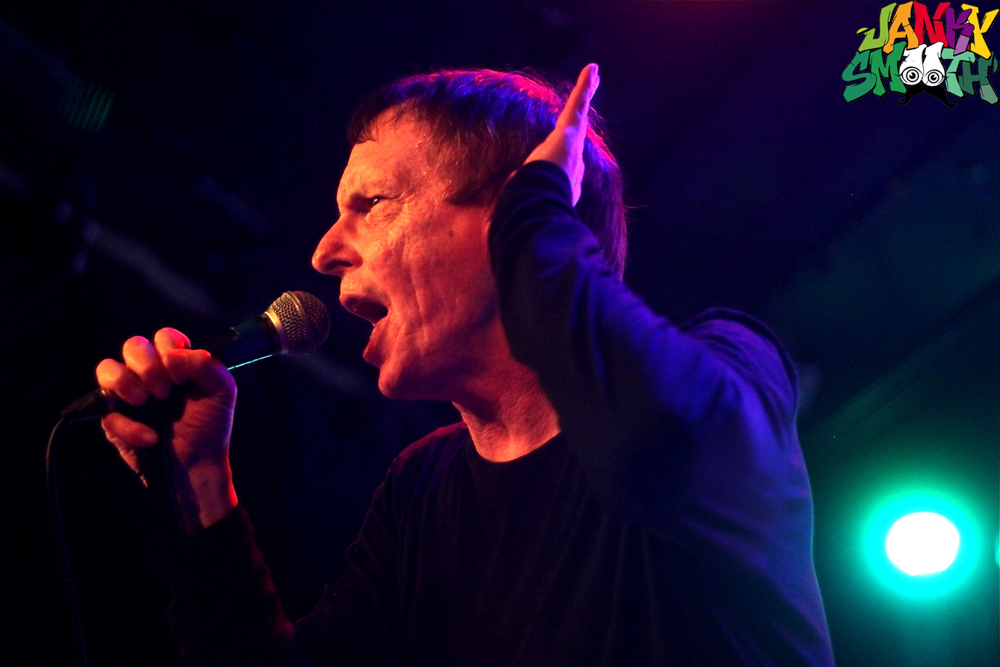 "There is no better place to be on a Saturday night than Hollywood."
These were the words mumbled by my Uber driver. All while the lunatic stranger from our Uberpool ride-share aggressively barked lyrics from Sublime's 40 oz of Freedom to an audience of one. My Saturday night was already headed in the right direction.
I arrived at the historic Roxy Theatre around 8 PM. The curtains were drawn, mo hawks were groomed, and "The Dickies" back patches were imperfectly sewn onto sleeveless denim jackets. Each of the times I've been to the Roxy, every artist has acknowledged the history of this venue, and any number of google searches will result an overwhelming number of articles about the mystique of the Roxy. This all lead me to believe there is no better venue to see The Dickies, one of LA's most historic punk bands.
As the curtains raised for the first time, my eyes were met with pure bewilderment as the stage was set with two white dudes in freshly pressed Mormon door-knocking uniforms, slicked back hair, and a Wall-E-eque computer holding a MacBook. It all took a second to process and what followed was one of the best shticks in live music I have yet to see. A hardcore punk band, dressed as Mormons with a bantering robot; Tartar Control were truly a comical paradox.
With wholesome songs regarding the love of Christ, peach cobbler, and smoking crack, Tartar Control possessed no shortage of charm. Their set reached a celestial high when lead singer, Robert Selander, encouraged the audience 'to just relax and take a seat', a feat that was surprisingly obliged by nearly everybody in the crowd. Selander proceeded to scream into the faces of his devoted flock as if he were their celestial Shepard.
Next up, Los Angeles' own The Muffs. Lead by Kim Shattuck, the Muffs ran through a lot of material from their first new release in almost a decade, Whoop Dee Doo. It's amazing how many bands Burger Records is resurrecting and exposing to a new generation and The Muffs are one of those bands. The Muffs had an air of confidence about them that translated well through their fast-paced pop-punk ballads. Having been around since 1991, it was clear that the Muffs were veterans to the stage and the confident, competent and powerful performance relayed that well.
Taking the stage around 10:30 PM, was Los Angeles punk trailblazers, The Dickies. The Dickies have been regarded as one of the first LA punk bands, one of the first punk bands to tour internationally, and somehow, through the deaths of some original members, still around to tell the tale. Aside from their legendary stage presence, lead singer Leonard Graves Phillips is a living punk rock historian who entertained the audience, talking shit about some of the most legendary bands of his day.
The Dickies ran through some of their most beloved singles such as Gigantor and Black Sabbath's, Paranoid, and the audience was in the palm of their hands throughout the hour-long, ear blistering set. The Dickies, with their whimsical approach, bestowed upon the audience their amusing and perverted puppet gimmicks. Most notably of which was a blow up sex doll that Phillips laid on the drum set and vigorously thrusted.
While it was clear the Dickies were adored by their audience, which ranged from middle aged white dudes to a new generation of punk pre-teens, Phillips made it clear that the feeling was mutual. At one point Phillips chimed; "You guys are so good looking we want to go down on all of you, we just don't have the time." As Phillips waved goodbye after their encore, it was evident that I had just witnessed true purveyors of authentic Los Angeles music history.
Words and Photos: Justin Thomas