Turn Table Tennis: Red Bull and DJ Fueled Ping Pong Tourney at The Standard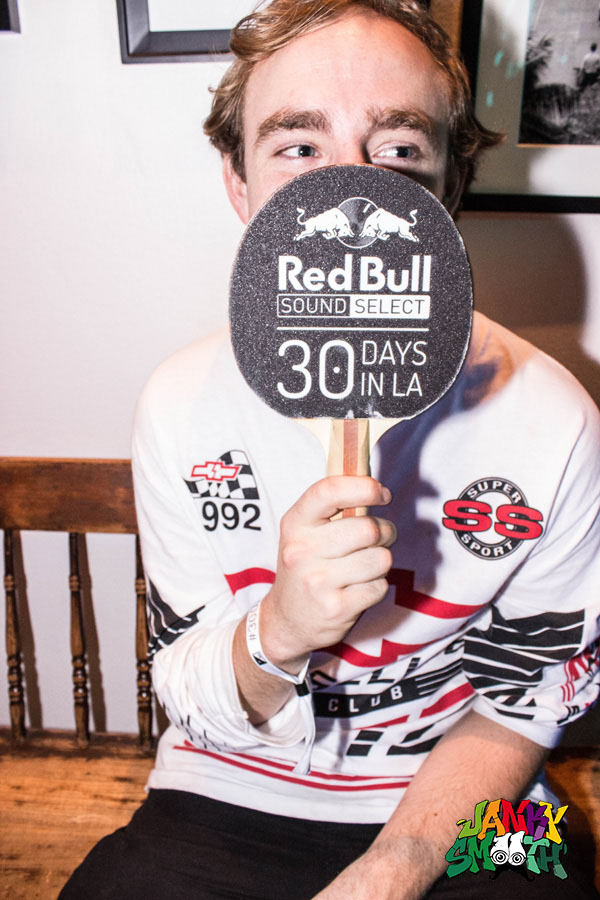 SPiN LA is the Susan Sarandon (yes, from Thelma & Louise) sponsored ping pong facility housed within the ultra-modern Standard Hotel in DTLA. Last night the Red Bull team overhauled the 2nd floor courts into a full on futuristic pong tournament, coupled with excellent dance music for their night of Turn Table Tennis.
This Red Bull Sound Select event was a breeze to get into, unlike the usual events held at this venue – which was refreshing. We were met, at the top of the escalator, by classic house music spun by Red Bull Sound Select signee's White Rainbow's Adam Forkner, and tournament check in station. Dani Meigel (one of our photographers) and myself signed up as The Residents (I'm a resident DJ at this spot on Sunday's, fun fact) and collected our paddles. As we waited for the tournament to start, we enjoyed the beefed up sound system Red Bull had brought to SPiN. People were warming up for the tourney, whose prize was a pair of coveted passes to the Sasquatch music festival, and electric sense of competition was in the air.
The SPiN LA crew was on point with immediate response time at the bar – of course Red Bull vodka's were the signature drink of the night. Maybe in the future we'll see Red Bull try to get creative with their branded drinks? Either way, the venue staff at this night made the night 100x more enjoyable – they were eager to be there and involved in the event.
As everyone was flowing together, I stepped outside with Andrea Adolph of BREAKFAST, to get a quick interview before their DJ set. They're personal favorites of mine, on the Red Bull Sound Select roster, so I was happy to catch up regarding the evening.
J: What type of set are you guys bringing tonight?
A: A good mix of 80's and new wave, with some disco in there. We brought all vinyl tonight and it was a pretty even mix on selection. Sean is our Breakfast "spinner" and will be taking the DJ duty for us tonight.
J: What would you say, personally, has influenced your part in the Breakfast sound?
A: Little Dragon and Blood Orange, New Order and The Cure… past and present sounds.
J: How has your experience with Red Bull Sound Select been since you've started working together?
A: Everything started in July 2013, after we were selected to open for Com Truise on one of their RBSS nights. It has been an amazing experience so far. RBSS has been extremely supportive of everything we're doing and has even helped with getting a music video out into the world. They look out for us if we ever want to check out one of their shows, too! We're happy to be working with them.
As we wrapped up our brief interview, DJ Nu-Mark took over the turntables and the tournament began. Nu-Mark is a top notch traditional turntablist and is also a key member of Jurassic 5. His sound this evening was a seamless blend of newer bass music mixed with hip-hop classics. It completely upped the energy of the night. The tournament, hosted by ping pong professional and SPiN resident player Adam Bobrow , chugged along at a fast action packed pace. We were eliminated early on, but contenders from all over LA battled it out. Eventually it was down to two teams, one beat the other, and some Red Bull fans walked away with a brand new trophy and a pair of Sasquatch passes!
DJ Nu-Mark not only catered to the crowd, but also set some heavy energy into the final ping-pong matches. He can read a crowd perfectly – and a sporting event, too. I don't know many DJ's who can do that. After some scratching, mashing-up and beat juggling, DJ Nu-Mark packed his gear and made way for Breakfast to DJ.. Just as promised – Breakfast brought their classic wax and kept the crowd moving. Sean Dwyer was a natural behind the decks, along with the help of the rest of his band, and made for a great closing set.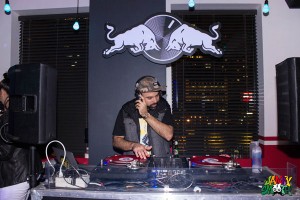 Another home run for Red Bull's #30DaysInLA! A perfect highlight of headlining outside talent, the DJ chops of talent on their roster, and genuine fun for the fans. Keep it coming, Red Bull! We've got 19 more days to go.
Words: Justin Cornwall
Photos: Dani Meigel