Garage Punk Homecoming: Together Pangea at the Regent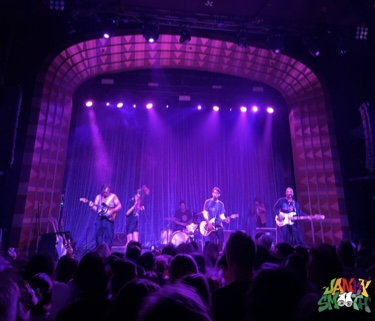 Words and Photos by: Alfredo Luna
There will always be bands and music that exists that will bring up something nostalgic in you, taking you back to a certain time and place. A lot of us can say we're seeing that being presented whether through the lens of "Indie Sleaze" movement or the emo revival phase we have going on. But the one that truly got me was listening to Together Pangea again and being taken back to when I was still in high school coming into my own and somehow discovering through word of mouth, When their Night of the Living Dummy album found its way to my speakers it instantly transformed my taste in music. I distinctly remember videos from their live shows popping up on my feed and a ton of show posters plastering my digital space. I'd always told myself that I needed to make it out and support this up and coming band but as fate would have it I just never could make it. That is until I saw they'd be making a triumphant return to LA with their show at The Regent, and I just knew I had to satisfy that musical pilgrimage I had established in my brain.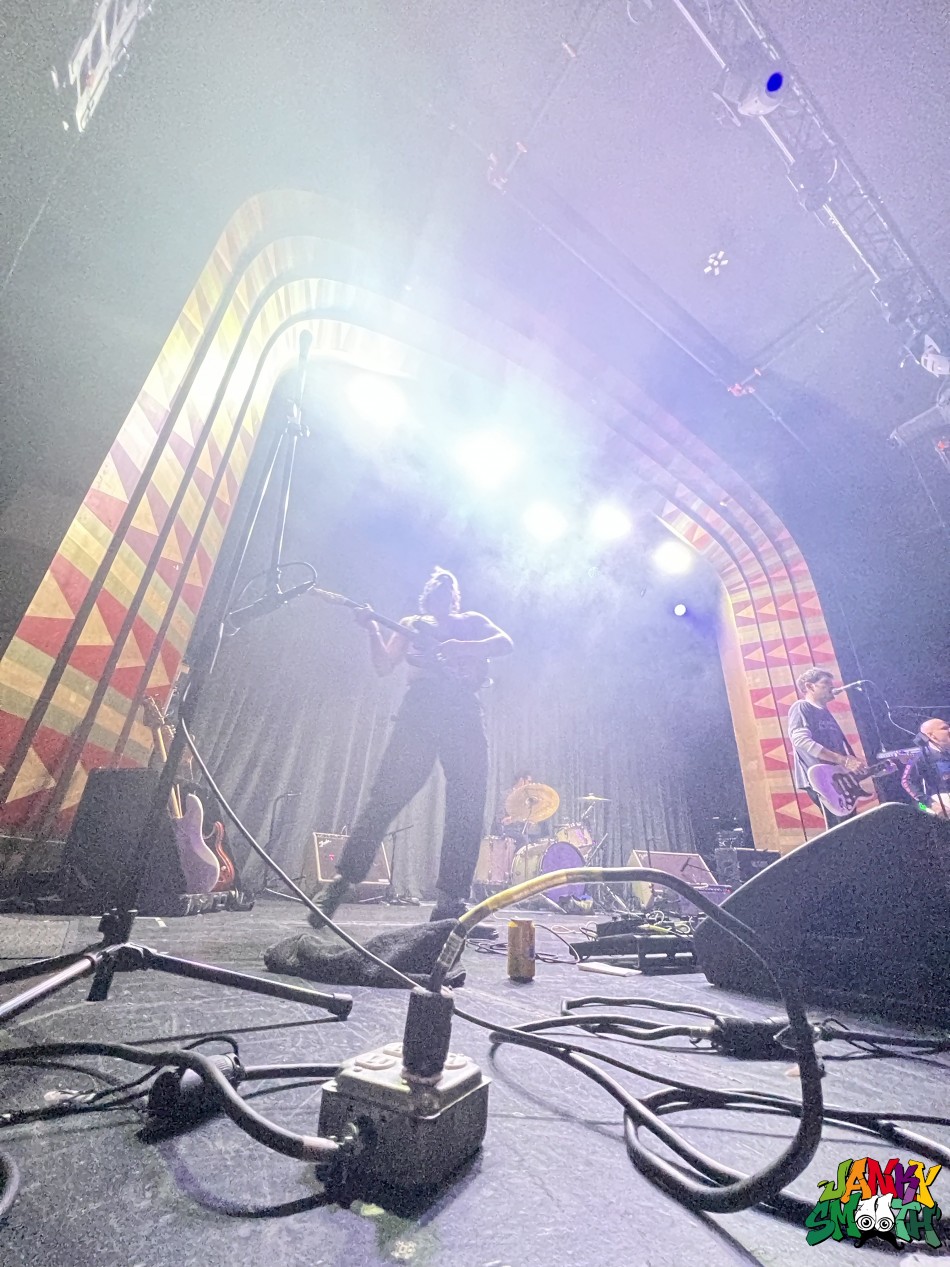 Kicking off the night were the self proclaimed "Ugly Pop" trio of Skating Polly, which took control of the stage emanating a raw sound that permeated throughout The Regent. The band mesmerized the crowd with their hard edged guitar riffs and loud in your face vocals that fueled the ambiance in the crowd. What caught my eye was their stage presence that made them not only talk the talk but walk the walk, with their hair flying back and forth and the eye-high leg kicks by Kelli Mayo that seemed to kick every song into overdrive whenever she busted those moves out. It almost seemed like with one of those high kicks, the band had set off the energy in the room and had the crowd moving, with many flocking to the growing pit and unleashing their energy until the very end of their set. This band has drawn a ton of comparisons to many of their riot grrl contemporaries such as Bikini Kill and Babes in Toyland, and their live shows do plenty to back that up and make them an exciting group to follow and check out whenever given the chance.
Rounding out the second support slot were East LA based pysch-cumbia pioneers Tropa Magica. This is another group that I had heard a ton of buzz about growing up in the area but never got around to seeing but seeing them on stage totally blew me away. It was an immediate love affair from the crowd as they all danced and sang throughout the set. The blend that Tropa Magica takes between their psych sound and cumbia influences makes it feel like you're drifting in a different realm from a backyard show type of vibe to a night at the Santa Fe Swapmeet on acid. They brought an untamable set of energy to their performance, jumping around and moving across the stage, even having the keyboard player pick up the keyboard from the stand and play it behind his back. The band encouraged the crowd to sing along to the Super Mario inspired journey of a song "Koopa-Cabras" that felt like a psych version of a corrido with its storytelling and harsh vocals over a surf rock guitar laden melody. Even their Spanish cover of Nirvana's "Come As You Are" felt like something straight off of my dreams blending two distinct cultures that I was influenced by and bringing them together in a way that I felt like a lot of us in the crowd could connect to.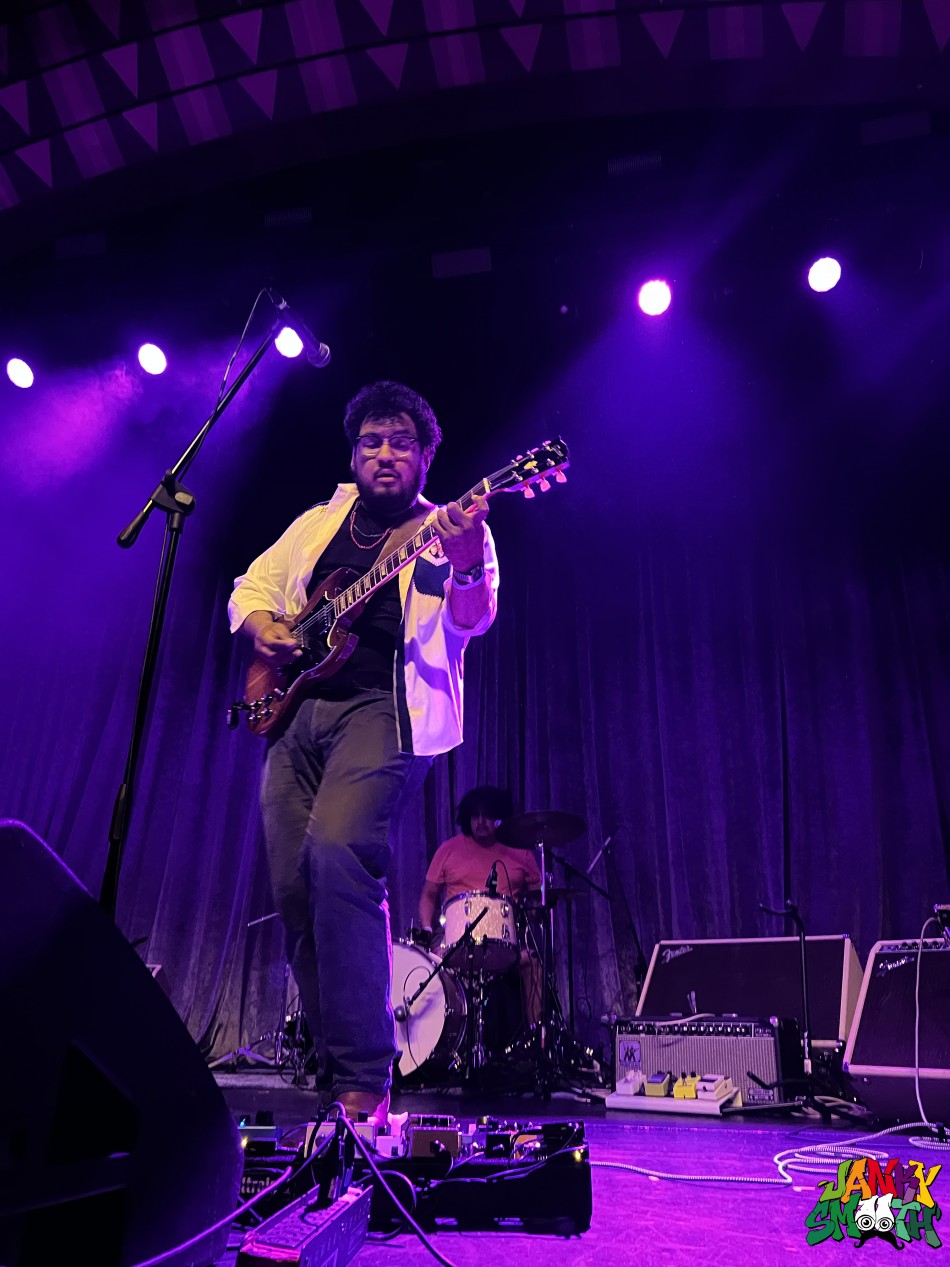 As Tropa Magica left the stage I took a look at the crowd anxiously waiting for Together Pangea to come on and the nostalgia came and hit me again. I saw many faces in the crowd that I know I would have seen at a backyard show from what seems like would have been ages ago. These faces were from all ages as well, seeing a ton of people my age who had a part of their adolescence shaped by their music, but I was also able to make many young faces who are just stepping into the scene. The reality hit that we were seeing LA garage punk royalty about to take center stage and when they did it did not disappoint. They ripped through their set starting out with their recent single "Marijuana" setting the crowd to a frenzy. What impressed me the most is as refined as their sound got, the band still played with the rawness and tenacity that reverberates throughout the venue. A perfect example of this was when they ripped into their classic "Badillac" with everyone in the crowd belting out the chorus of the track at the top of their lungs. As the show progressed the band showcased their range crooning out songs like "Alabama" and "Nothing Left to Hide" with Kelsey Reckling of Reckling providing a guest appearance vocal slot to accompany singer and now husband William making this song hit closer and feel a lot more intimate. As the night continued the band also teased with a cover of "She Don't Use Jelly" by the Flaming Lips and a snippet of "Zombie" by The Cranberries to the delight of many of us in the audience. But as smooth and as dialed in this portion of the set was, the band came right back with classics such as "Sick Shit" "Too Drunk to Come" and "River" which brought an onslaught of energy from the crowd. These songs played in close proximity to each other were the embodiment of freedom and rebellion for me growing up and felt like the perfect time to let it all out with crowd surfers and moshers joining together forming the best imagery for a modern day punk renaissance painting.
What really hit me was when they played their closer and began with the words "My home, Los Angeles" and they ripped into their love letter to the city in "Los Angeles" This song just captured all the emotions I was feeling from the sentimentality to the nostalgia, to the overall connection with the city and its culture. The band has soundtracked many drunken stops at an In-N-Out on the way home from a show covered in dirt and cigarette smoke from the gig that they've just come to symbolize and encapsulate these moments in my head. They represent so many moments, memories, friends to me that I hold their music to the highest regard and seeing them live was worth the wait and has me thinking why it took so long to finally catch one of their shows. The band will be heading off on a summer tour of Europe providing support for Jimmy Eat World along the way.