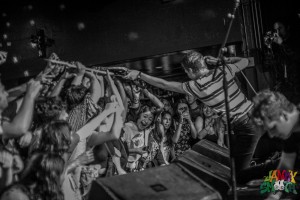 I first saw The Frights almost two years ago in a dingy Pomona basement where I dodged flying beer cans and flailing limbs to watch their high-octane set of surfy pop-punk anthems. When The Frights lead-singer/guitarist/principal songwriter Mikey Carnevale's guitar cut-out during the intro of their live staple "Melissa," rather than stopping and fiddling with his cable or the power supply, Carnevale dropped his guitar altogether to deliver the song's "fuck you, fuck you" refrain while letting the small but enthusiastic house-show crowd envelop him until he briefly disappeared into the sea of bodies. Despite line-up changes (a different drummer and a second-guitarist) and spots on huge lineups (opening for FIDLAR) The Fright's party-boy, escapist ethos and aesthetic still seemed perfectly intact, with an appropriate amount of polish to justify a packed, headlining set at The Echo. After a raucous and dynamic set from The Buttertones, The Frights walked onto the stage to be greeted by a very warmed-up and excitable audience, launching into a one-two-punch of a set featuring standout tracks from their debut album with a few new songs seamlessly mixed in.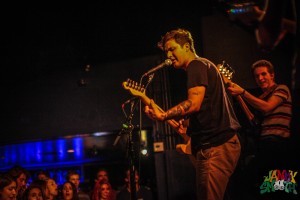 Carnevale and and bassist Richard Dotson have their frat-boy live personas down to a science, expanding upon the jittery vibes of those beer-soaked house-show sets of yore without being overly theatrical or disingenuous. Not that the crowd would've even noticed or cared, already entranced and possessed by the bubblegum, hard-hitting choruses they delivered one after another until every song seemed to fuse into one, huge, pop-punk medley of angst and teenage confusion. The Frights have never been virtuosic in their songwriting or musicianship, but to fixate on that would be missing the point. Their songs all follow the verse-chorus anthemic formula that would rattle the rafters at The Warped tour, and at a semi-intimate venue such as The Echo, the power chords and group-vocals riled everyone up, bringing the inner moshing teen out of everyone, including the majority of the audience who were literal moshing teens.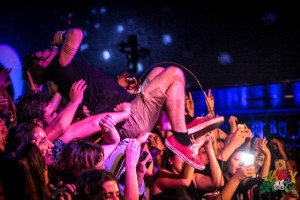 At times, the band felt a little too loose for comfort, not the same tight three-piece unit earning their stripes in San Diego garages, but those musical missteps were easily overshadowed by the moments of sheer bliss, where the entirety of The Echo's drunk, underage audience screamed every last lyric back at the band as if the band had forgotten. It was then that I realized that "reviewing" The Frights show in the most classical sense and analyzing and picking apart every detail was futile and was completely beside the point; these shows are an escapist paradise for kids looking to lose themselves to a very specific brand of garage-rock these dude's have tweaked and perfected. The gradual progression of The Frights isn't about change or shifting the idea of what they are as a band, but taking that beer-soaked house-show experience and amplifying and morphing it to fit any venue, without question. I don't predict that a Frights show two years from now will be far more advanced and tame, with the band on the heels off releasing a mature, sophomore LP. I don't see the headline "The Frights Grow Up" appearing anywhere anytime soon, because the point of a Frights show is not to grow up, but to devolve into a primal being that enjoys three-chords and sweating, and thats a-okay.
Words: Thurston Lewis
Photos: Julien Kelly