Sound and Fury Fest 2023: The Stage Dive Will Never Die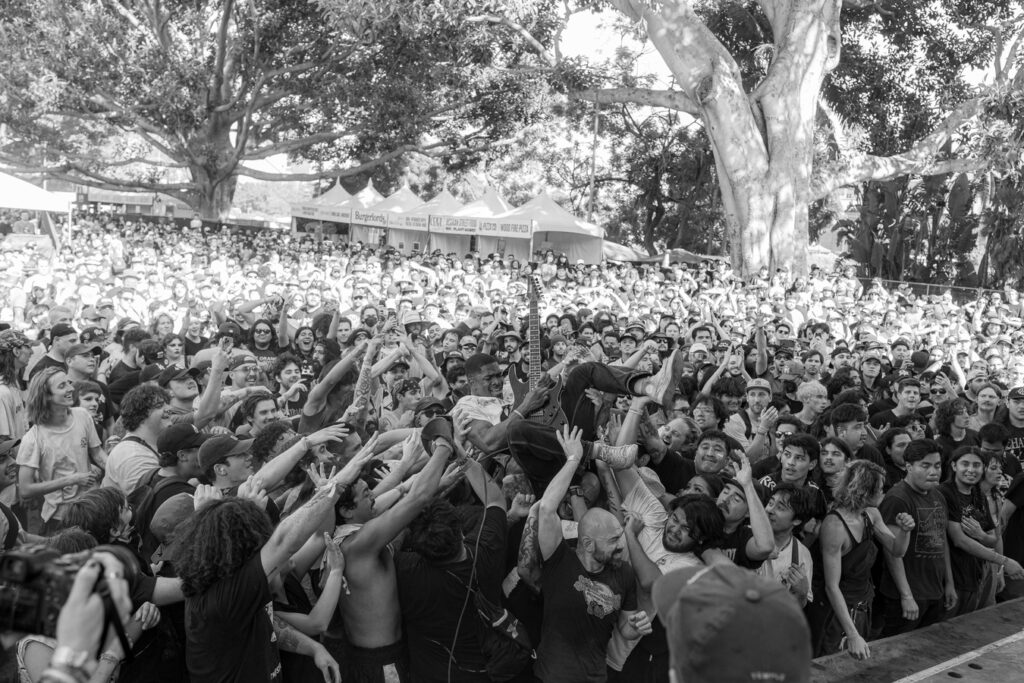 Sound and Fury is easily my favorite music festival, and consistently takes the spot as the best weekend of the year for me without fail. Returning again to Exposition Park for the second year in a row, the controversial choice to move the festival outdoors has proven again to succeed as a hardcore experience exclusive to Sound and Fury. The overwhelming heat and dust clouds were absolutely brutal this year compared to 2022, but passionate fans were not going to let anything stop them from hardcore dancing all weekend long. This was also the second year with involvement from art collective and fashion brand Brain Dead, and their influence could be seen everywhere from the stage backdrops to exclusive merch designs. Sound and Fury is absolutely unmatched when it comes to finding the best collaborators and vendors to help with making their vision come alive, something that more music festivals should take note of in the goal of creating an unforgettable experience that everybody in attendance feels a need to come back to.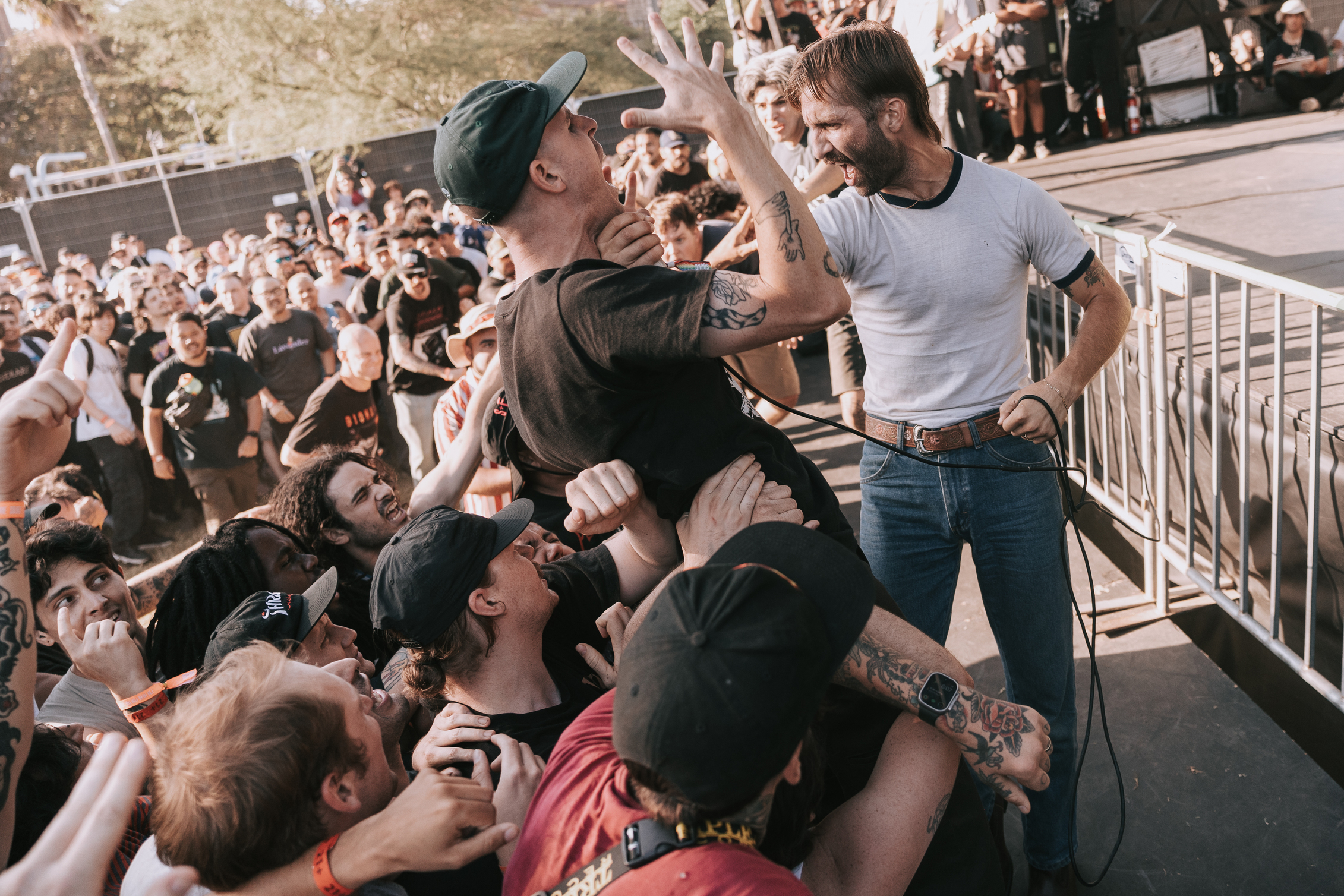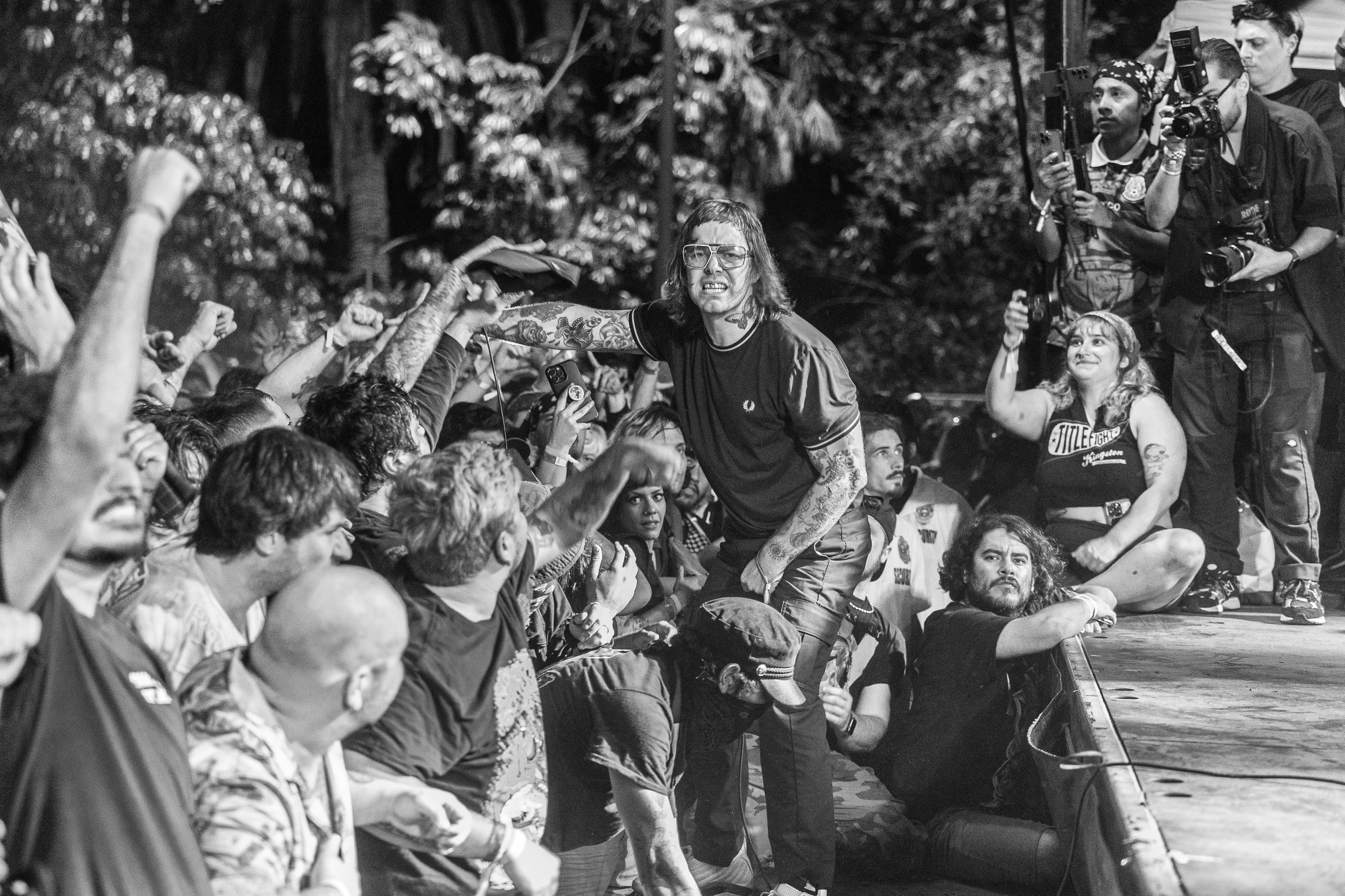 related: Risks Make Better Memories than Nostalgia – Sound and Fury 2022
One of the biggest draws to Sound and Fury's 2023 lineup for me was the amount of bands that I listened to when I first started transitioning from old school punk to the world of breakdowns, spinkicks, and stage-dives back in high school. While I had seen Trapped Under Ice and Cold World at past Sound and Fury, having both bands on the same lineup seemed like a pipe dream. I almost had to do a double take when I saw Minority Unit on the lineup, being an act that I have always wanted to see but gave up hope on long ago when they played their last show at Sound and Fury 2012. Soul Search recently reunited for a Sound and Fury hosted show at 1720 and absolutely killed it, but it puts the biggest smile on my face to know that it wasn't just a one-off occurrence and they've returned to continue the legacy that they put on pause much too early.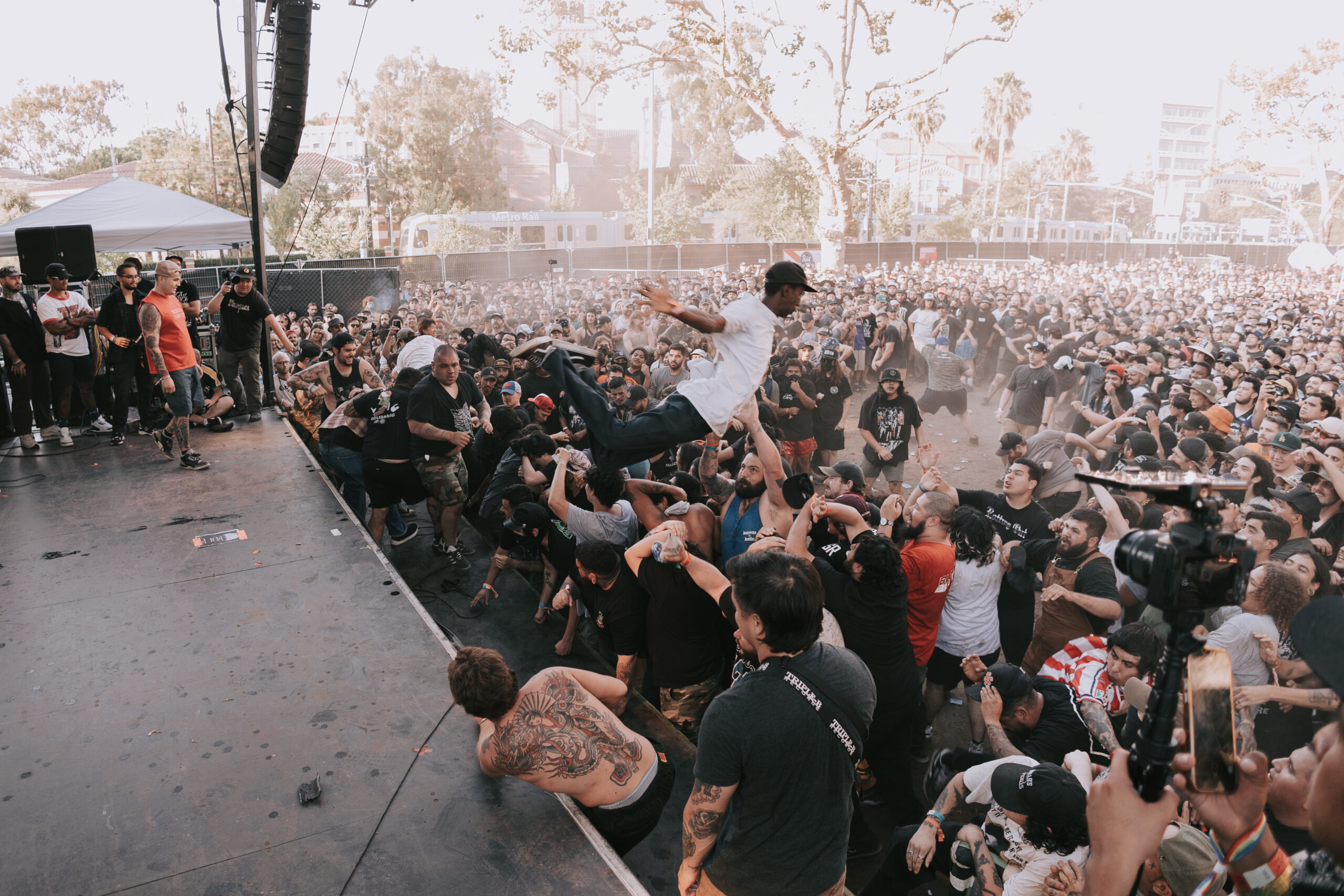 Twitching Tongues have always had so much excitement and hype around their fanbase, but I always felt that I was missing something whenever I listened to them. Seeing that they would be returning for this year's lineup had me anxiously curious to finally experience their unique sound in the live atmosphere that hooked so many fans in the first place. With a surprise Ceremony set (the band that truly got me into modern hardcore) as the icing on the cake amongst an already perfect lineup of bands that dominated the late 00's scene, it felt as if I would finally get to experience what Sound and Fury would have been like back when the festival was hosted in Santa Barbara before returning to Los Angeles after a 2013-2015 hiatus.
related: The Most Complete Sound and Fury 2017 Review on Earth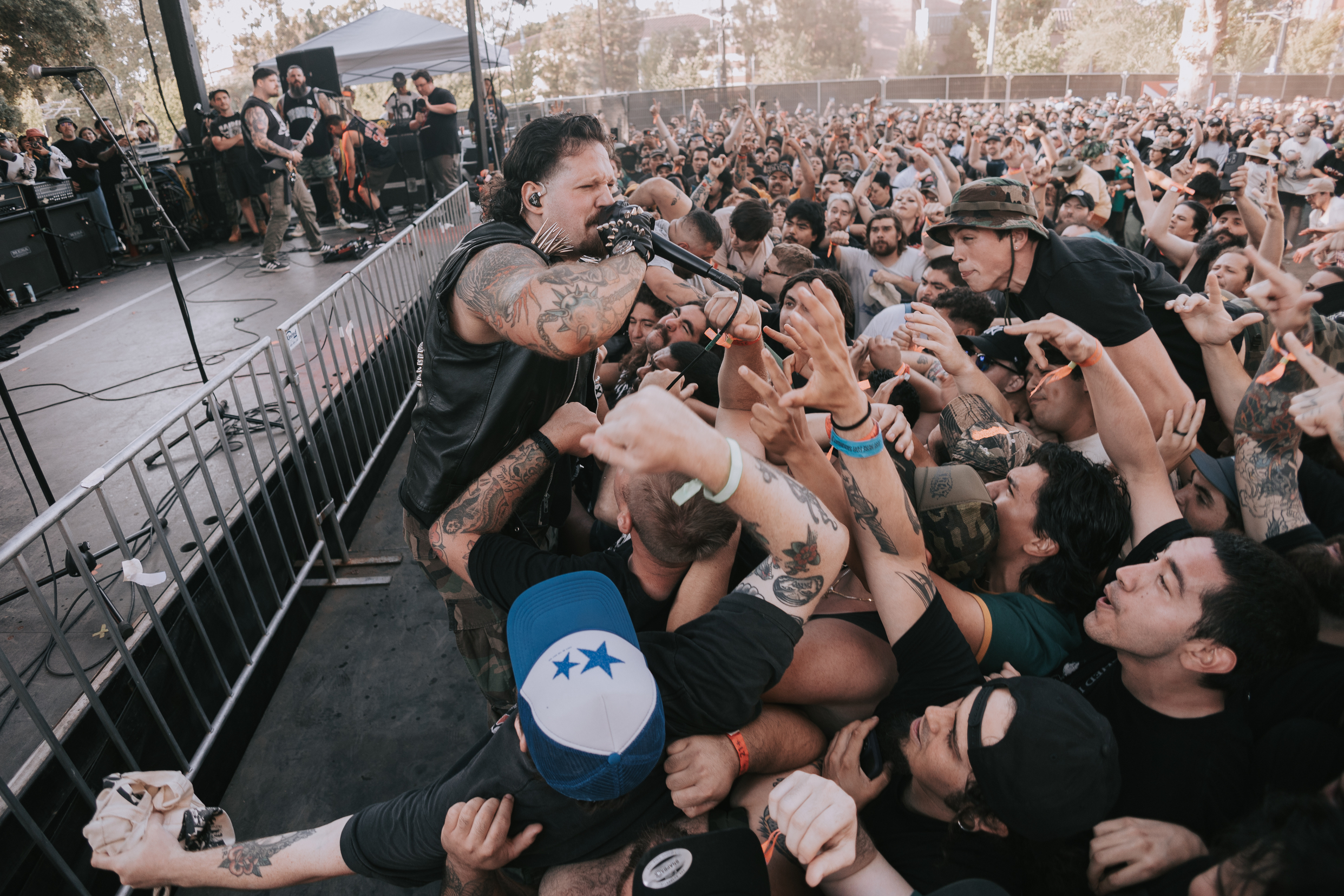 While the lineup was full of legendary acts that hit the nostalgic chord, Sound and Fury are experts at booking the most exciting upcoming acts in heavy music before they reach the public radar. While hardcore has the most prominent presence in the States where it was founded, Sound and Fury managed to book more international groups this year than any lineup in the past. With the presence of Speed from Australia, High Vis from the UK, and Kruelty from Japan; it's apparent that hardcore is breaking beyond the boundaries of the local scenes that it once was limited to.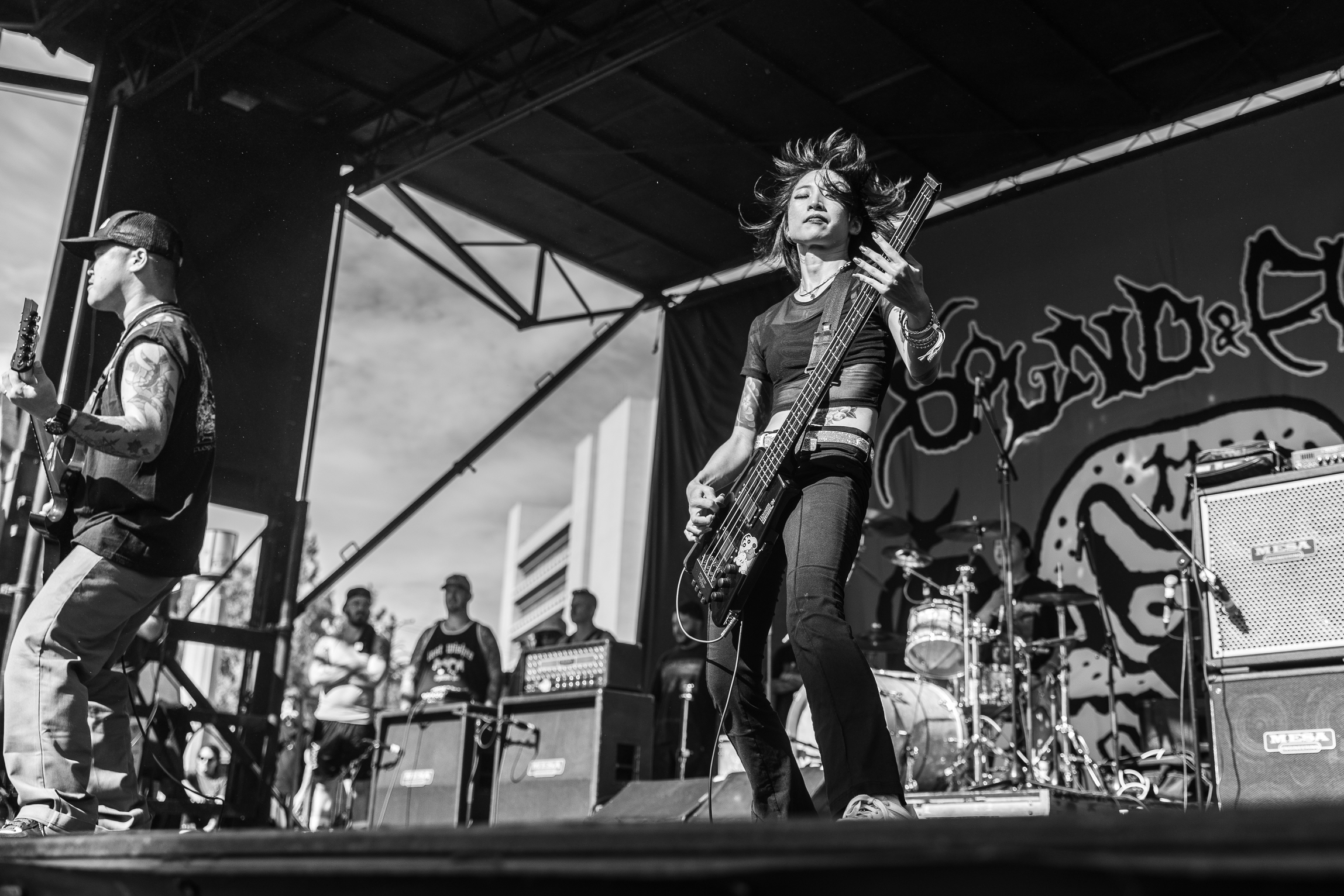 As anticipated each year, Sound and Fury booked many acts that play hardcore shows frequently but aren't limited to the genre itself. Featuring local alternative favorites like Modern Color and Crushed, electronic-influenced acts Glitterer and Model/Actriz, upcoming behemoths of death metal Sanguisugabogg and Kommand, and the atmospheric shoegaze of Fleshwater; Sound and Fury never fails to create a well-balanced blend of sounds that creates the most high-energy atmosphere for each set possible. Seeing any band at Sound and Fury is sure to provide a completely different atmosphere than you would experience seeing them in any other environment.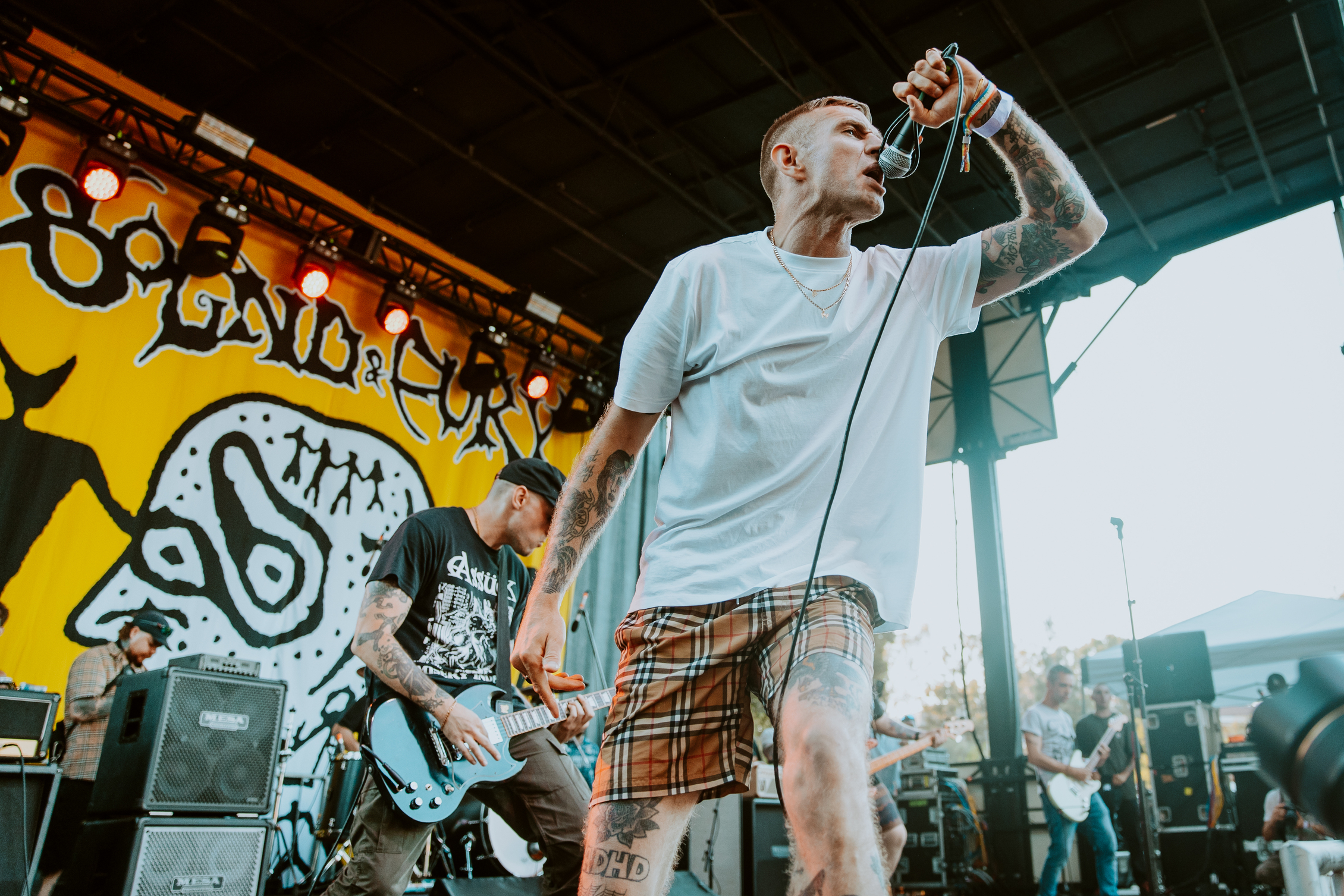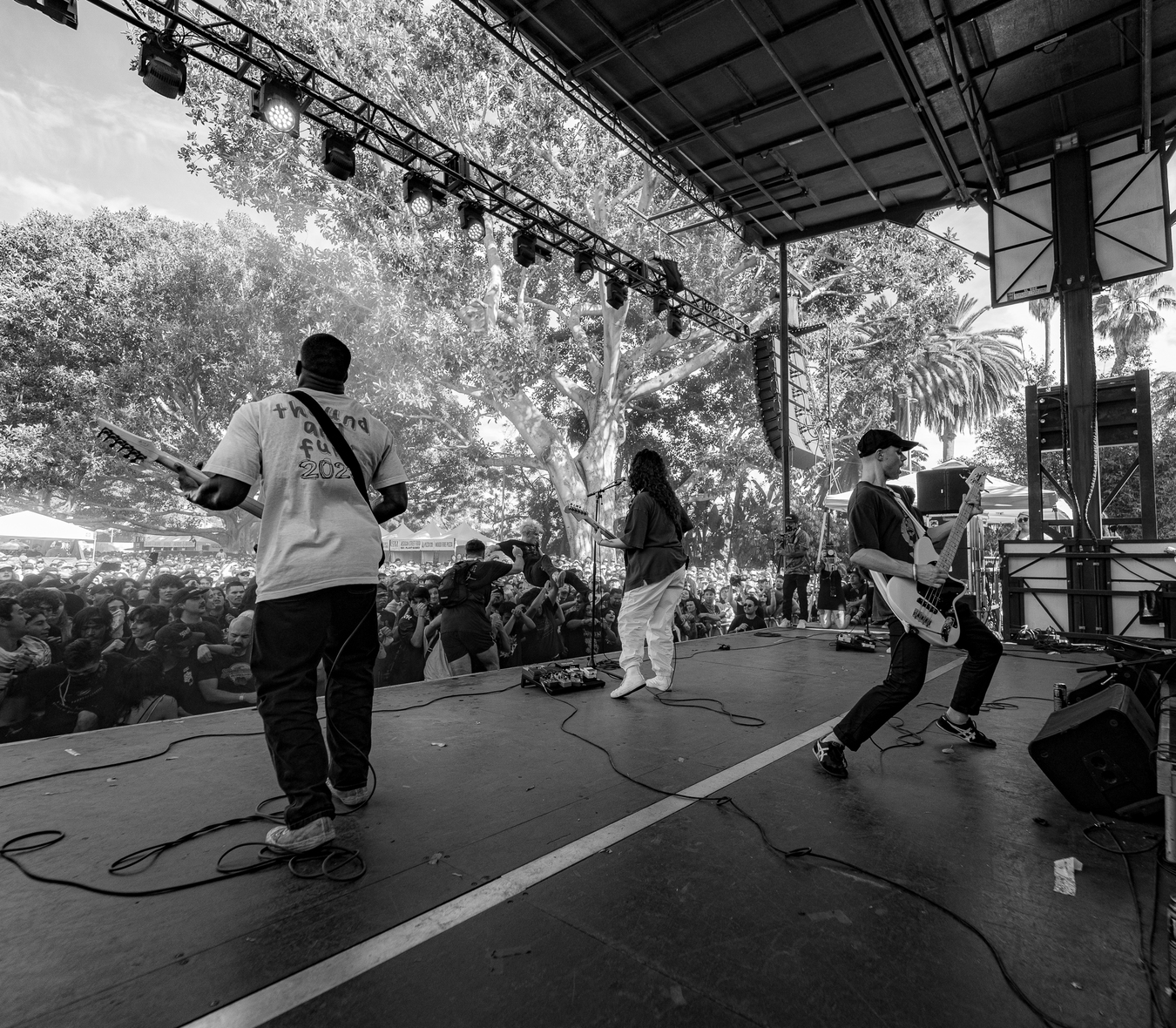 Scalp was the first act of the weekend that I saw, starting things off with a dark and foreboding atmosphere that completely contrasted with the bright, sunny day to embody a Hellish landscape with the blistering heat and chaotic environment of pure violence. Powerviolence doesn't have quite as much of a prevalence in the hardcore scene as it once did, so starting my weekend off with the heaviest band I've seen in years from the genre could not have matched the throwback energy of the lineup more perfectly.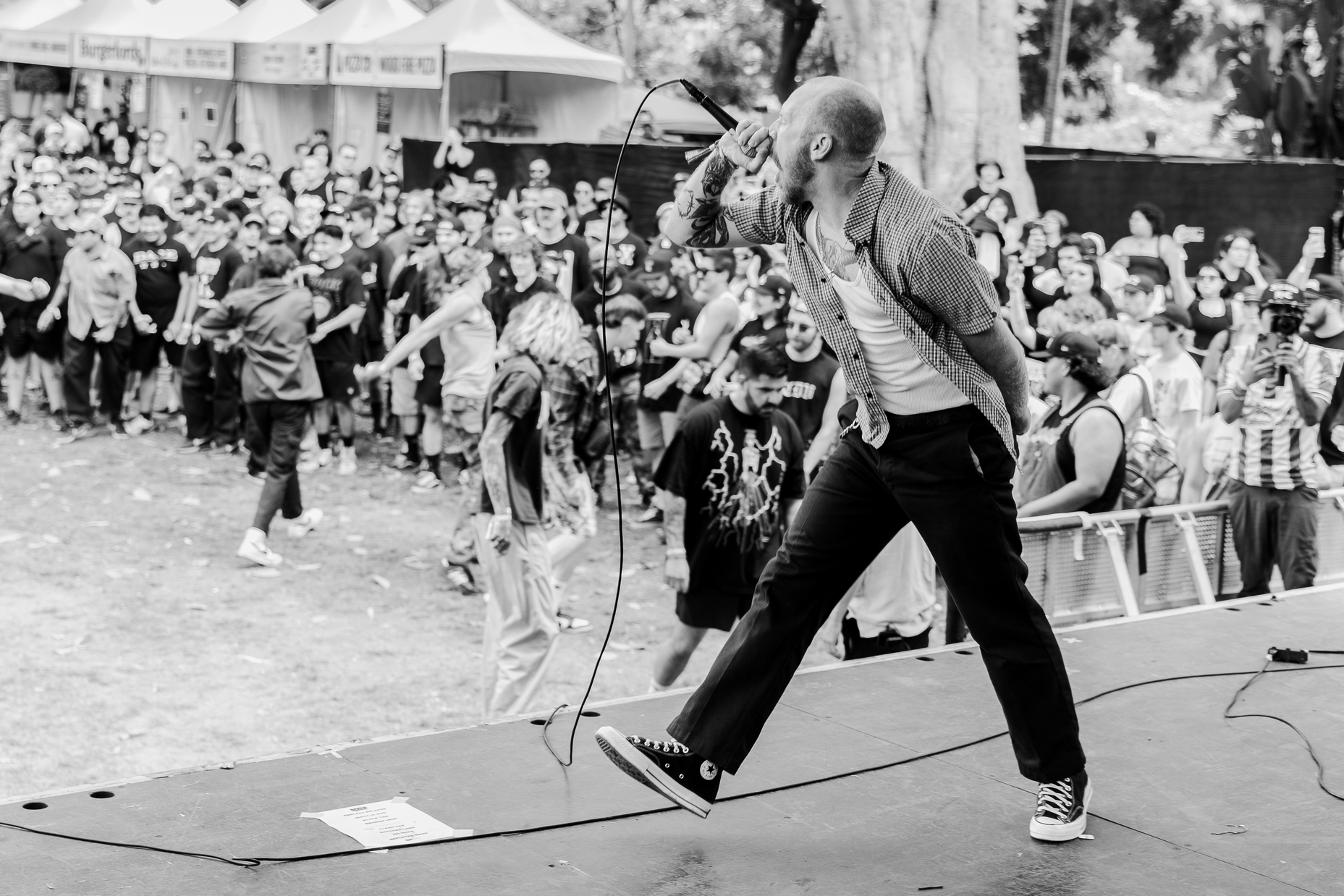 Big Boy's performance started with the hectic energy of a backyard show getting broken up by police, with fire marshalls demanding that a barrier be put on the front of the stage to prevent stage-diving. The band and the crowd were both not having it, with frontman Brandon Flores (also of Sunami) demanding that security get off the stage or he would push them off. With the videos of security lined up across the front of the stage blocking the view of the band that have been going viral online, Big Boy has rapidly evolved into one of the most talked about bands in the scene.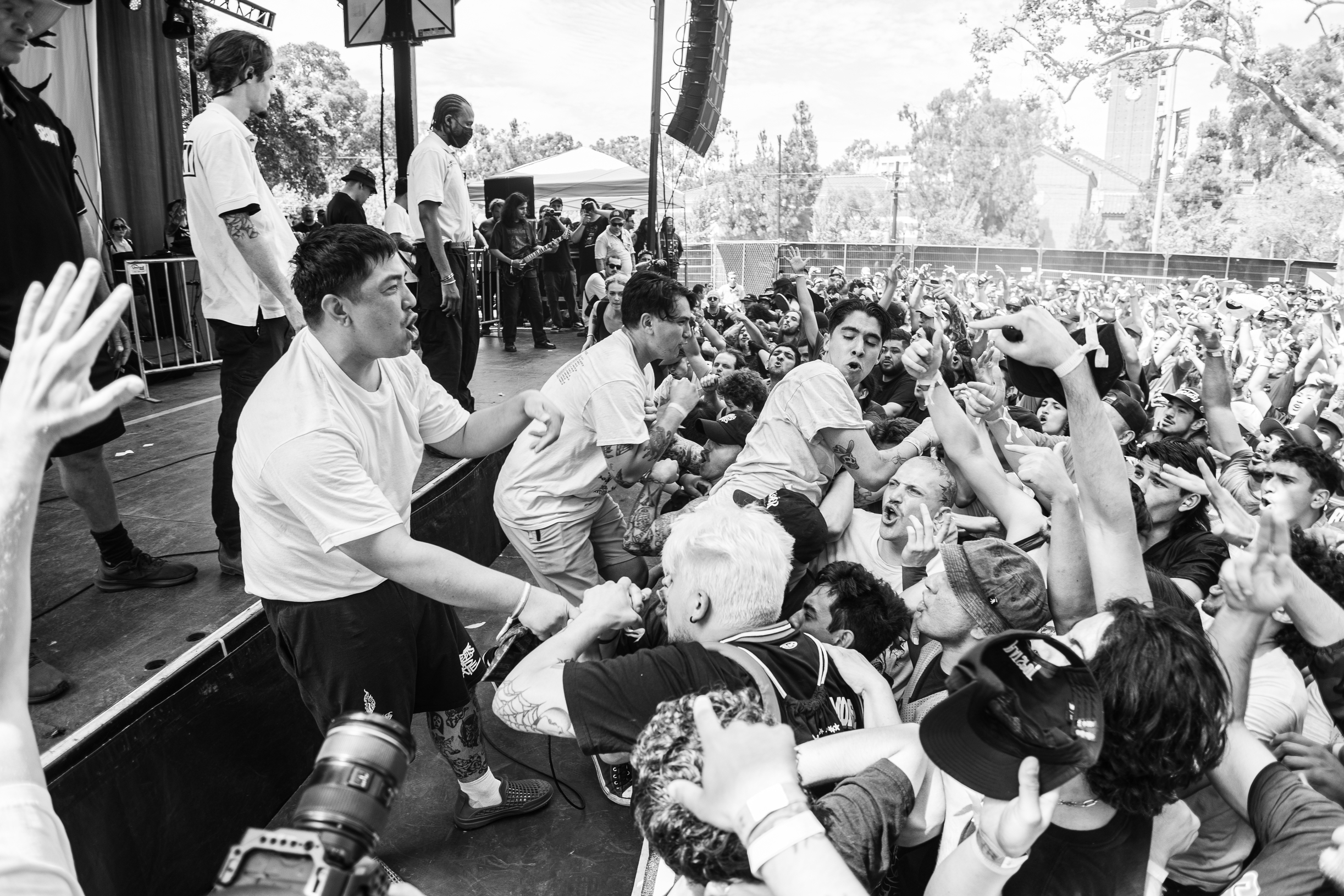 Big Boy's set was really on the same level of unfortunate bullshit that the festival has dealt with as Gulch's last performance in 2022, where the sound was cut off before Gulch could finish their last 2 songs. The recent hiccups of hosting the festival at Exposition Park have really emphasized how the hardcore community is willing to persevere through anything to keep a dream as ambitious as Sound and Fury alive, and these road bumps will only continue to be ironed out in future years. While attendees did eventually adjust to the overwhelming security presence and lack of stage-dives as the day went on, Big Boy's set was the catalyst where the chaotic energy of the first day began.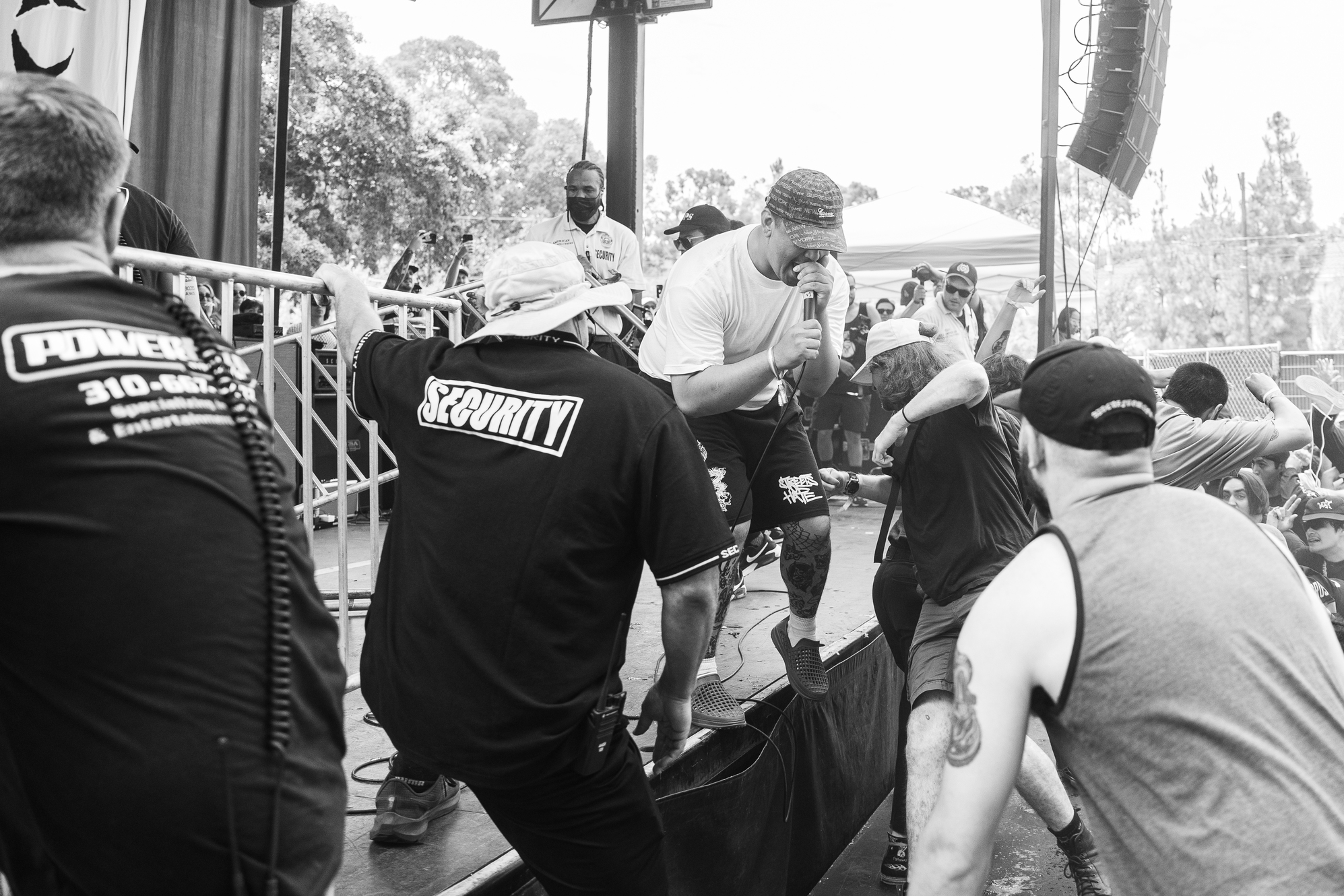 Restraining Order was up next on the Green Stage, being one of my favorite examples of current artists throwing things back to the 80's hardcore spirit. Frontman Pat Cozens commands the stage like an acrobatic meerkat on stimulants in both appearance and the energy he jumps around the stage with, but I mean that in the most punk rock way possible. With so many recent artists taking more experimental directions in their sound as hardcore grows in popularity, it's refreshing to see a band as barebones as Restraining Order take on the classic tradition of focusing on playing as hard and fast as possible, with the occasional catchy breakdown to skank to. Restraining Order's set felt like a release of all of the anger towards the fire marshalls interfering with the magic of Sound and Fury, with a perfect blend of circle pits and hardcore dancing that invited everybody to mosh along in whatever way helped them blow off the steam felt throughout the air.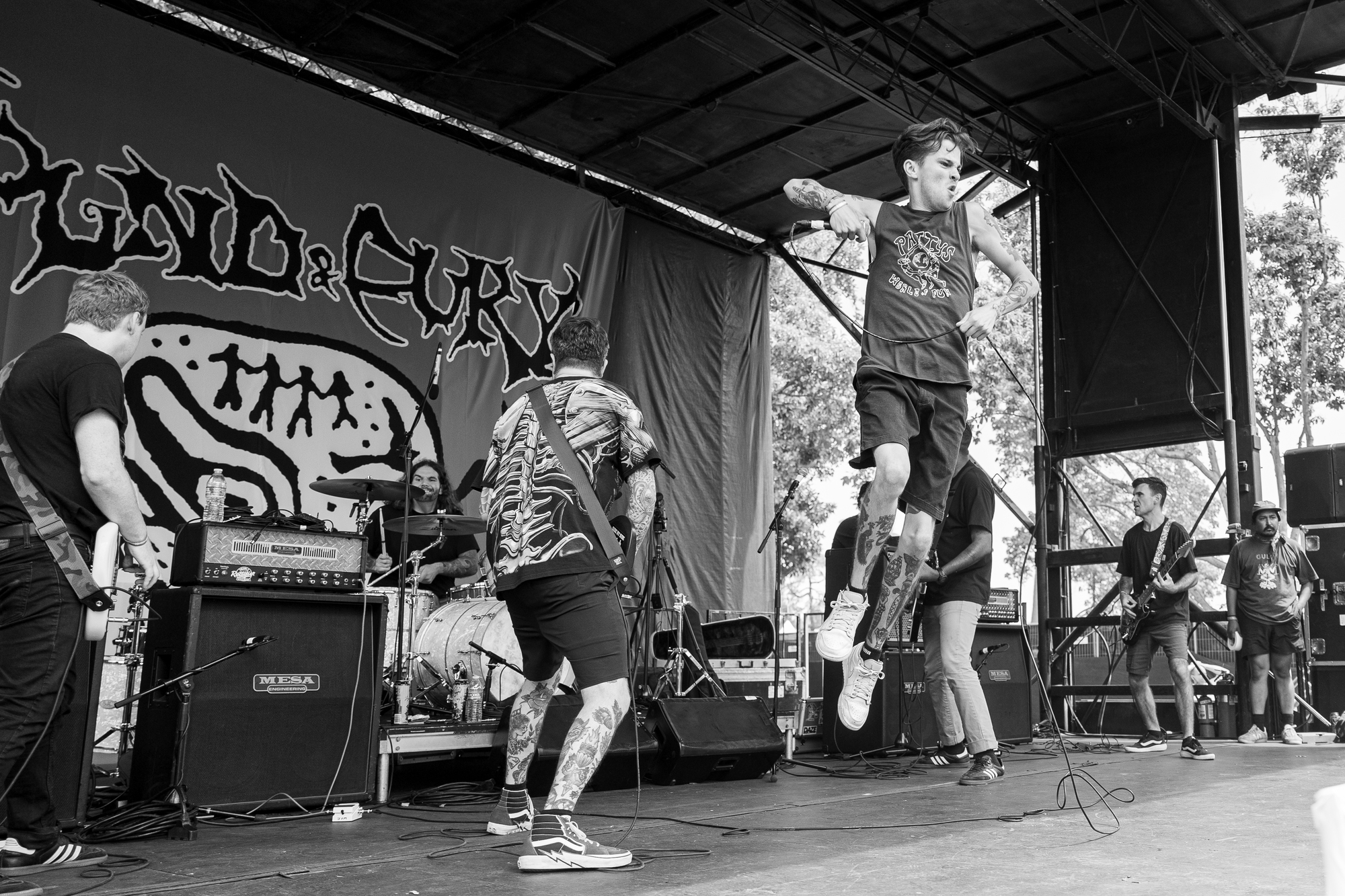 The Runts brought a completely different side of hardcore punk to the festival with their rowdy old school punk energy, proudly wearing their roots from playing East LA backyard shows on their sleeve. Even though the straight edge lifestyle isn't as prevalent in hardcore as it once was, that influence can still be felt in most newer bands; but The Runts did not have a trace of it with Nicolas Carabajal holding a PBR throughout the set and demanding everybody to circle pit rather than hardcore dance. In the most unfortunate of circumstances, The Runts did recently have to cancel a tour due to Carabajal developing cancer. While the entire Los Angeles punk and hardcore scene is wishing him the quickest of recoveries, it's absolutely heroic he still wanted to come out and tear shit up with one of the most memorable sets of the whole weekend.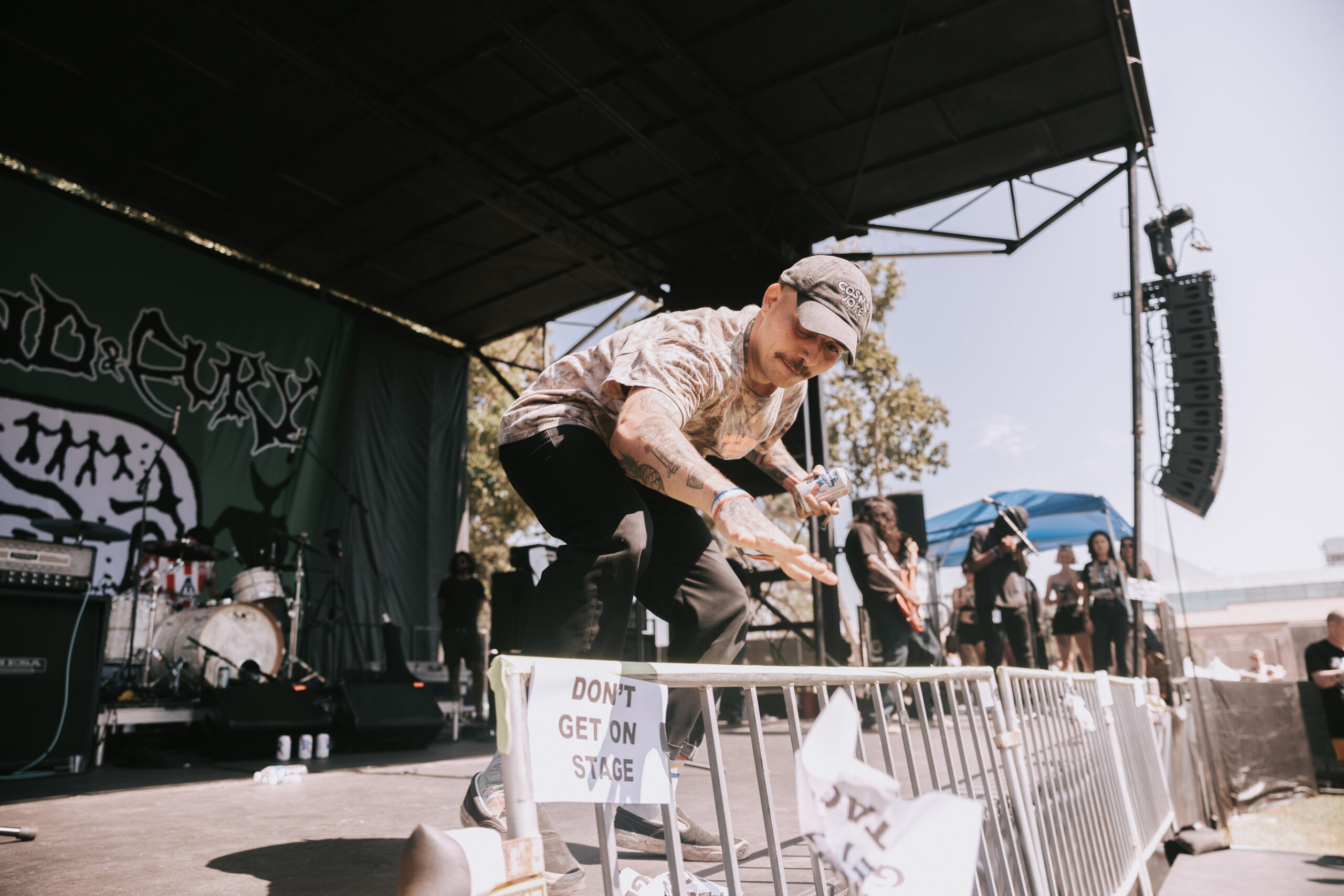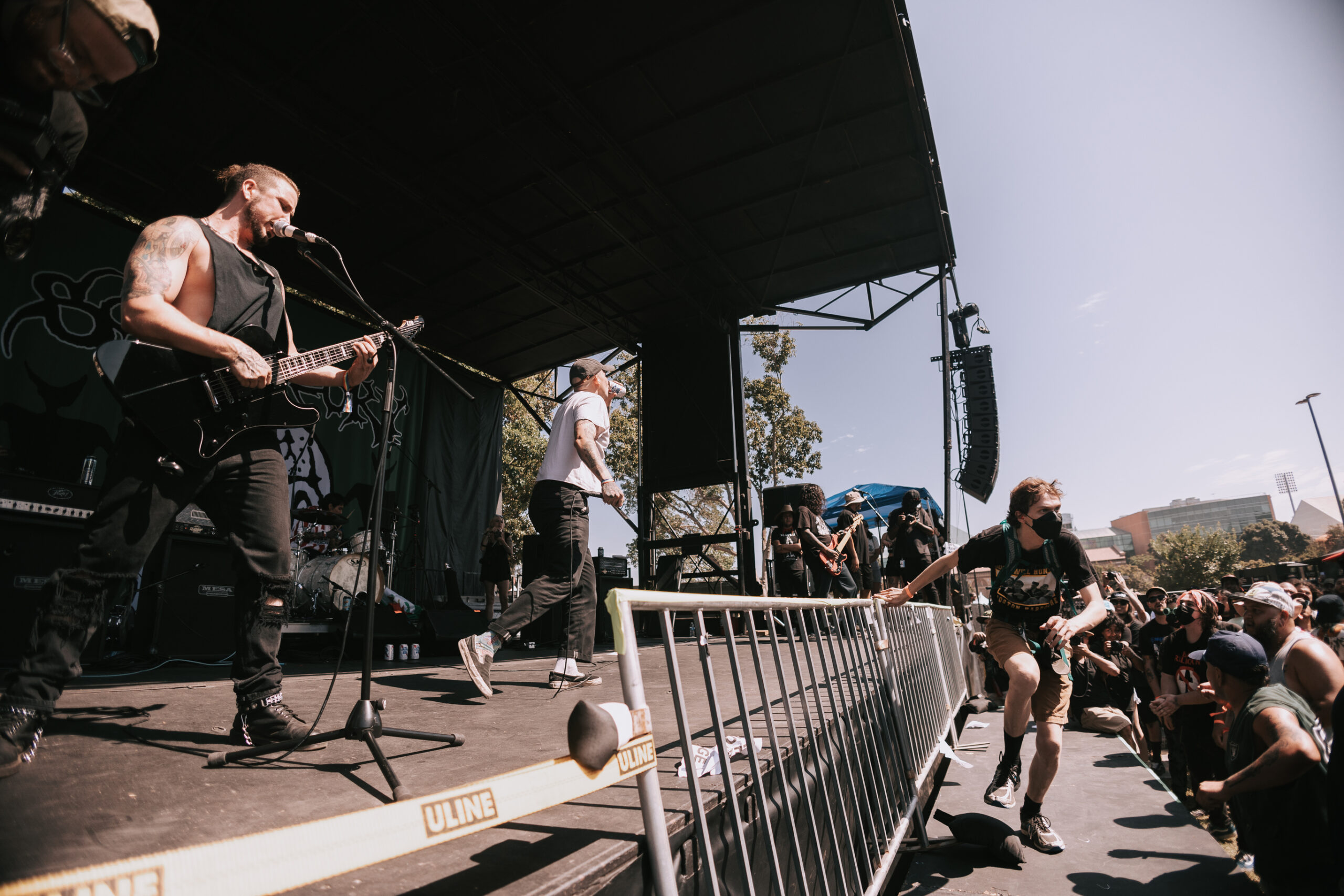 It felt surreal seeing Modern Color on such a big stage, as I had only experienced them perform at smaller DIY venues like Programme Skate and Sound and Riff Mountain (RIP) in Fullerton. Modern Color have become one of the most prominent bands in the Southern California underground scene over recent years, with their emo-influenced post-hardcore sound and anthemic sing-along choruses fitting in perfectly with the vision of Sound and Fury's interactive spirit.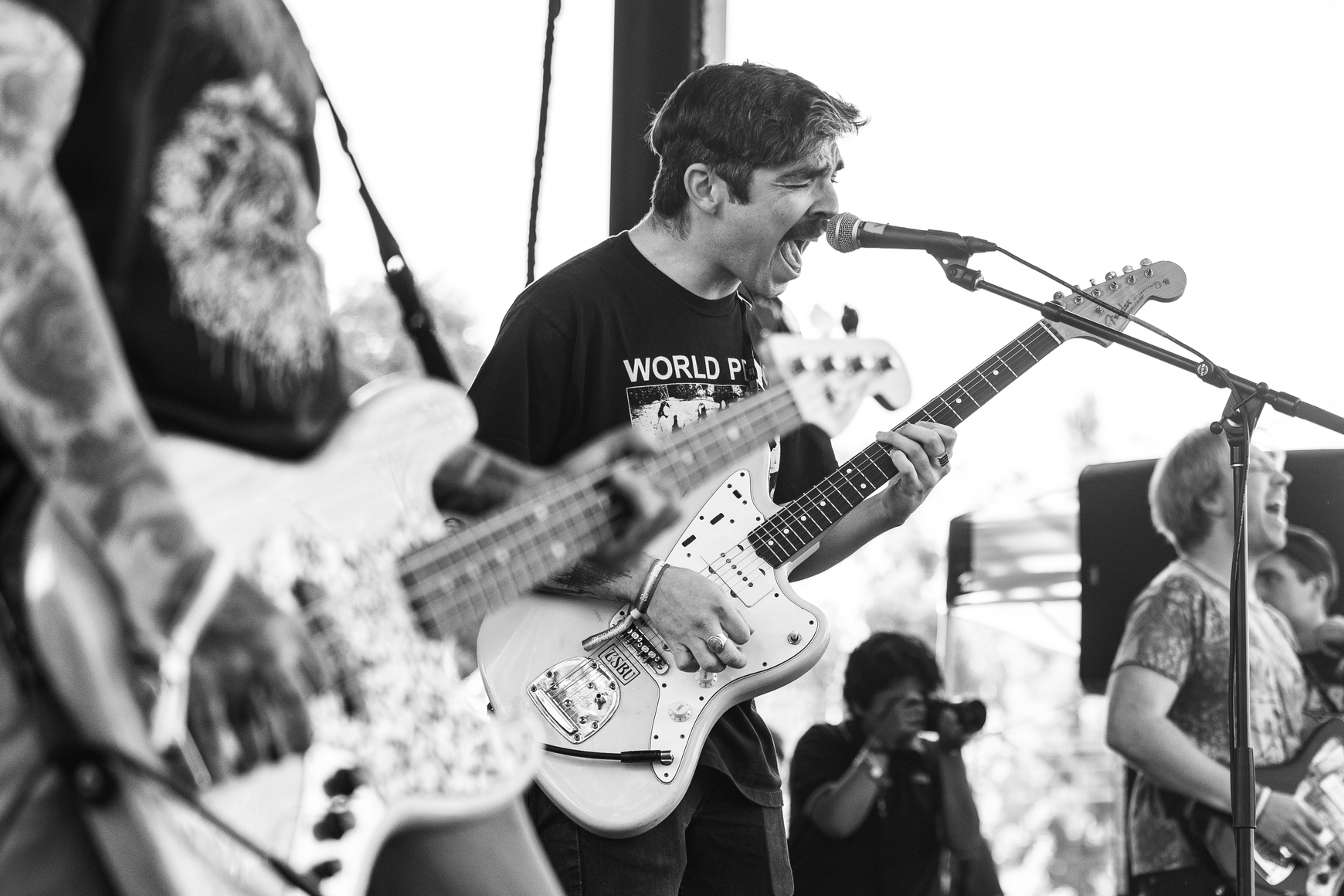 Gel is one of the most talked about hardcore bands in recent years, living up to the hype completely with their electric live performances. Singer Sami Kaiser has a manic, animated stage presence that embodies the punk rock spirit in every way with her screeching vocals perfectly matching the noisier, chaotic instrumentals. Her mic was unfortunately having issues throughout the set, but with the amount of people screaming along it did not slow the band down a bit. Each song felt like a tornado of disorder that immersed the entire audience into having some of the most movement out of any of the daytime sets the first day. It's incredibly easy to see how Gel is appealing to such a wide audience as they grow in popularity, and the pure rage that their sound exhibits is sure to bring more old school punk fans into the hardcore scene as time goes on.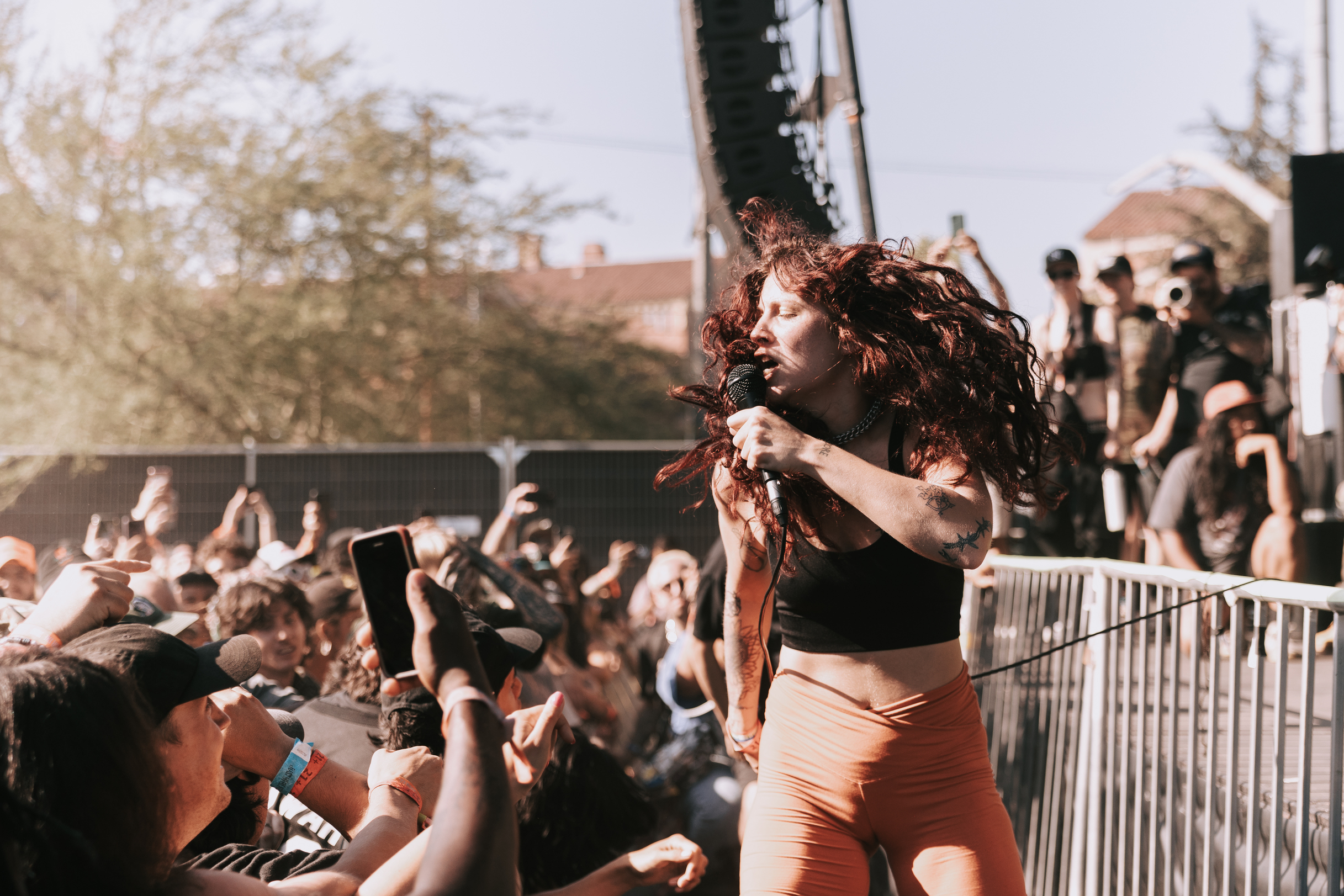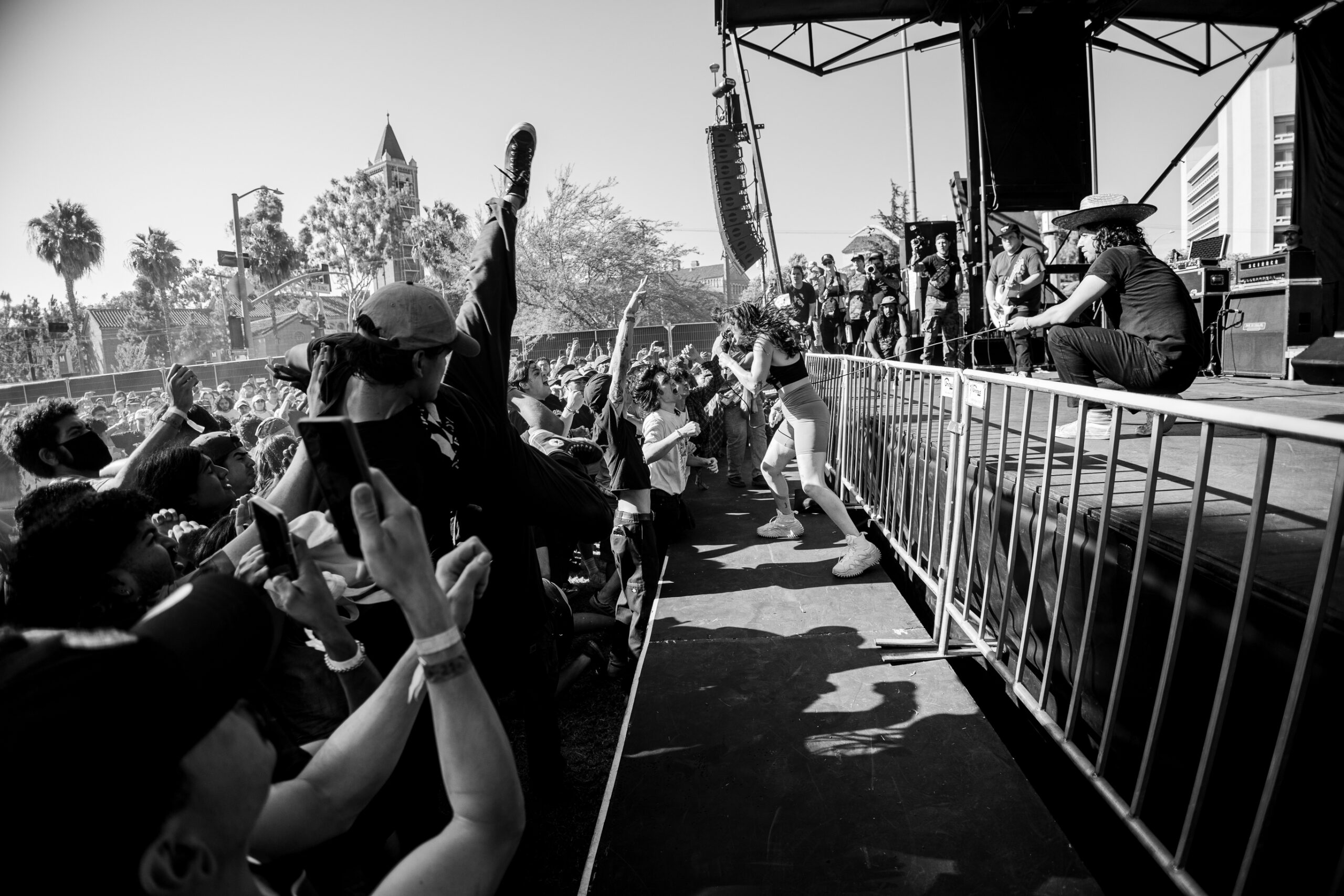 Dead Heat may be a band that seems to appear on nearly every hardcore or metal bill in the greater Los Angeles area, but they are always one of the most memorable acts of any show they play and have established themselves as one of the most notable thrash metal bands in modern times. The anti-stage diving measures didn't phase the band too much, with frontman Chris Ramos spending much of the set in front of the barrier acting as a conductor of the feral circle pit in front of him. Dead Heat sets will always be a reckless time, evoking the carefree party that the 80's thrash metal scene represented and inviting everybody to headbang along.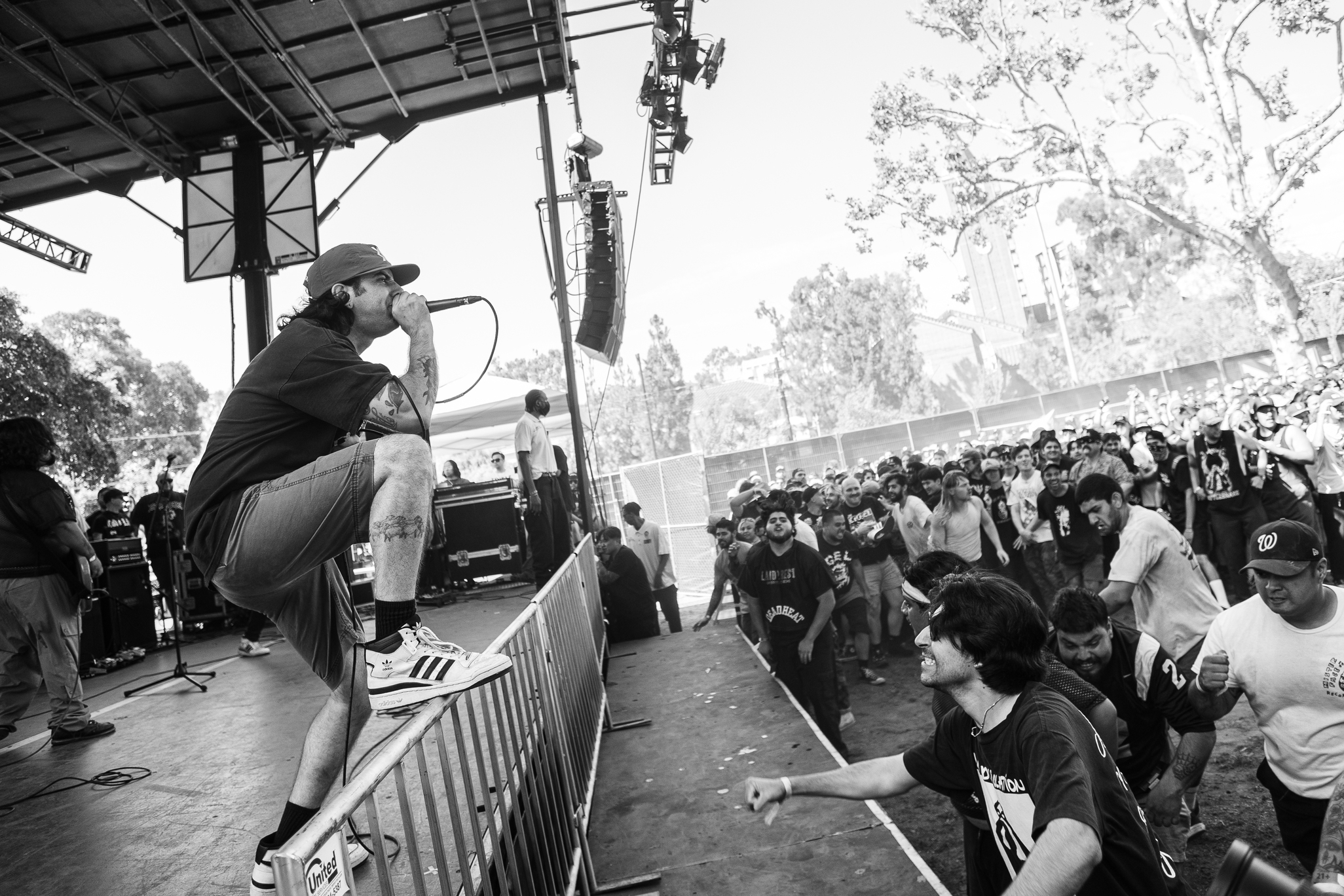 The last time I had seen Spy was in a much smaller venue, but they have an absolutely ballistic energy with an ear-shattering noise-y sound that could not be better suited for a large festival stage. Frontman Peter Pawlak performs like an anthropomorphic wrecking ball in the way he thrashes around every corner of the stage, backed by an apocalypse of turbulent instrumentals and deafening feedback. Day 1 definitely hosted more artists that embodied the classic punk ethos of rebelling against conventional music theory to play as hard and fast as possible, and Spy is not a band to be slept on in the slightest if you're looking for that rebellious fury.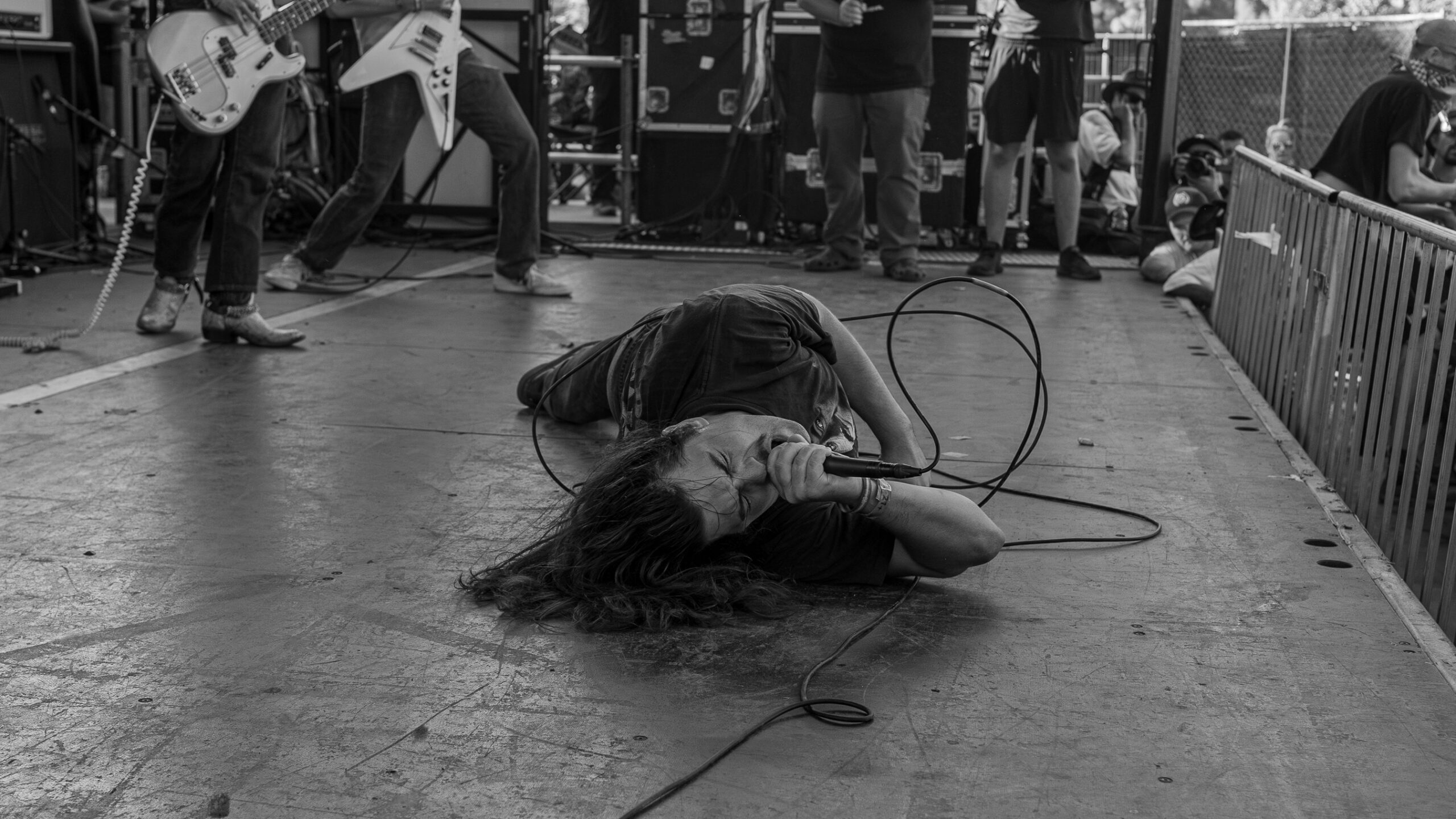 Fury have long held the throne as the Kings of OC Hardcore, graduating from playing regularly at Programme Skate and Sound and being the first opener on lineups at The Observatory's Constellation Room to being one of the most well known bands in Southern California punk music. While it used to be common to see Fury multiple times in the same year with how many shows they would play, their live appearances are becoming rarer and rarer as their popularity grows and it's only created more of an aura of anticipation around them.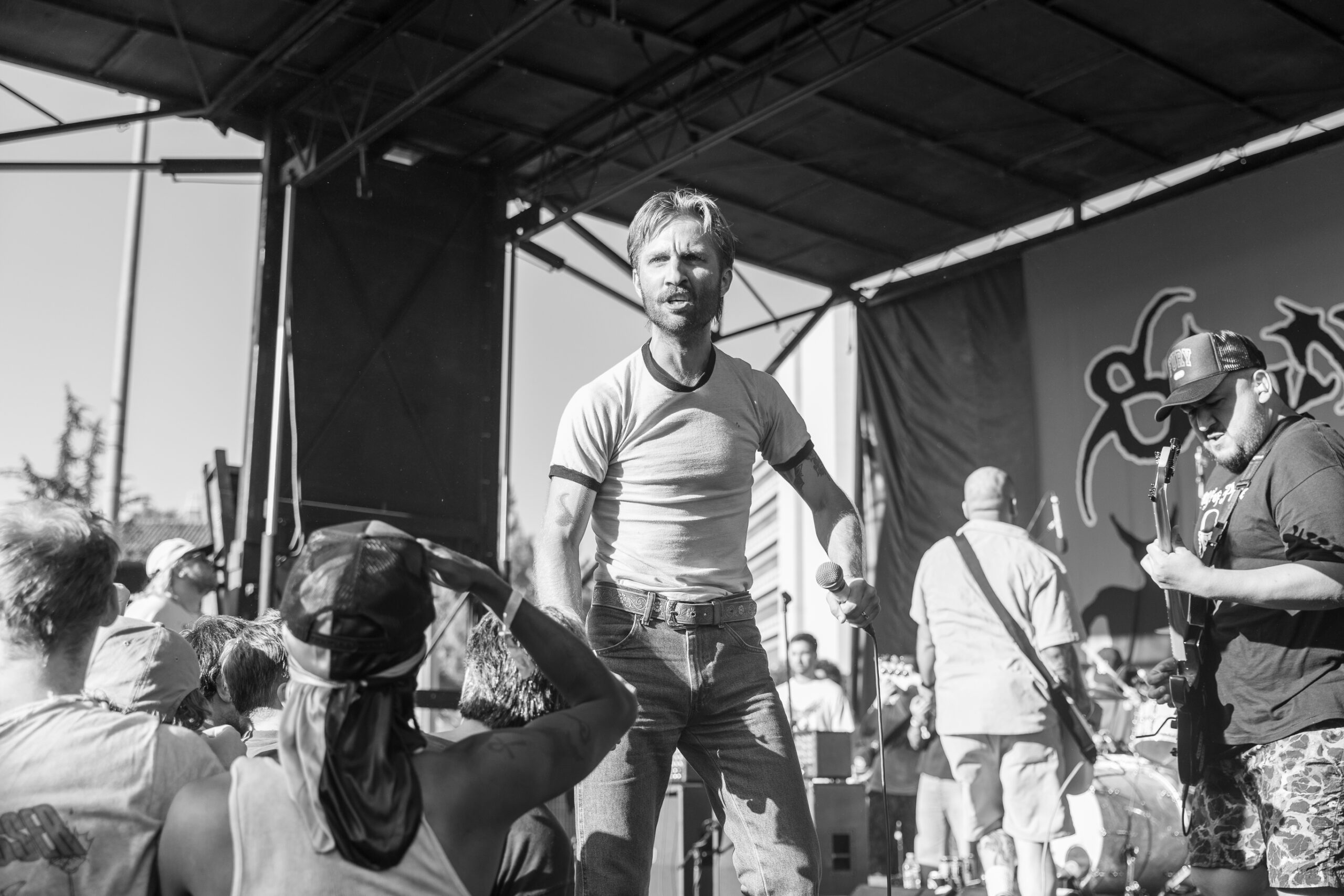 While Fury have easily reached headliner status over the years, scheduling them during daylight was the perfect way to experience their epic inspirational sound live. Fury have released countless anthemic songs over the years that create the perfect environment for fans to dogpile on vocalist Jeremy Stith to sing along. Even with the barriers, it felt like a proper Fury experience with the passionate energy of fans crowding towards the front of the stage to scream their hearts out.
It was apparent that Twitching Tongues' long awaited return was the highlight for many peoples' weekend before their set had even started. Twitching Tongues were easily the most theatrical set of the festival, featuring live acoustic tracks from artist Cera Gibson as moments of release between the chaos. They definitely had the most violent moshing and stage-dive interaction amongst the crowd out of all the acts that broke outside of having screaming vocals, even surpassing many of the "heavier" sounding bands on the lineup with the madness they brought to the pit. With the band featuring brothers Colin and Taylor Young, the collaborative spirit of Twitching Tongues being a passion project could be felt immensely throughout their entire set. Considering they have already announced shows for other performances since the festival, Twitching Tongues are back with an experimental vengeance that is sure to stir up the foundations of the current scene.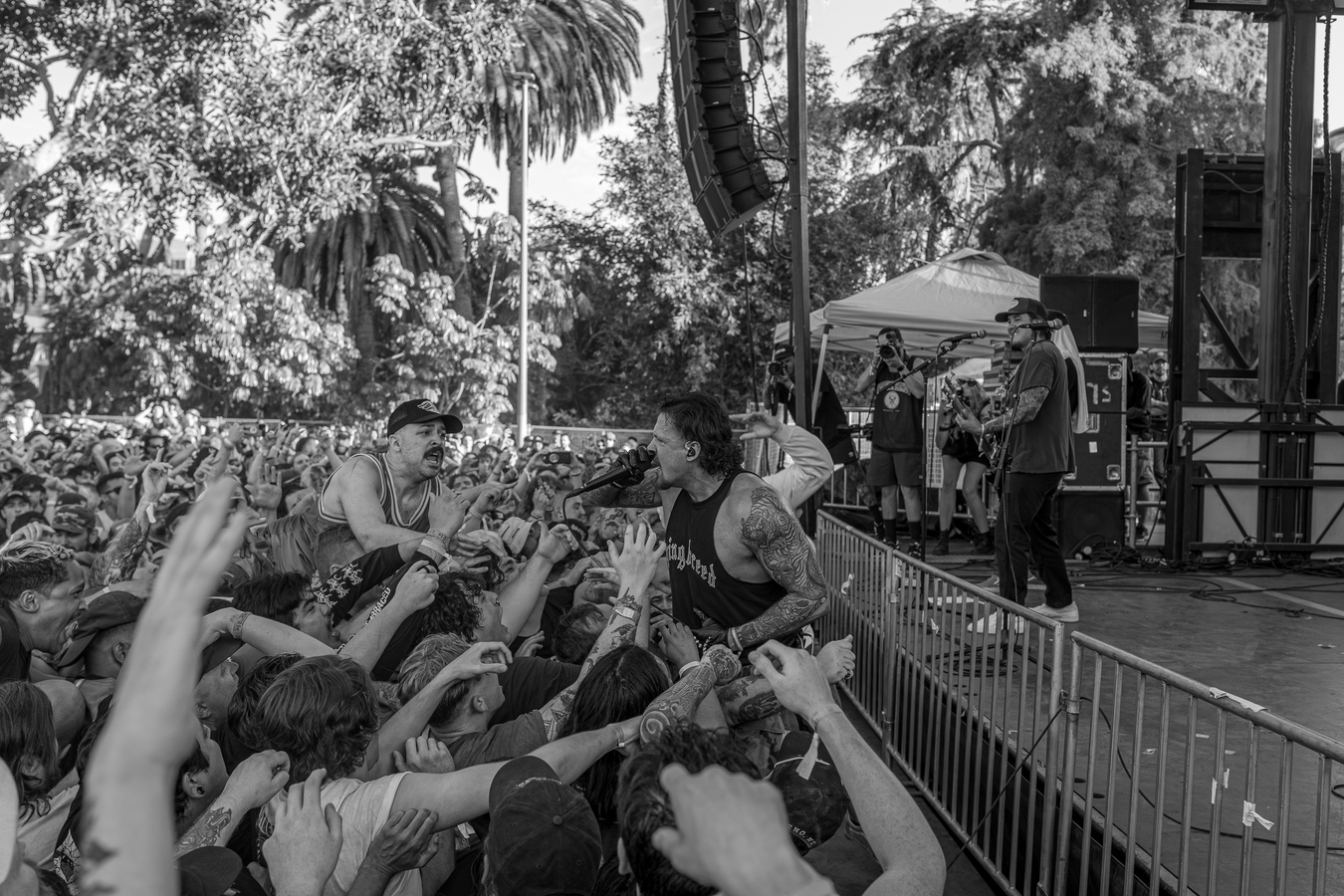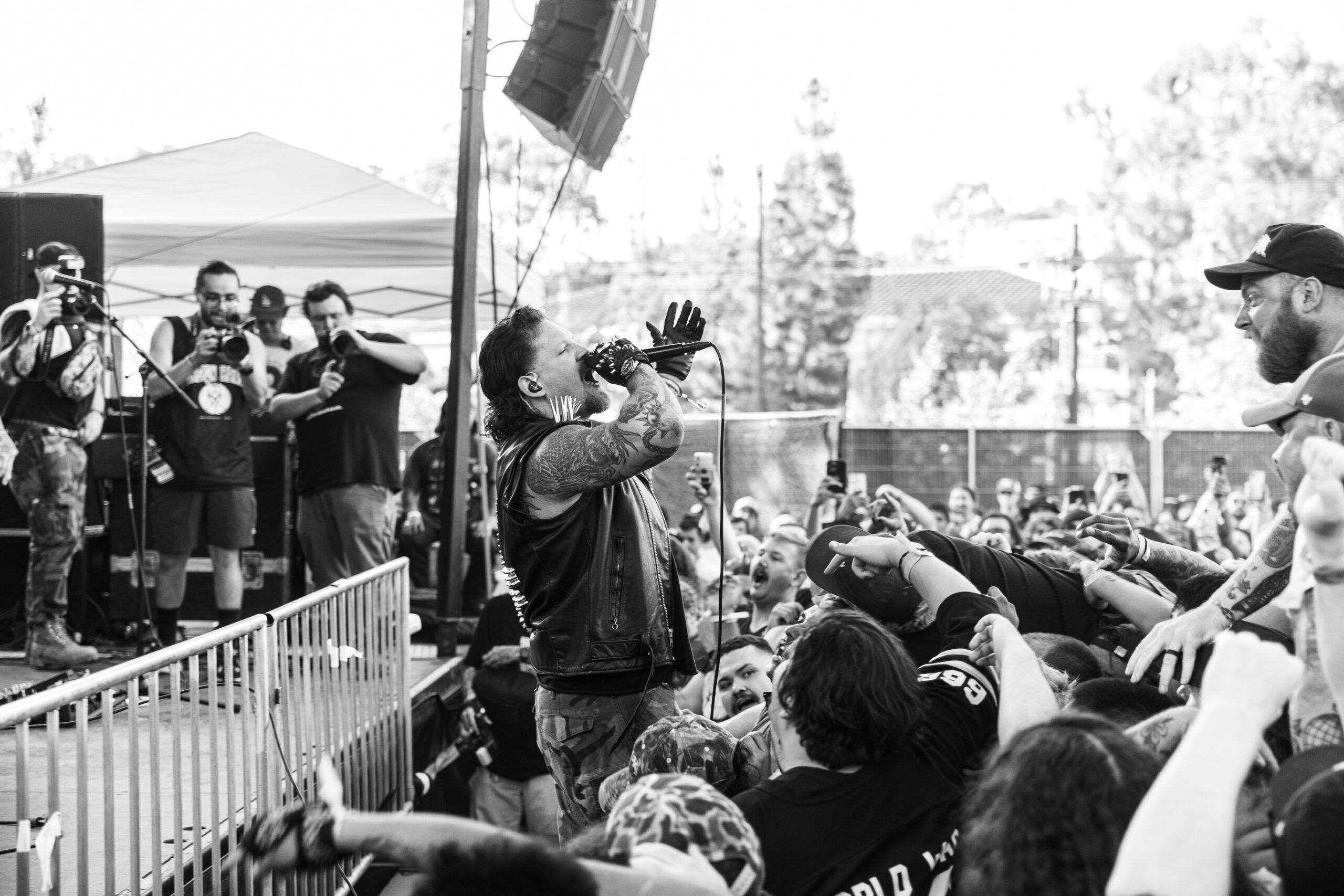 While there were many upcoming bands with incredibly promising futures on the lineup, High Vis was the band that I am most excited to see evolve in popularity and experimentation. It's almost impossible to pin High Vis down to a specific genre, having a bright sound as infectiously catchy as 90's alternative rock like Third Eye Blind with a '77 punk spirit. Coming all the way from England for their first run of US shows, Sound and Fury was the perfect environment to showcase their massive sound that's destined to fill stadiums someday with their cosmic sound and charisma. Frontman Graham Sayle completely transformed High Vis' sound when performing live, passionately screaming the lyrics and inviting everyone to sing along which created a much more Oi atmosphere than the focus on his snarling vocals heard in the studio recordings. I would bet money that we'll be seeing High Vis in mainstream places like KROQ and Coachella someday, but the authenticity they display proves that they'll never leave their punk roots behind in the process.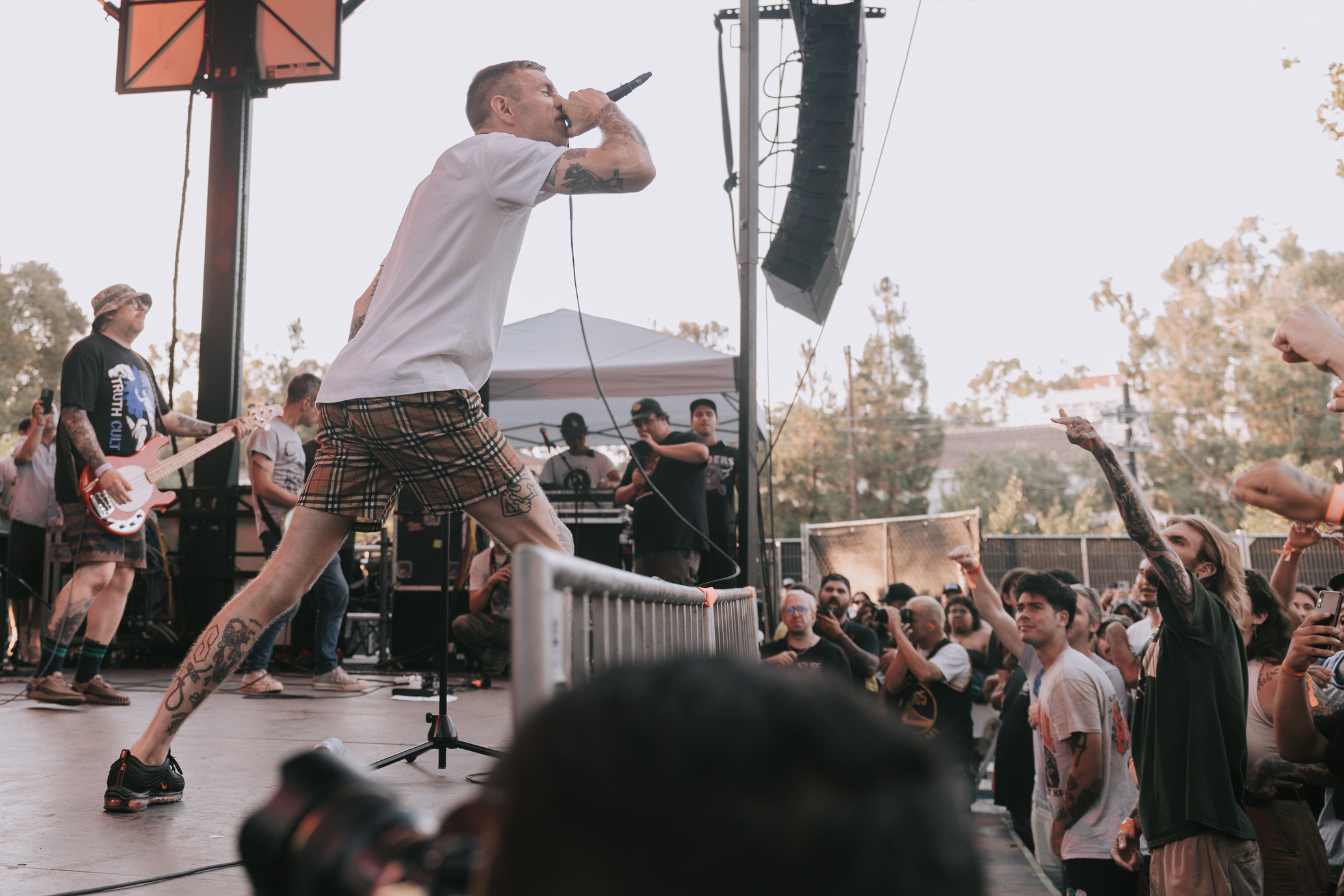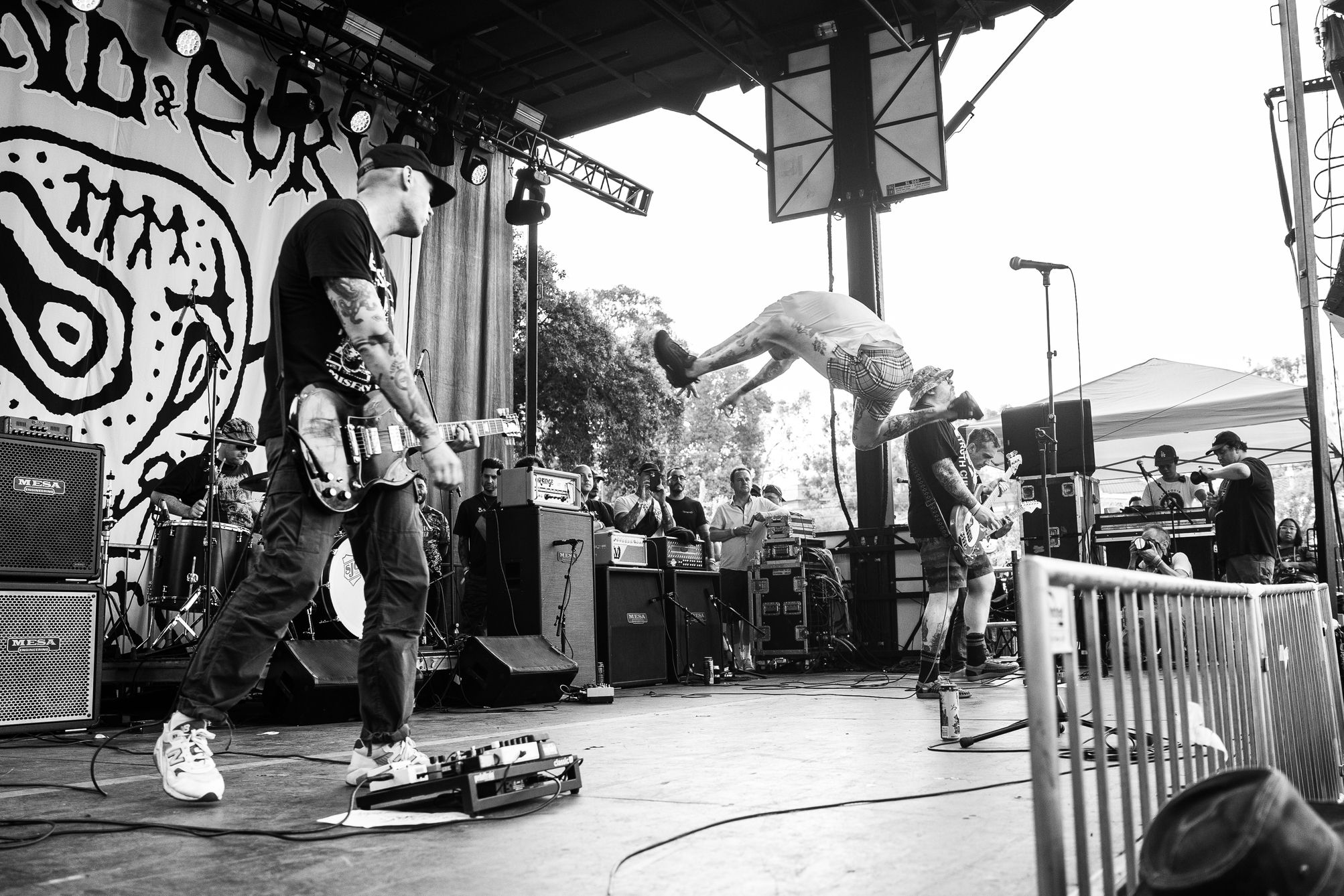 One of the most exciting sets of Day 1 was a complete surprise to everybody, with the entire crowd madly swarming towards the stage in mass as Anthony Anzaldo of Ceremony's instantly recognizable guitar tone could be heard. The set was less than 9 minutes in length, only consisting of their debut demo Kersed being performed start to finish. Ceremony lyrics are as deeply engrained in hardcore fans as prayers are in Christians, so there was not a single person in Exposition Park who was not singing along. Even with the set being so short, Ceremony felt like a headliner in their own right with the frantic enthusiasm that everybody at Sound and Fury displayed as soon as they hit the stage.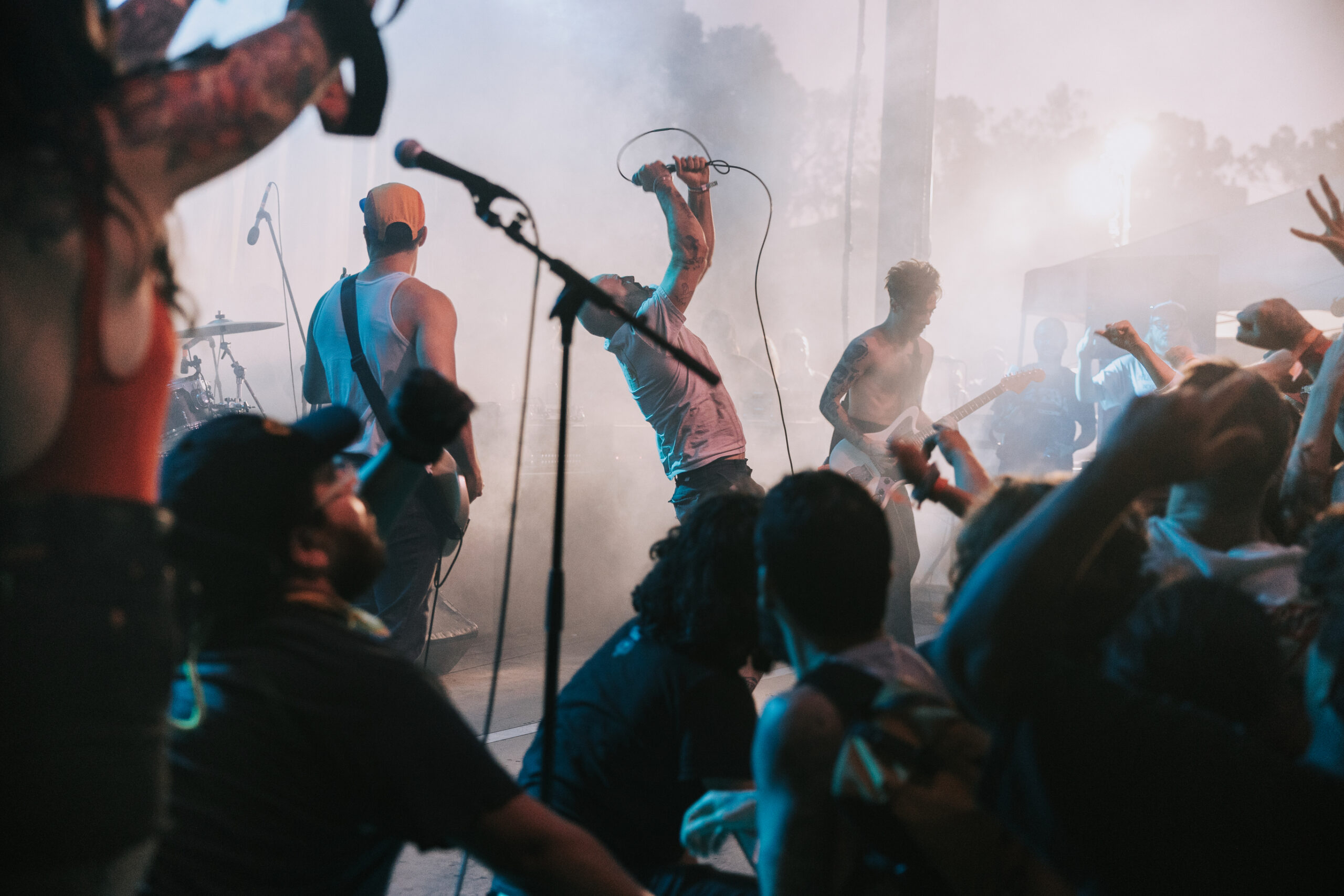 Especially with the drastic change to new wave and post punk influences that Ceremony has transitioned towards in recent years, hearing the spazzy angst of their early material live is always going to strike a chord through the spine of any OG hardcore fan. There could not be a better place to experience the chaotic anger of Ceremony than Sound and Fury, especially when they unexpectedly hit you in the back of the head with a surprise performance to throw you straight into the pit.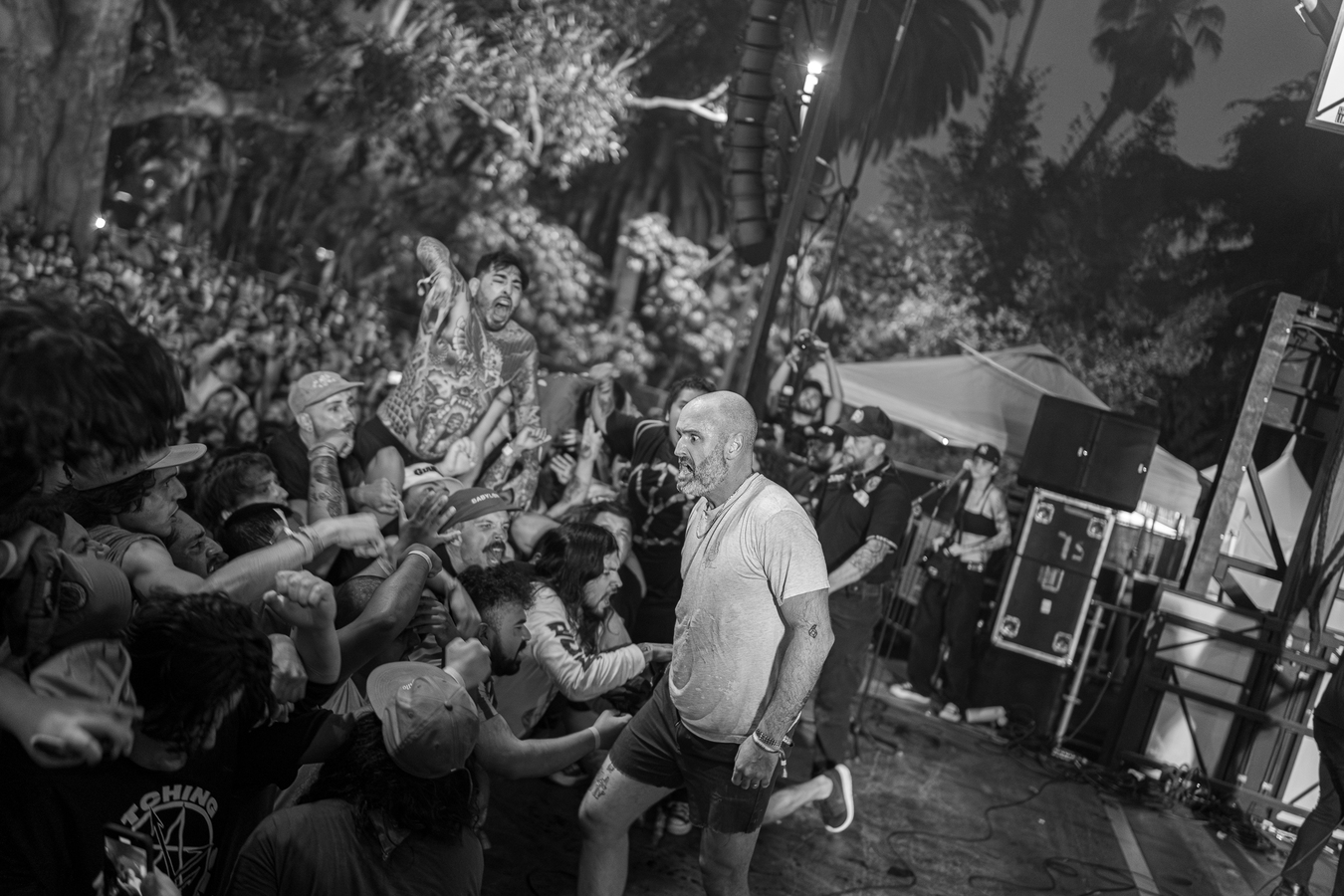 related: A Cathedral of Hardcore – Ceremony at Echoplex
Minority Unit had always been a band that I assumed I would never get to see live, feeling as if they were almost a mythological entity from a different time. I absolutely loved their 2011 Demo and the Clear Minded Fury EP when I was in high school, and clearly remember a time where their signature "The Straight Edge" shirts could be seen at nearly every show you went to during that era. Their short career ended almost as soon as it started with their last performance being at Sound and Fury 2012, so this could not have been a more appropriate opportunity for them to return to their throne as one of the most legendary straight edge hardcore bands in recent memory.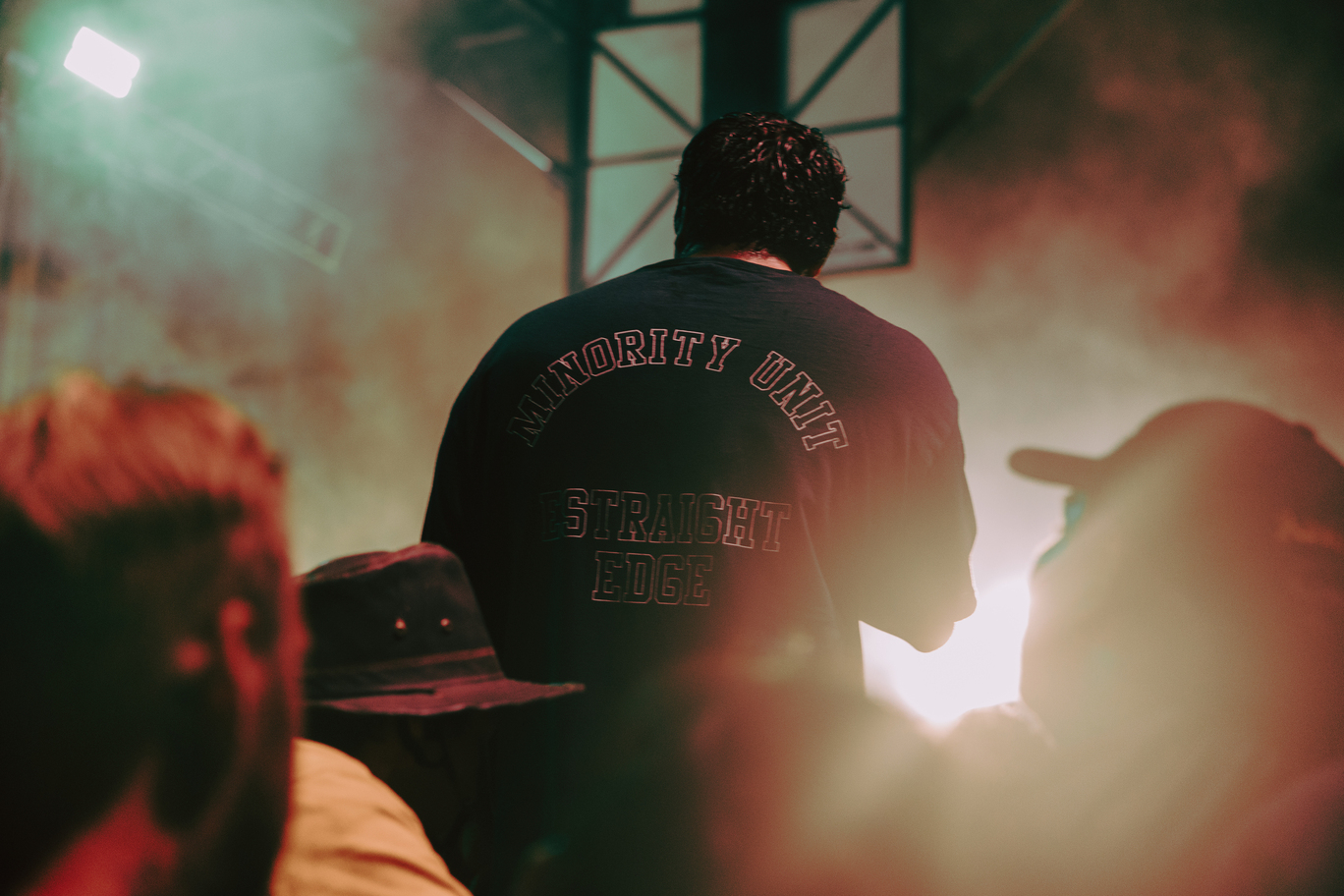 This was truly a moment for the oldheads rather than newer hardcore fans, with the lower platform in front of the barrier being absolutely packed with people dogpiling and singing along with vocalist Walter Delgado. Walter has really cemented himself as one of the magnetic frontmen in recent punk rock history with Minority Unit and Rotting Out, and his presence is guaranteed to inspire the most reckless behavior at any show he plays. He spread the spotlight however, with so many guest vocalists coming out that it would have been difficult to tell who the singer of Minority Unit actually was for outside observers. The entire set was an enormous tribute to the legacy that Minority Unit has left behind, and hopefully they're back for good to continue their beautiful saga.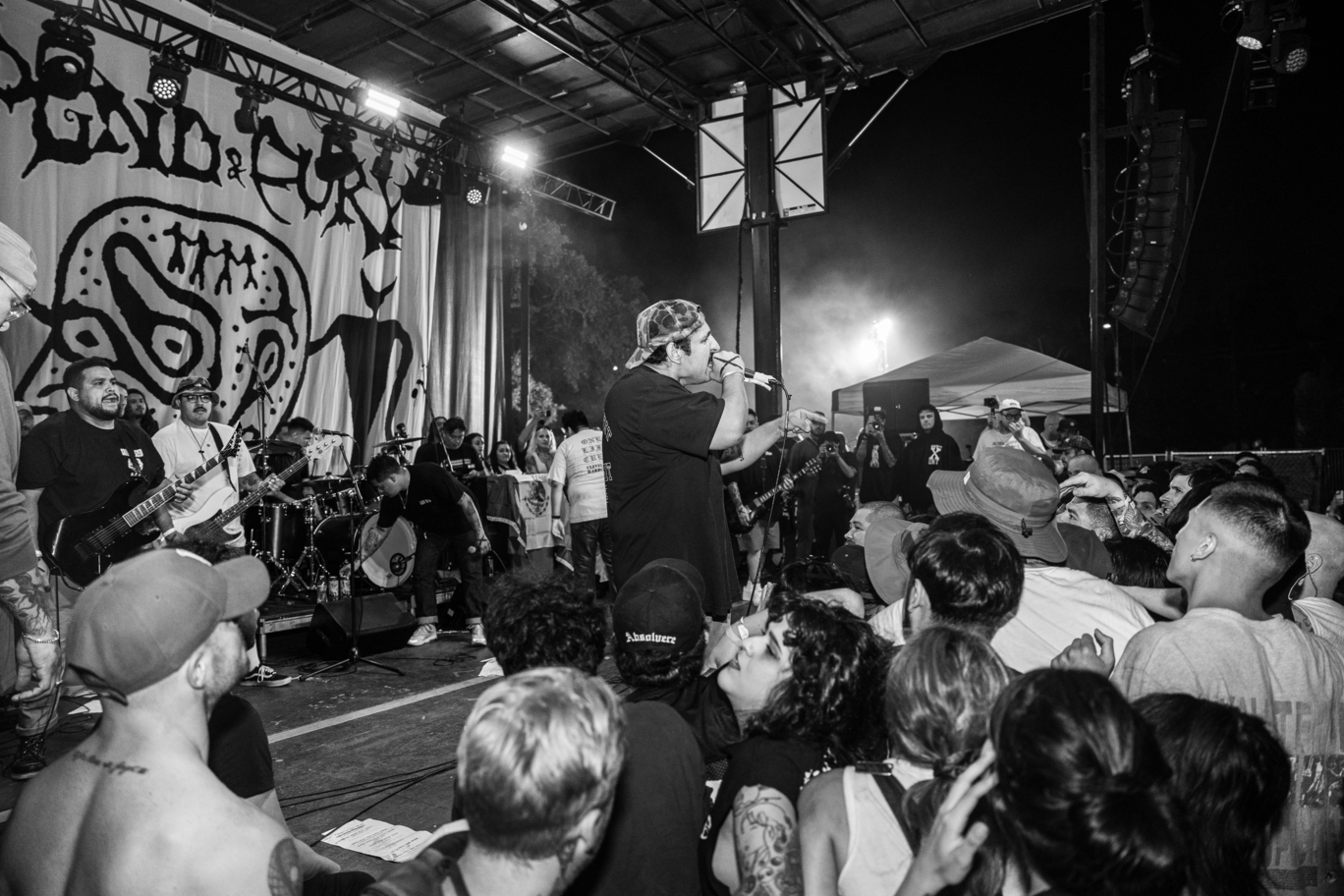 There could not have been a more fitting choice than Cold World to headline the first night, matching flawlessly with the year's formula of bands from the 00's days of hardcore that rarely play anymore. Cold World is most famously known for their smooth, melodic moments and hip-hop influenced samples that pop up at the most unexpected times; While it's rare that they incorporate these elements live due to the sound system usually being more suited for the volume of hardcore shows, diehard fans crowd at the front of the stage to take on the role of passionately screaming these parts. The platform in front of the barrier of the stage was full of people standing in awe of experiencing Cold World live for the first time in ages, fully embracing the moment rather than feeling the need to slam or jump back into the crowd. Cold World's set felt like a celebration of how far hardcore has come since the days when they were the most active, with old school fans of the scene giving respects to the genre's history by singing along to the sheer amount of classics they've released.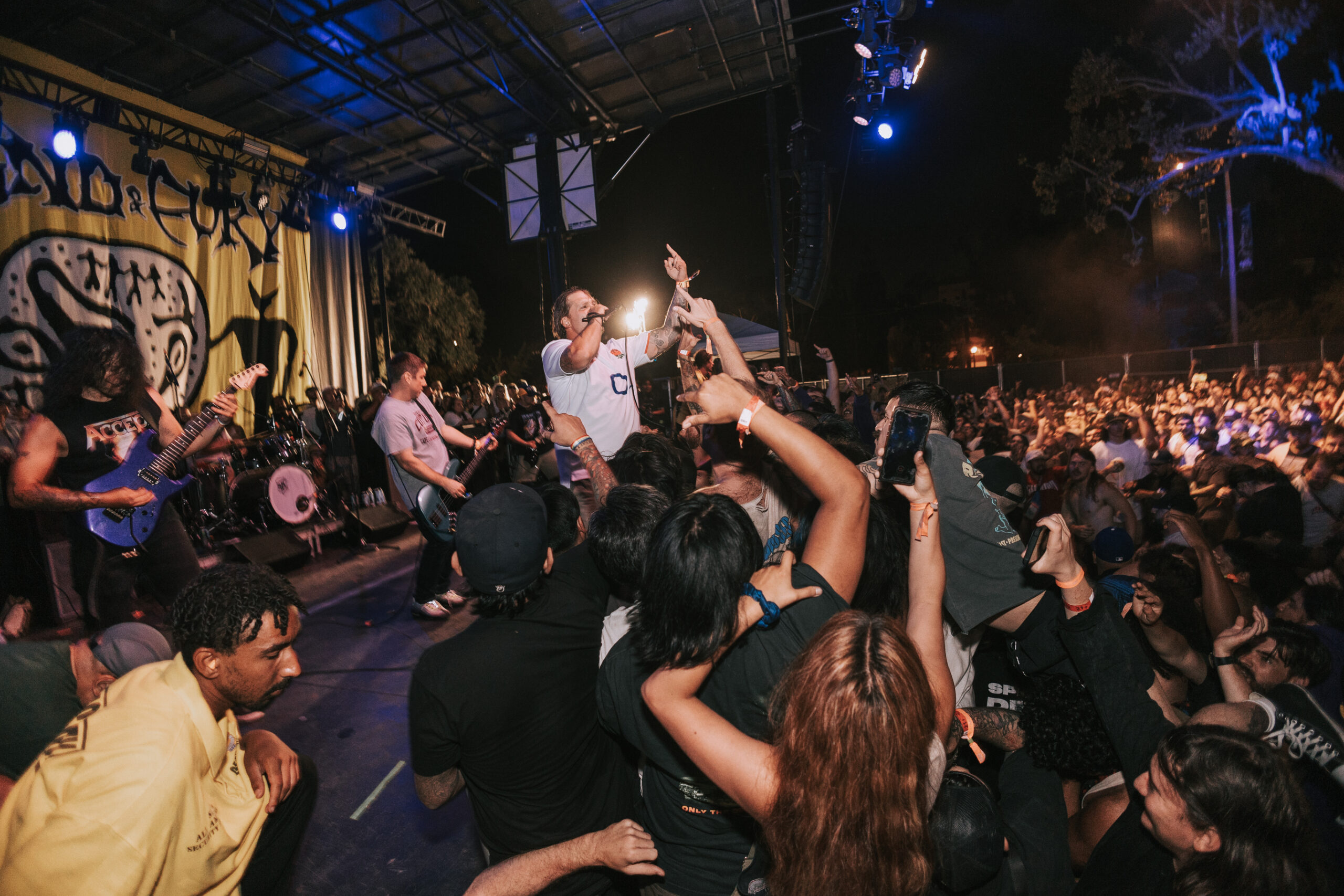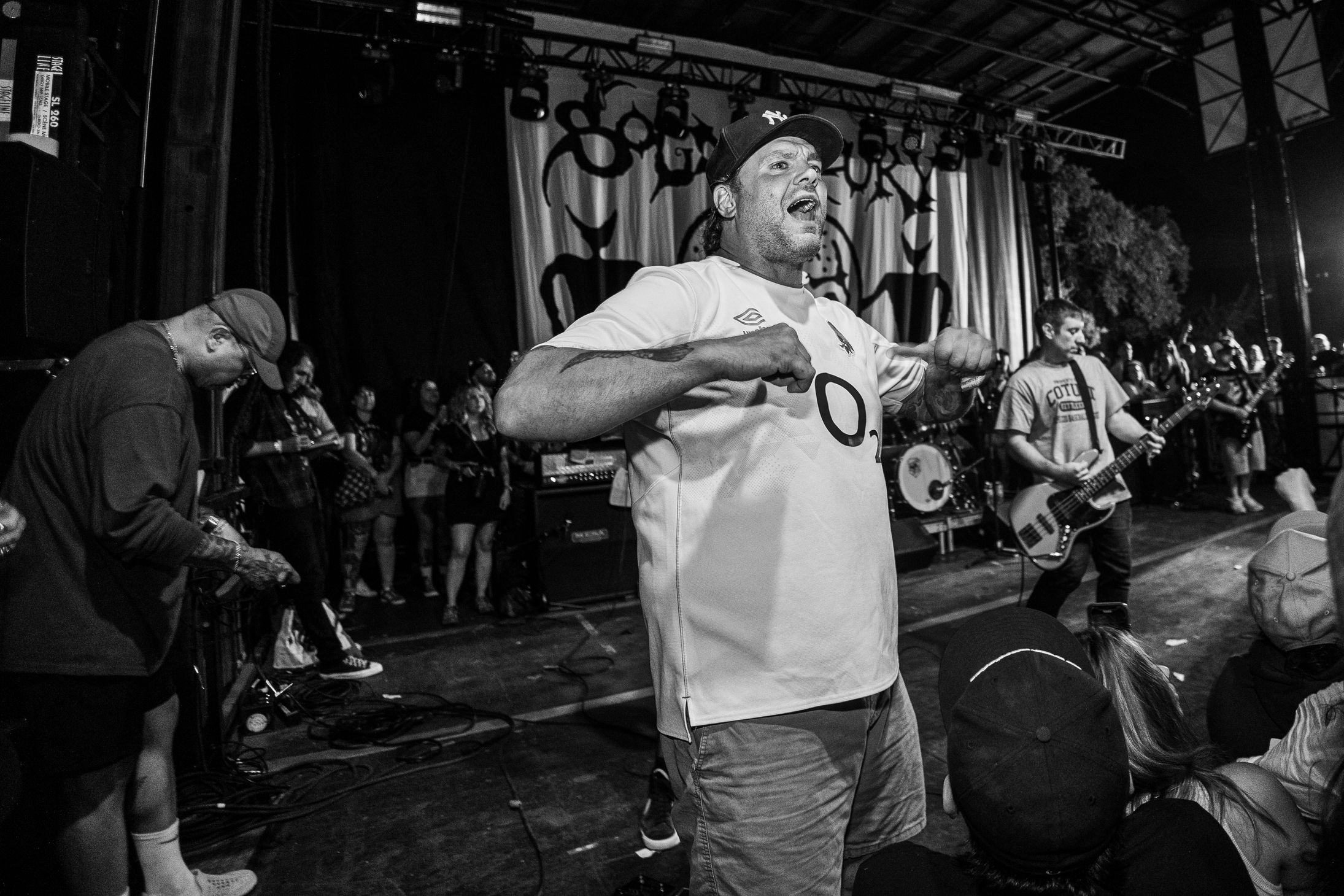 The metal wasn't just limited to Day 1, with LA death metal legends Kommand bringing their menacingly evil presence to the atmosphere of punks. Legendary Los Angeles hardcore punk drummer Sam Bosson plays rapid blastbeats reminiscent of early 90's black metal as Kommand's guitarist Sam Shriver absolutely shreds with his spiraling guitar solos that demand headbanging from even the most diehard skeptics of heavy metal. Kommand is definitely one of the most interesting metal acts from Los Angeles right now, focusing on a purely unholy sound compared to the cleaner aesthetics heard from the genre nowadays.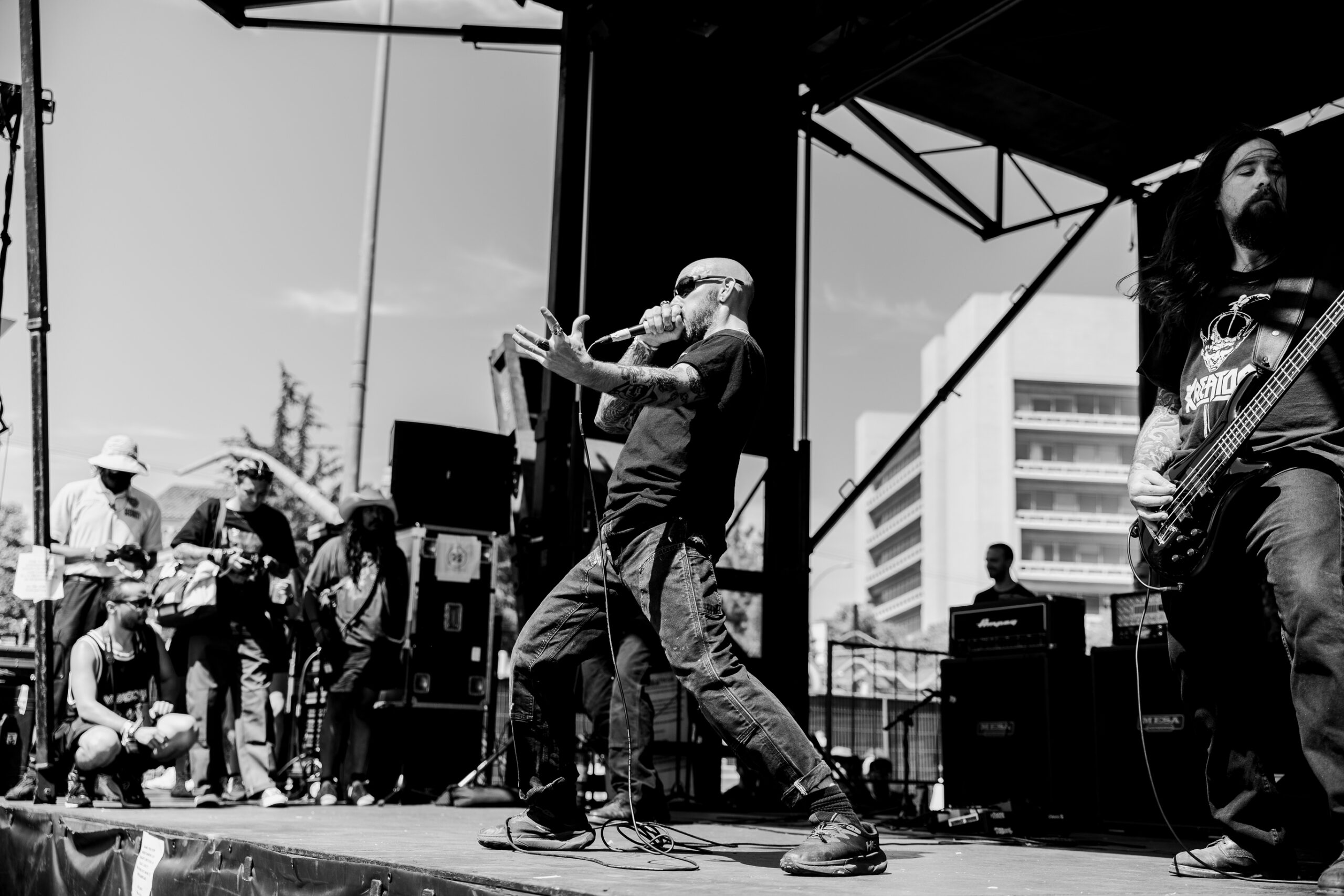 Dying Wish is a band much more associated with metalcore than the punk rock roots of the hardcore scene, making their appearance on the Sound and Fury lineup a rare opportunity to see them in a more rowdy stage-dive filled atmosphere. It's absolutely wild how singer Emma Boster seamlessly switches from tranquil yet haunting melodic vocals to her signature demonic sounding screams, and it was heartwarming to see the amount of pure joy on her face as she reacted to the unhinged chaos she was creating. While Dying Wish isn't a band I hear talked about as often in punk circles, it was clear that Sound and Fury attendees were anxious to see how they would perform outside of a metalcore atmosphere and it's safe to say that they blew away everybody's expectations. I hope to see Dying Wish further incorporate themselves into gigs representing the more punk side of hardcore, as they really do belong on any sort of lineup with the disruptive and charismatic spirit that they perform with.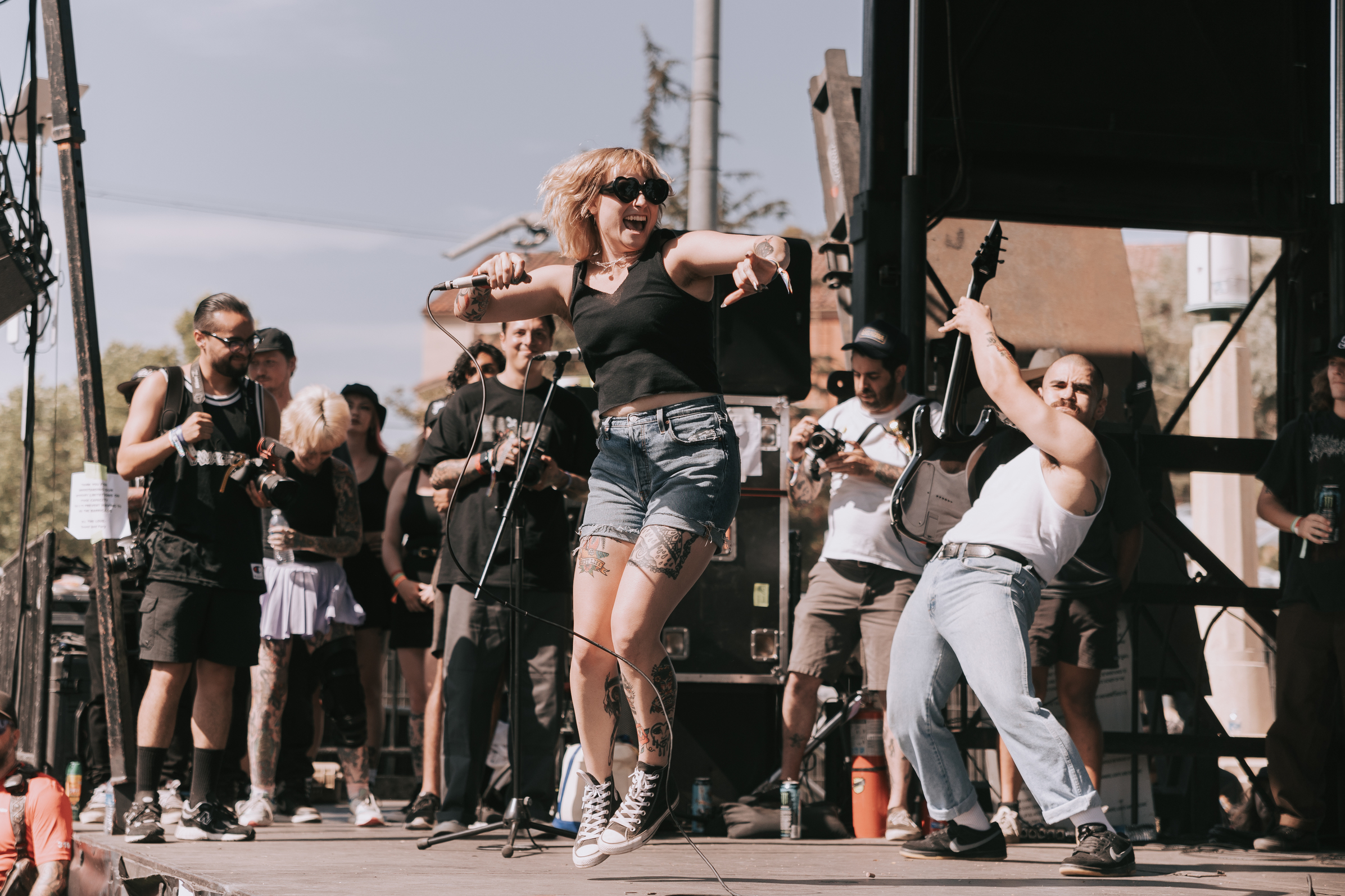 Fleshwater is easily one of the most unique artists to come out in recent years, completely breaking down the concept of genre with their blend of shoegaze, metalcore, grunge, and industrial music. Featuring members Anthony DiDio, Jeremy Martin, and Matt Wood of Vein.fm; Fleshwater takes Vein.fm's glitchy industrial influence in a completely different direction by taking on a dream-like atmospheric sound that could be heard from the opposite side of Exposition Park. Even with the more alternative and experimental direction that Fleshwater has taken compared to Vein.fm, they are just as heavy in their own right and the crowd participated with the same level of passion as the more hardcore sets throughout the weekend. While the shorter set times are suited for most acts on the lineup, I really wish Fleshwater's set could have been longer with how hypnotizing their sound is. They're absolutely destined to become a staple band amongst shoegaze and grunge enthusiasts in the future, and perfectly represented the spirit of Sound and Fury's attitude towards showcasing the future of all forms of alternative music in the rowdiest environment possible before the artists blow up.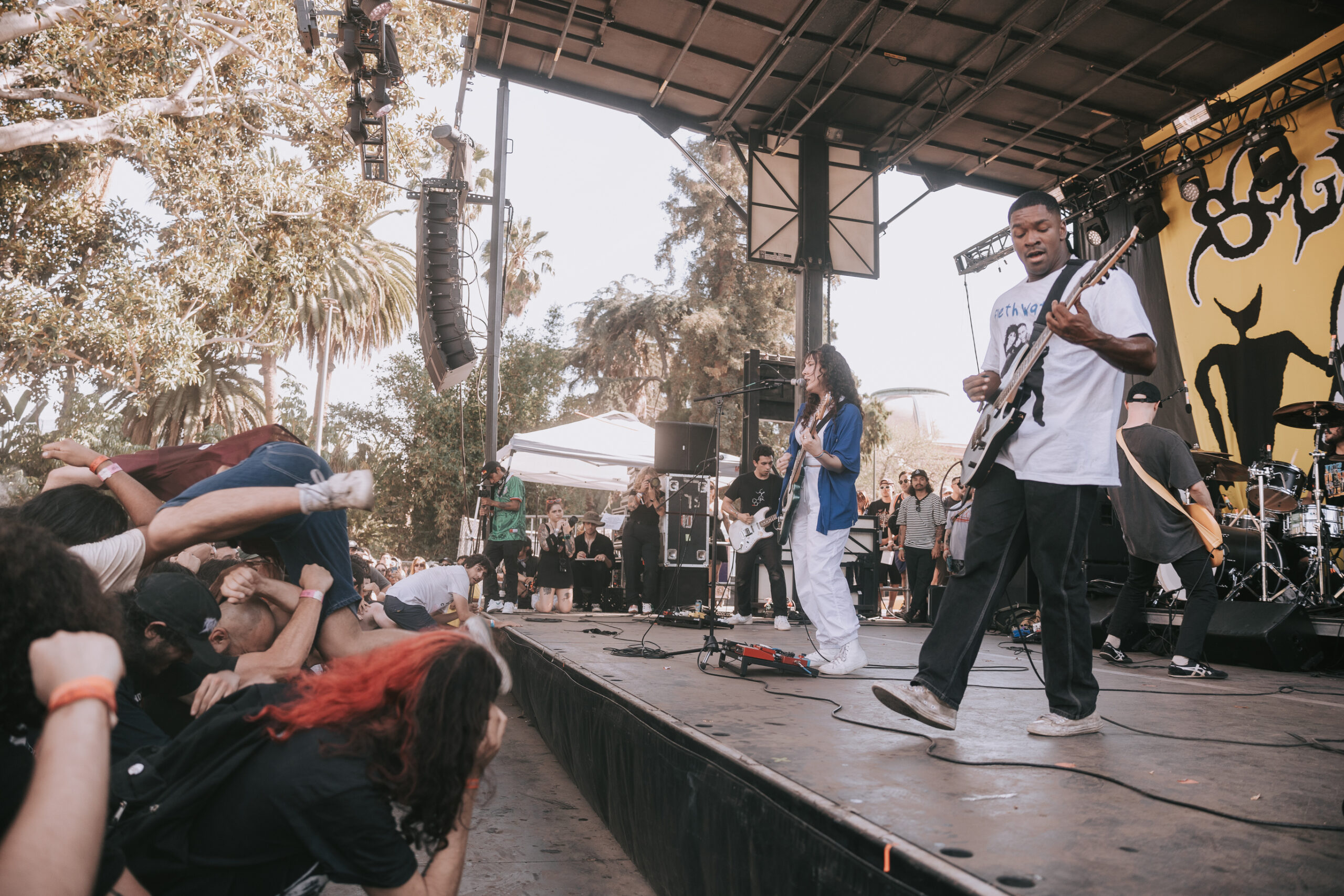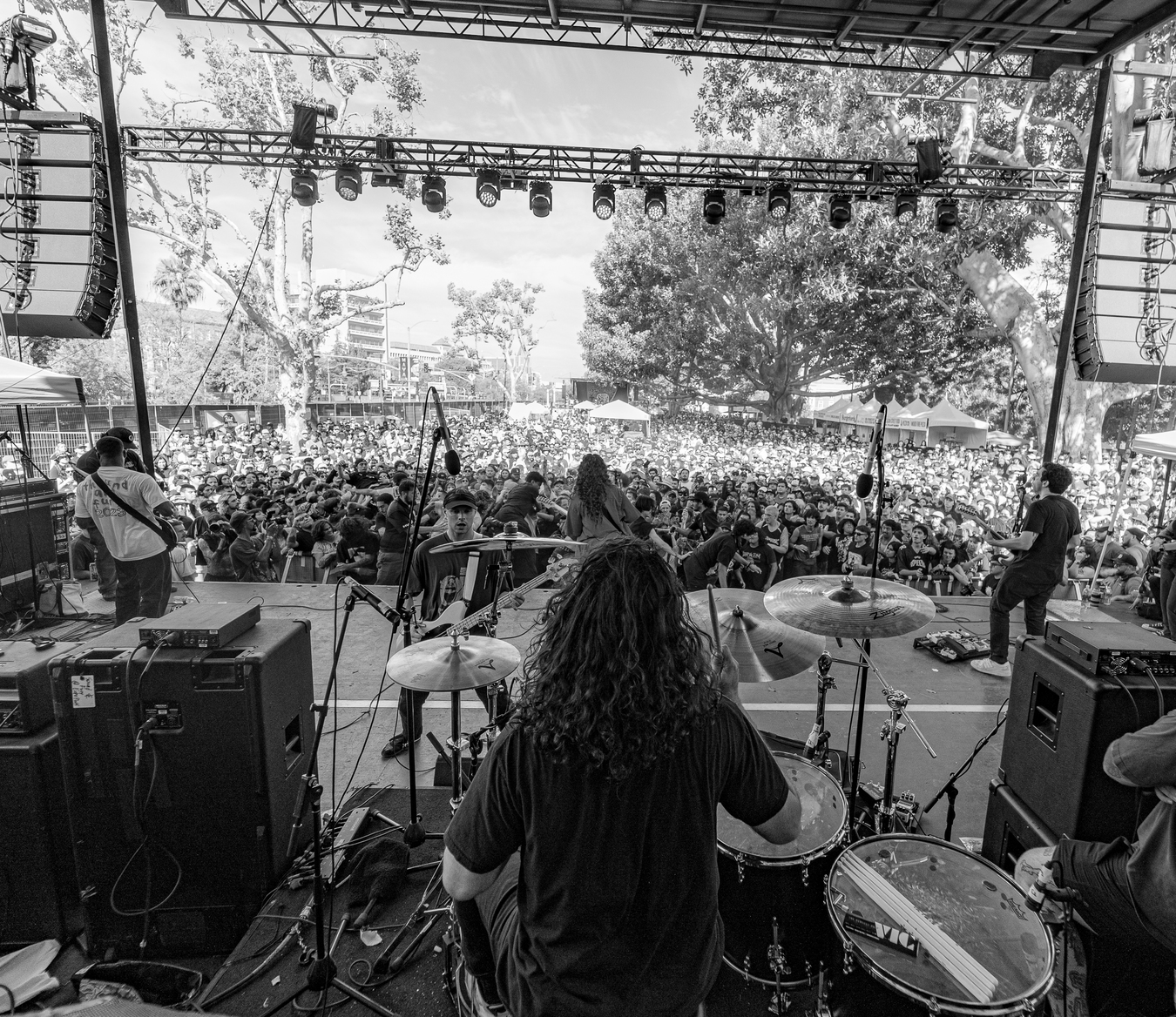 Sanguisugabogg is about to become the biggest death metal band in the world with the level of ferocious obsession that their fanbase has for them. Their sound was absolutely brutal to the eardrums when experienced live, evoking the savage ethos from the early days of 90's death metal legends like Cannibal Corpse and Obituary more than most death metal you'd hear nowadays. It was terrifying to witness hardcore dancing for a sound this heavy, an experience that could only be seen at Sound and Fury considering the disdain that metalheads typically have for any form of moshing besides slam-dancing. It feels like Sanguisugabogg were sent by the metal gods to break this divide between the moshing styles of punks and metalheads, so hopefully they can bring this intimidating and horrifyingly violent atmosphere to the more mainstream metal lineups that they're destined to play in the future.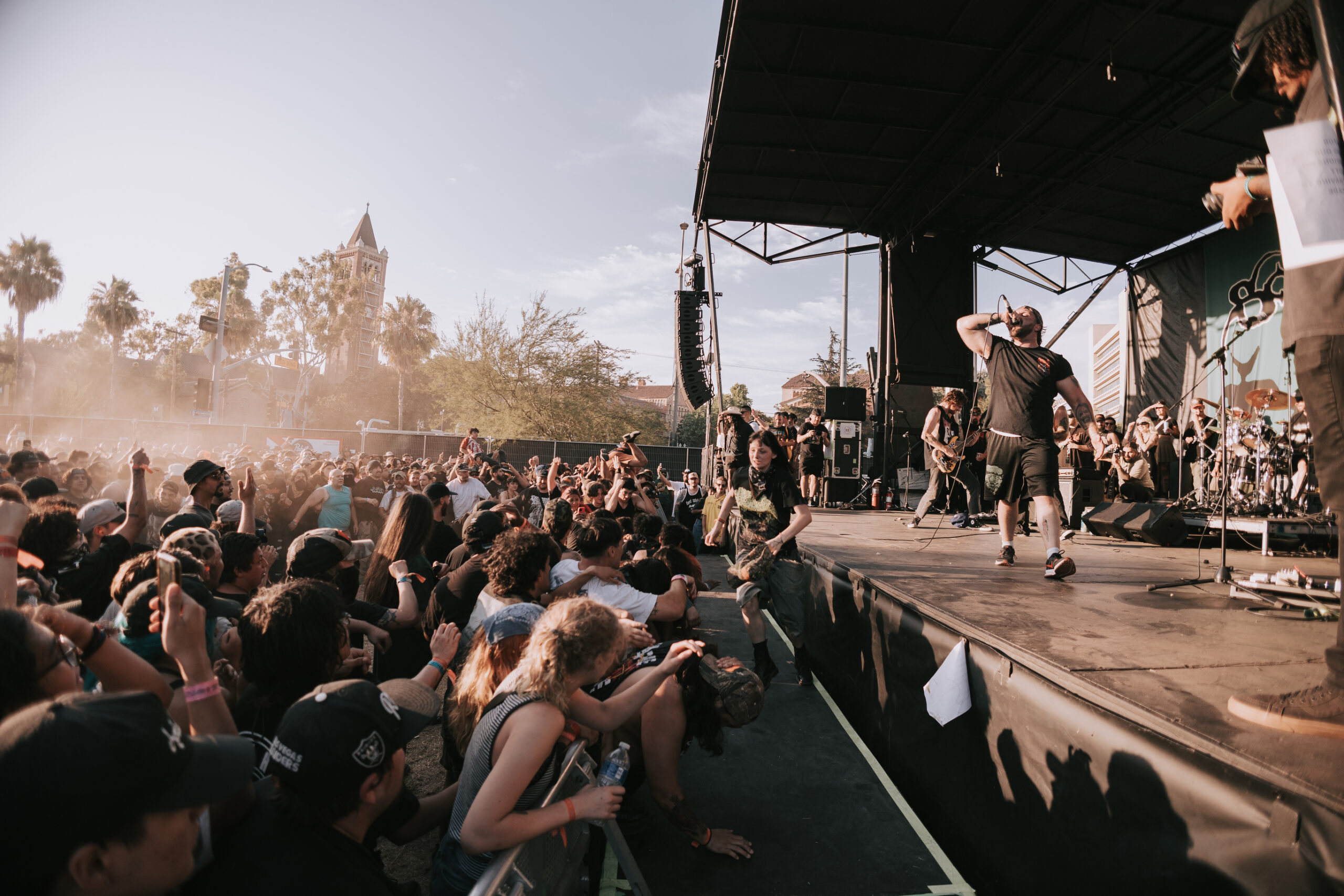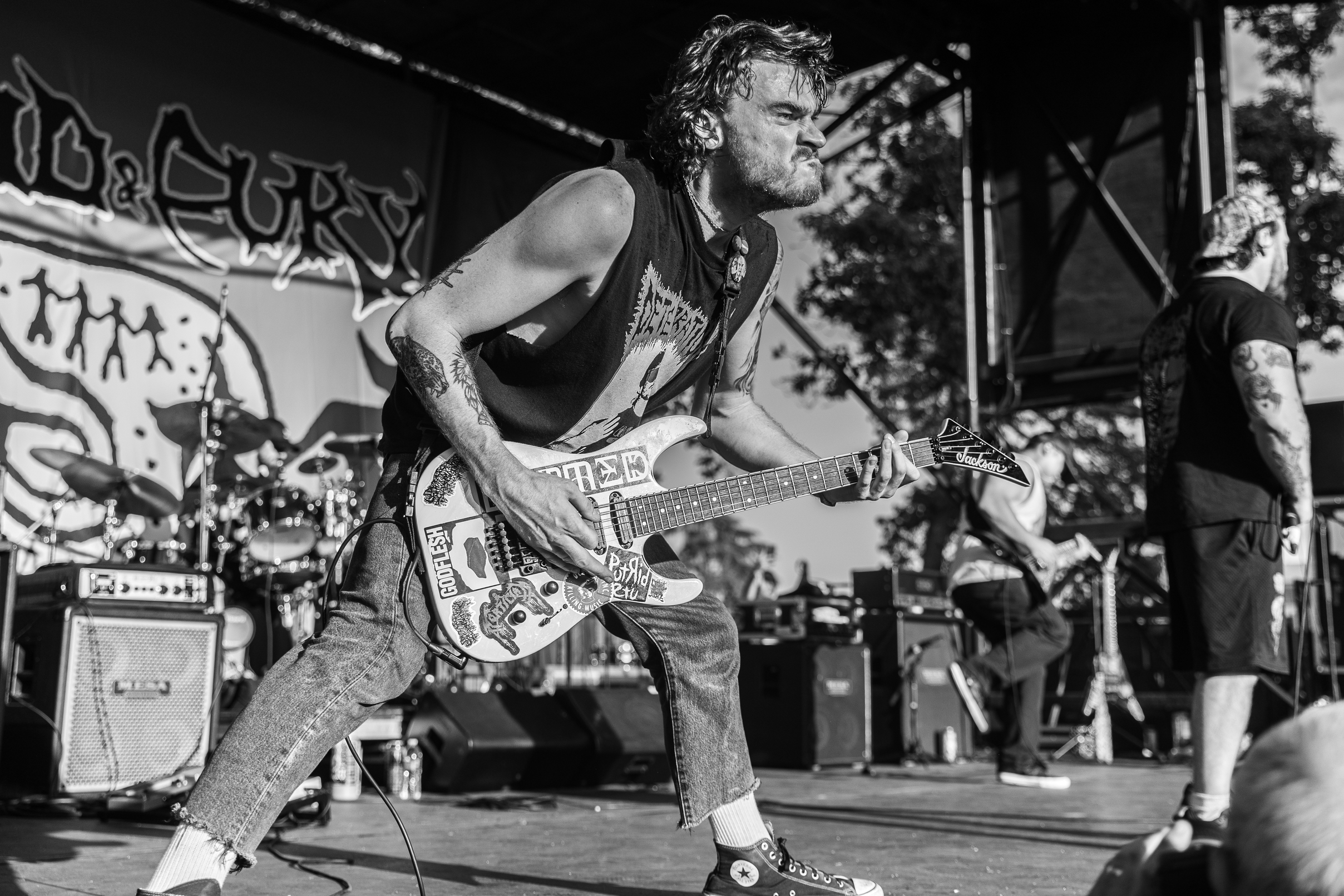 related: The Pharoah's Favorite Death Metal Bands – Nile and Incantation at 1720
Keeping up with the theme of hosting bands that have rarely been seen since Sound and Fury's Santa Barbara days, Soul Search have risen from the dead. With the unfortunate circumstances of having a barrier on stage the first day, Soul Search was the first set of the weekend where the on-stage dogpiles of rabid fans screaming along to each word were in full effect. The band was just as ecstatic as the fans were to finally be back, with frontman Omar Gonzalez embracing the mass of fans rushing to jump on him to sing along. Easily one of the most intimidating mosh pits of the weekend, Soul Search really kicked off the finale of Sound and Fury with a fever that few other bands could dream of.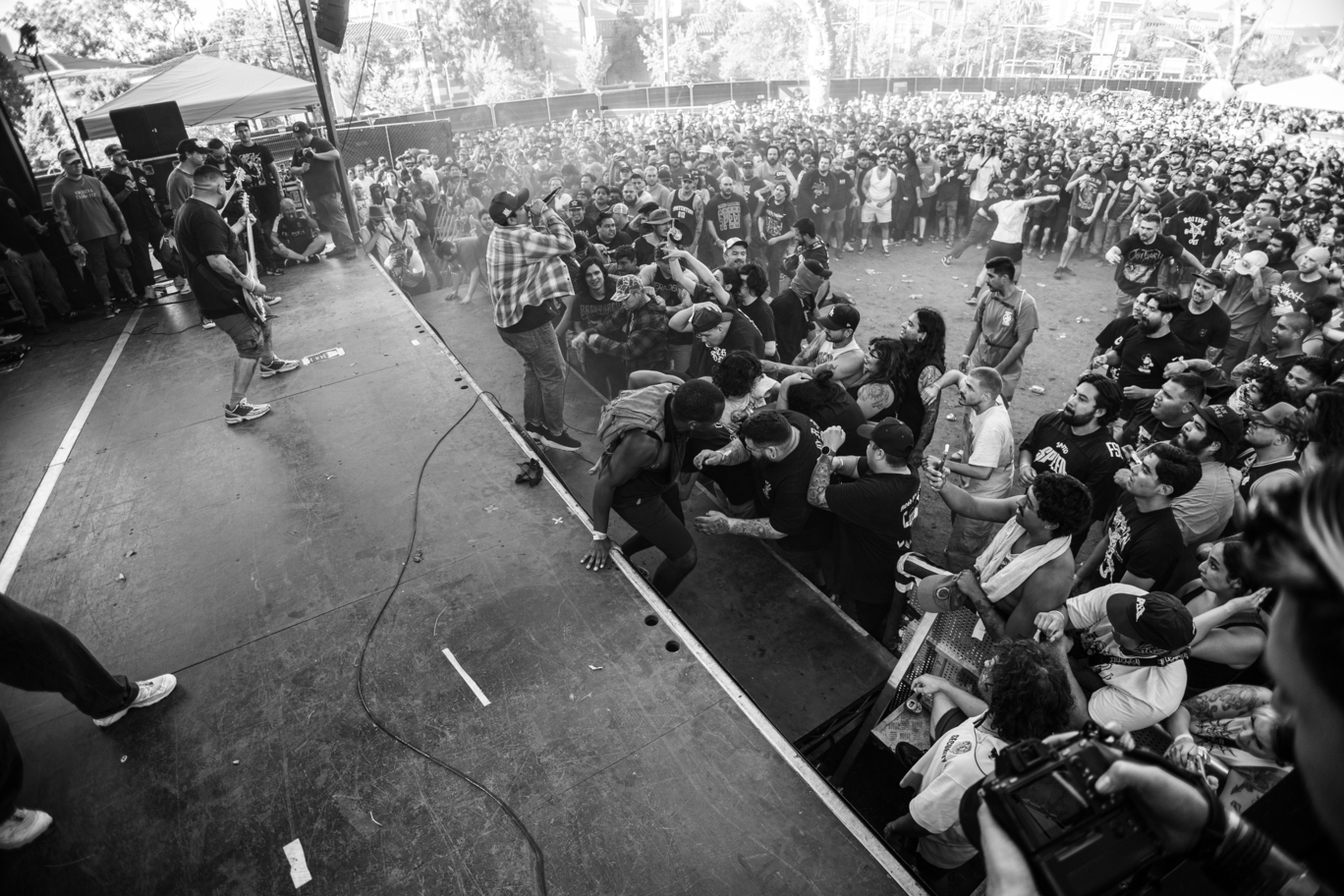 It's almost inhuman how God's Hate manages to rapidly evolve as an entity like a Pokemon on steroids, becoming more and more of an unstoppable powerful force in heavy music overall each time that I see them. Although the Hatebreed worship that they started with is still present, God's Hate have truly evolved into their own sound over the years that can't be mistaken for anyone else. Brody King is easily the most intimidating frontman in hardcore, acting as a gleeful conductor of the violence in front of him appearing to wish that he could participate. Whenever describing God's Hate to somebody, I use the term "pure fight music" as there really is no other way to describe the carnage that they have somehow transformed into the audio format. While I've seen God's Hate around 6 times, I would never dare set foot into one of their mosh pits with the amount of limbs flying in every direction.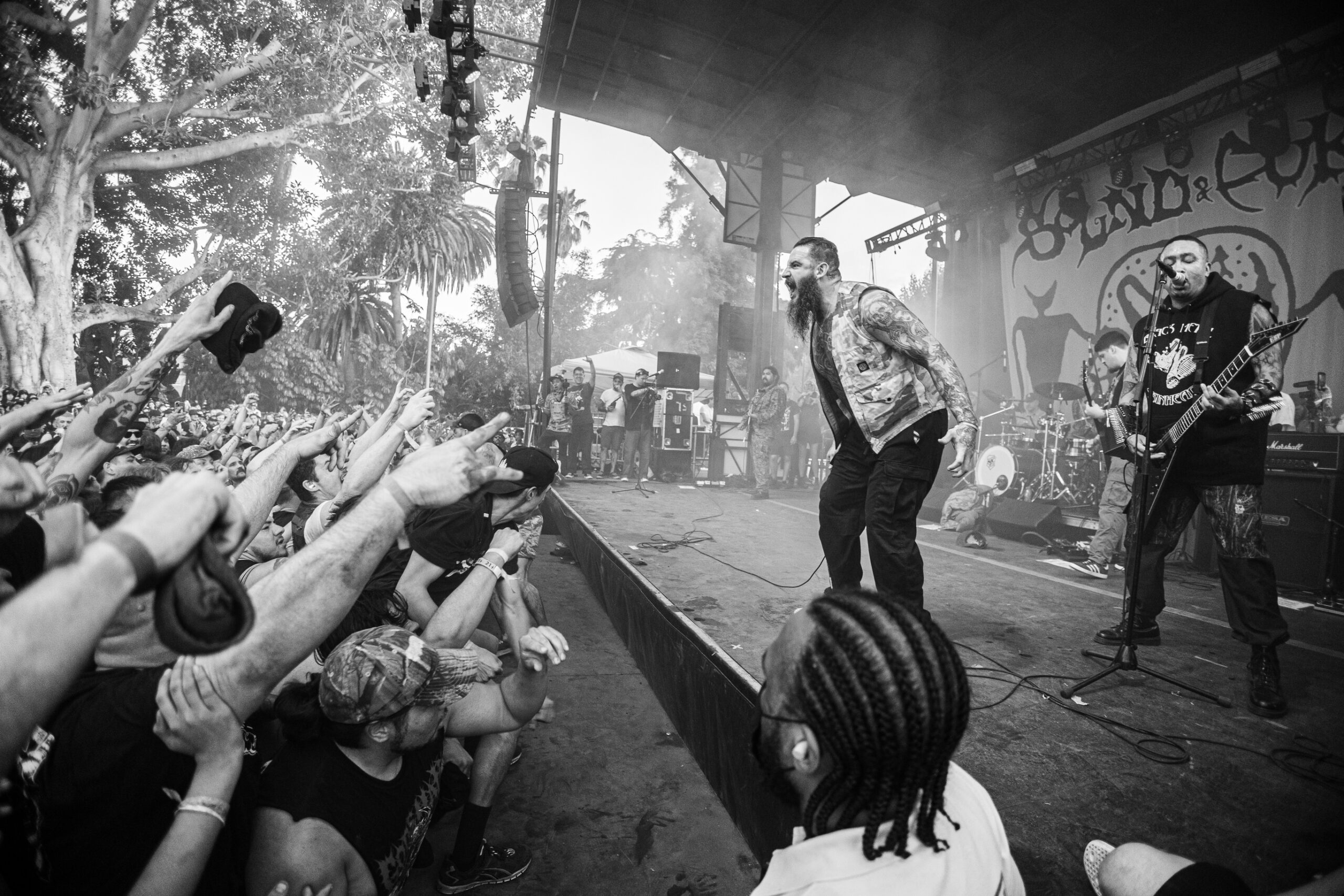 God's Hate's set consisted of tracks from their newest self-titled release rather than any of their older material, but the setlist decision really emphasized how many back to back bangers were on this last album. Nearly every song felt like the highlight of their set with how many people were screaming along, with their cover of "Master Killer" by Merauder being a key moment that had everybody entering pure primal apeshit mode. While God's Hate impresses and frightens me every time I see them, you could tell how much they prepared to tear shit up at Sound and Fury this year making this possibly their most legendary set yet.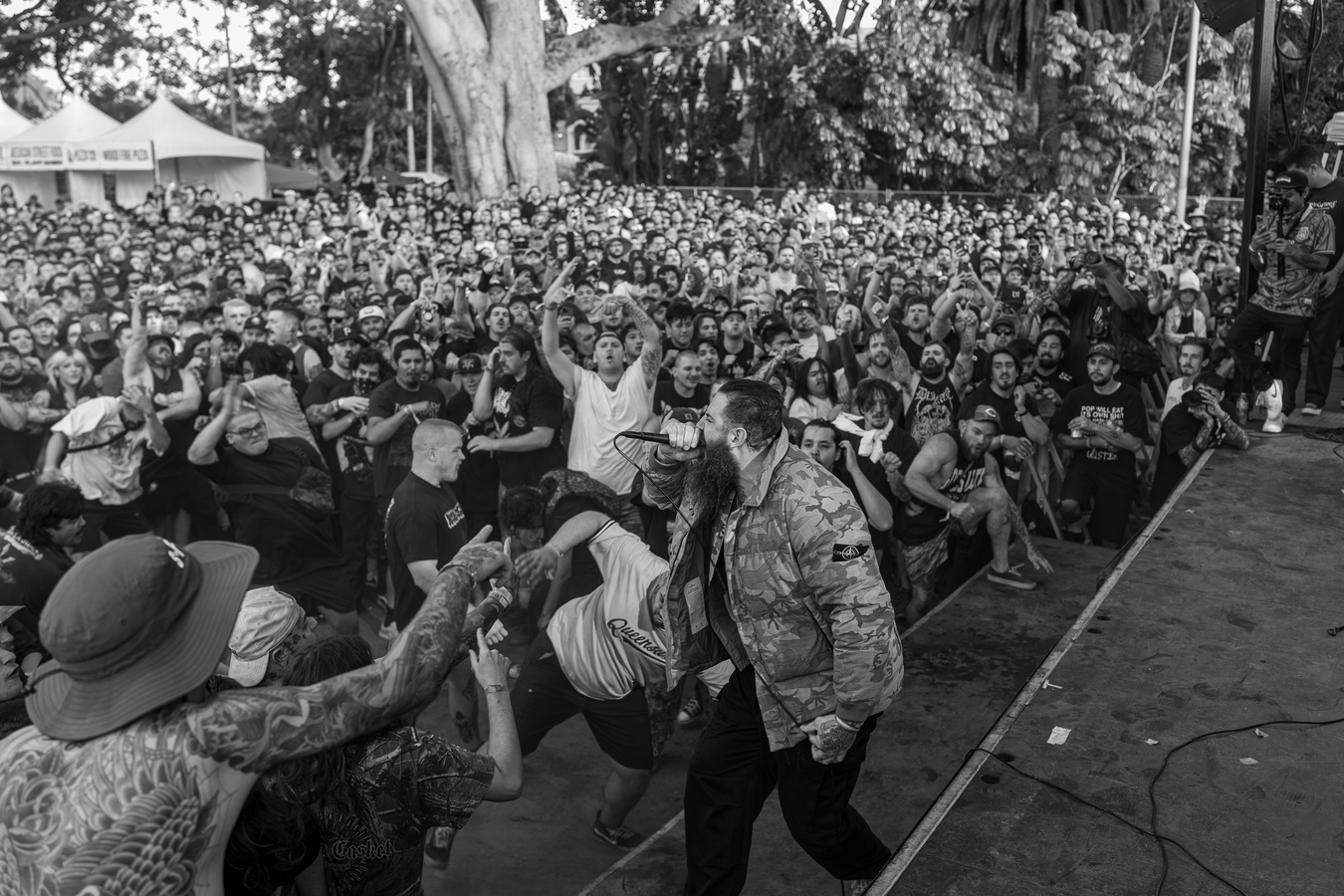 After the absolutely brutal warfare that God's Hate inflicted upon Exposition Park, No Pressure was a breath of fresh air with their upbeat, infectious pop-punk sound that stays stuck in your head for days. No Pressure is the most recent project of Parker Cannon from The Story So Far, taking on a more 90's skate punk influenced sound than the emo-adjacent pop punk that TSSF had perfected. While I am a huge fan of both, No Pressure has recently become my favorite between the two recently with how expertly they craft their nostalgic sound that still manages to feel fresh in the modern alternative atmosphere. I'll probably get some shit for saying this, but Sound and Fury switching to an outdoor venue reminds me of what a Warped Tour that truly represents punk and alternative scenes would look like; and No Pressure scratched that itch for playful fun in the sun circle pits in the most satisfying way imaginable.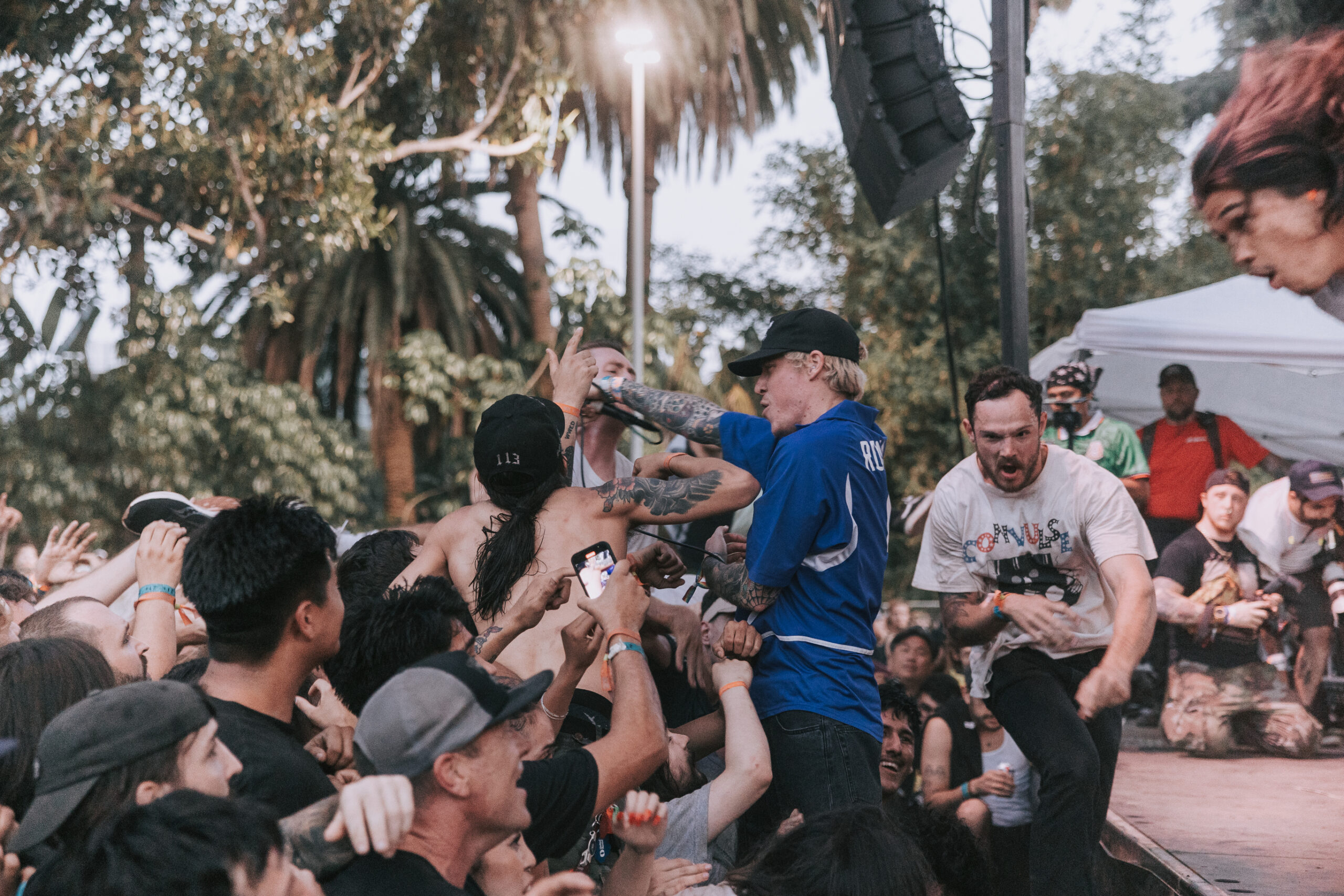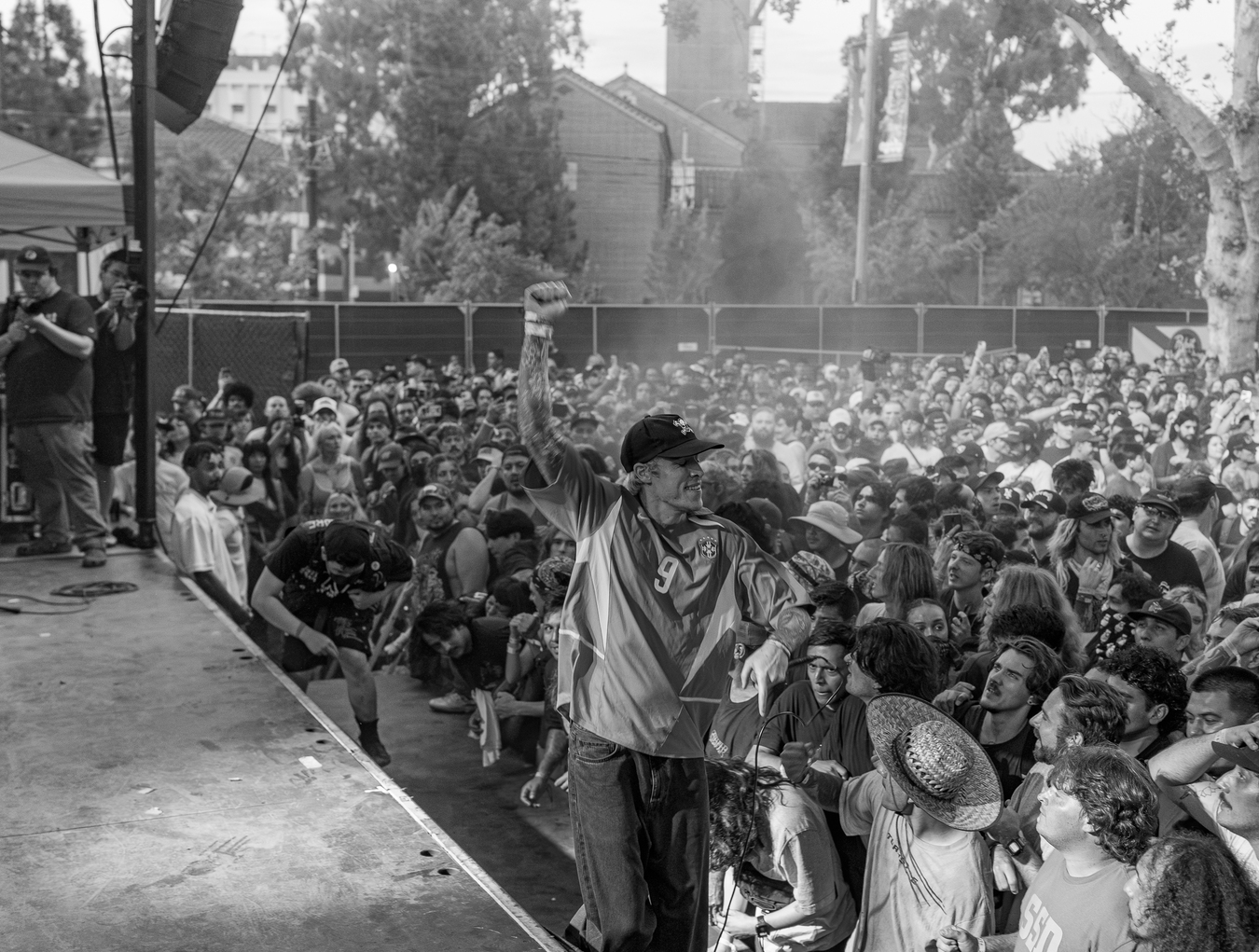 Speed's last performance at Sound and Fury in 2022 wasn't just one of the most talked about sets of that weekend, but one of the most notable sets in recent hardcore history as a whole with the sheer amount of hardcore dancing that took place on and off stage. Sydney, Australia may not be the easiest place to start a hardcore band with the lack of prominence that the genre has had there historically, but Speed has such a bold and ambitious presence that they're pioneering a scene out there that's destined to earn them the respect that fans in The States have for them.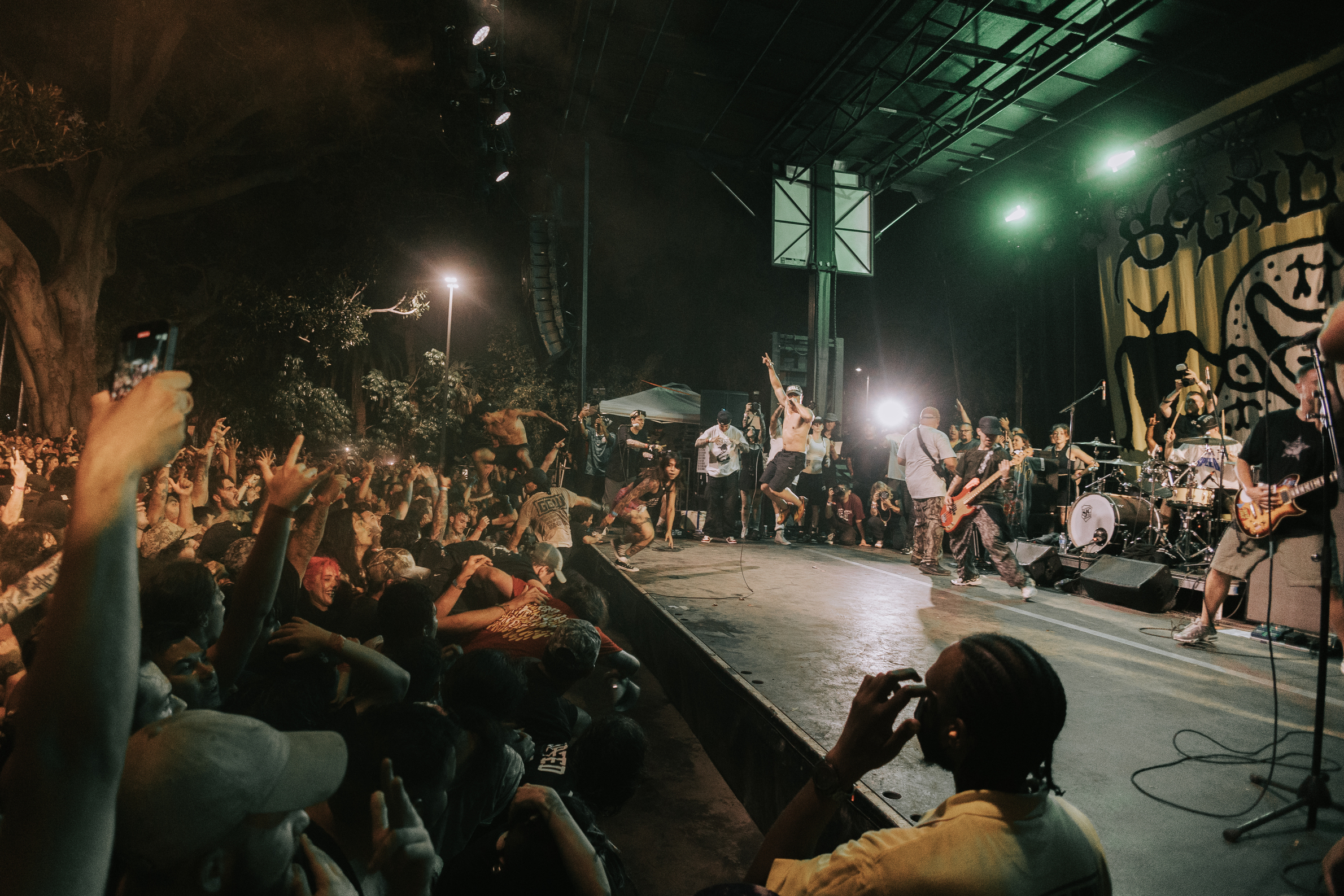 Even with their incredibly small discography consisting of only one demo and an EP, the short and sweet performance only inspired the highest level of absolute carnage throughout their entire set this year. Closing with their instant classic "Not That Nice", it's clear from the fervent response that they stimulate that Speed are only going to grow exponentially as a band even more than they already have in the brief time they've been active.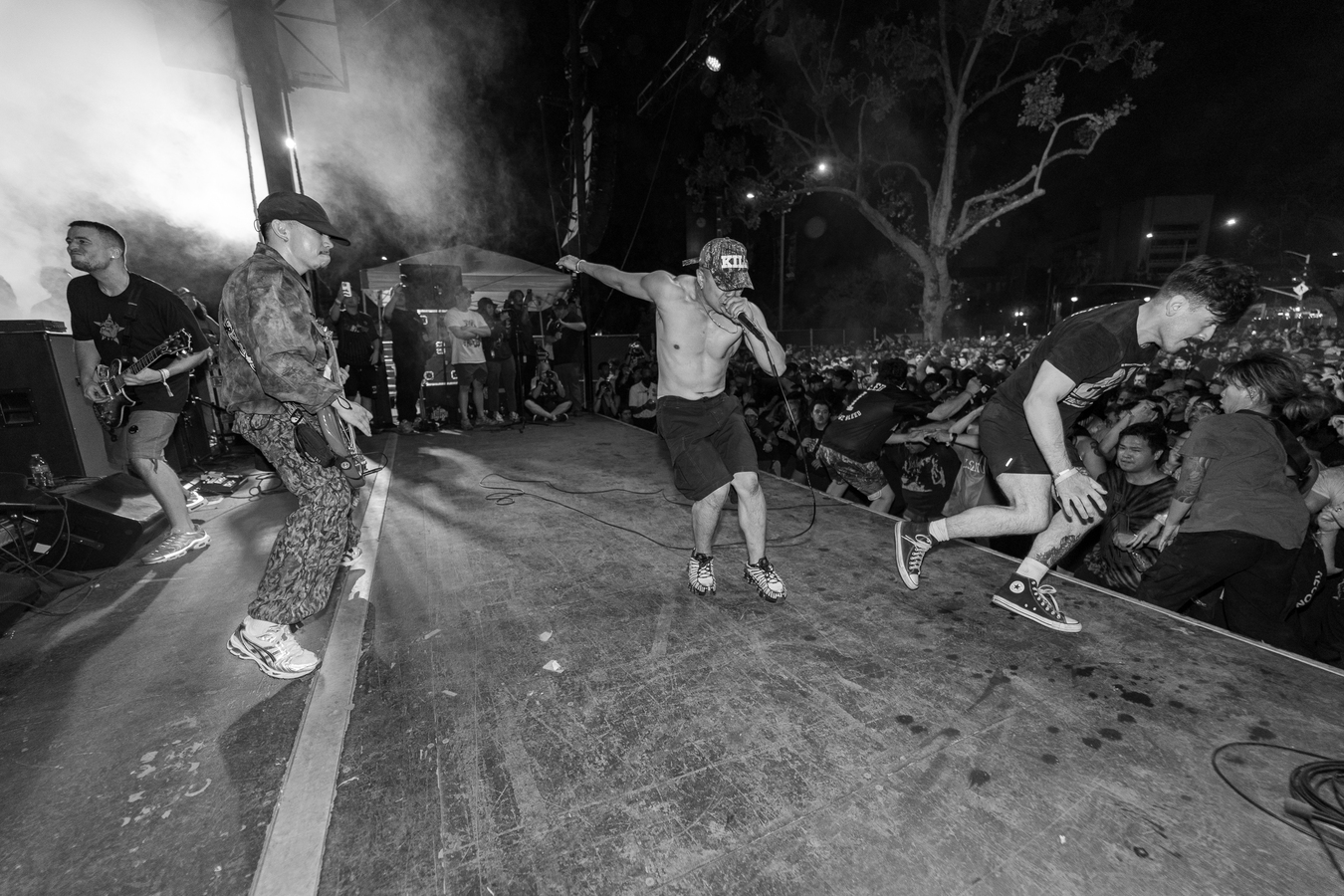 With how many incredible sets that we had already experienced throughout the weekend, it was hard to believe that the holy grail performance was up next. Anybody who attended both days was running out of fuel and completely exhausted from the heat, but everybody was still camped out in full preparation to experience the magic of Trapped Under Ice. TUI have cemented themselves as an artist that can bridge the gap between long term hardcore diehards and younger crowds that just got into the scene recently. Especially with the recent success of Turnstile, Trapped Under Ice has been introduced to a whole new generation of fans that were eager to witness Brendan Yates return to the drums for the first time in a couple of years. While Angel Du$t is also a favorite amongst hardcore enthusiasts of all ages, nothing could top the anticipation of seeing Justice Tripp return to vocals for the band that embodies everything that the hardcore scene is today.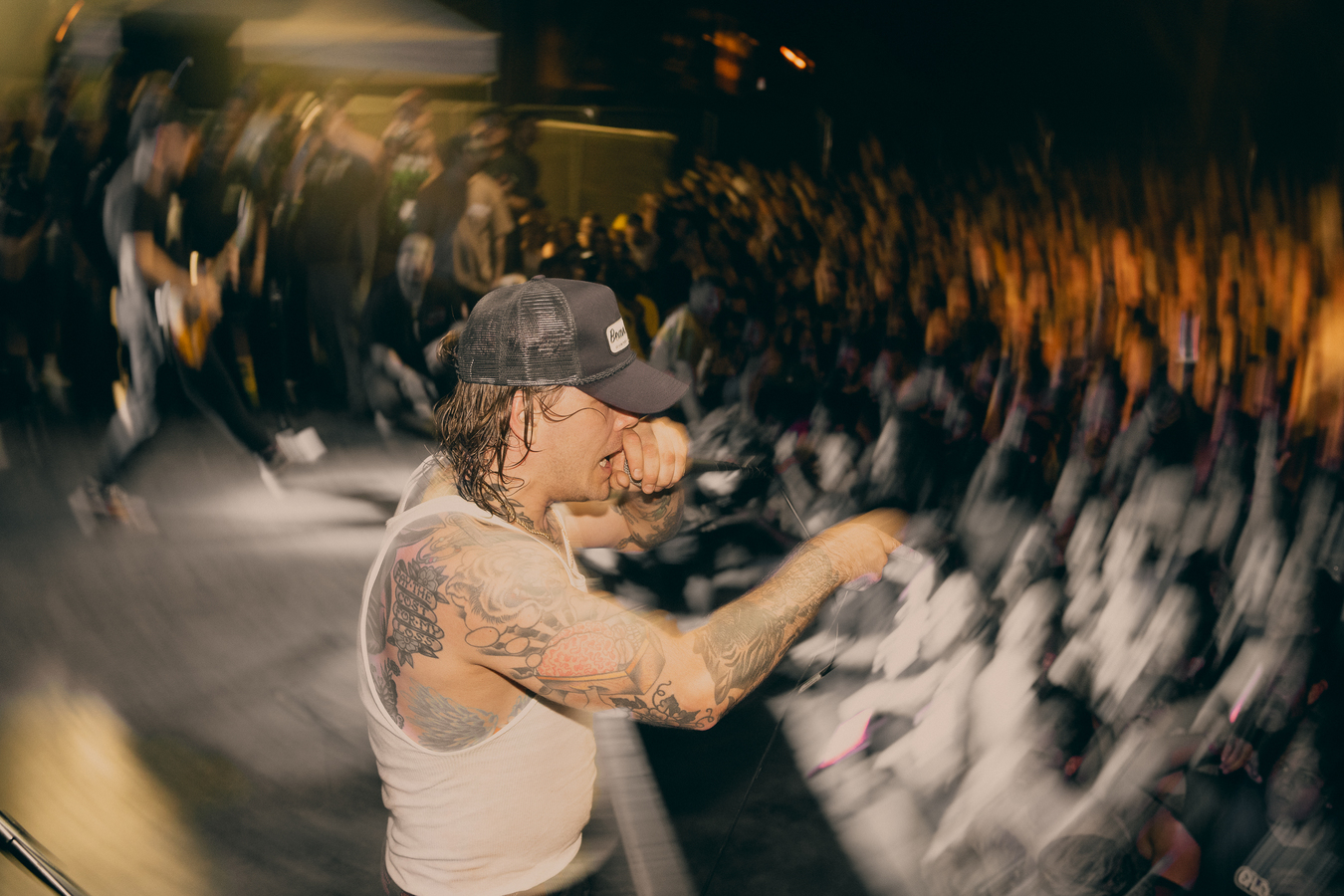 Trapped Under Ice's set started with waves of people being shoved in all directions before any pits could even properly form, as nobody wanted to be stuck towards the back for the most important hardcore set of the year. The crowd never truly settled in a single place, with mosh pits popping up everywhere and instantly creating massive battlegrounds of dust clouds that were impossible to see through. Opening with "Born to Die", everybody was screaming along so loud that Justice's vocals were almost being overpowered by the volume of the crowd. While TUI did have the highest volume of people hardcore dancing throughout the weekend, this was DANCING dancing with everybody getting down and groovy as they swung their arms and kicked the air in front of them. While the passion and rage of the more violent sets from the weekend were still present, seeing Trapped Under Ice live inspires pure ecstasy that brings out moves that no other bands truly can. The set was banger after banger, with TUI's signature brand of putting their band name in the lyrics producing the highest energy moments of the set. Even the track "Do It" from their most recent album had the old school purists in the crowd going wild and gleefully hopping around with its infectiously catchy vibe.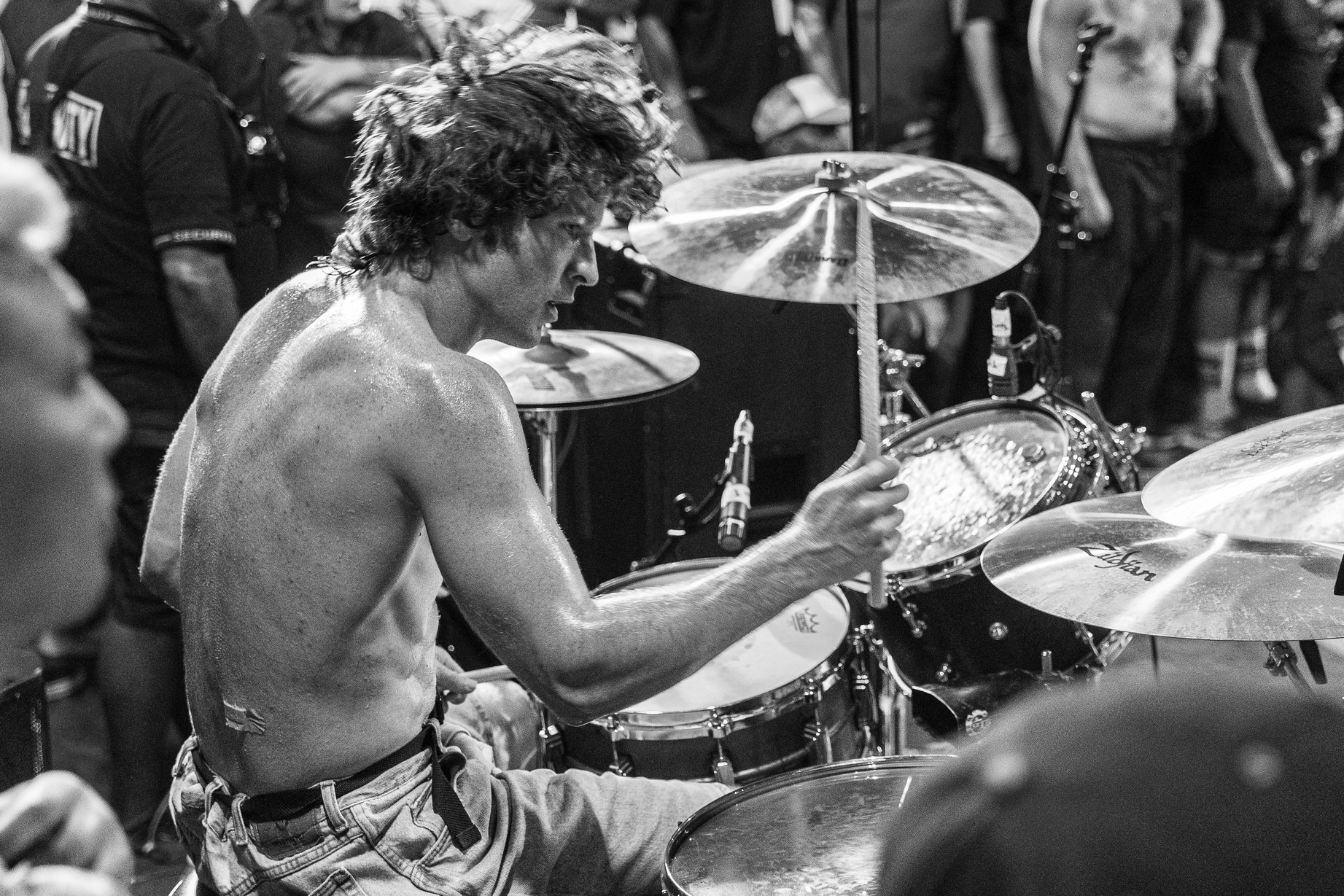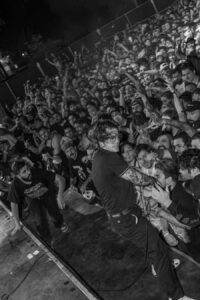 One of the weekend's moments that clearly displayed the amount of newcomers in the hardcore scene could be seen when Trapped Under Ice covered Cro Mags' classic "Hard Times", with many younger attendees confused if it was a TUI deep cut as the older punks ecstatically screamed along to the incredibly unexpected choice of a cover. For the rest of the set however, it was impossible to tell apart the fans who had been listening to Trapped Under Ice for years and the younger crowd that found them through Turnstile. It was absolutely beautiful to see the age gap appear nonexistent for a moment, with everybody existing as one force displaying their passion for a genre that's always represented the underdog. Hardcore really does belong to anybody who has love for the scene, and that core tenant is often forgotten in the modern era of social media elitism and the egotistic desire to appear unique in a world where we're treated as nothing more than a cog in the machine. Trapped Under Ice's set was a short release from that existential crisis, as everybody was purely existing within the mantra "TUI until I die".
Words by Danny Ryan
Photos by Adam Arvizio and Oscar Rodriguez