Salad Days DC Punk Doc Ticket Giveaway at The Regent Theater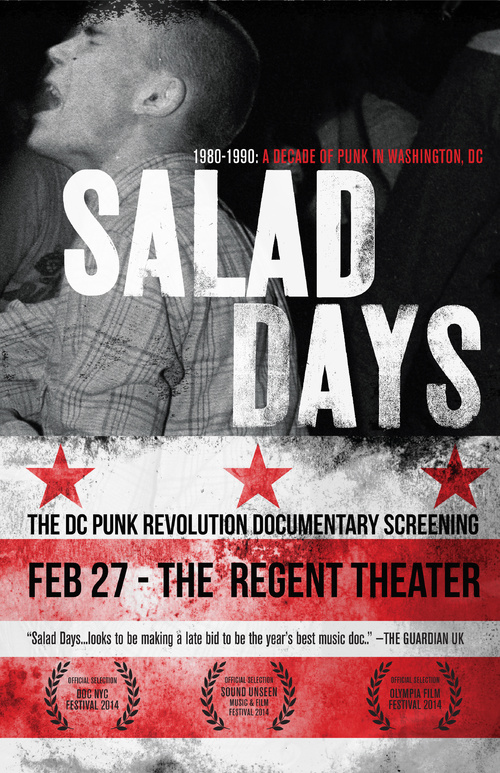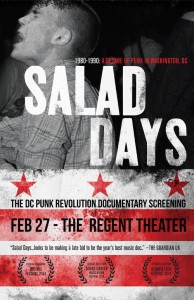 If you love hardcore punk rock then chances are that one of your favorite bands came out of the Washington D.C. Punk Scene. Bands like Bad Brains and Minor Threat not only changed music but also made social and political ripples all throughout the world. Get an inside look at the scene, the bands, the labels and the people that drove this musical movement into infamy.
On Friday, February 27th, The Regent Theater will be screening Salad Days: The DC Punk Revolution at 8pm and 11pm. The 8pm show is already sold out but we are giving away 3 PAIRS OF TICKETS to the 11pm show. To win tickets you have to do 4 very little things. Follow us on Twitter, Follow us on Instagram and Like us on Facebook. Once you have done so, leave a comment on this post confirming you have completed all required steps to win. We will select the winner on Friday morning at 10am and contact you by the email you use to leave your comment. Only those who complete all steps will be eligible to win one of 3 PAIRS of tickets.
[button color="pink" size="big" alignment="center" rel="follow" openin="newwindow" url="http://www.theecho.com/event/786293-10pm-screening-salad-days-los-angeles/"]…or PURCHASE TICKETS TO THIS EVENT NOW![/button]
Salad Days is currently touring theaters and venues around the country and is booked until the end of April 2015. See if your city is one of them.
https://www.facebook.com/saladdaysdoc/events
UPCOMING SCREENINGS:
February 25, 2015
Portland, ME
SPACE Gallery
buy tickets
February 27, 2015
Vancouver, WA
Kiggins Theatre
buy tickets
February 27, 2015
Los Angeles, CA
The Regent
buy tickets
February 27, 2015
Seattle, WA
Grand Illusion Cinema
buy tickets
March 01, 2015
Amesbury, MA
Stage II Cinema
March 02, 2015
New Orleans, LA
Prytania Theatre
buy tickets
March 06, 2015
Tulsa, OK
Circle Cinema
March 06, 2015
San Diego, CA
UC San Diego
March 07, 2015
Tucson, AZ
The Rialto Theatre
buy tickets
March 08, 2015
Philadelphia, PA
Underground Arts
buy tickets
March 13, 2015
Las Vegas, NV
Xoxo B Modern Events Venue
buy tickets
March 14, 2015
Lowell, MA
The Luna Theater
buy tickets
March 15, 2015
Richmond, VA
Byrd Theater
March 15, 2015
Carrboro, NC
Cat's Cradle
buy tickets
March 19, 2015
Baltimore, MD
Metro Gallery
buy tickets
March 20, 2015
East Greenwich, RI
Greenwich Odeum
buy tickets
March 20, 2015
Grand Forks, ND
Ojata Records
March 20, 2015
Columbia, SC
Nickelodeon Theatre
buy tickets
March 22, 2015
Houston, TX
Alamo Drafthouse
March 22, 2015
Austin, TX
Alamo Drafthouse
March 23, 2015
Dallas, TX
Alamo Drafthouse
March 27, 2015
Boston, MA
Somerville Theatre
buy tickets
March 27, 2015
Portland, OR
Hollywood Theater
buy tickets
March 30, 2015
Madison, WI
High Noon Saloon
buy tickets
April 10, 2015
Providence, RI
AS220
April 16, 2015
Tampa, FL
The Local 662
April 16, 2015
New York, NY
IFC Center
April 17, 2015
Columbus, OH
Gateway Film Center
April 17, 2015
Louisville, KY
Headliners Music Hall
buy tickets
April 17, 2015
Phoenix, AZ
FilmBar
buy tickets
April 18, 2015
Kingston, NY
BSP
buy tickets
April 18, 2015
Pittsburgh, PA
The Hollywood Theater
buy tickets
April 23, 2015
Minneapolis, MN
Bryant Lake Bowl & Theater
buy tickets
April 24, 2015
Lansing, MI
Studio C
buy tickets
April 24, 2015
Austin, TX
The North Door
buy tickets
April 25, 2015
Ann Arbor, MI
The Michigan Theater