Hooliganism Trumps Hate: Pussy Riot At The Echo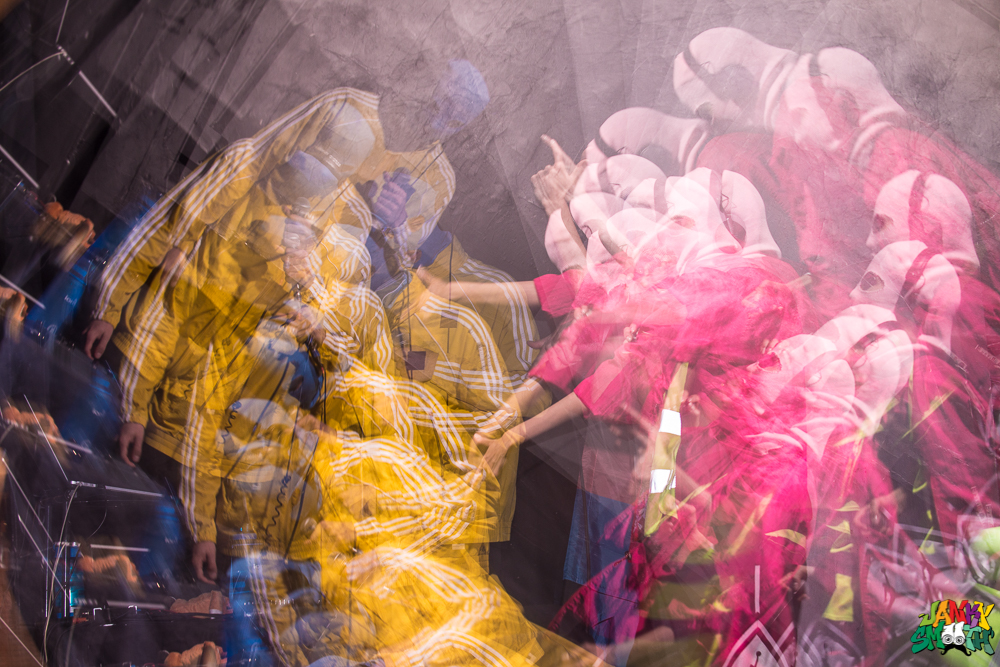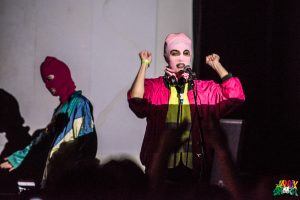 In terms of global affairs, Pussy Riot came to us when we needed them most. Building political tensions between the United States and basically everyone else seem to be constantly in the foreground of conversations and news briefings.Gaining notoriety for activism in their home country of Russia, Pussy Riot made a name for themselves by speaking out against Vladimir Putin and his anti-LGBT, anti-Feminist agenda. Similarly, we seem to be struggling with our own self-important leader with a relatively corrupt agenda ourselves. Three founding members of the band were arrested, tried and convicted in 2012 for "hooliganism motivated by religious hatred", including Nadya Tolokonnikova who actually served a sentence of over a year. The inciting incident for the arrest of the members of Pussy Riot came in the form of a demonstration held inside a Moscow church, the congregants of which did not take kindly to the women donning neon ski masks and dresses who stormed the altar to recite a "punk prayer" before being detained by relatively unenthusiastic authority figures. This was all caught on video and was widely distributed by media sources when news of the arrest spread and caught the attention of Amnesty International, who named the incarcerated members of Pussy Riot as political prisoners.
The announcement that Pussy Riot would be playing at The Echo was met with so much enthusiasm that one show became a three night entirely sold out event. 2018 marks the year of Pussy Riot's first North American tour with stops in Mexico City, Chicago, San Francisco and Los Angeles. Houston-born rapper Fat Tony opened the show with a solo set in which he played his own beats on his laptop and rapped along with auto-tuned vocals.It was strange to me that nobody I talked to was as avid a Fat Tony fan as myself, given that he's worked with artists like Kool A.D., Antwon and even A$AP Rocky but for me, it's all about the 2013 album Smart Ass Black Boy from which he played his most well-known single "BKNY". An interesting choice of opener, considering the vastly different genres being brought to the stage. Even though he raps about fucking girls in Crown Heights and hood parties, he presents himself with an established and professional manner as he rushes to press the keys on his laptop after each number. Fat Tony's set is a one-man show that runs like a finely oiled machine.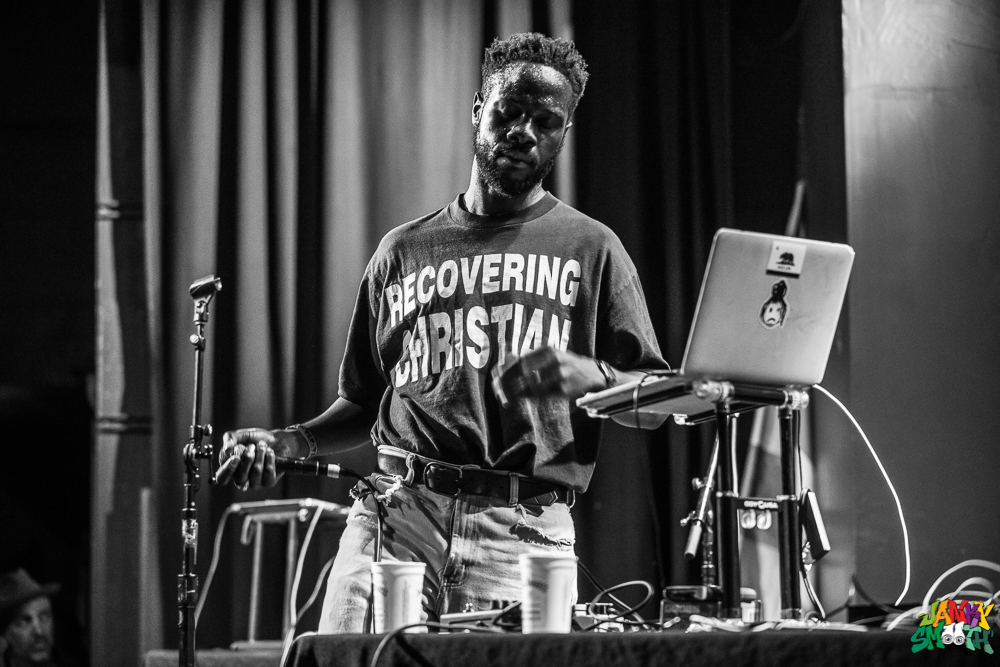 Despite the early show times, the venue filled up nicely long before Fat Tony's set. Looking around, the audience was a reasonably diverse crowd with equal representation from the queer community, feminists and Russian language speakers. I could hear them speaking in the unfamiliar dialogue as we made use of the Echo's confined smoking patio; a prime location for sizing up the fan base for future analysis. Who goes to a show says more about the artist than any amount of background research or Spotify streaming in the hour before a show ever could. Finally, two people in ski masks and assorted athletic apparel took the stage to be met with enthusiasm by the packed event space. Although the performer's faces were obscured by the ski masks, the shorter of the two was unmistakably Nadya. She addressed the audience in English, speaking about the Russian election that has just recently taken place on March 18th in which Vladimir Putin was elected to his 2nd term in office. Nadya explained how dire the situation has become, speaking from her own experience as a political prisoner. She addressed the fact many like her have been arrested and even tortured for speaking out and demonstrating against the Russian government.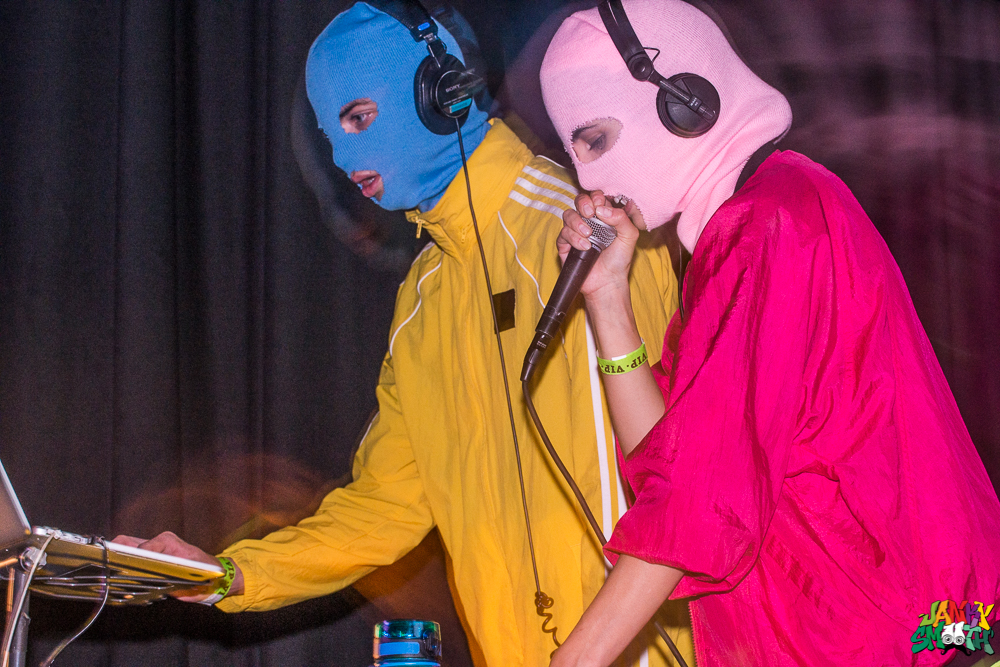 During the performance, visuals of stars and prisoners and video game-like images displayed the words in English for us to be able to follow along with each song. The music itself isn't what you might think of when you think of punk; rather it's more industrial and heavy with other electronic elements to it. The only instrument to speak of is the lone laptop being manipulated by one of the first two masked band members who took the stage at the beginning of the night. Later, several other masked performers in reflective vests joined the performance, although they mostly engaged in the choreography aspect without supplying vocals. Some of the songs are in English and some in Russian but they're all performed at full volume and although the heavy accent can be difficult to understand live, the message pretty clearly one of defiant feminism in the face of a discriminatory government with little patience for resistance. However amidst all the anger and frustration, Pussy Riot offers a glimmer of hope by demonstrating that there are forces actively resisting these oppressive forces.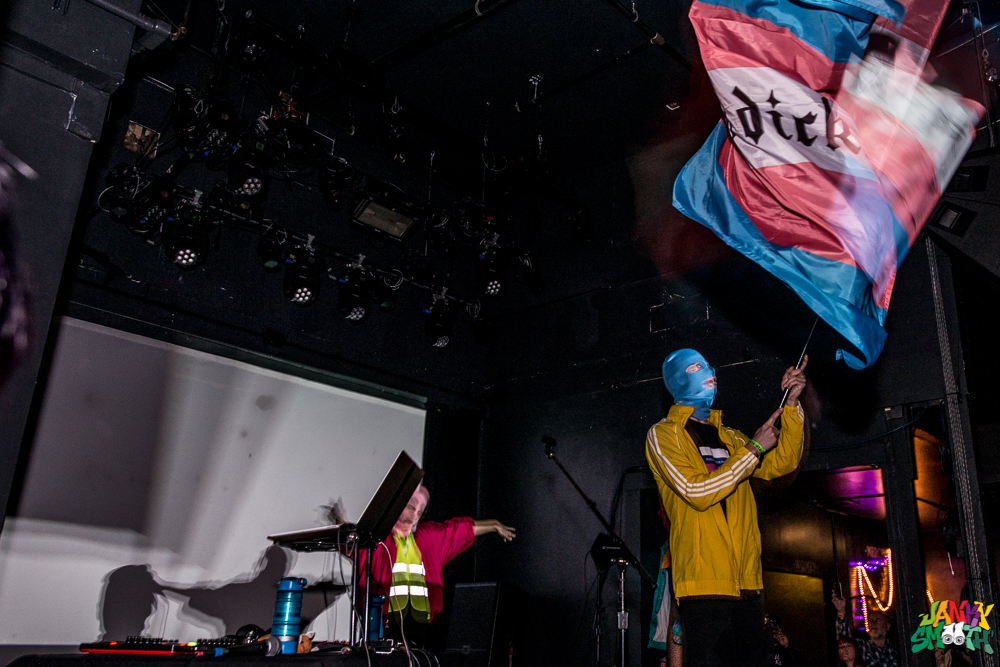 Certainly, there is something very important to be learned from these artists who have openly risked everything to make sure they are being heard. Since the evening of the show fell on Transgender Day of Visibility, a giant Trans Pride flag was brought onstage for a number. Demonstrating that activism and performance art will always be central to punk music, Pussy Riot's saturday night show instilled a sense of newfound rebellion and reasserted the dissatisfaction with the government that has somewhat faded into apathy since our own country's recent and most unfortunate election. Pussy Riot's energy and message clearly affirm that from ill-suited leaders and corruption can come some really loud and intensely invigorating art.
Words by: Aria Silva-Espinosa
Photos by: Jessica Moncrief