Finally Admitting it's Real: Portugal. The Man at The Shrine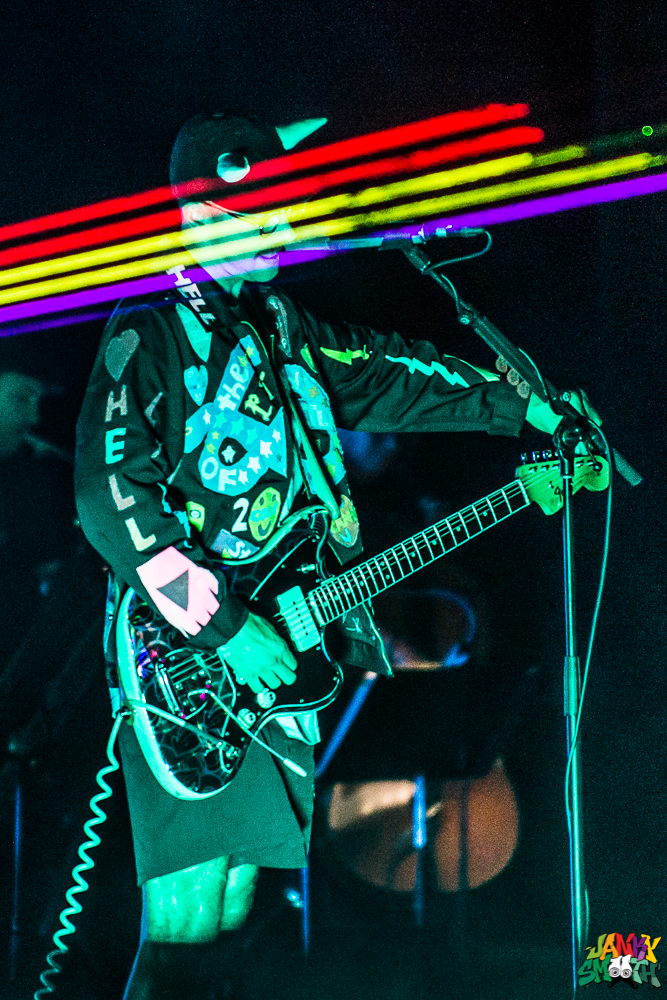 For everything pop culture as a whole has done to convince us that the best humanity has to offer comes out of relationships and love, outside of shitty rom coms, the weird and winding paths that people take to get into them often go unacknowledged. People often go months or years without expressing their true feelings; and when they do, the time and place is not always as cookie cutter perfect as it's made out to be in the popular imagination.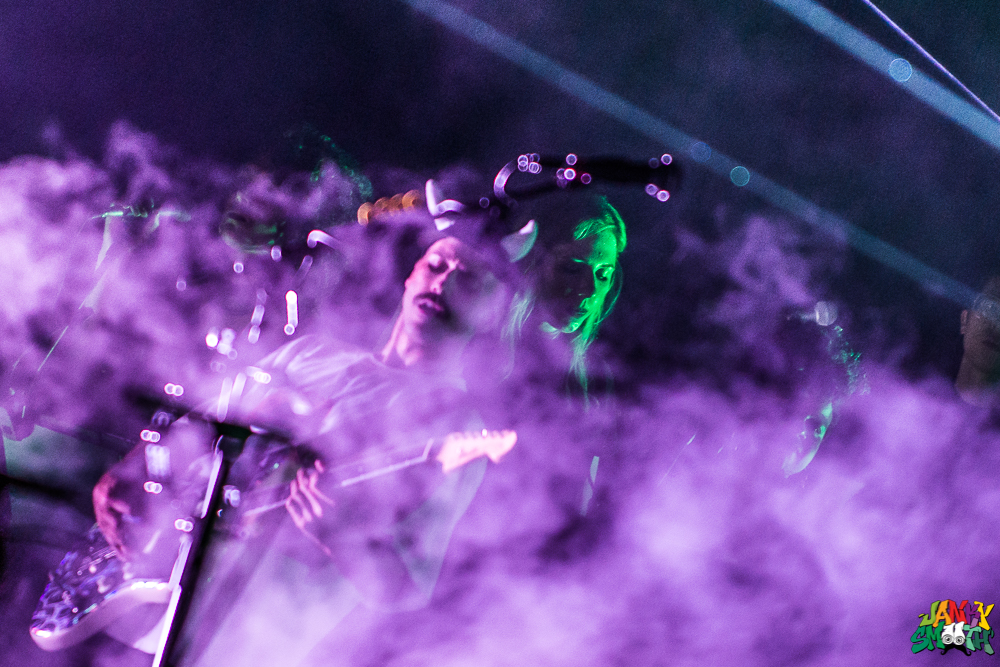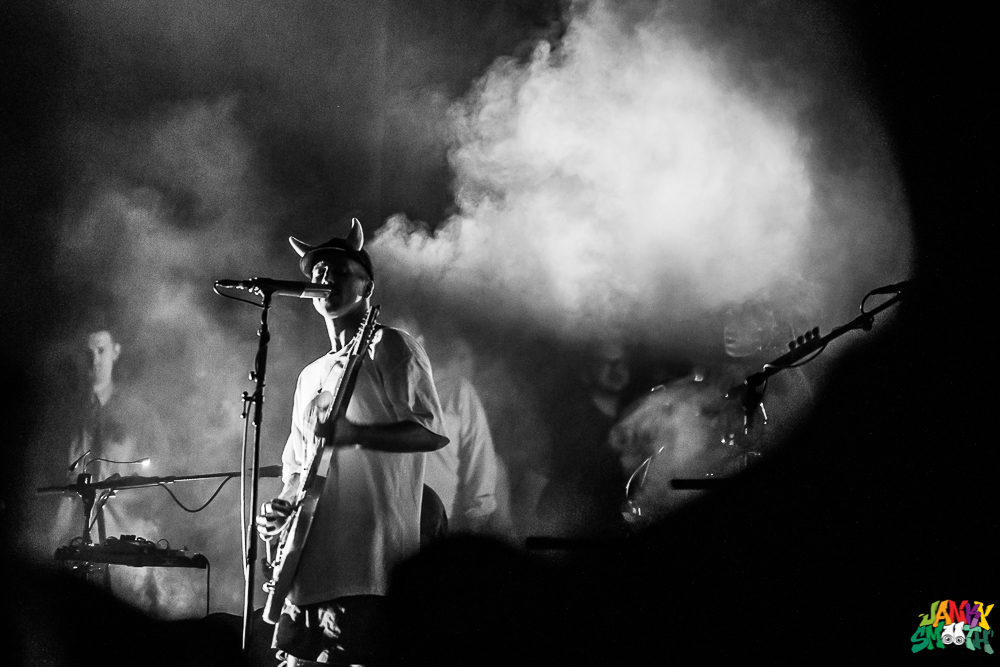 In my opinion, Portugal. The Man is characteristic of the many angles of this scenario in the context of a fan's relationship with a band. Once upon a time, they were the new kid in school: a little band from Alaska whose songs would show up occasionally on a mix CD someone gave you of cool new music that had flown under the radar. A few years later after they'd earned more cred with the local kids, they start hanging out with one of the cool seniors who brings them to the next level: auteur producer Danger Mouse who produced their 2013 album Evil Friends. Their insider status secured, after a few years away they come home from college for the summer with a newfound confidence that was and continues to be imbued in their infectious juggernaut of a hit "Feel It Still." And in typical rom com fashion, we as a culture have now admitted that the band we're truly in love with is the one that's been in front of us the entire time.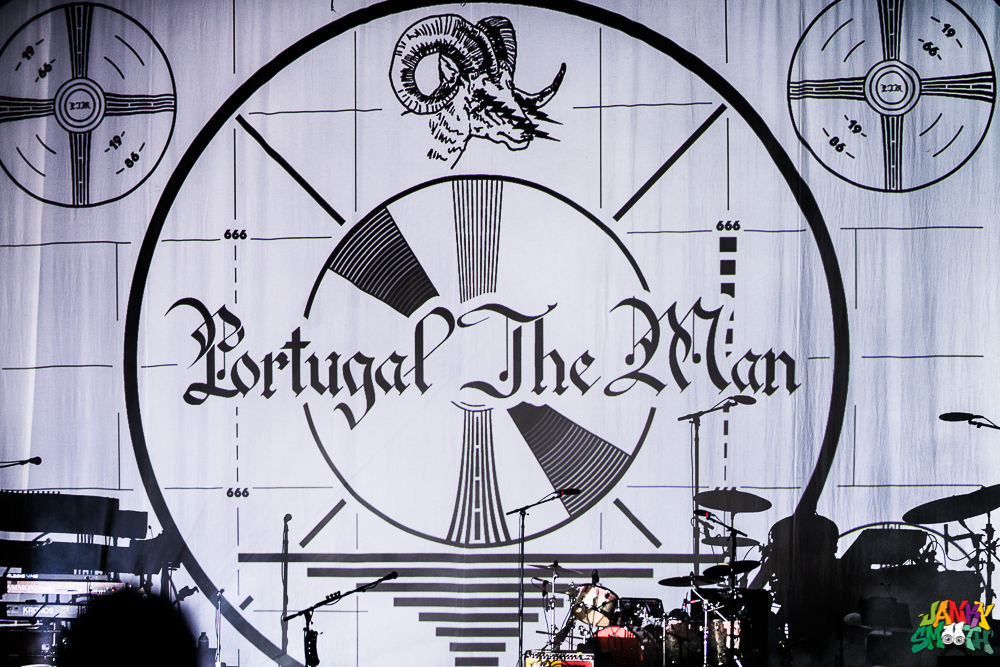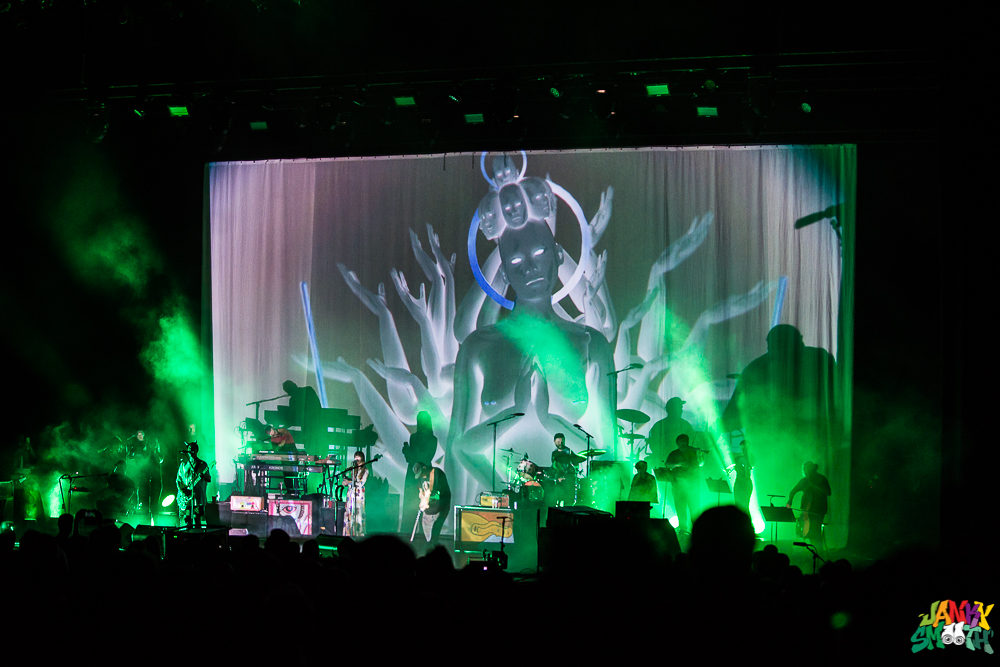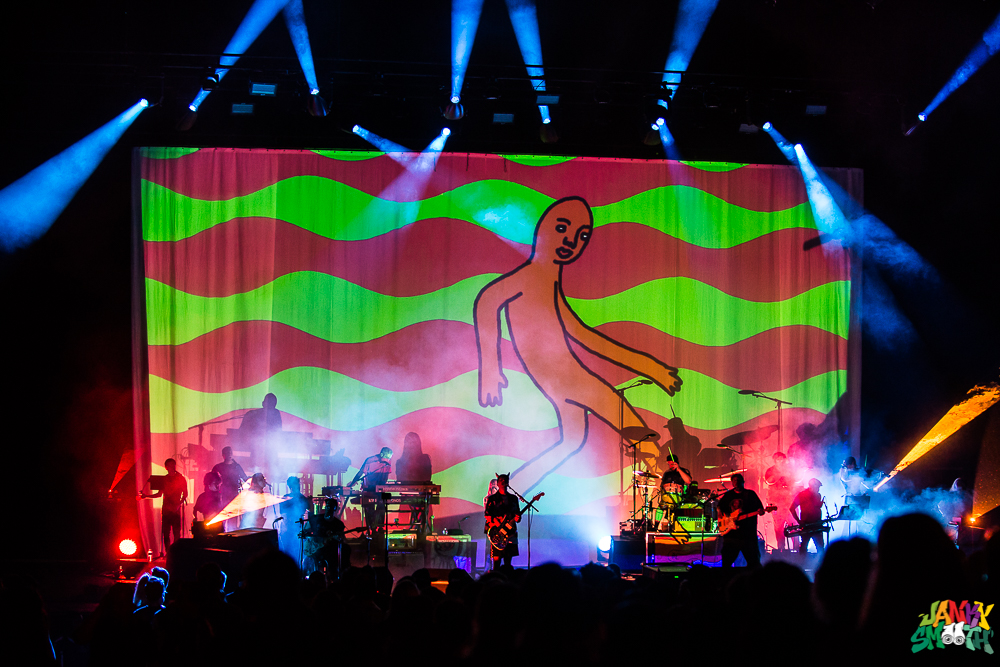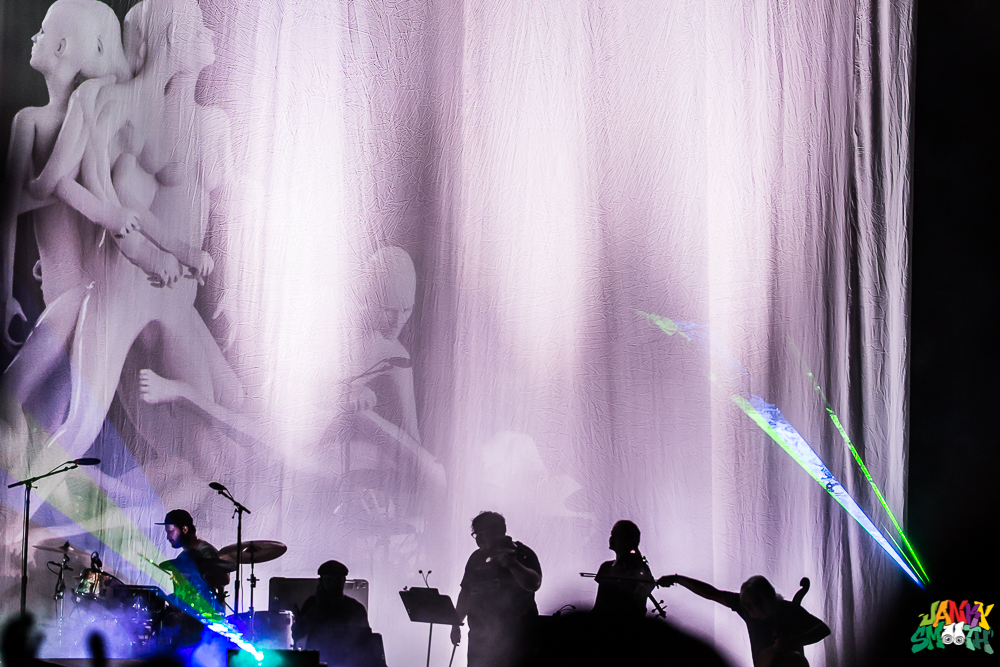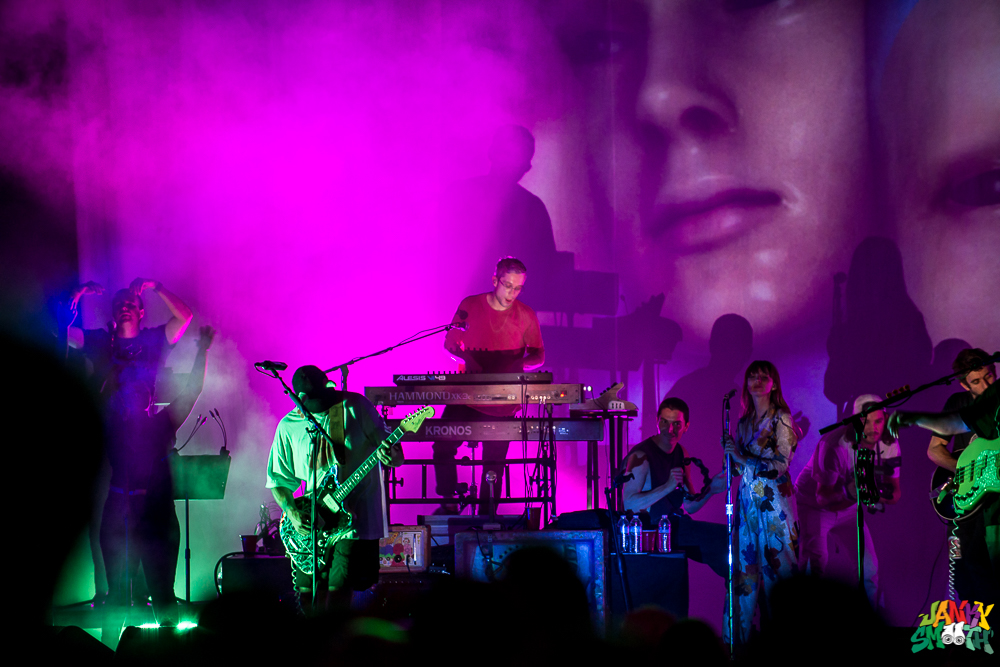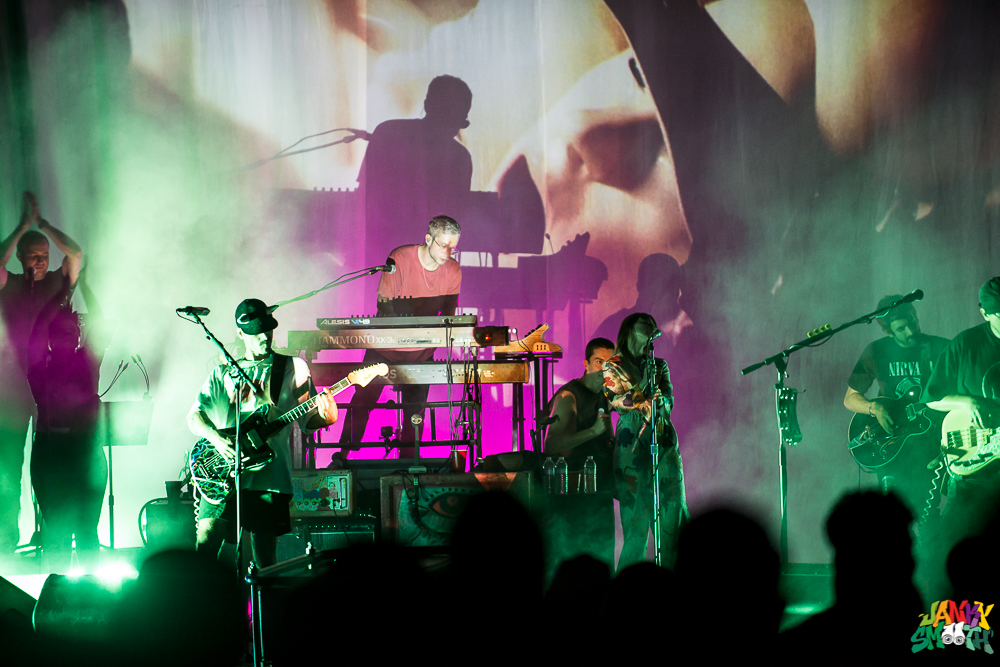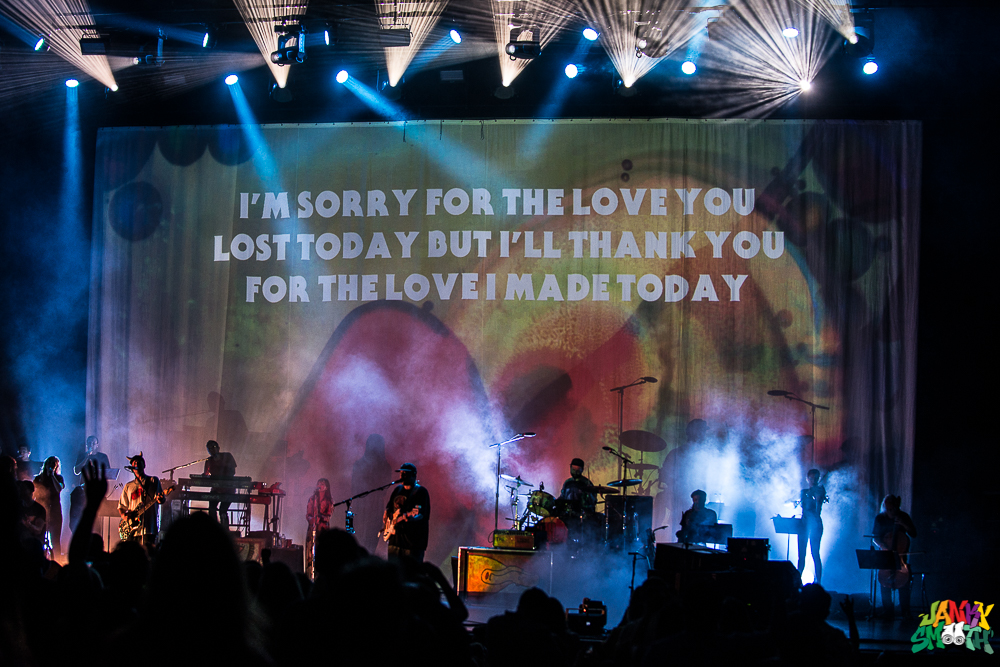 It's a touching story that Jennifer Aniston is likely optioning as we speak; however what surprised me most about it's climax that occurred (symbolically) at The Shrine on Friday night is how sincere they've remained despite the massive cascade of new fans they've amassed in the wake of "Feel It Still's" success. After all, this is a band that now has enough of a catalog to easily fill their time, but they choose to open their set with a segment of Beavis & Butthead introducing them as the greatest band of all time before launching into Metallica's "For Whom the Bell Tolls." Promptly following this, the rear projection flashed a message to the crowd that the band doesn't count stage banter as one of their finer attributes and that the remainder of the words/statements projected throughout the show were chosen by their management. This is remarkably honest coming from a band which has seen their level of success in the last few years; and while they likely have final say on whatever is projected behind them, the statements (which ran the gamut from Malcolm X quotes to Half Baked inspired anecdotes about smoking weed), there was certainly a sense that their instructions at the onset of the writing process sounded something like, "We're gonna go out and play. Make it cool."
All this and a theater filled with a few thousand people added up to a night that won't easily fade from memory, complete with Native American drummers, a chorus of backup singers, and a couple drunk moms next to me who in their chardonnay-infused haze started a conversation with me during a slow song about how they had all but given up on popular music before learning about Portugal. The Man.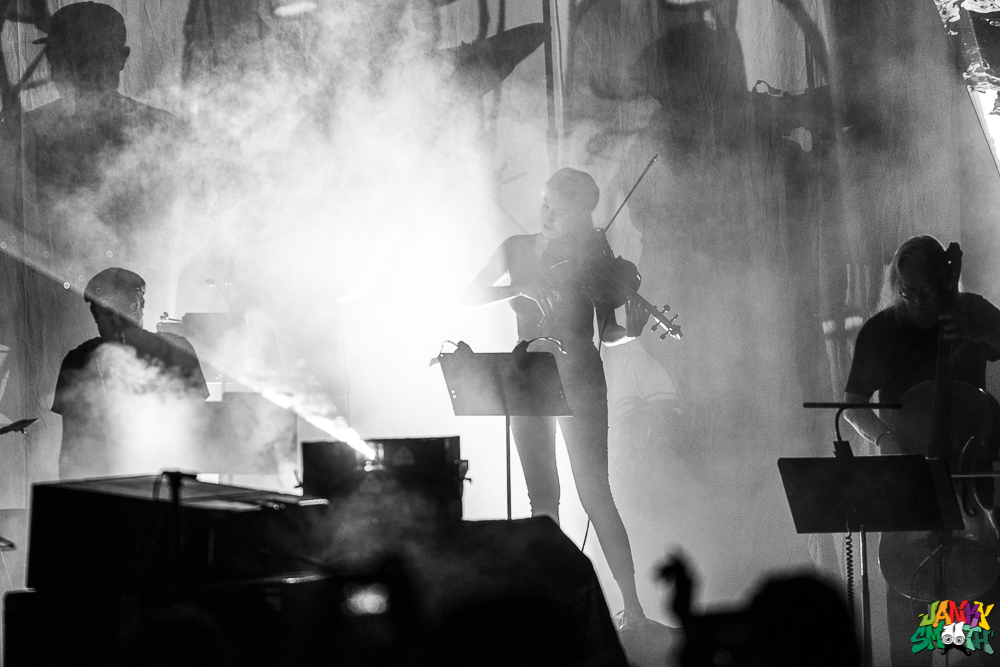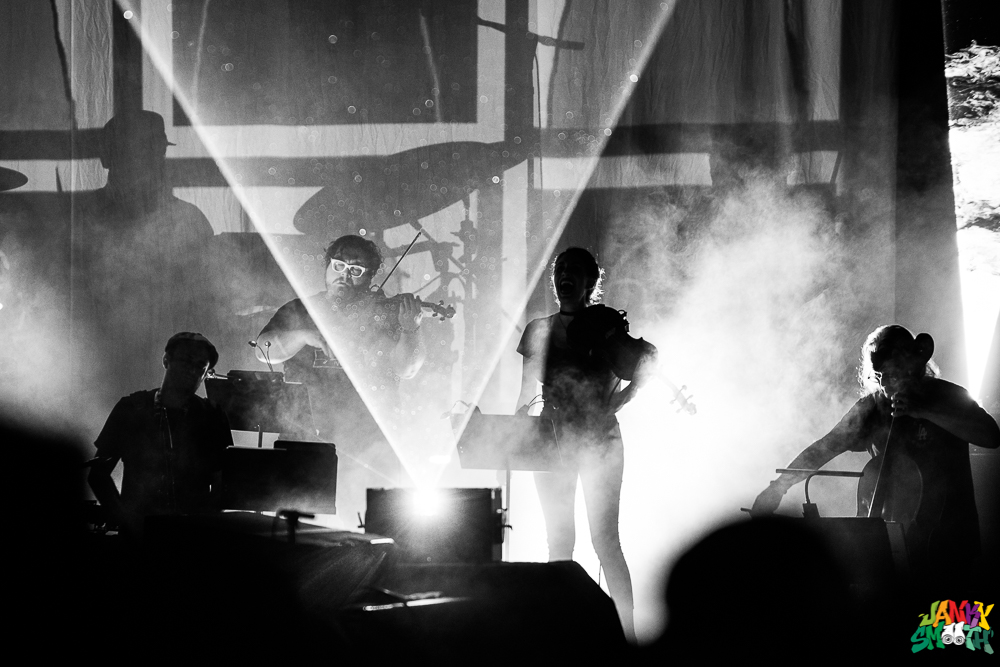 As inspiring and somewhat hyperbolic as these statements were though, it got me thinking about how comfortable the band themselves are with the onslaught of attention they've received. While they are obviously still having a great time and fed off of the energy of the crowd for the whole show, my only complaint about the whole affair was that it felt as if they were still somewhat uncomfortable with their superstar status and may have even been holding back a little bit so that they could hang on to the mainstream attention that few bands like them even get a whiff of these days. Throughout the beginning of the show, they exhibited without question that they both appreciate and can play heavier music, before slowing down into a much lighter second half. While this may be them more wanting to start off with a bang, it's a bit jarring going from a high energy onset to a power ballad heavy second half.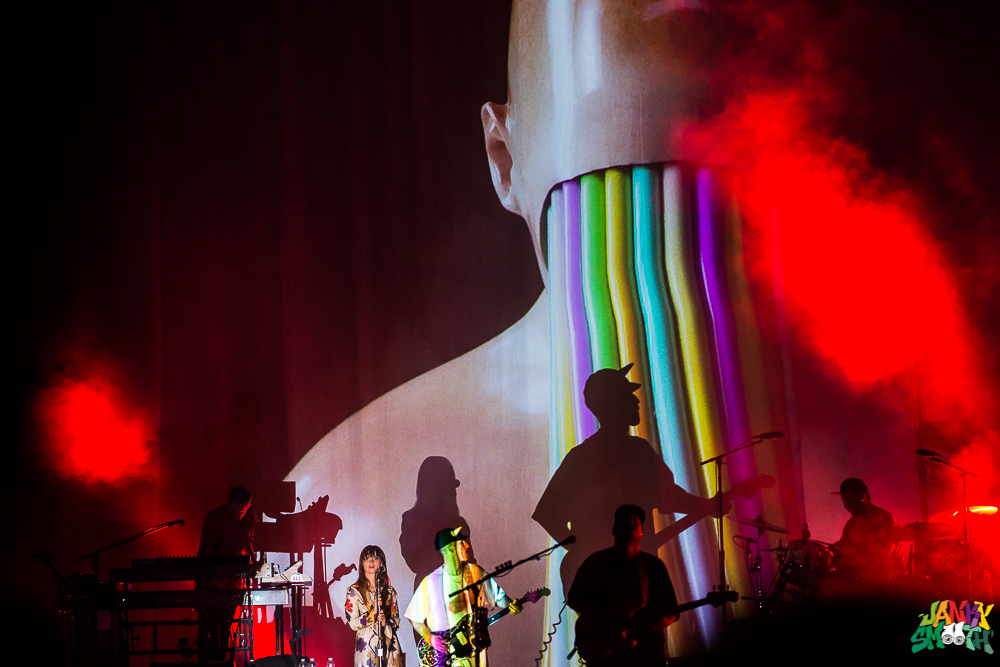 All this aside though, the crowd stuck with them the whole way through. I'll admit that there was part of me that feared that a solid portion of those attending were there to hear their few big songs and leave. Much to my relief though, even on the more obscure selections from their catalog, scores of people deep into the balcony were singing along and having the time of their lives. At a certain point, you could even feel that the barriers were breaking down between the die-hard fans and the more recent converts, emblematic of the fact that while journeys are important, what matters most at a show like this is that you made it there and that you admit without any hesitation that your love for the band is real.
Words by: Robert Cohen
Photos by: Jessica Moncrief