Home is Where the Heart is: Phoebe Bridgers at the Greek Theatre
Words by: Robert Shepyer
Photos by: Nicole Busch
Artists like Phoebe Bridgers reinvigorate my love of music criticism. The way Phoebe's tenderness and vulnerability merge with her humor and authenticity makes listening to her feel better than reuniting with a familiar friend because she's the friend we all wish we had–old and golden, her music summons up the nostalgia of growing up then helps us process the emotional complexity of the past. Having grown up in Los Angeles, real LA recognizes real LA and at these hometown shows, she gave back to the city that shaped her.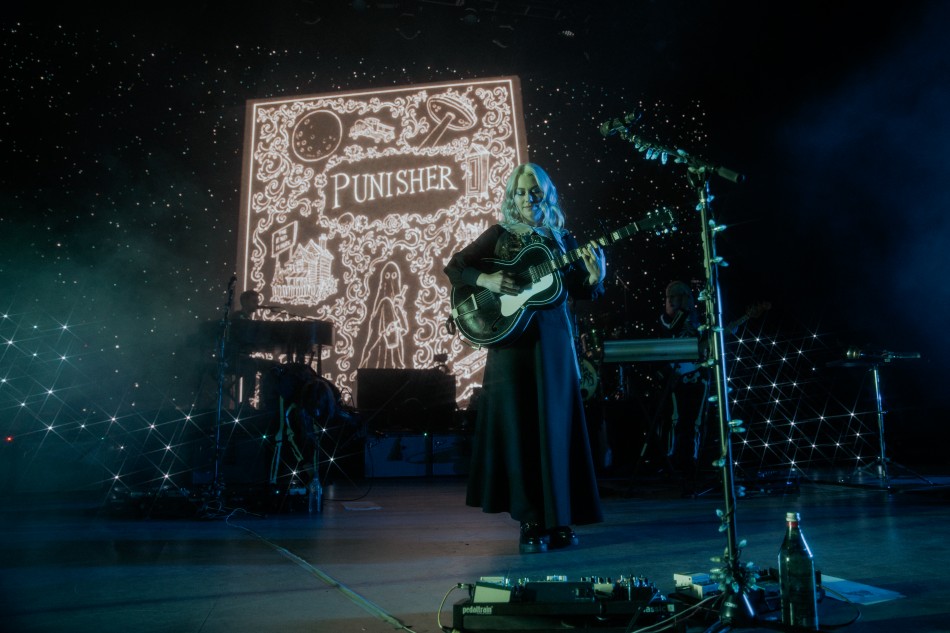 My first impression of the audience at the Greek was noticing they were mostly comprised of Gen Z lovers and friends, some of whom came dressed head to toe in Phoebe's unofficial skelly uniform. You get the sense that what Phoebe is going for is making the ultimate soundtrack to suburban American trick or treating. There were a few parents chaperoning and older fans there too because Phoebe is a folk hero, who's talents are recognized by every age group whether they see Joni Mitchell or Tracey Chapman in her. When I use the term 'folk hero', I mean to conjure up the image of Woody Guthrie in your mind–This Machine Kills Fascists–She may not be singing about this land being mine and yours but when Phoebe makes a statement, she usually takes the leader's approach by offering takes that are all her own and usually right.
With Halloween approaching, the Bridgers iconography was appropriate for the season. This was the first concert in LA that actually felt like winter outside. Thankfully, Folk is the warmest music. The evening began with Charlie Hickey, an artist from a musical lineage that raised him on a steady diet of music since day one. Hickey's folk builds like a fire inside, letting subtle, low key embers stir the soul before they burst into a fire that fills the body. Fearlessly, Charlie wore his heart on his sleeve. Both Charlie and Phoebe grew up in Los Angeles and make music in the social media age yet they created an environment completely free of cynicism. No audience member and artist involved would dare mock a single emotion shed this night. Hickey finished his set by bringing out his boss, Phoebe, to duet two songs with him. The audience erupted for Phoebe signaling they were ready for her tour de force set.
Punisher was just a shockingly good album. No matter what kind of music fan you are, whether you like Taylor Swift or Discharge, there was something in the album you connected with. I remember admiring the now iconic album art then pressing play that first time and knowing very quickly Phoebe Bridgers was going to become one of the most important artists in modern music. Dressed in her evening gown ode to My Chemical Romance's Black Parade, she was the demon queen that makes the people scream, heading up her haunted band in songs every one knew the words to starting with "Motion Sickness" then going into my favorite tracks off Punisher, "Garden Song" and "Kyoto". The show turned into a living popup book, unfolding to prop up scenes from Phoebe's memory. I sensed that like myself, everyone else from Los Angeles there could assimilate these memories and make them their own. The sort of scenes included in this picture book were detailed paintings of a youth that felt innocent at the time but created trauma that required coping with later.
The band felt totally at home on stage, introducing themselves to the audience with mild banter when little things went haywire between songs. After performing an incredible set packed with 16 songs including "Smoke Signals", "Moon Song", "ICU" and more, Phoebe finished with "I Know The End" which crescendoed into the stage's epic short-circuiting then unforgettable combustion as if the band was playing too hard and intensely for the gear or Greek to take. When the screen froze into SMPTE bars, the band returned to break the static with an encore of Bo Burnham's "That Funny Feeling" which is both a reference to the set's intro song, "I Gotta Feeling" and a perfect summation of the quiet depression of living in a world we all know in the back of our minds is growing faker every day. Phoebe's folk music interprets the world emotionally, not politically, expressing this revolutionary sort of sadness of not being able to go backward and reawaken modes of life that are more sensible, enjoyable, harmonious, conducive to kindness and real. In many ways, Phoebe's music mourns for every emotional IQ point we've lost in the process of growing overstimulated and numb.
Leaving the Greek that night, my heart and mind were full. My heart full of love, my mind full of appreciation and reverie. Phoebe pointed out many ills of this world and the only reason you can't be mad after is that she knows how to do it more sweetly than anyone.