Panache Spring Fling at The Echo: Jacco Gardner, Ultimate Painting, The Entrance Band and more…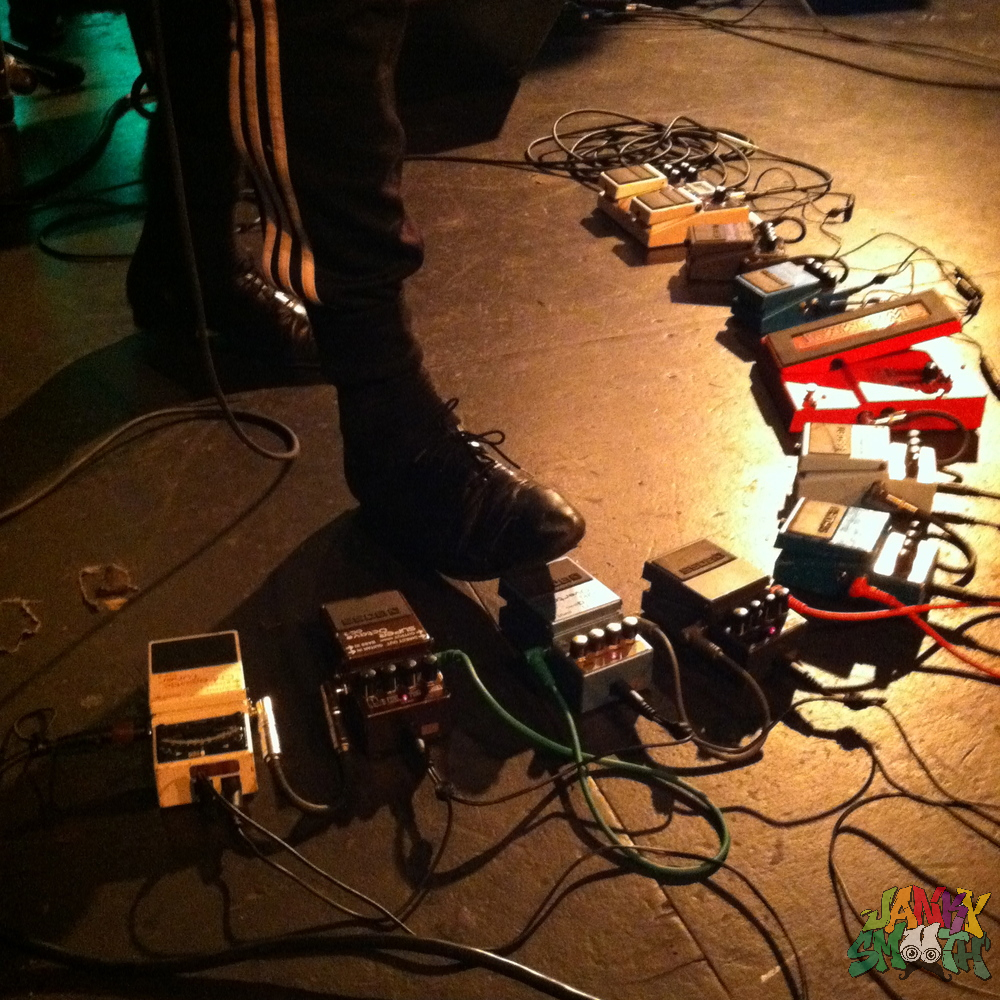 Two nights ago I was at one of the most unglamorous dive bars in Ventura, a show organized for label mates of Jacco Gardner, The Miseries. The place was dark and smelly with dartboards and bikers, prostitutes (I may have only imagined them), a guy even took off his pants going full frontal and a bartendress showed up late, but just in time to direct security around the bar as girlfriends threw Q balls at boyfriends heads. Los Angeles garage sensations The Cigarette Bums were opening up but there was something special about that night and the willingness of the bands to play a show there, in that semi-dangerous and remote spot.
There was something special about it because nothing was being handed to anyone and each band would have to work the crowd (most of whom knew nothing about these bands or the musical styles they played), fight to be heard, deal with the worst sound equipment imaginable, everything was running late and it was still an unknown if the last band of the evening would even have enough time to play. There was something tragic, yet beautiful and romantic about it, it was a great show.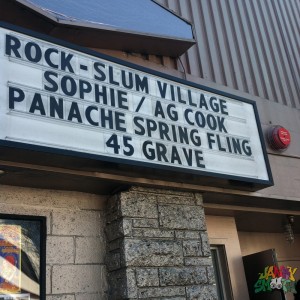 Today I was off to the exact opposite environment. Eastside Los Angeles' premiere indie venue The Echo, with a line up of some of the most hyped international acts post SXSW on arguably the most important booking agents roster and…with a guaranteed audience. How would this show compare? Would it contain it's own tragedy and romance? Would this too be a great show?
Michelle Cable has achieved what few people in the music industry can or will…she has lasted, survived and come out on top. The indie music machine she steers from the helm, Panache Booking, represents an unbelievable amount of acts: 105 of the most up and coming musical forces around and I'm not just talking from the US. She represents bands from Japan, Australia, England, The Netherlands, Canada…Thee Oh Sees, Mikal Cronin, Redd Kross, Wand, La Luz, Black Bananas, Mac Demarco, just to name a few. Sure, some of her bands were already known before they had a relationship with Michelle and it doesn't hurt to have hip record labels behind you as a band, but record labels don't get you shows, booking agents do and that's where the proof in lies; Michelle has accomplished the near impossible, getting her bands the right tours and on the right stages, year after year, and tonight spotlighted some of her talented acts.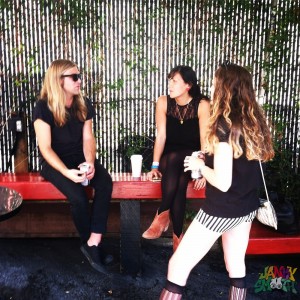 I showed up to The Echo early, 3pm, but the show was already about to begin. I headed straight to the patio to find Michelle. There she was rapping out with Liz and Lance, co owners of Highland Park's awesome Permanent Records and 2/3rds of Endless Bummer. She was already deep in rock discussions about labels and bands and they were exchanging tips on who to check out. It quickly becomes clear, when you watch people like this talk, how it all gets done in the music biz. Suddenly you realize "The Music Business" is just a big community of people who love music and exchange information, bands, records and ideas. And…who work their asses off to make shit happen!
Dream Boys were starting and it was time to get to work.
Mostly from Los Angeles but with a Scottish guitar player, Dream Boys spin pedal steel daydreams and well blended harmonies into a solid songwriting sound. There was even a Burns 12 string guitar to add some extra tonal lift. Buttoned up shirts and messy haircuts only add to the sweet and bouncy love song package. What a hard time to start as a band, Jesus, 3 o'clock! I was feeling for these guys, but they handled it like pros.
I was still contemplating the whole playing in a shitty club versus playing at the Echo situation when I realized, Dream Boys also have to work. I would later take note that even the big bands were sharing some equipment and working together.
Next up, Endless Bummer. Low and deep bass tones and a power chord (with solo's) driving guitar, an anthem-ic punk rock barrage. I was instantly taken back to the feel of Skulls by the Misfits and then suddenly they dropped into a half tempo heavy instrumental bridge. Hair flying everywhere, Liz smashed out those thumping drum bombs.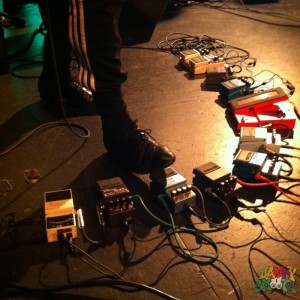 The big shock of the night came from Jack Ladder & The Dreamlanders. Bauhaus meets uplifting organ and dance beats. A bit of humor to off set the dark vocals and one of the most hilarious and entertaining guitar players I have seen in years, seriously Kirin J Callinan stole the show and in the simplest way. Every time the drummer hit the cymbal he kicked out his back leg and swung his guitar around. That was it. But it was also his outfit: the pencil mustache, the angora sweater over-tight leggings, the jazz flats and the seductive yet funny little dance moves that sold the whole audience on this band. A bit Perry Ferrell via Sedona, Arizona. Maybe it was the heavy turquoise necklace channeling the Australian outback? Originating in Kings Cross City Australia, each member of this line up has other bands of their own back home. This was an incredible combination of talents to witness. Jack Ladder, their front man, has that super tall a la Thurston Moore presence, but more relaxing, the kind of guy you'd want a bear hug from.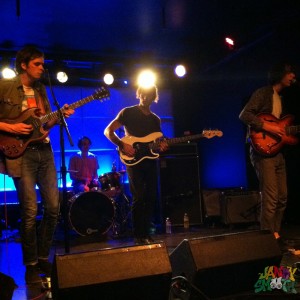 The most hyped band of the night, Ultimate Painting from London, hit the stage and I was immediately transported back to late stage Doug Yule led Velvet Underground. In fact, I am totally convinced that the second guitar was actually playing some Velvet Underground licks, but hidden enough by the first and chunkier guitar and the two part vocal harmonies not to be overemphasized. I can see why people love this band; they are great players and the drum and bass keep it real simple so the guitars stand out in a big way up front. It was hilarious when they said, "We're from England so don't be offended if we don't move around too much." And they didn't, the second guitarist would even crouch on the floor every so often so that he could get the perfect tone from his amp without feeding back. And there was definitely some Blues in there too, a bit early Peter Green/Fleetwood Mac but less dirty, more technical, less raw. I can see why young girls would really like this band and if that's any measure of how many records you're gonna sell then this band won't have to move out of London anytime soon.
Happyness was just written about as one of the hidden gems at SXSW by Rolling Stone magazine, but sadly everyone cleared out right after Ultimate Painting- bastards. These guys had a whole different approach than anything before them, more vocal effect, less busy guitars, more '90's three piece. They also had a keyboard instead of a bass. Really sweet and positive guys who had the fans that stuck it out in the palm of their hand.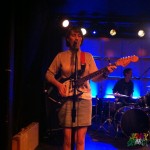 Twerps from Australia, another "must see band" or so I had been told, brought out the jangly guitars and youthful Aussie humor. The bass pops and occasional female vocals had me somewhere between Stereolab and The Vaselines. This is definitely an album you want to take home, close the door and lie on your bed and listen to. But does the music get better when more people show up? Everyone that left after Ultimate Painting came back for Twerps and then about 50 more people.
Still, all the bands I had heard so far had one thing missing – experience. Especially for the amount of press they had been getting already this year. About 10 years ago I saw Ike Turner play at BB King's House of Blues in New York City and the John Spencer Blues Explosion opened up. Ike Turner invented Rock n' Roll and I don't mean that in some abstract sense, he actually invented it. He recorded the first Rock album before Elvis. That was experience. That wasn't only sweet high school songs about love or adolescent humor, that was The Shit and Ike (as we all know) had been through it. That was the one thing I wanted to see; some experience, some adulthood, some "I've been through the shit man" and survived to tell the tale and then…the band I came to see gave me exactly what had been missing.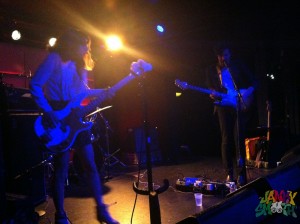 The Entrance Band is that band. They are the band that all the young kids like but they are not kids. They have toured, played in numerous bands, earned their stripes by sleeping on couches, floors and living without much money for years and it shows. Their songs are not about necking in the back seat of a car, they're about having your heart ripped out of your chest while you stand there watching it beat, but more important is that they actually have an uplifting message. This band celebrates what's truly great about human beings; their resiliency, their kindness and spiritual power! Twirling, swirling and Whirling Dervish performers Paz and Guy spin across the stage, jump, dance, and get sexy as fuck while electricity shoots out of their palms and circles the audience. No one left while they played. This band has soul and just as much from Paz as from Guy. All the while Derek pounds out glorious and thunderous rhythm rolls allowing his compatriots to cast their spells. Very few people can get away with taking off their shirt in between songs, but when Guy took his off I kinda wanted to take off mine. It's that sort of band. Soulful and electric, they make you want to be a part of the music, do what they're doing, commit all the way. I was relieved that the elders had arrived and The Entrance Band has definitely arrived.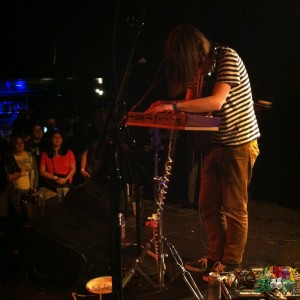 Jacco Gardner, now mostly on guitar with a small hand built mini Korg keyboard platform, brought the show back to where it had been headed; solid, sweet and well rehearsed songs performed by young, attractive, mostly boys. With an entirely new band, except the bass player from his last US tour, Jacco came armed with his unreleased new album and the crowd loved every track. Jacco exploded in mid 2013, playing something like 250 concerts over 365 days. A great songwriter and an even more incredible producer, Jacco records all his own material in a modest studio still in the town of his birth, Hoorn, The Netherlands. Light on the vocals and maraca, the hair has grown out a bit, but the 60's stripes remain. Bouncy psychedelic pop with buttery vocals luring the listener back to Britain's earliest altered state daze. Jacco shows growth with his new songs. More instrumental, more developed and less pop song focused than his last album. Only his first single "Find Yourself" harkens back to his debut release, everything else shows he's not afraid to try something different!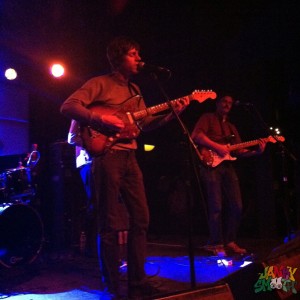 Closing out the show was local Los Angeles sensation White Fence. As a friend of mine put it "there's some Who worship there" and there was, but it fit right in with the Manchester haircuts, tight rolled jeans and Clark's Wallabe desert boots. White Fence might have had the best straight up guitar player without relying on much effects. Flaring guitar solos and playing sometimes heard in tandem with Ty Segall, Tim Presley seems to be the driving force and musical wizard behind this band. No mistake though, the rest of the guys can hold their own, from the crazy fast walking bass lines to the intricately planned parts this band weaves a melody that becomes one and then stops on a dime.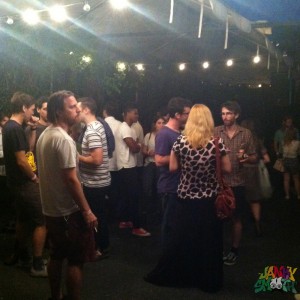 It was over and I was still wondering; how does a show like this compare to what I had seen a few nights before? Answer: Everyone has to work to make it this far, to make it to a shitty club, to make it to Coachella, it's work either way. There are crappy bands playing at crappy venues, but also crappy bands playing at the best ones and you might be surprised by what you see and where you see it. There is tragedy and magic all wrapped together when struggling bands drive all the way to some isolated spot just to play for 5 people, but…the show at the Echo is actually where everyone wants to be playing and for good reason. If you've come this far in music you don't want all that hard work to be wasted. You want your music heard. You want an audience that gives a shit, sometimes for the wrong reason, but one that shows up for you regardless. Does it really matter why they show up? It was clear to me that Panache had created that situation for these bands, but they still had to do the work, they had to make the great music. I'll let each of us judge for ourselves which bands are making great music.
Words and Smartphone photos: Lawrence Rengert
[ngg_images source="galleries" display_type="photocrati-nextgen_basic_thumbnails" override_thumbnail_settings="0″ thumbnail_width="120″ thumbnail_height="90″ thumbnail_crop="1″ images_per_page="20″ number_of_columns="0″ ajax_pagination="0″ show_all_in_lightbox="0″ use_imagebrowser_effect="0″ show_slideshow_link="1″ slideshow_link_text="[Show slideshow]" template="/home/jankysmooth/public_html/wp-content/plugins/nextgen-gallery/products/photocrati_nextgen/modules/ngglegacy/view/gallery-caption.php" order_by="sortorder" order_direction="ASC" returns="included" maximum_entity_count="500″]