Palma Violets and No Parents: Clear Your Head With Chaos at The Echo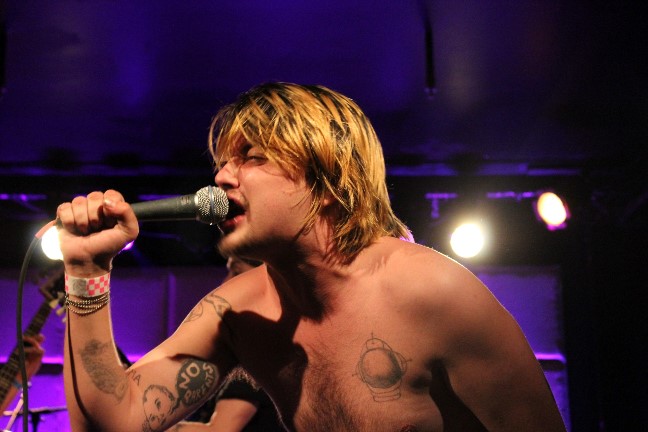 Time was not necessarily on the crowd's side last night at The Echo but that didn't stop anyone from having a rocking, raucous, even ridiculous time as UK rising stars Palma Violets headlined the night, with LA's No Parents opening.
People lined up outside the Echo well before the 8:30 door time, as fans itched to get their hump-day music fix via Palma Violets. Leading up to No Parents' set, the Echo was restless, peppered with well-dressed, effortlessly hip punks and rockers alike. We all were ready for the show to start but No Parents and Palma Violets, of course, had other plans- since there's nothing cool about being on time.
With Palma Violets playing at Burgerama this weekend, last night's show was their introduction to California's "Burger World" and who better to facilitate that than No Parents? Front man Zoe Reign literally had a stripped down performance, taking off his clothes by the second song and only wearing some very flattering gray boxers for the remainder of the night. Immediately everyone understood just what kind of guy he is and what kind of set they would play. No Parents play short, fast, no-nonsense punk music, with track highlights being "Die Hippie Die" and "Hey Grandma," a PSA to older generations further explaining what it means to be a young punk in the 21st century. Their set was like a machine gun, with each song a bullet ripping through the crowd and taking out anyone who wasn't on their level.
Now, that doesn't mean No Parents are a militant group of skinheads who hate the government and any semblance of social order. They definitely don't take themselves that seriously, which their lyric "punk is so easy" makes clear. These guys are self-aware and want to make fun music and have a good, dirty time. All they ask is for us to want to as well.
I couldn't help but notice the irony in that No Parents performed for a crowd of mainly parents… That's what happens when the venue is 18+ I guess.
This meant, for the most part, that the audience wasn't as rowdy and carefree as perhaps Reign expected. It certainly wasn't the crowd of angry moshing teenagers that typically fill up their all-ages shows at the Constellation Room or the Smell. Even Danny Bengston of together Pangea, who chilled on the side of the stage during their set, felt the need to take to Instagram and call out the "stale af" crowd. About five reckless souls took to the No Parents lifestyle, jumping up and down, moshing, yelling and overall just releasing their insecurities by joining Reign for a set of foolish merriment.
After No Parents left the stage, the night took on the frenetic energy of anticipation. Suddenly, the Echo was packed; most people had better things to do on a Wednesday night than stand around for hours until Palma Violets took the stage. Once they did, though, man was it worth the wait.
Their set started off with the exhilarating "Rattlesnake Highway" and quickly transitioned to new single "Danger in the Club," reminding everyone why they should be eager for their second album to drop later this year.
Palma Violets' sound consists of punk vocals and tempo meets classic rock melodies and thoughtfulness. Unlike No Parents, Palma's music isn't exactly easy to write/play. Dynamic duo Sam Fry—vocals and guitar—and Chilli Jesson—vocals (well, howling) and bass—screamed and wiggled their way through an onslaught of UK's finest punk-garage rock fusion.
Jesson's stage presence was beastly. Throughout the night it seemed as if his intense gazing into the crowd was his way of undressing us with his eyes and that he wanted to devour everyone in the room. Maybe it was a little of both. A true showman, Jesson never stopped moving, always giving kisses to his bandmates and jumping offstage into the audience's open arms. The entire crowd was at his mercy.
Compared to Jesson, the rest of the Palmas were relatively composed. Fry kept to himself mostly, with looks of anguish on is face as he belted out a musical supernova of emotion. His face expressed deep pain throughout the whole set, the kind of pain you want to feel because you know that when it's over, you'll better appreciate what it's like not to ache. This performance was his catharsis.
Will Doyle on drums and Pete Mayhew on keys brought in that extra dash of magic that completes Palma Violet's overall musical mastery. Doyle was the epitome of ferocity with arms that never quit, laying down the rhythm whirlwind that fueled Jesson's non-stop shaking hips. And looking at Mayhew, who sat calmly in the corner behind his keyboard display wearing a tucked in button-up with suspenders, the only word that came to mind was "Zen". Fans relied on him to add just the right amount of psychedelia to keep us on our toes and in the groove.
Put all of these elements together and you don't have your typical English indie band.
Many people ask me why I crave going to these wild shows so much, shows at which the point is to sweat and yell and push and fall in love in the most primal way possible. Why risk my overall health and well-being for such an ephemeral, albeit visceral feeling?
Last night, stepping into the Echo and giving yourself over to No Parents and Palma Violets meant leaving everything else at the door. Bills, school, shitty jobs, the future, your ex—all of that didn't matter for those few precious hours. Going to a concert and completely immersing yourself into that universe of chaos acts as a spiritual cleanse.
Once the lights come up, the roadies start to unplug the amps and the crowd begins its mass exodus to the "real world," you now feel invincible, like you can take on anything. Rent, love, what the hell you're going to do with your life—all of those challenges feel a little less overwhelming now. Because just minutes before you leapt off the stage and crowd-surfed your way past a bunch of stoked middle-aged rockers; so who's to say you can't be that ballsy when the sun is up?
Words and Photos: Savannah Peykani