FYF 2015 Lineup Announced and Yes, Death Grips Are On It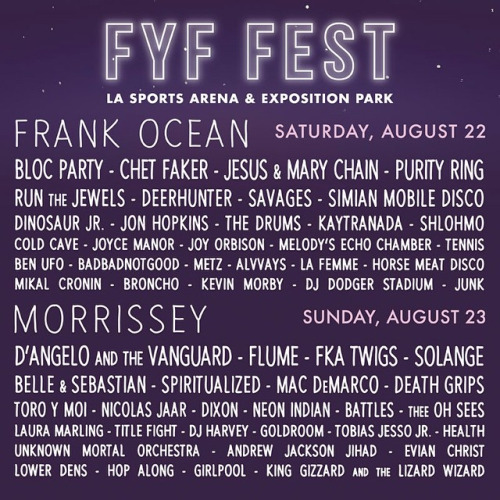 Scheduled for August 22nd and 23rd at Exposition Park, The FYF 2015 lineup was revealed today.  Tickets go on sale this Friday, May 8 at 12pm pacific on the FYF Website. FYF 2015 is keepin it cool and still offering single day tickets unlike some of their competitors.
This is year 2 of the festival taking place at Exposition Park instead of L.A. Historic Park and we FULLY expect the folks at FYF to complete the transition smoothly after last year's hiccups.
One thing is clear- Sean Carlson and the folks at FYF know how to throw a festival. Another thing is also clear- Festival bookers are once again trusting that Death Grips will actually show up this time after a no show last year and almost every date Death Grips have booked since the last show they ever played at FYF 2013 and Janky Smooth was there to bear witness and we can tell you this- If Death Grips show up and actually play the festival, they will steal the show like they did in 2013. See the footage we captured of that below.
The little print bands are amazing this year including the return of HEALTH who have seemingly been on a hiatus, of sorts.  Mikal Cronin, La Femme, Andrew Jackson Jihad, Neon Indian, King Gizzard and the Lizard Wizard, Unkown Mortal Orchestra, Battles and Metz are just a few of the many acts to show up early for.  Are you ready for FYF 2015??