Cut Copy Crushes Night 1 of 30 Days in LA- Red Bull Sound Select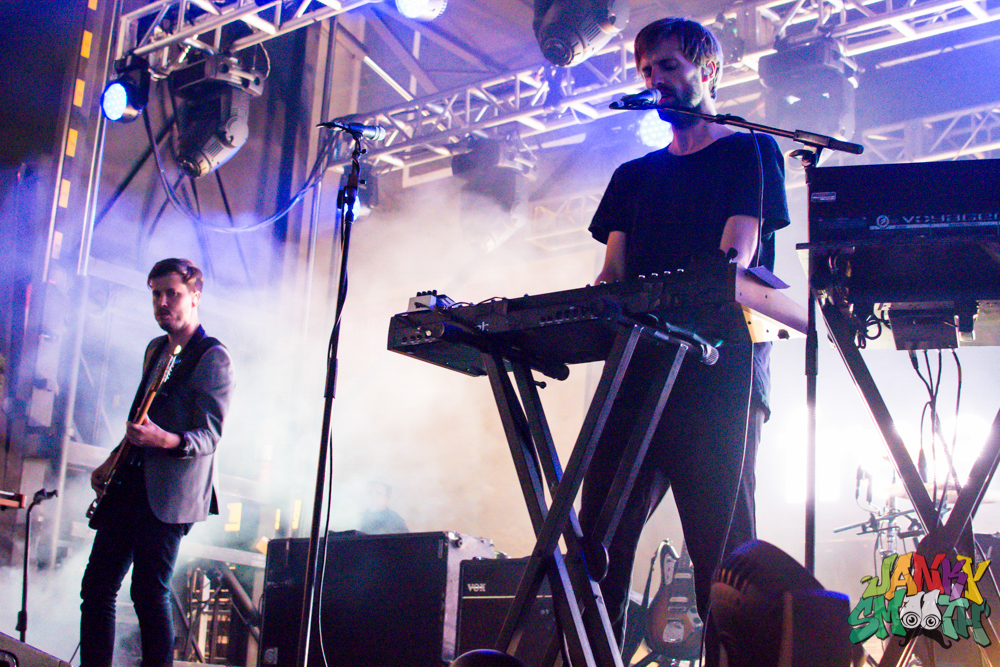 Well, it's here. Red Bull Sound Select's ambitious project, 30 Days in LA launched officially in the parking lot of the Luxe Hotel in Downtown Los Angeles Last night. On the night after Halloween and after the first hard rain in Los Angeles in longer than I can remember, the air was crisp and a jacket was required for the first time after a long and exceptionally unforgiving summer.
Two Red Bull bands opened the night for Cut Copy at The Luxe Hotel. Wrestlers and Gemini Club are in the midst of an undertaking that seemed impossible just 5 years ago- Making House Music cool again. With digital music pushing the envelope the past few years by enhancing knob twisting and button pushing in music, House Music with it's loops, melodies and traditional sounding instrumentation had become a fossil in the past 10 years. But like most things that go out of style they come back around again, like the flannel shirt.
Wrestlers' set, despite the big stage and elaborate light show, reminded me of being in a tightly packed, dimly lit room of bodies pressing up against each other in the early morning hours after partying all night at a previous location. They have a nice combination of booty shakin beats and a real after hours vibe. Wrestlers, who are Aidan Kennedy & David Elkin from Houston Texas are a dope player on the Red Bull team.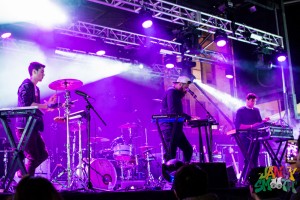 Gemini Club, in the vain of Cut Copy, is a valiant attempt to recall electronic new wave pop music. Somewhere between New Order and The Thomson Twins, Gemini Club are forging the path that Cut Copy started walking in Australia in 2001. With real song writing and a distinct prowess for musical arrangement, Tom Gavin, Daniel Brunelle, Ryan Luciani and Gordon Bramli, a four-piece band from Chicago show the house music influence which put the electronic music scene in the windy city on the map. Chicago is after all, one of the birthplaces of modern house music.
After what felt like an over extended set by Gemini Club, Cut Copy took the stage to deliver an energetic and charismatic performance by Dan Whitford and company. It was impossible not to move your feet and shake your booty as Whitford willed the audience into synchronized movement. There was no ambiguity from the audience as the band broke into their classic track, "Lights and Music" off their break though 2008 release "In Ghost Colours". Everyone was singing along most of the night as LED projection behind the band was lit up with the words "Free Your Mind" which served to remind the crowd not only to think for themselves but to listen to their latest, 2013 release by the same name.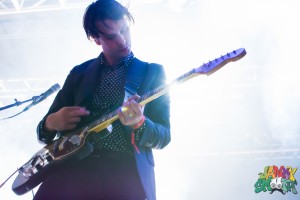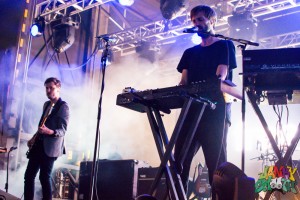 The Red Bull Sound Select family of bands seems to support each other just like they would at any mom and pop, DIY record label. The band Tapioca and the Flea who are opening for the Dum Dum Girls at The Well on November 16th were present to support their fellow Red Bullers. Frontman Sam Lopez and I chatted about the state of music and skateboarding and how just being present at these events helps to expand the music brand that Red Bull is building; not because they have to be there but because they want to be there. This is what gives Red Bull Sound Select it's vibe of authenticity.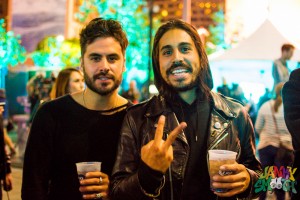 I am fascinated by the footprint Red Bull Sound Select is making in music. For all my life, I have been an opponent of a corporate music industry. Now that the music industry as we know it is dead, there is a void of up and coming rock stars and rock stars are the lifeblood of a functional music industry. There are plenty of young bands and artists to develop but due to the lack of any clear cut path to profit, there is no motive to develop the vehicle which would carry those artists to the greatest heights. There are plenty of albums to download but very few posters of contemporary rockers and rappers to hang in the rooms of young adolescents just looking for someone to look up to in this fucked up and phony world of the 24 hour news cycle. At this point, I am ready for a profit conscious company to figure out the equation which would add up to creating a value for music, once again. Achieving this would avoid the offense that music snobs feel when they suddenly discover the newest U2 album amongst the pride of their carefully crafted music library.
Enter Red Bull. America has been suckling at the tap of some mysterious robot teat that produces the mystery liquid since the late 90's. In that time, Red Bull has continuously pushed the culture envelope to develop a lifestyle brand which remains cool despite the lack of credibility that being a multi national corporation gives you. Red Bull Sound Select is the final frontier for a profitable lifestyle company. If they can infiltrate our art to make sure musicians are valued and paid again then I am behind them 100%. Rant over.
Words: Danny Baraz
Photography: Taylor Wong