Corn Dogs, Fashion, Puke, and Rap: Camp Flog Gnaw 2018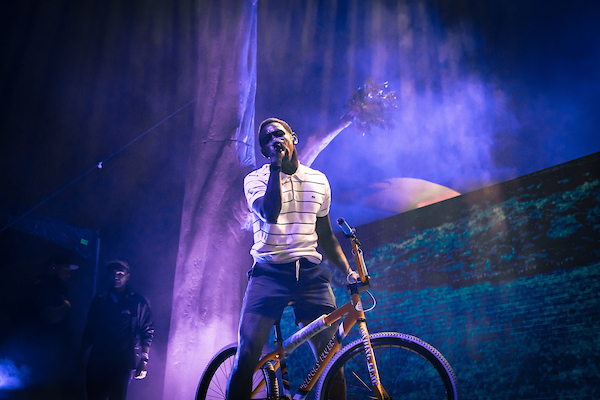 Los Angeles' fashionable youth came out in full force to see the hip hop lineup of the year at Dodger Stadium for Tyler, The Creator's annual Camp Flog Gnaw. Call it a camp but it's more of a concert carnival with every sort of fanfare and confection you'd find at a state fair. Slushees, corn dogs, donuts, topsy-turvy rides, every kind of fatty fair food, games, and even post-mates bicyclists to fetch you whatever your lazy ass desires.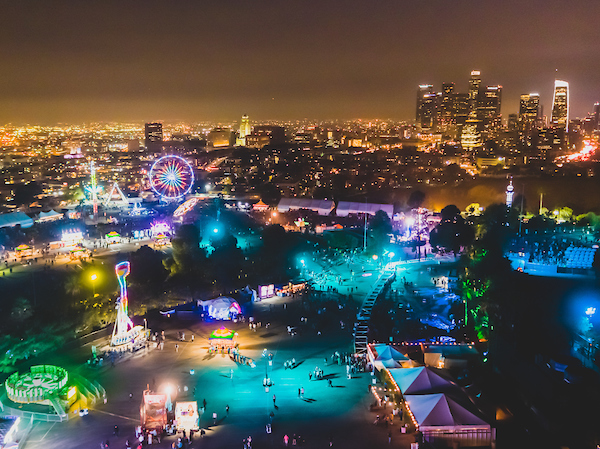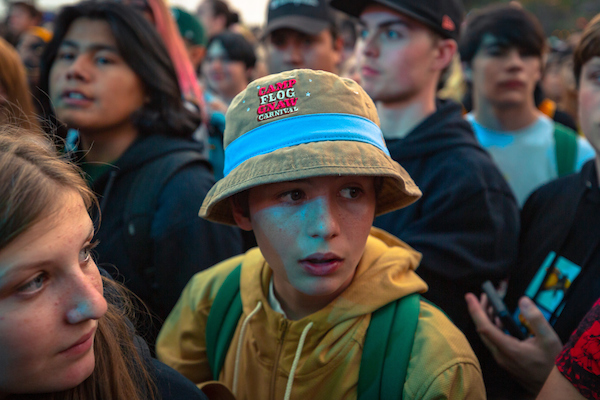 Camp Flog Gnaw 2018 sold out in less than an hour and afterward, ticket prices skyrocketed into the thousands. With numerous millennials paying for their tickets off their rich parents' dollar, there was something undeniably youthful and nihilistic about the crowd and how hard they'd party. On my way there, plenty of Ubers and Lyfts had to stop off the side of Vin Scully Avenue to let their passengers puke out the window. The puke didn't end there, the various coasters people launched their bodies on only dispelled more wet, looney lung butter out their vulnerable gutty-wuts.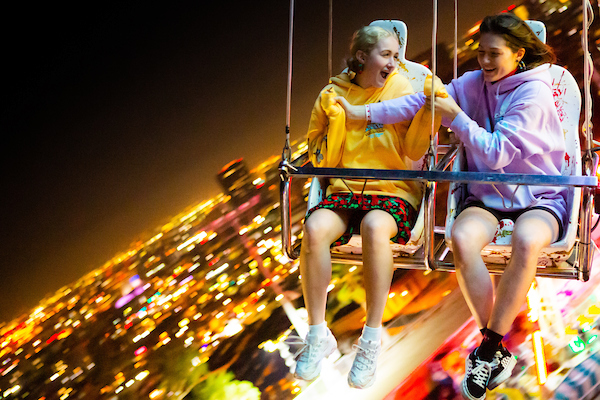 Would the hype live up to the music, though? Was Camp Flog Gnaw worth the money and miles? By the looks of the bill one would suspect so, with Kids See Ghosts headlining day 2 on a one-time only performance. Kids See Ghosts being the 2018 collaborative album between Kanye West and Kid Cudi which garnered a rare 10/10 rating from the Needle Drop for its originality. One of the five Ye produced albums of 2018 featuring a symbolic 7 tracks, Kids See Ghosts is perhaps the most exciting.
https://www.youtube.com/watch?v=XtkW3cuMNfM&list=PLgVCnlWJ-T6MtWdxF8R3XJ9TsQ6F2hm04
The answer is yes, it was worth every penny and second, the bands, the merch, the fucking lines, the crowd smashing you into bone broth with no care whether you live or die just to get inches closer to the stage. All of it was worth whatever it took you to get there.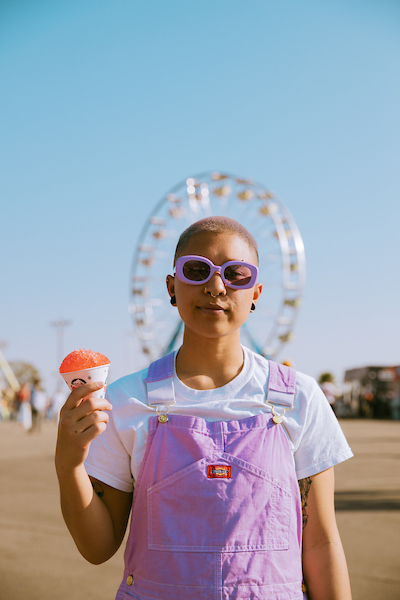 DAY 1
The first thing I noticed upon arriving at Dodgers Stadium were the lines to get merch. They each must've taken hours to get your hands on the goods. There were three kinds of merch you could buy: Golf Wang, Tyler's own fashion line, featuring apparel and accessories such as fanny packs which are making a healthy comeback. Then there was your standard band merch for all the acts performing with the exception of one. Kids See Ghosts had their own merch booth with the longest line of the three to get the only shirts and hoodies of the group you'll ever be able to buy.
The first act I saw was Hobo Johnson and the Love Makers at the Camp Stage, a young man who's been propelled into stardom for his unique style of rapping which is almost standup poetry with a backing band. Hobo talks his way through complex narratives with subtle and ironic twists and turns that enlighten you without you even knowing it. With stories about loneliness, heartbreak, and love, Hobo is a sensitive and smart soul with the goal of making songs he can use as solutions to his own problems that then solve the problems of others.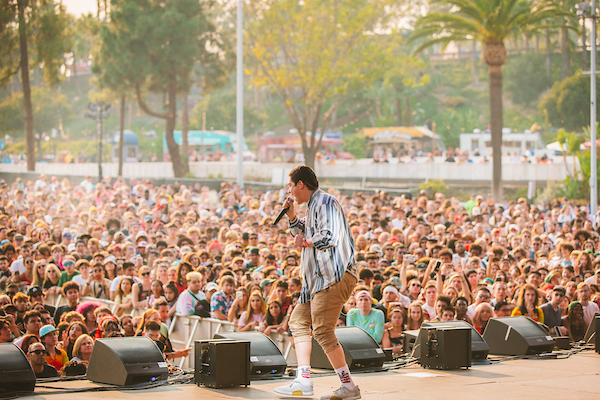 I quickly wandered over to Little Dragon at the opposite end of the carnival, the Flog stage. The band had traveled all the way from Gothenburg, Sweden to play the festival and satiated this scene's need for lucid, electronic dream pop you can smoke and chill to. A sonic translation of the blue streaks on 90's cups.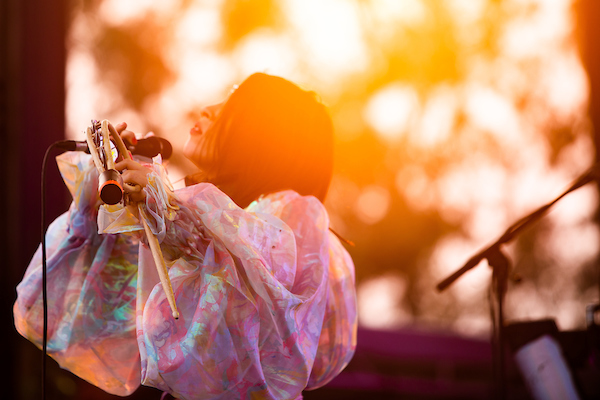 Raphael Saadiq was playing back at the Camp stage and he provided a jazzier, psychedelic, instrumental flare to the day. This was a jam session of music you could skate to. The kind of vibe that goes great with a breeze blowing through your hair while speeding down an East LA craggy avenue.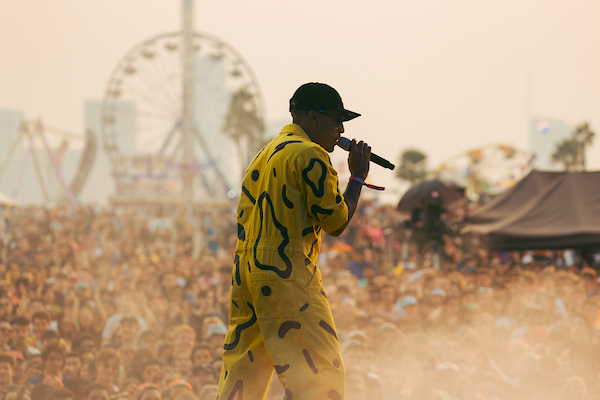 The real party began with DJ Virgil Abloh. Legitimately in the first ten seconds of the first record he spun, Flog Gnaw popped off hard, in a tsunami of bouncing bodies. With the Drake hatred that was to come, I found it ironic how hard "God's Plan" hit once Virgil played it.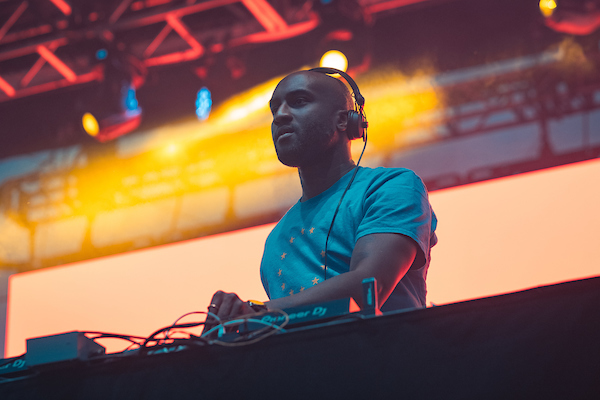 Rex Orange County gave the festival it's heart-filled white guy component. Within this age-range and style, all races seem to be able to get into such emotional, vanilla rock. It's what separates the Odd Future kids from "real" hip hop heads, who I'd imagine would laugh at it.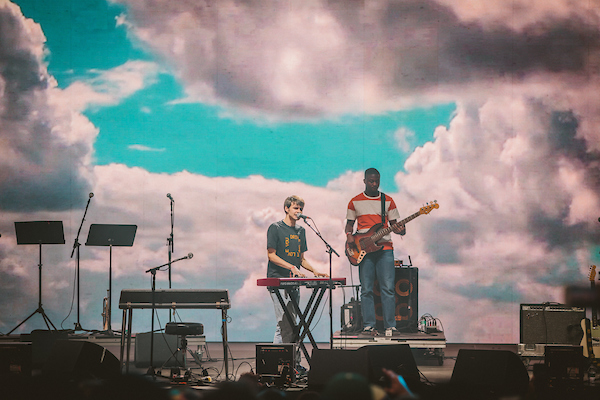 The first artist I was truly stoked for was Playboi Carti who is one of the best newer trap artists to either mosh to, smoke weed to, or both. The moshing was so hyped by the crowd that I expected it to be comparable to a punk or metal show, but it was so weak and the reaction to it was so overly dramatic, I had to sneer at how lame this generation is.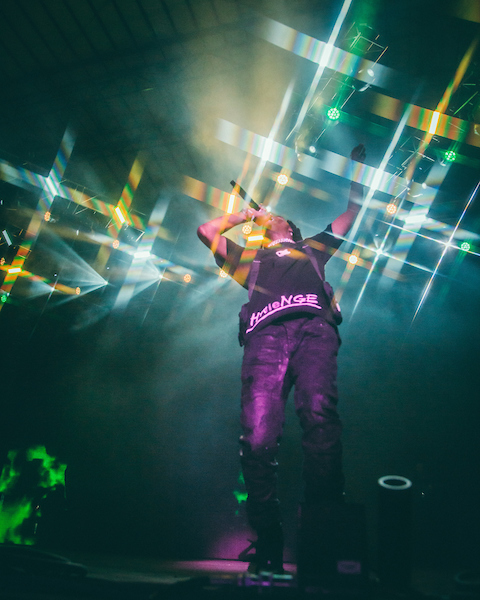 I checked out a few final songs from The Internet. It was mellow to all and inspirational to most but I wasn't really feeling it, especially after the energy that Playboi shot me up with.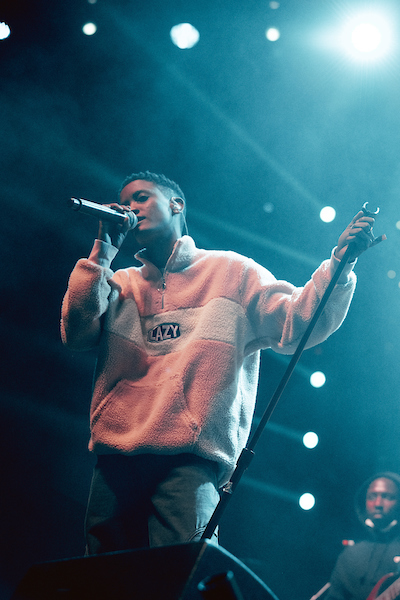 Kali Uchis is one of the brightest rising stars in the world of pop and female vocalists. Every time I bring up her name, the response is always glowing. And rightfully so, her set was incredible, with her soaring voice and seductive moves. At one moment, she took a chair onstage to sit while she serenaded us in Spanish. The hearts at Camp Flog Gnaw opened up but I couldn't stay, A$AP Rocky was calling me and though people said I should stay for Kali over A$AP, I knew as soon as A$AP's stage came into view, his set was the only place to be.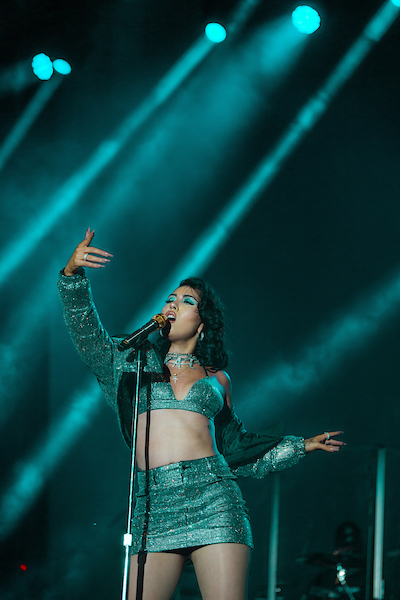 With a giant crash test dummy head on the stage and plenty of fog and pyro, A$AP Rocky completely dominated the stage, playing bangers from beginning to end that made everyone dance and thug out. Songs like "Praise The Lord" really stepped up the vibe of the entire festival, turning it into one giant party, fit for a nightclub but out in the Dodgers Stadium parking lot.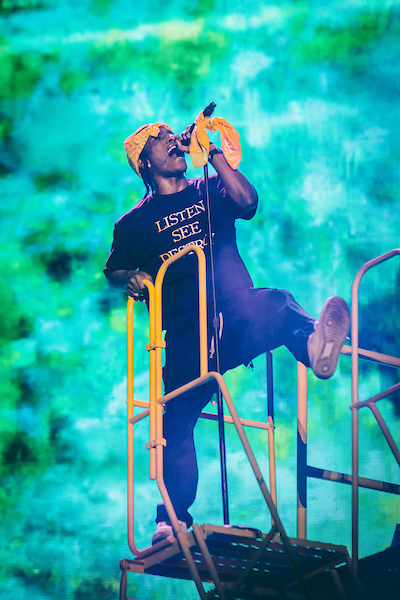 Tyler, The Creator was the reason we were all there. We bought the tickets to his Camp Flog Gnaw, we bought the merch with his Golf Wang label on it, and we all stood together at the Camp stage to see him perform. They assembled numerous trees upon the stage then a tree-house/cabin of sorts from which Tyler emerged to begin the set with "Where This Flower Blooms". Tyler delivered the verses with calm then exploded with energy during the chorus. As he trotted around the stage and the screens turned the show into one giant, shifting painting, Tyler played old school hits like "IFHY" and "She" then crafted emphasized moments of black sensitivity with songs like "Mr. Lonely".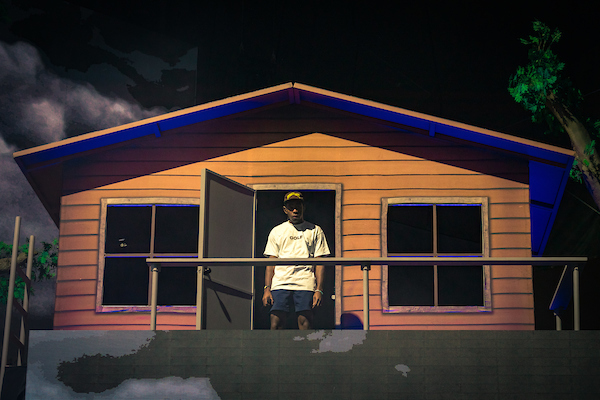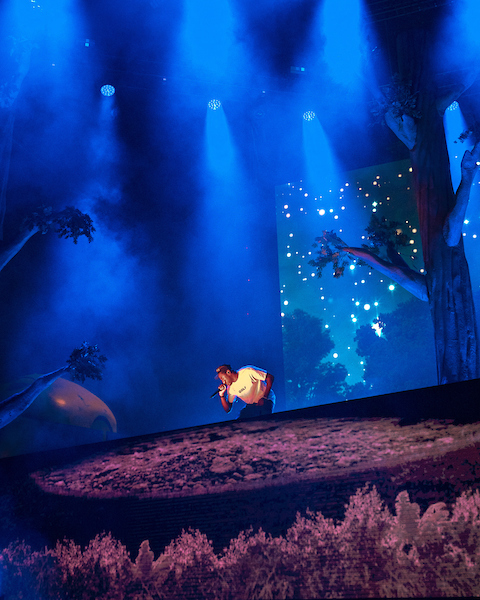 In essence this is what Camp Flog Gnaw and Odd Future represent, an outlet for black sensitivity. Where underground hip hop culture always represented masculinity and strength, perhaps this update ended the suppression and let hip hop empower emotions that an older generation might consider weak.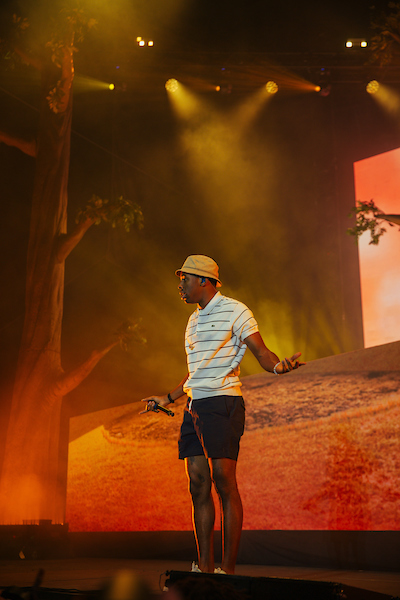 DAY 2
On day 2, I arrived around 4:00pm and found a a thick line from the parking lot into the entry area that wasn't there Saturday. The simmering frenzy and yearning for violence I felt just within this mass of people sent a cold feeling of wariness in me, something bad was going to happen. People might get hurt. People might get crazy. If any music could send these kids over the line it would be Kids See Ghosts' "Feel the Love".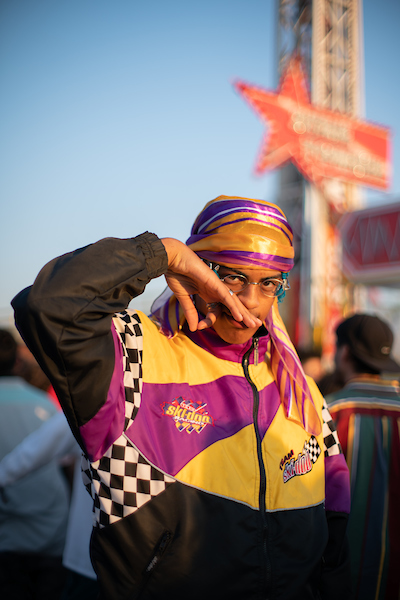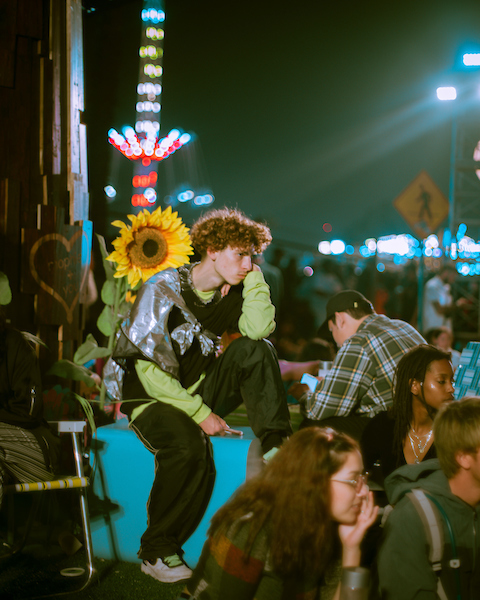 The first set I caught was Domo Genesis, another mellow rapper who's backing video included everything nostalgic about the 90's like Stone Cold Steve Austin, Nickelodeon's All That, Doug, and more. The music was sly, sweet, and sick and we partied hard together under the sun, the downtown skyline in the backdrop, the suits in the windows, choosing to watch us instead of work to witness this millennial fever dream celebration.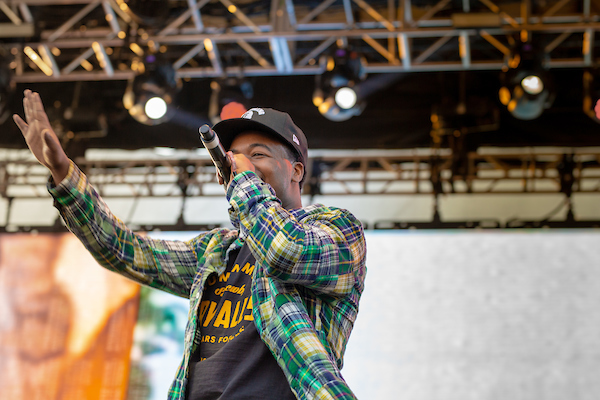 After cruising to the Camp Stage to see Taco, Odd Future's own DJ, I decided to stay there and get prime position for Post Malone and Kids See Ghosts. Taco's anime riddled backdrops and closing song, Frank Ocean's "Self Control", were some of the highlights of my camping experience. How Taco knew that this was one of mine and the audience's favorite songs is beyond me.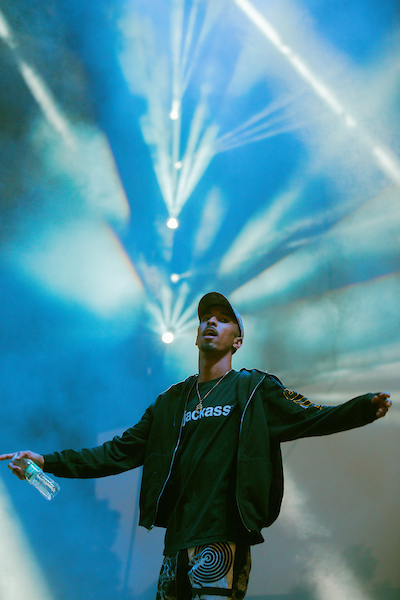 The sun set ushering in the night to let Jorja Smith have the stage with the perfect chemistry between weather, audience, environment, and music. I'm surprised this is the first time I'm hearing of the English soul singer. Her voice was beautiful, harkening classic singers but also shedding new light on the old form. Her presence was understated and classy just as singers with a voice like that should be. Not gonna lie, I found her to be much more powerful than Kali.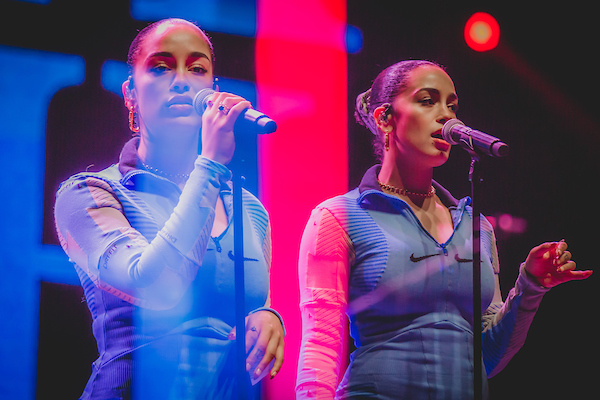 Ms. Lauryn Hill is an iconoclast, celebrating 20 years of her best album The Miseducation of Lauryn Hill. She has such a powerful voice, body of work, and image and for whatever reason, in 2018 she gets flack for various claims made against her that are then perpetuated by the kinds of people that feed off venom. This was one of the most profoundly beautiful and inspiring sets I had seen all year. Her band had incredible synergy and dipped and peaked to bring moments to agonizingly beautiful climaxes. Ms. Hill gave a soul-stirring vocal performance with a video montage behind her that captured black celebration and contribution. It's strange, going to a hip hop festival and realizing that only 1/10th of the attendants are black. Seeing the race that inspired this entire movement catered to in that video is exactly what wanted to see. I want to praise and thank the other. The other that I'm not supposed to get along with but do because I admire them for everything they've done and are.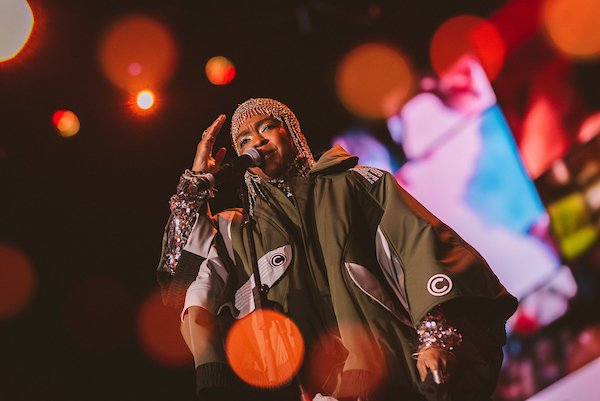 Once Lauryn Hill was finished, the amount of people pushing in to get as close to Post Malone, combined with the opposite flow of people trying to leave so they wouldn't get mashed, turned the audience into a sea of chaos. This wasn't as brutal as Slayer but a good video wasn't worth the trouble, so I retreated, fuck it, thirty is too old for this shit.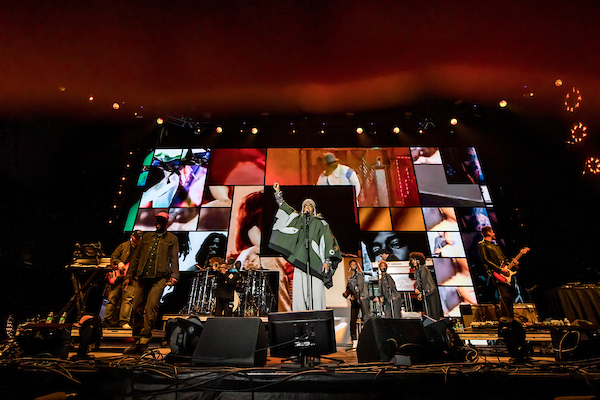 Ironically, following Lauryn Hill was Post Malone, who I must admit is a huge guilty pleasure of mine. Not gonna lie, I love the kid. I had been meaning to see him all year since he dropped Beerbongs and Bentlys, an album that broke numerous records much to the chagrin of old school hip hop heads, The Beatles, and people that consider what he's doing an appropriation of black culture, crediting his success to his skin color. Let me be very clear, Post Malone is successful because he makes the best music of all the young trap artists. In 20 years, they will all be forgotten but Post Malone. Lil Uzi Vert, 21 Savage, even Migos, they will fade away. Only Post Malone, perhaps using a different name, maybe his actual one, Austin Richard Post, will remain.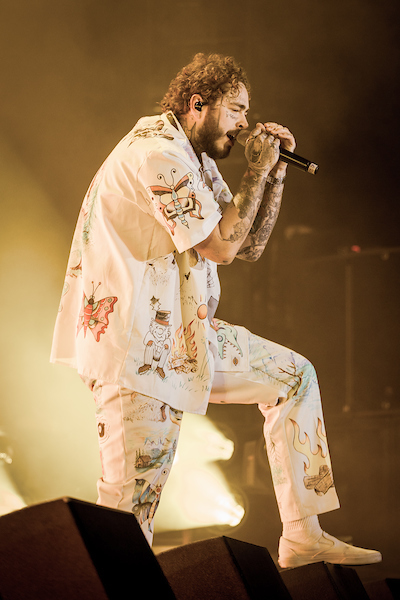 I wanted to hear how the new songs played live and they went over incredibly well. The last time I saw Post at Rolling Loud, his stage setup was like the living room of a Stoney themed cabin. One album later, with a new haircut, new tattoos, new clothes, and new songs, an evolved Post had a new stage setup that included a backdrop of white lights and plenty of fog to give the audience the impression of glitz, professionalism, and heightened rawness.
Lyrically, Post Malone's music is pretty shallow. It's music for kids who are getting drunk together for the first time ever. Musically, tonally though, Post's music is incredible. It's scientifically produced to use tones that are pleasant to the ear with this sleepy, dreamy, epic quality, almost like a Disney soundtrack turned rap beat. The tone on "Candy Paint" or "Psycho" are two examples of such pleasant sounding productions.
By the will of the gods, I was pulled closer to the stage for Kids See Ghosts. We were tightly packed-in as we waited an hour for the show to begin. Once Post's setup was cleared and a black drape was strewn on the stage, we all assumed videos would be projected onto the drape but were pleasantly surprised with what was in store for us.
In one quick fell swoop, with no music to usher them in, the drape fell and behind it was suspended a rectangular glass box which held Kanye West and Kid Cudi. They began with the Kanye song "Father, Stretch My Hands" then went into the first song on their album, "Feel The Love", the rabble rousing machine gun vocal rattatat scatting in the song made for the most intense concert experience of 2018. We all bounced, sang, and raised our fists and phones with such fury that I could sense the collective ability to go to war still as strong in humans as ever, weakened by convenience or not.
Continuing with songs off their only album, "Freeee" and "Reborn" unchained everyone form whatever bound them on this earthly plane, whether it be responsibility, pain, or love. Once they finished performing all seven songs on the album, Kanye performed two of his own, "Welcome to Heartbreak" and "Paranoid". Following this, Kid Cudi launched into his own number, "Pursuit of Happiness (Nightmare)". Then to close out the show, Kanye closed with what he called his favorite of his own songs, "Ghost Town". The set ended on a still note, we were all satisfied without an encore, as if what we got was so rare it would be wrong to ask for more.
The elephant in the stadium went unaddressed, there was no crazed political or spiritual rant. Kanye mentioned he was proud of his wife for her efforts for prison reform and you could feel the audience scoff but they were wrong to. We accepted Kanye as a musician but also as a genius. This was a work of avant-garde art moving in time, one we could experience and enjoy that proved, without a shadow of a doubt, that Kanye West is the creative genius he's always claimed to be. All praise be to Yeezus.
Words by: Robert Shepyer