Avi Buffalo Ends His Tour in Los Angeles and Makes a New Fan. Me.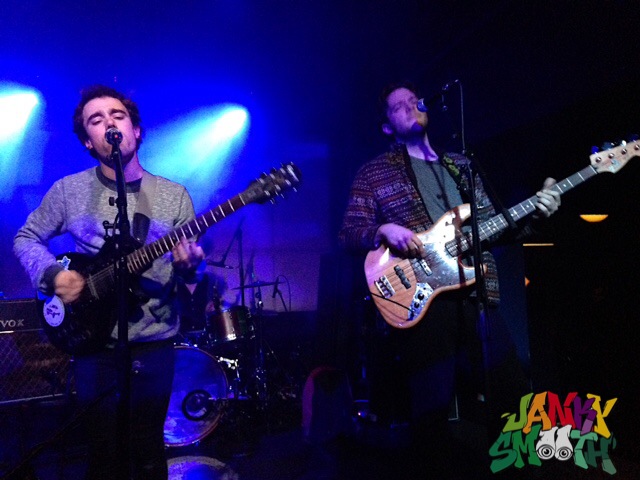 Fridays are usually a border town for complete disasters or an absolutely awesome night we draw tales from our entire lives. Tonight started out looking like the end of the world but I chose to run over to The Echo to see Avi Buffalo. Maybe he can work out some of my issues. I'm sure he has a sound therapy team that help him with these awesome, free flowing lyrics that more or less feel like streaming consciousness. I'll get to that in a sec. Sadly, I didn't get to check out the opening acts. Instead I opened with a slice of cheese pizza from Two Boots and mingled with this youthful bunch of PBR handlers.
I have never seen Avi live or listened to a lot of his work but being that he is a local kid who has been at this for as long as he's has, he automatically gets my attention. As soon as the other band is done, Avi creeps up onto stage and starts coordinating his pedals and chords. I like this kid already. He's efficient and independent.
The room is nearly packed and shouting to Avi…."Welcome Home!" and "Jessica!!!".  This crew has been on tour for 3 months now. He smiles and waves at his many friends in the crowd and even whispers a few words of gratitude. He jumps head first into So What.  This kid knows his way around his strings and compositions.  It took a few songs before I really began to digest it all. His thoughts are lyrics. His feelings are the notes. That's the best way I can describe the songs. As for Avi Buffalo, he's the musical offspring of Daniel Johnston and Robin Gibbs. After four songs with keys, drums and bass, the other members rushed off stage to give Avi his quiet time on Summer Cum, Two Cherished and Overwhelmed with Pride. Then, the Band came back on with Memories Of You. It was at this point I realized this; Avi Buffalo has depth beyond his years. Avi very well could have been a character that worked at Championship Vinyl dispersing relationship therapy through a song catalog.
For a guy like myself who's not thrilled with all his own feelings and that of others, I am super stoked hetero-guys like Avi Buffalo exist. His songs are that sort of nostalgia that disable you from cursing the thought, "why am I feeling this?  Instead, you are left to accept, this is just how he/I see shit. His skills on the electric guitar and his command over his crew were perfectly clear during Remember Last Time. His voice drops in like a little league team or children's choir singing as the keys chase the kids back to the dugout with drums snapping at the heels.
It's really a sight to see this man with this childlike voice tear into his guitar,  pedal kicking, as his keyboardist goes ham.
Avi is not an upstart. I really doubt Avi was ever an upstart even when he was one. I suggest you check him out and let him tell you his tales.
Words: Amir Kashani
Photos: Apologies for technical difficulties with our camera crew