Love, Pain, Sorrow, Joy: An Evening with Dakhabrakha at the Theatre at the Ace Hotel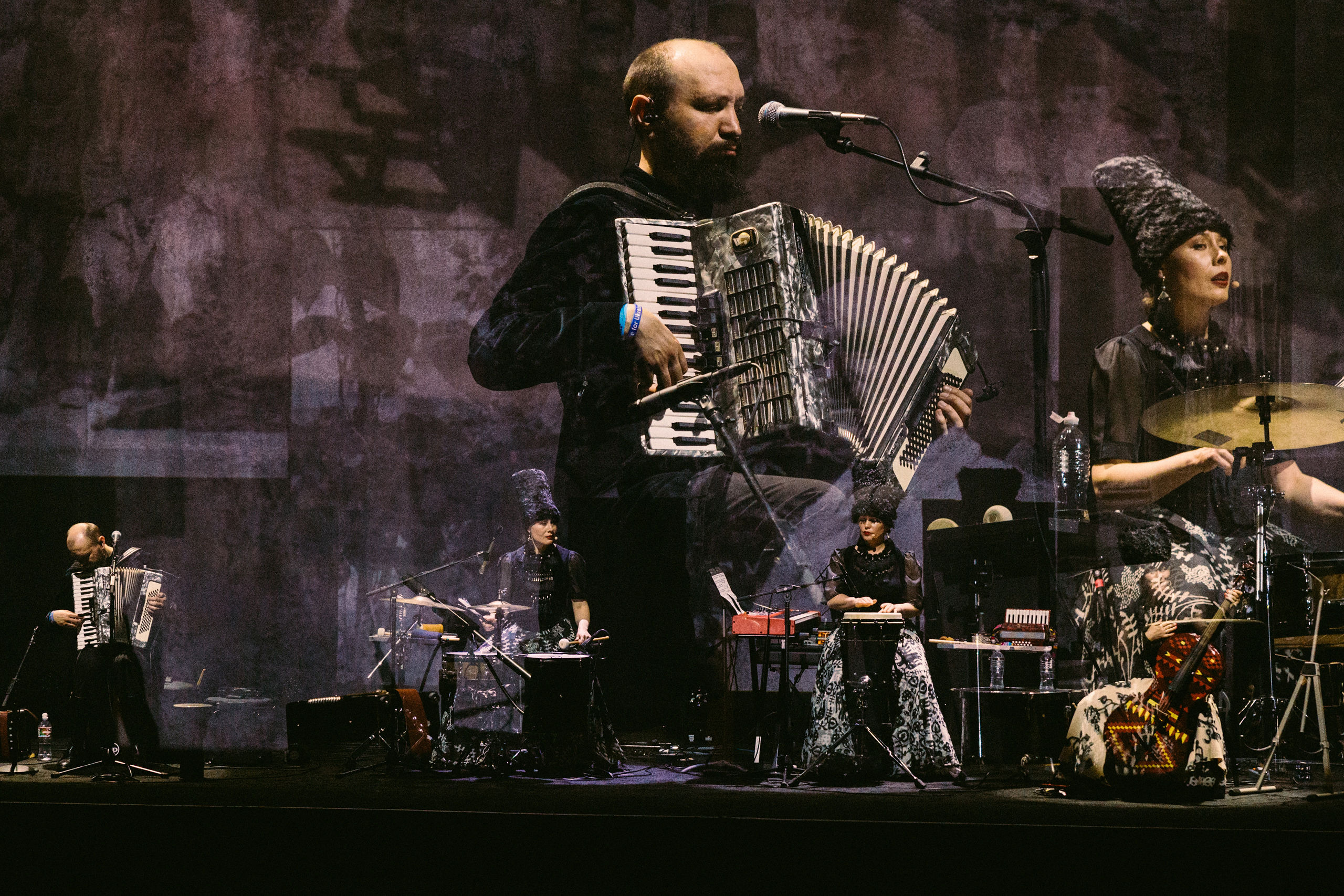 It's not often that world music becomes popular among the LA indie scene to the point a band can sell out the majestic Theatre at the Ace Hotel. This hallowed space, made sacred by the art decorating its interior up to the heavenly portal in the ceiling, has hosted many special moments in LA music history. Dakhabrakha, the Ukrainian psychedelic band, performing here to aid their countrymen during a brutal war, was unforgettable. What made it so memorable was the grandiosity of the show. A massive stage with giant screens inside a huge theatre all for this one foreign quartet. In this space, the complexity of the music could deliver its message simply and perfectly, all for the sake of saving Ukraine and Ukrainians. Dakhabrakha plays in so many musical and thematic spaces, with songs about everything from love, to war, to tragedy, and to spring time. They sing in numerous languages form Ukrainian to Italian or to pantomiming the sounds of nature itself.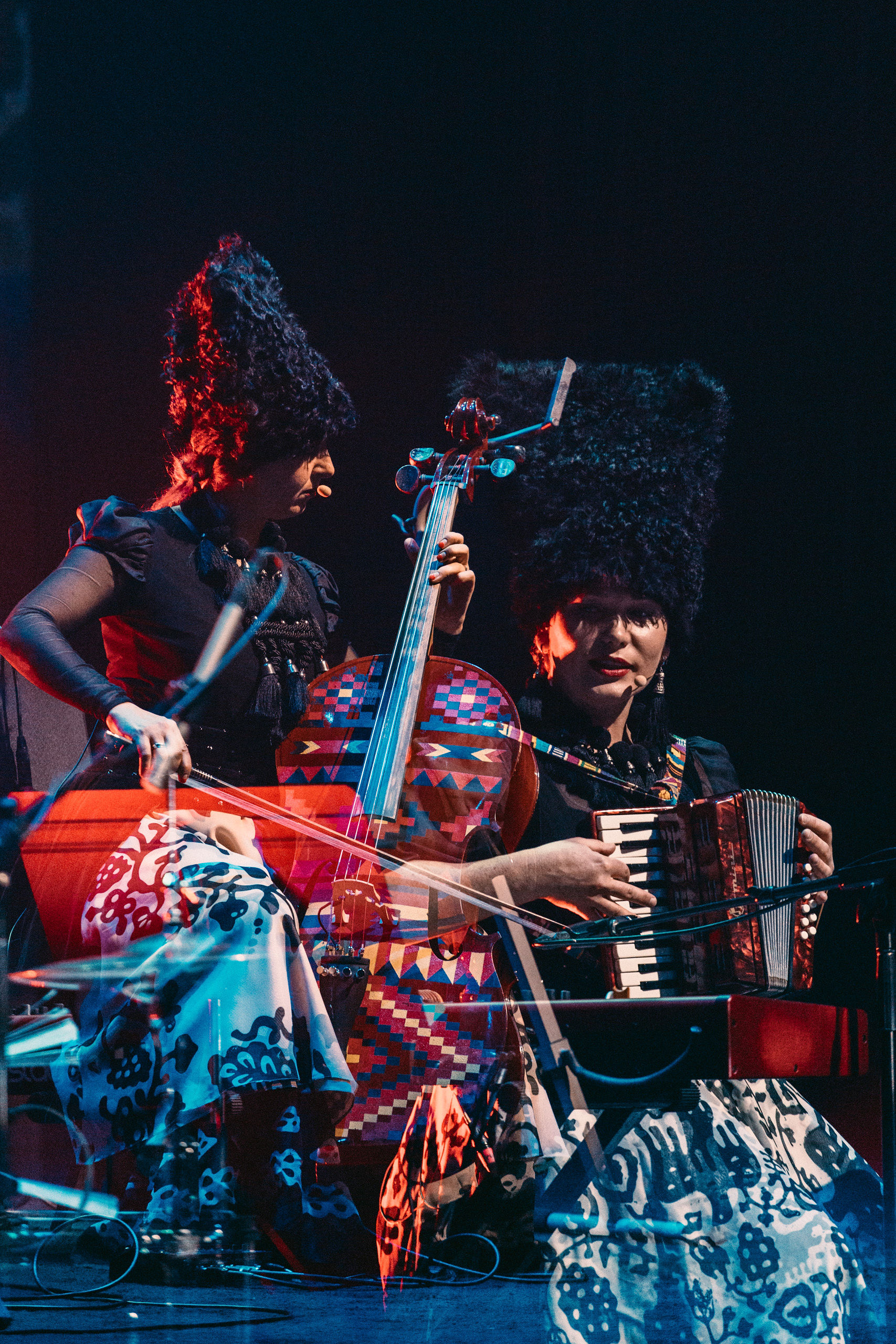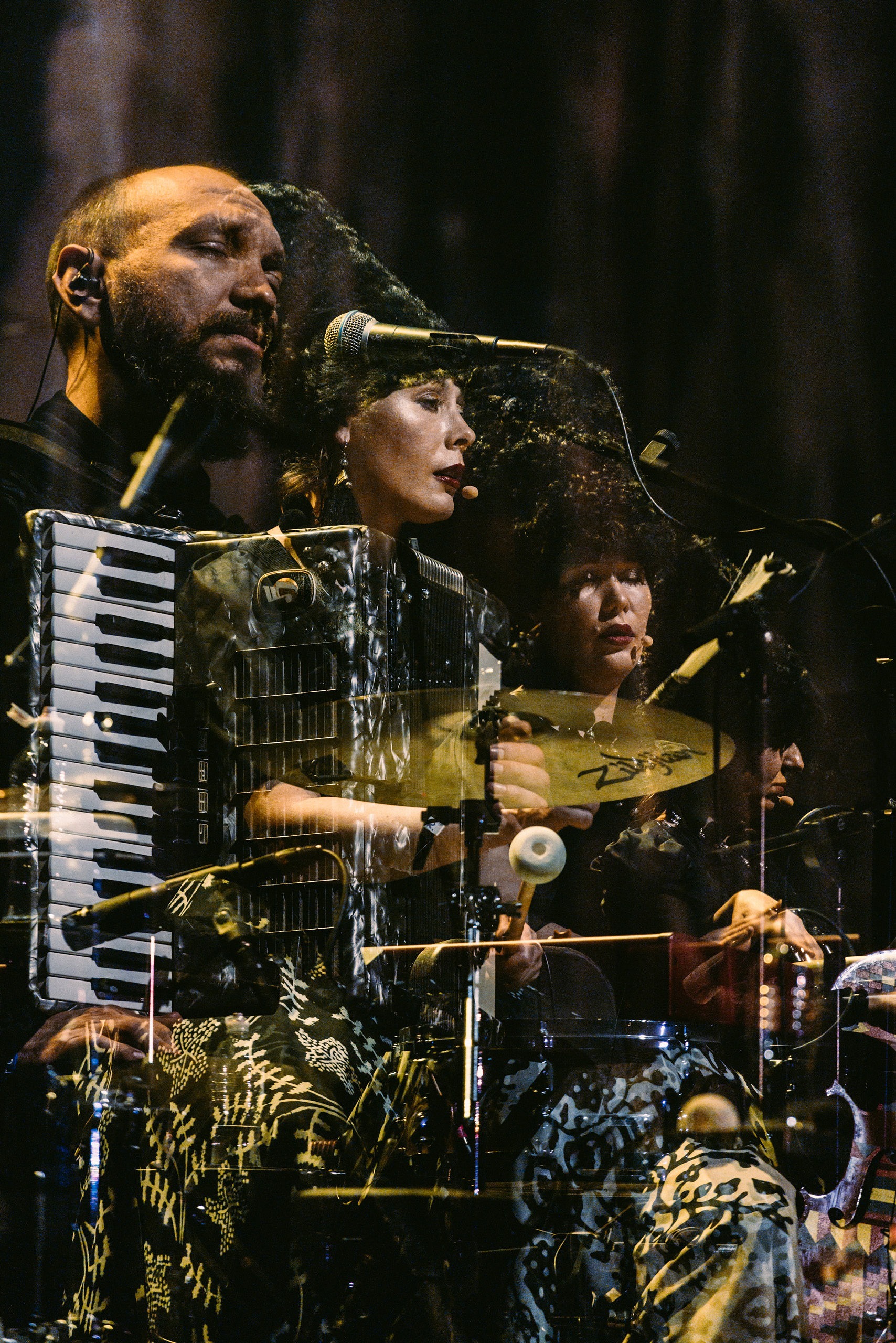 As a half-Russian/half-Ukrainian, I could feel the Eastern European hearts beating around me. There were also a large psych scene presence there, needing to soak up the rare trippy vibes the band produces. The last time Dakhabrakha appeared in Southern California was at Desert Daze when everyone was wildly dancing. This time, the tone was more somber, we all wanted to absorb every molecule of emotion, so we sat quietly and attentively. There were also a few goths in the house, like myself, who consider world music analogous to goth. The most obvious examples are Dead Can Dance and 4AD's release of Le Mystere Des Voix Bulgares which both sound very similar to Dakhabrakha, harkening incredible powerful emotions using sounds and lyrics that are completely foreign to the listener.
Dakhabraka's instrumentation is one of the most awesome and mysterious elements of their show. All star drumming by Olena Tsybulska leds the pack as offbeat accordion and singing from Marko Halanevych haunts the audience. Nina Garenetska's cello and Iryna Kovalenko's piano and percussion are the final touches that lead the audience down a mystical journey. You can never quite guess where the music is going in a Dakhabrakha song, you can only expect to be surprised.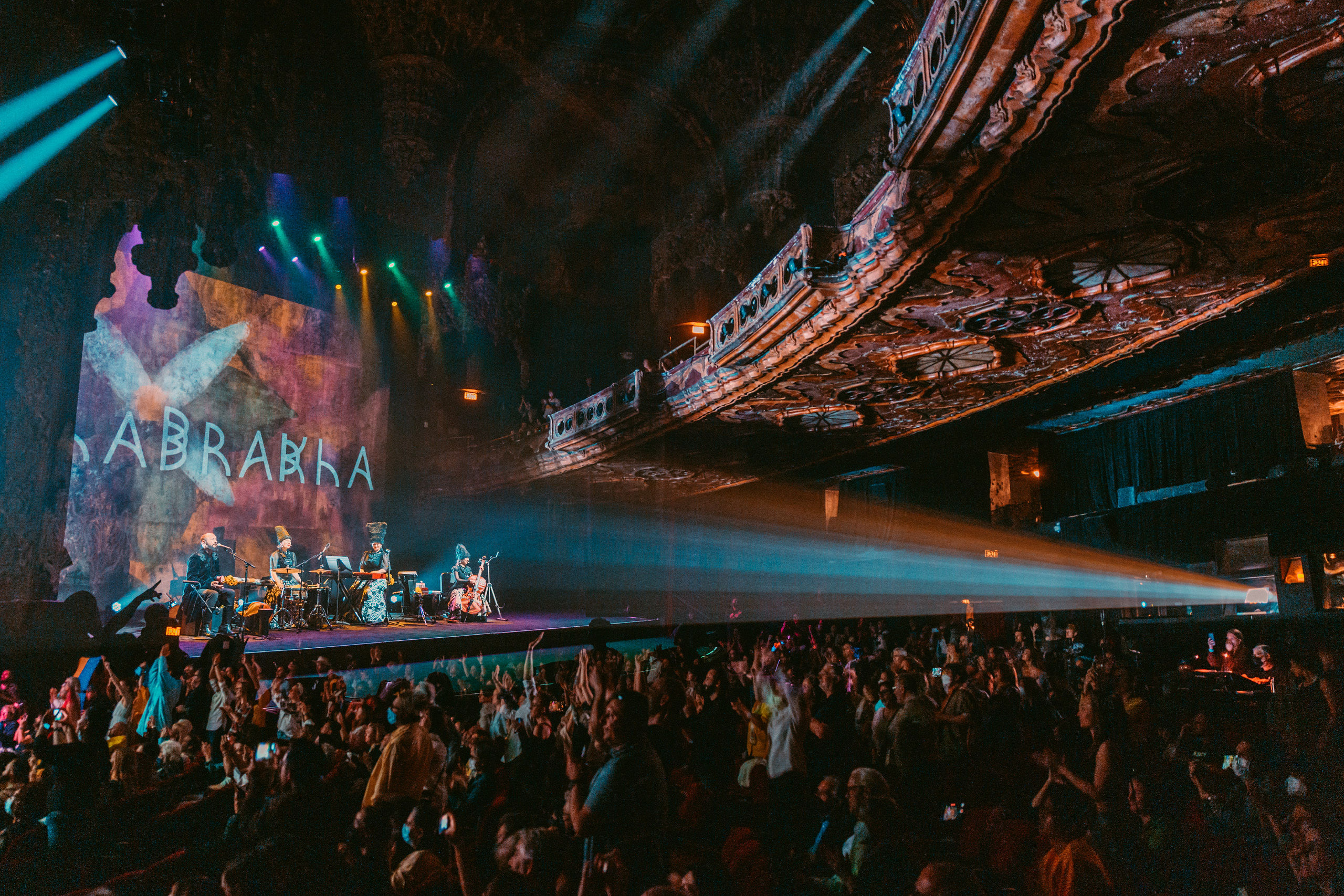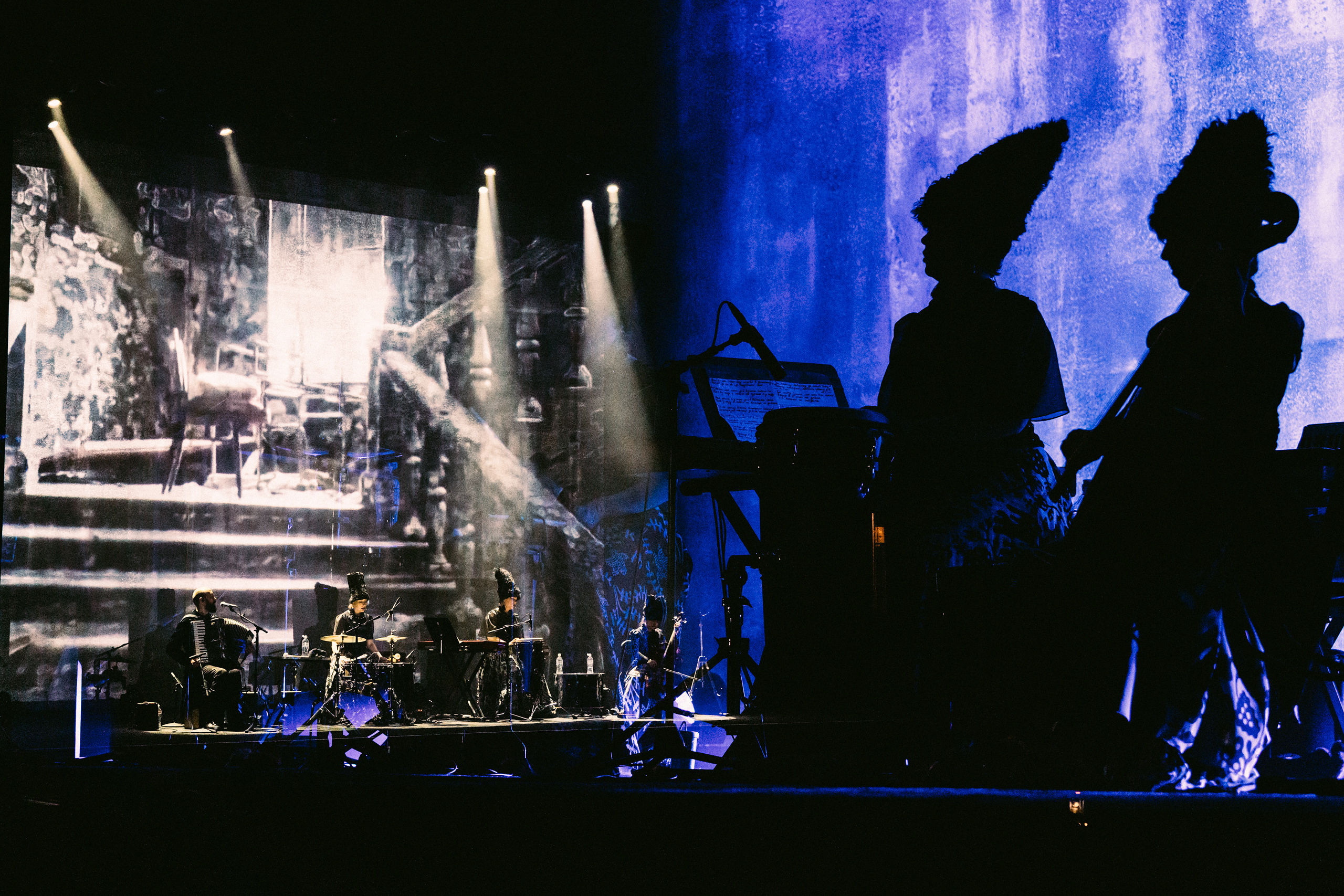 With an urgent message to aid and arm Ukraine against Putin, the band married their epic, peaking harmonies and the deeply painful images of war and destroyed Ukrainian cities. The night wasn't just full of tragedy though, when the band joined their voices in songs about love, they created moments with just as much power as musical activism. It was a true triumph of the spirit, seeing this band appear strong enough to joyfully sing about love amidst Putin's reign of terror which forced thousands to die and run for their lives.
After the show had finished, following numerous encores that each garnered a standing ovation, the audience flooded back onto Broadway avenue, where a homeless man wandered about the hundreds of people asking for help. Not a single one of these people, who were at this show to help the world in their little way, spending plenty of money on tickets, drinks and merch, refused to give this man a dime…or even look him in the eye. No one helped. And I thought to myself, people will always be awful to each other. Whether it be the people in charge of Nations or people on the street. Want to help the world? "Change your heart or die."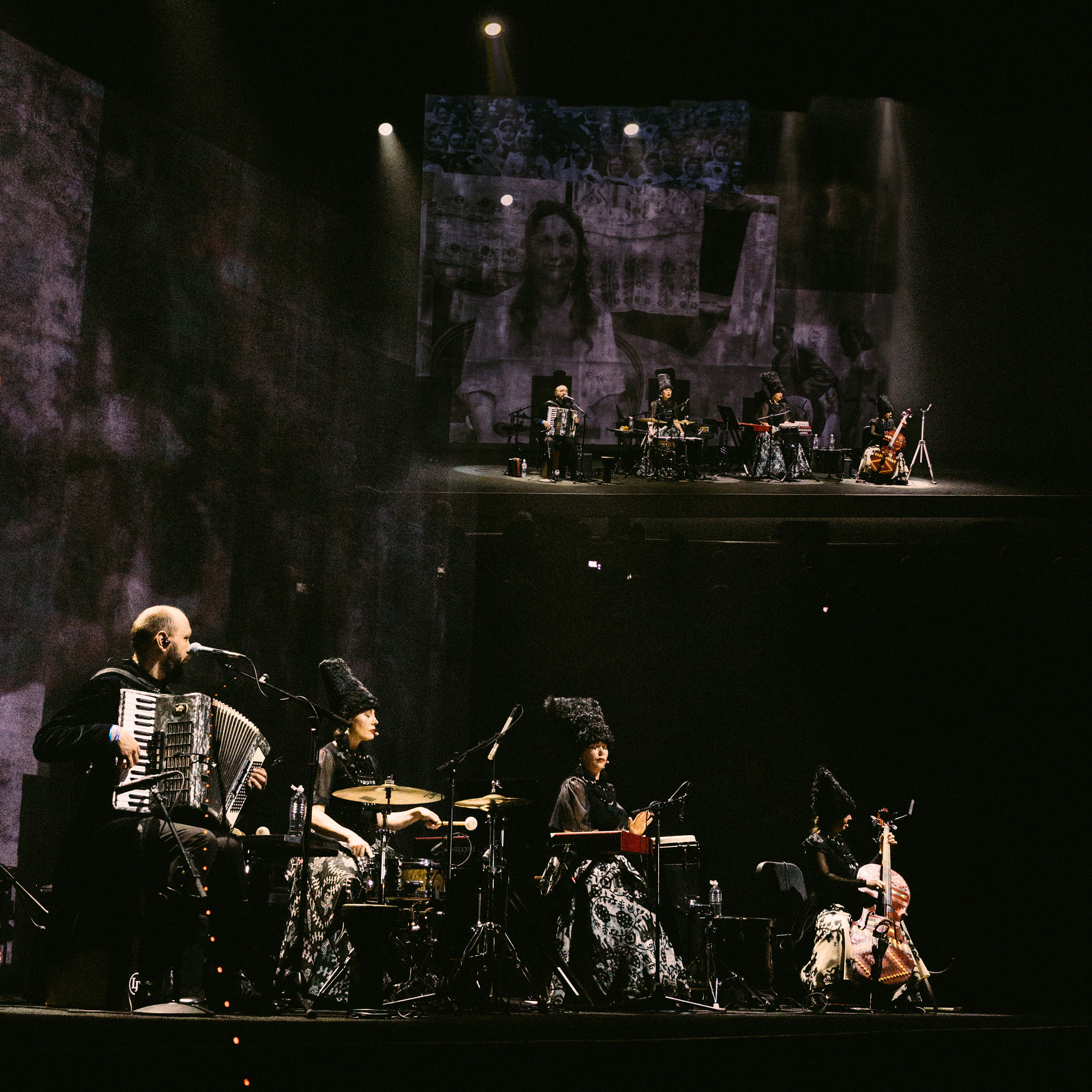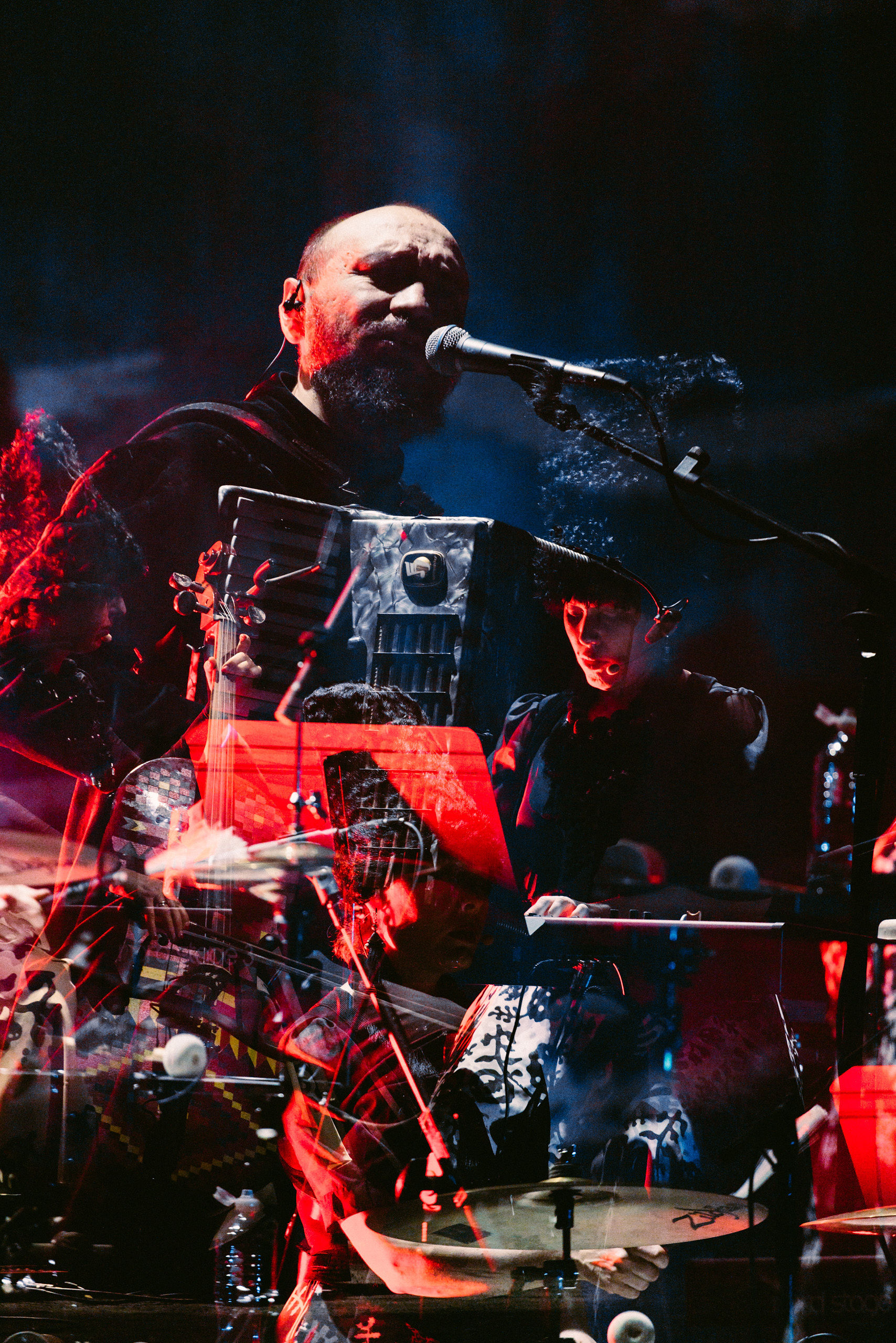 Words by: Robert Shepyer
Photos by: Mykyta Vashchenko