Coachella 2015 Lineup Announced: Let the debate begin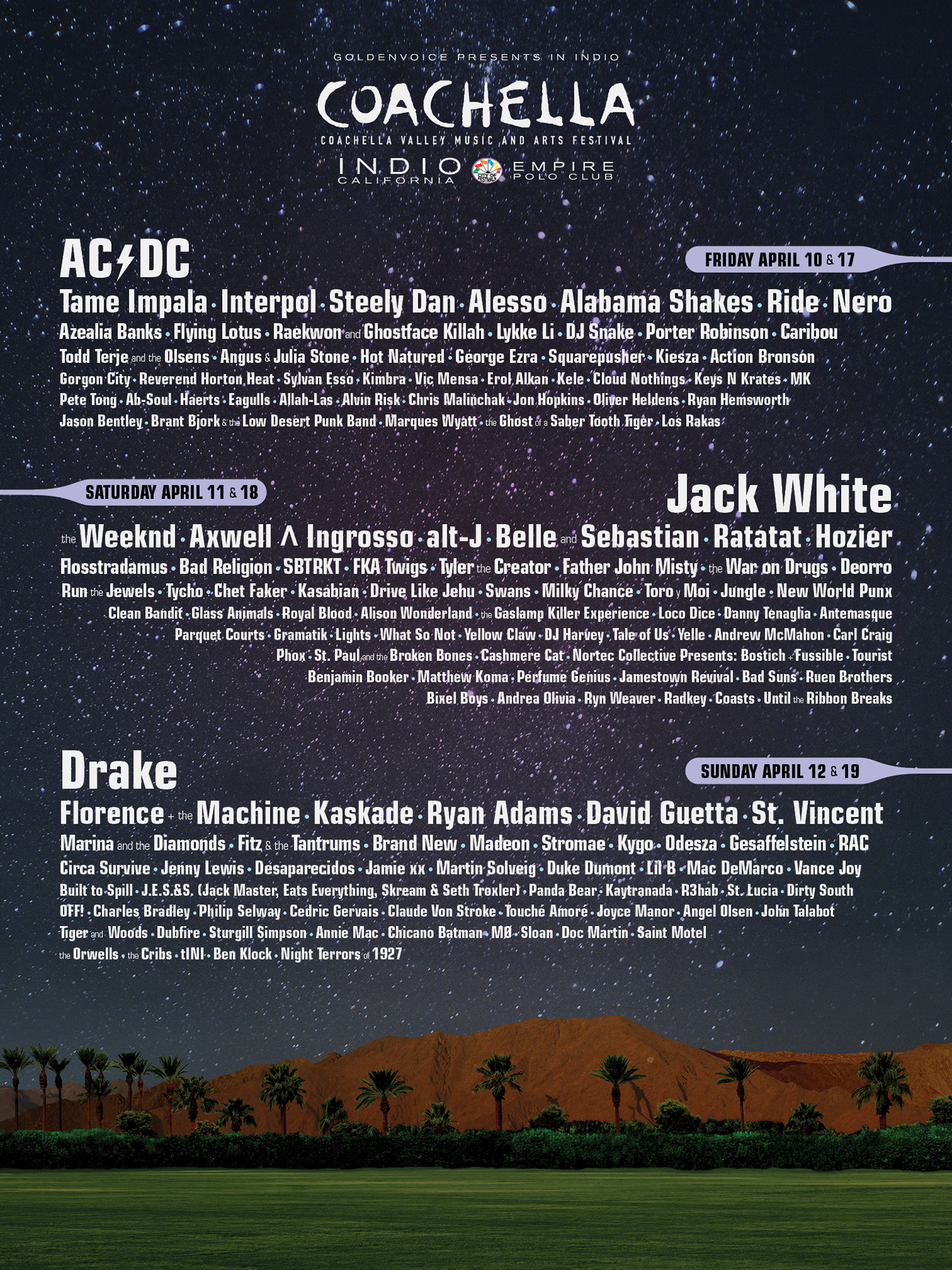 Let the complaining, fawning, drooling, judgement, planning and questions begin.  The lineup for Coachella 2015 has been released and of course, there are hits and misses.  The bands that will be dissected the hardest are of course, the headliners.
There is much fodder for critique. First of all: AC/DC?  How stoked would everyone be if Malcolm Young didn't have dementia and Phil Rudd hadn't been arrested on charges of murder for hire?  Kind of puts a damper on that set.  Maybe we can all be wasted enough to close our eyes and just listen to those songs because not having Malcolm Young flopping around that stage definitely takes a bit away from the anticipation.
And then there's Drake headlining Sunday… don't get me started.  Whomever is playing that same time slot concurrently will be highly entertaining to watch because that tent will sparse.  Last year, The Toy Dolls put on an AMAZING set while all the real estate at the Main Stage was occupied by the rolling eyes and grinding jaws packed in to see Martin Garrix.  It was one of my favorite moments of Coachella 2014.
That's the cool thing about Coachella.  No matter how much you hate one band or act, there will ALWAYS be an amazing band playing during the bands you hate.  I'm not seeing any surprises on the under card, at first glance.  All the buzz bands you expect.  Those are the acts that I really go to Coachella for, anyway.  I'm usually exhausted by the time the headliners take the stage so I can make my way out the Polo Fields while Drake is playing his set if I can accept I MIGHT miss a surprise guest that I may or may not be into.
One way or another, this is not an easy festival to book and I give major props to Goldenvoice and all the others involved for coming up with something new and interesting to talk about and attend every single year.
What are your thoughts?  Post your comments, judgements, profanities and comedy on this post.