The NSA Announces May 18th Sanders Fundraiser at Regent Theater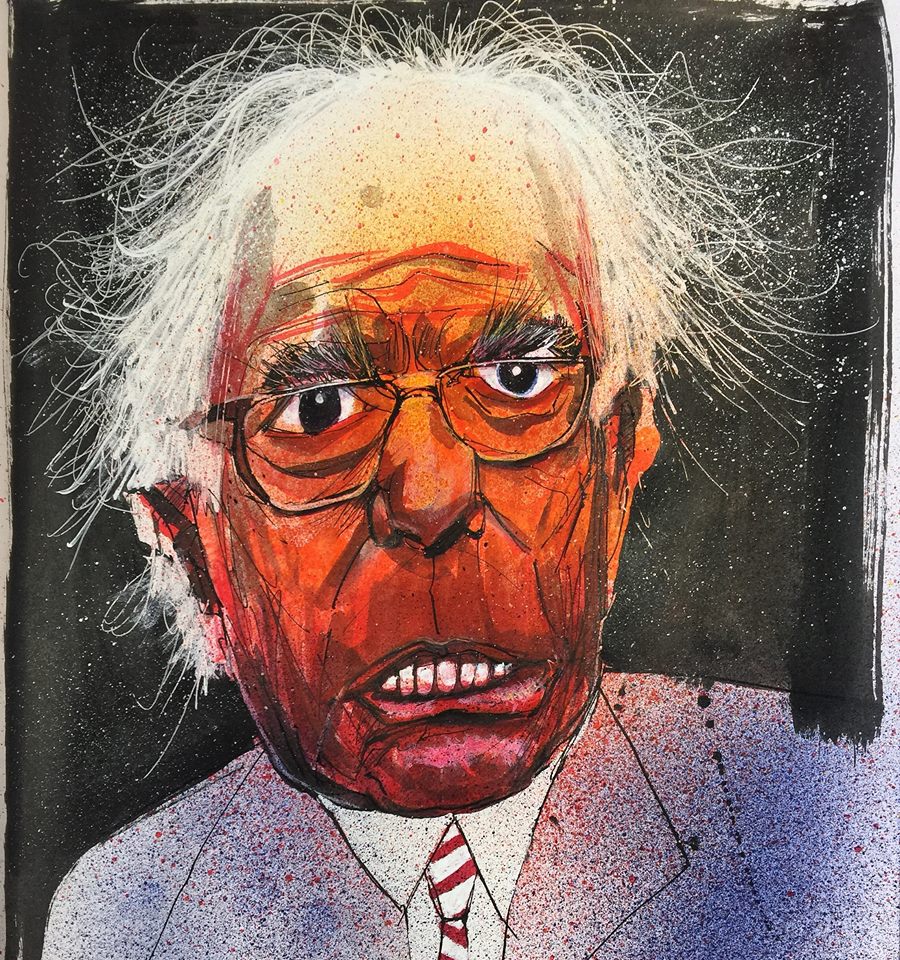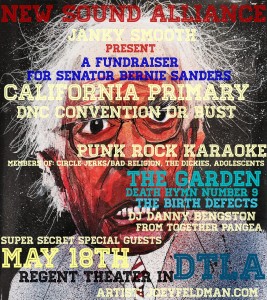 New Sound Alliance and Janky Smooth are proud to announce A Fundraiser for Bernie Sanders on May 18th at The Regent Theater.  The show will take place just a couple weeks prior to the California primary on June 7th.
This is the first event by the newly launched political action group, The New Sound Alliance.  The NSA seeks to unite the music community in organizing bands, labels, promoters, managers and publicists to organize our voices in an effort to engage young voters and activists.
The fundraiser for Senator Sanders will feature The Garden, Kim and the Created, Death Hymn Number 9, The Birth Defects and all star punk rock legends, Punk Rock Karaoke that features members of Circle Jerks/Bad Religion, The Dickies and Adolescents as YOUR backing band while you sing punk rock classics on the stage of The Regent Theater in Downtown L.A.  There is also a super special secret guest that we can't announce until the beginning of May!
All profits will be donated to the Sanders campaign.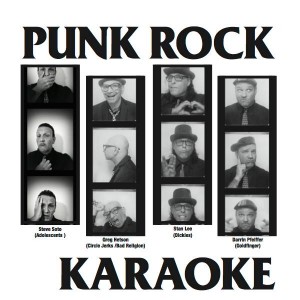 It is sure to be a fun and meaningful night as we raise money for Bernie Sanders in his quest for a political revolution just weeks before the California Democratic Primary. The California primary hasn't meant a thing to democracy in decades.  This year it will insure that the Democratic Party's Convention in Philadelphia will be as chaotic and uncertain as democracy itself.
The citizens of the United States of America have been lied to, stolen from, divided and nearly defeated by a government that is supposed to represent us.  Monied interests have completely infiltrated every level of government from local to federal. This election isn't about Bernie Sanders.  It's about us.  It's about us saying enough is enough.  It's about insuring no politician ever becomes wealthy off their elected office ever again as overturning the Supreme Court decision over Citizens United should be the main and only issue until it is resolved once and for all.  Issues like universal healthcare and tuition free higher education will never become a reality until we delouse our government.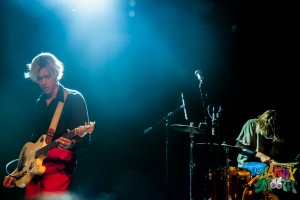 No matter what happens in this presidential election, New Sound Alliance will continue on in an attempt to unite.  If Bernie Sanders fails to secure the Democratic Party's nomination for the presidential election, this whole thing will not be over; it'll be just the beginning. We've been arguing with each other over abortion, taxes, the environment and religion for decades and that is no accident.  As long as we are arguing with each other, we will never realize the full potential of the power that "The People" have.
Please join us on May 18th to continue the momentum as we continue to gain more traction and support in our effort to empower the people.