Babes in Toyland Still Inspire and Terrify at The Roxy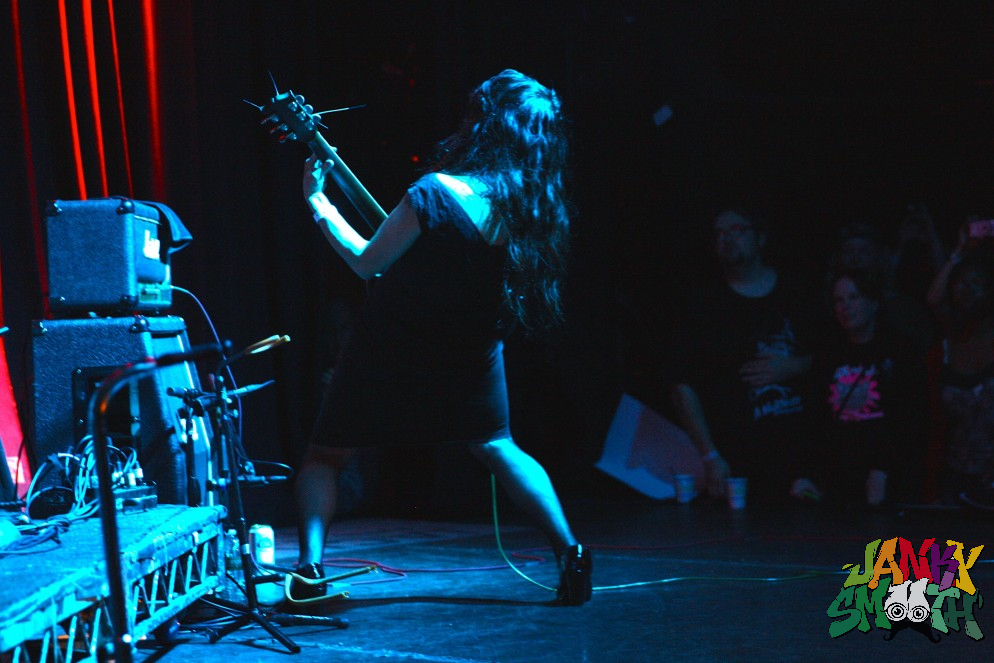 Kat Bjelland once described Babes in Toyland as "full frontal assault" and after last night, mommy mommy I need an adult. The Roxy was packed to its crusty edges with riot grrrls and boys, riot moms (thanks for the term, Tom Morello), and celebrities alike. Hell, the first person we ran into was legendary front woman, Exene Cervenka. The excitement was infectious and the room was pulsing with what felt like good, old-fashioned high school angst.  No one really knew what to expect from the band that played it's last show 18 years ago, warm-up show at Pappy and Harriet's aside.
Tom Morello came out to introduce the "matriarchs of metal" and any doubt was kicked to the floor when Lori, Kat, and Maureen took to the stage and tore their way through a 13 song set- No banter needed.  Kat's voice hasn't lost a drop of power and by the time they broke into their third song, "Bluebell", every sweaty person in the room was screaming "you're dead meat motherfucker/you don't try to rape a goddess". Lori hit the drums like it was Lollapalooza '93 and you'd never know any time had passed, save for the few times she sweetly put on her glasses to read the set list. Maureen stood stoic and played her bass with a still calmness and the prowess of a true rock goddess, with smiles in between the songs to ensure you they were indeed, glad to be back.
I'm sure you're wondering if Kat still has that crazy look in her eye- The one that gives you that uneasy but palpable projection of power. The look that makes you realize that it's possible to be absolutely terrified of a woman that's 5'2- Fuckin' A right she does! You could tell who influenced Kathleen Hanna and where Courtney Love, um, "borrowed" from. She is a true frontwoman, slaying guitar on her knees and filling the room with her voice…her message clear.
With the attitude still there and still relevant, it was apparent that Babes in Toyland are back to remind us of our past and to shape our future. The young girls up front, the young boys in the back and the music fans throughout were all singing along with the fervor and energy like this was something new and something that has been missing, all at the same time. We look forward to having them on the festival circuit and fingers crossed, more local shows. We needed this. A band of true musicians that came in and reminded us all not only what they're made of but what we're made of.  I think we all owe Babes in Toyland a big "thank you and welcome back, ladies".
Setlist:
Jungle Train
He's My Thing
Bluebell
Oh Yeah
Spit to See the Shine
Bruise Violet
Right Now
Swamp Pussy
Won't Tell
Drivin'
Ariel
Handsome and Gretel
Sweet '69
Words and Photos: Vanessa Burgundy