Uprising: An Afro Future Her-Story at Ford Theatre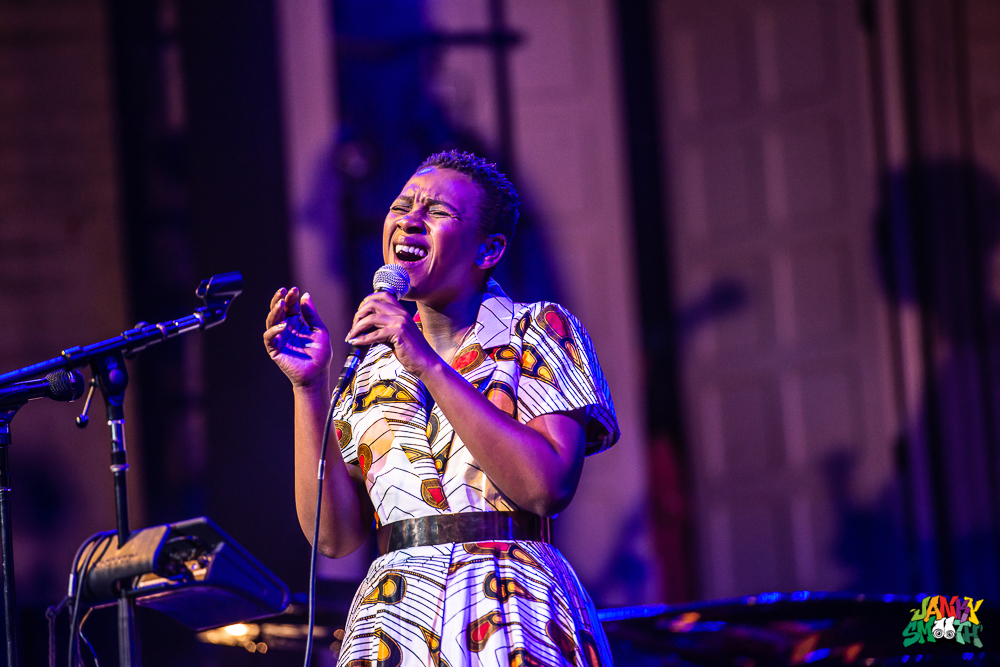 Jazz is alive and well and it's not just for the old folks! The Nonsemble – Jazz/Not Jazz at Left and Center (a collective group of music addicts) are fueling a movement of Jazz related art, music and lifestyle and have been doing their part to keep the scene thriving by providing Angelenos with quality events such as their most recent homage to South Africa's National Woman's Day, "Uprising: An Afro Future Her-Story" featuring Siya Makuzeni and Thandi Ntuli, two of South Africa's top women in Jazz.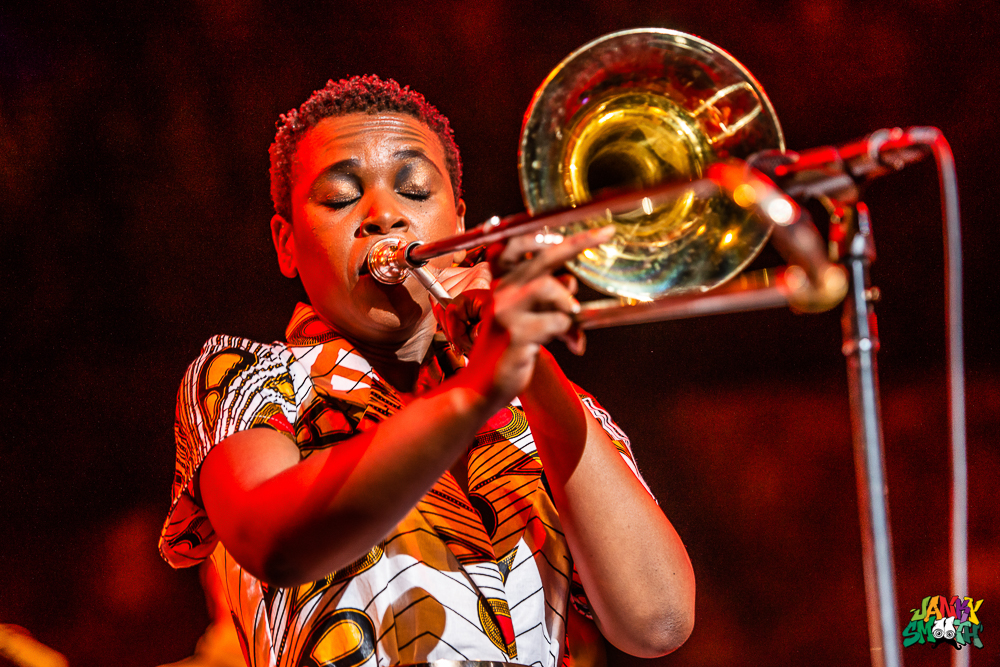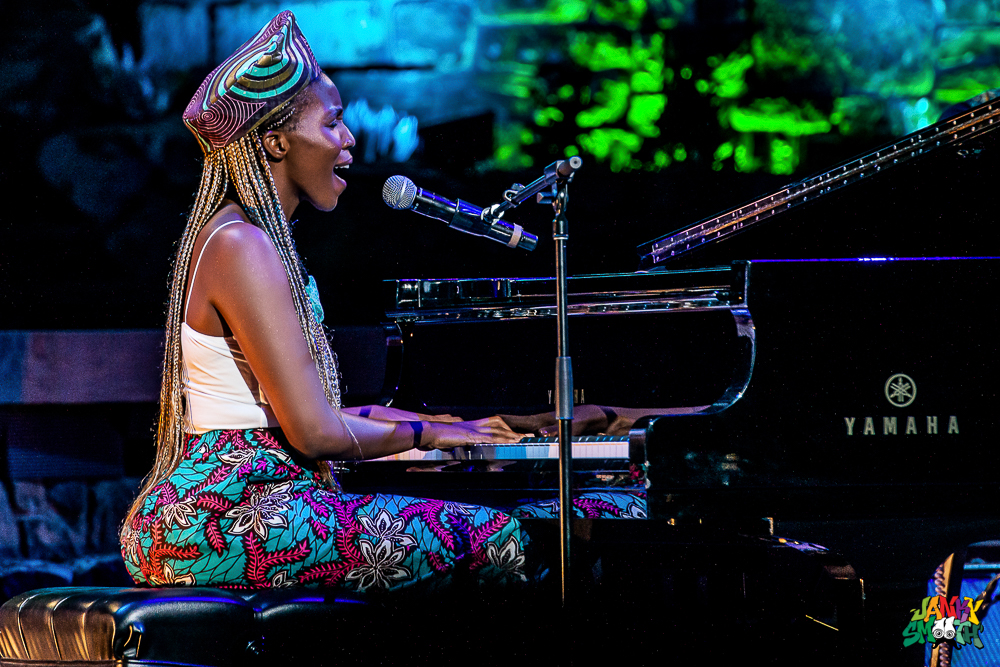 Pro tip: If you have not attended a show at the historical Ford Theatre, I highly recommend that you do so as soon as possible. The lights, sound and ambiance are on point and the size of the amphitheatre is perfect for a great view even from the very back. A better venue could not have been chosen for this celebration, specifically considering nearly 100 years ago 2 women were the original visionaries behind what is now known as The Ford Theatre. In 1920, author and philanthropist, Christine Wetherill Stevenon and Mrs. Chauncey D. Clark joined forces to purchase the plots of land where both The Ford and The Hollywood Bowl sit today.
Often times when I am scheduled to cover a show featuring an artist I have not heard or do not know well, I will purposely go in with virgin ears, because I like to be surprised and have an organic reaction to the sound and performance. I feel like I can be the most honest about my experience when I interject myself into it without expectations. (and I was glad that I did so in this case, because I was completely blown away) Little did I know at the time the caliber of musicians I was in for. Turns out that Eastern Cape native, Siya Makuzeni is not only a genius singer/songwriter/trombonist, she is a well known composer and arranger with accolades such as being featured on the soundtrack of ROOTS and Book Of Negros. Thandi Ntuli comes from a lineage of rich musical heritage, being the niece of guitarist, pianist and lead vocalist of African 70's pop fusion band Harari (The Beaters), Selby Ntuli, and has been trained as a classical pianist since she was four. And Katalyst is not just a band, but a collective of professional producers, composers, session musicians, and writers. Since their inception, they have went on to play Walt Disney Concert Hall with the Inner City Youth Orchestra of Los Angeles, backed recording artist Dion at Talib Kweli and Hi-Tek's "Reflection Eternal" concert at the Belasco Theater, and they are also the creator of Inglewoodstock, a pop-up concert series featuring many of Los Angeles' most talented bands, rappers, and vocalists.
On this beautiful summer evening, the goddess vibes were emanating into the open airs of the amphitheatre, however what really stood out to me was all of the divine male energy that backed it up. The extremely talented young group of kats from the "Katalyst Collective" as well as Co-hosts Don Cheadle and KCRW's Garth Trinidad lifted their sisters up and set a beautifully harmonized tone of masculine and feminine for the evening. While we all danced together, no matter the nationality, gender or creed, in the moment, we were all one vibrant display of humanity at its finest.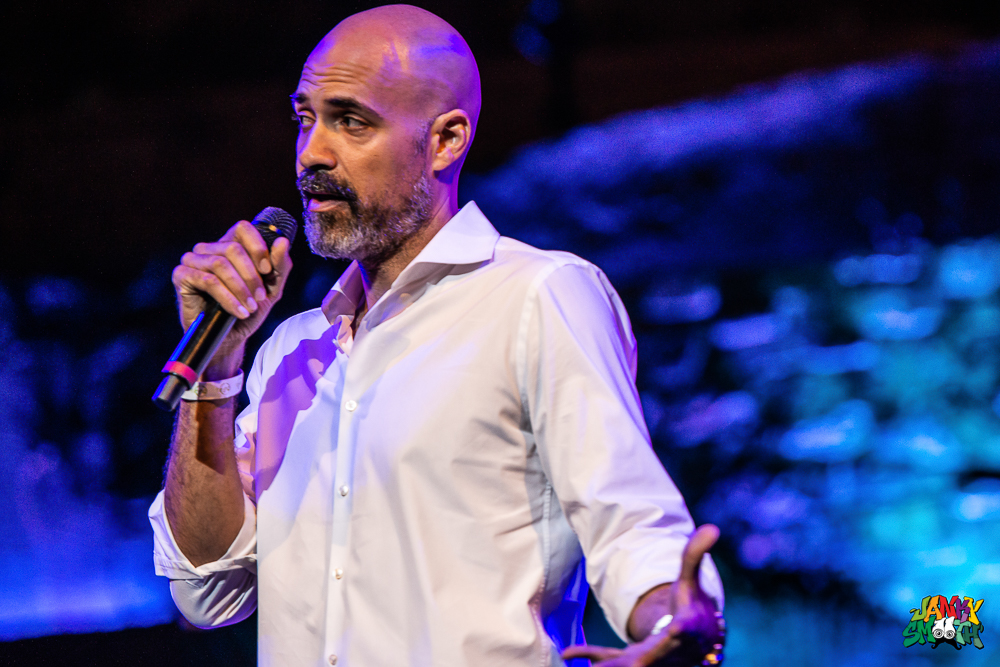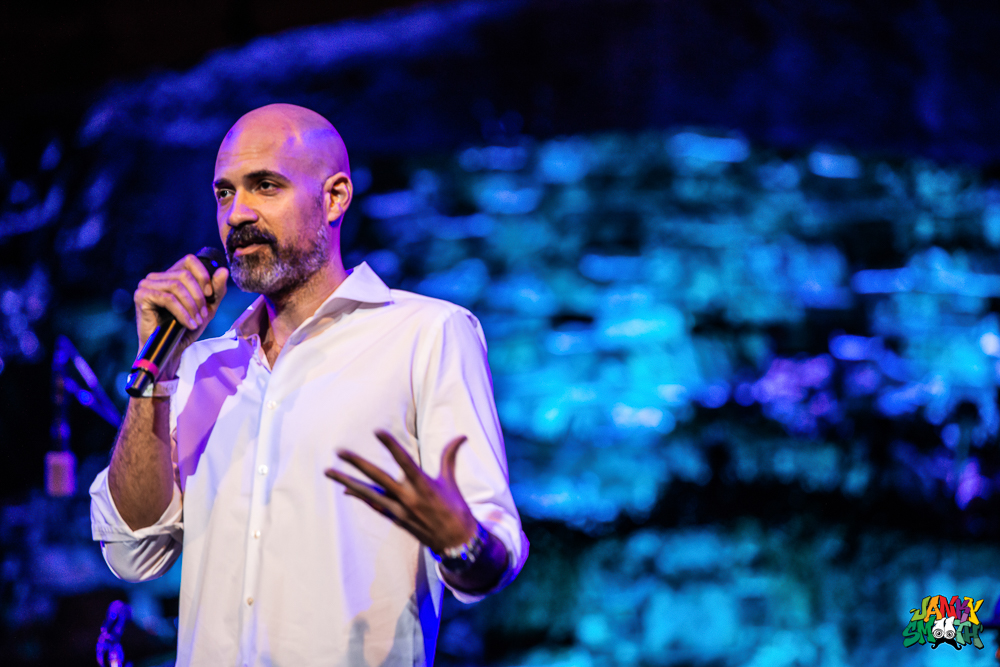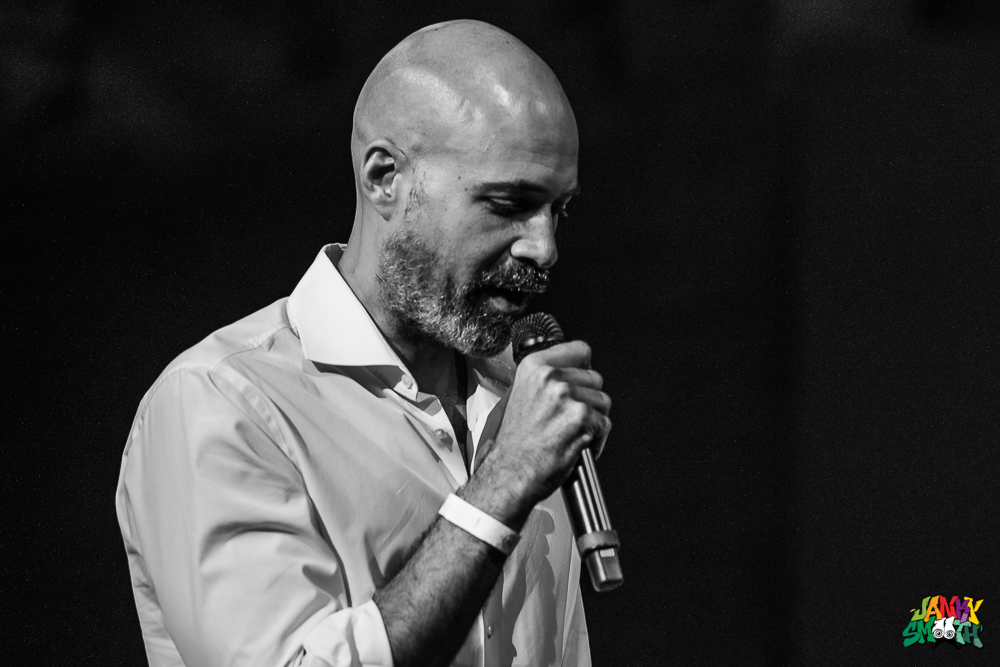 Thandi Ntuli kicked off the evening as she sat majestically poised at a beautiful grand piano, adorned in traditional African textiles. With Katalyst reinforcing her grace, she played and sang as if not just for the crowd, but for the heavens. The magic she created lyrically and sonically left many in tears at times, myself included. While some need to cause a scene in order to command a stage presence, Thandi did not need to move from her seat for that achievement, her talent and aura was more than enough to leave concert goers in awe.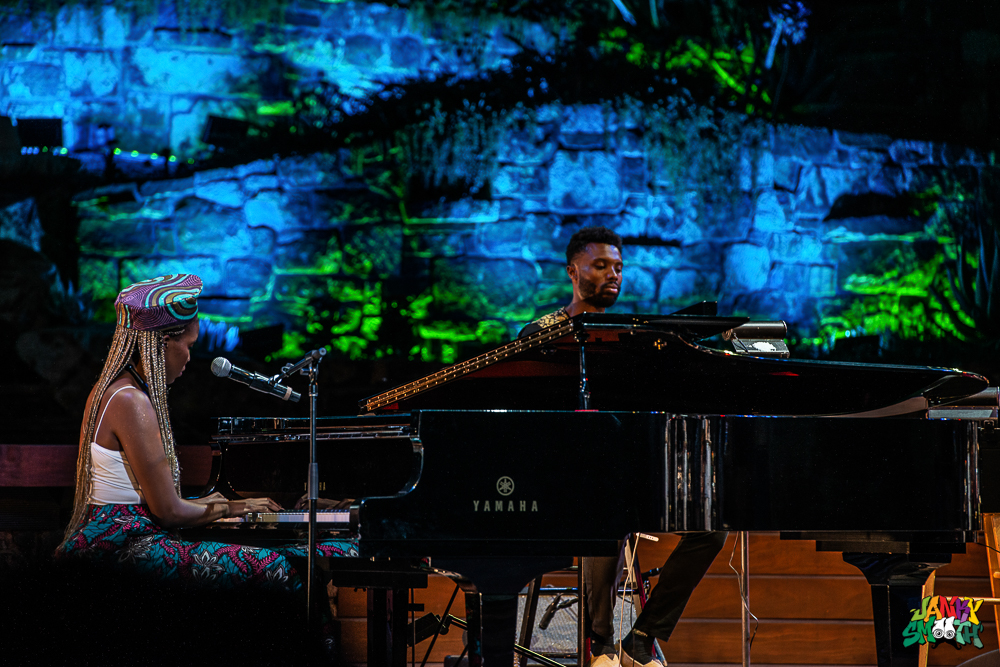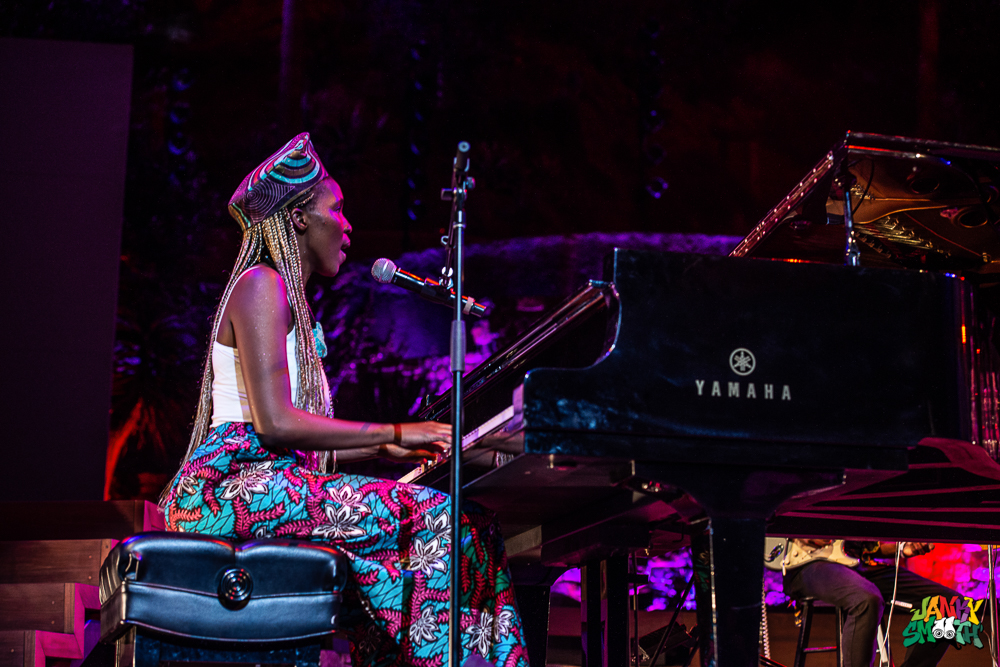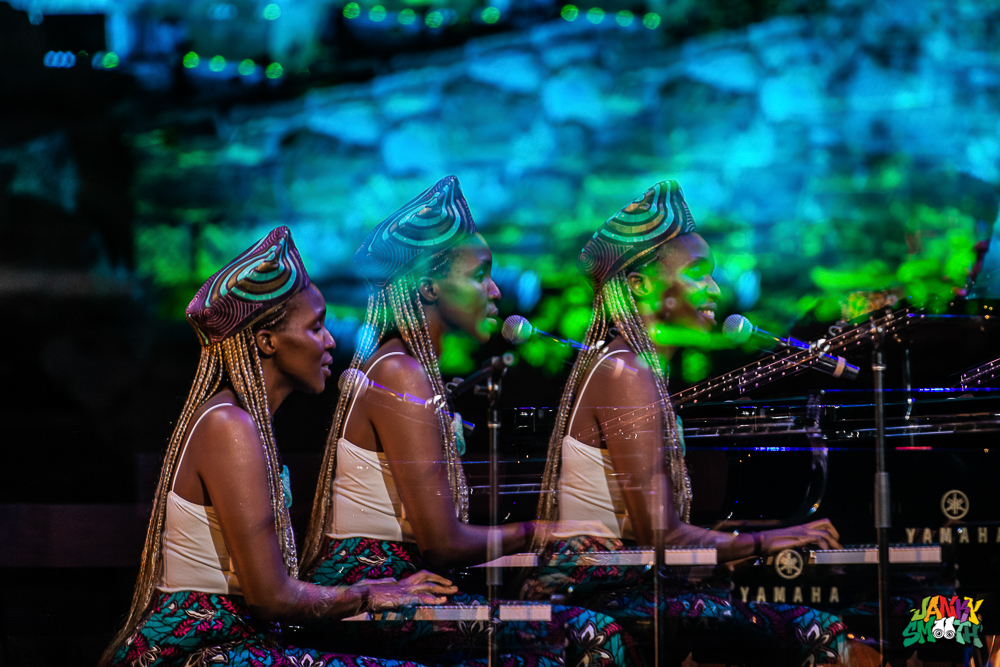 After a short intermission, Siya made her way to the stage sporting a classic and timeless look with a collared button up dress decorated in peacock feather print. The first half of Siya's performance was comprised of a more classic Jazz component from her band the Siya Makuzeni Sextet. The Katalyst Collective performed her material so well that as far as I could tell, they all might as well been playing with her for years. It was like as if my ears had taste buds, so many flavors of sound, each tantalizing, leaving me wondering which instrument made it. Siya floated back and forth between songs from English to her native language Xhosa. At one point, I realized that I wasn't sure if she had been singing in her native tongue the whole time or if she had been singing in English as well. It was as if her words transcended the language barrier and the whole concept of linguistics was obsolete. Even when I didn't understand what she was saying, I could feel the core of her being as she sang. During some of the songs, she played trombone in tandem with Jonah Levine, further exhibiting the extent of her talent.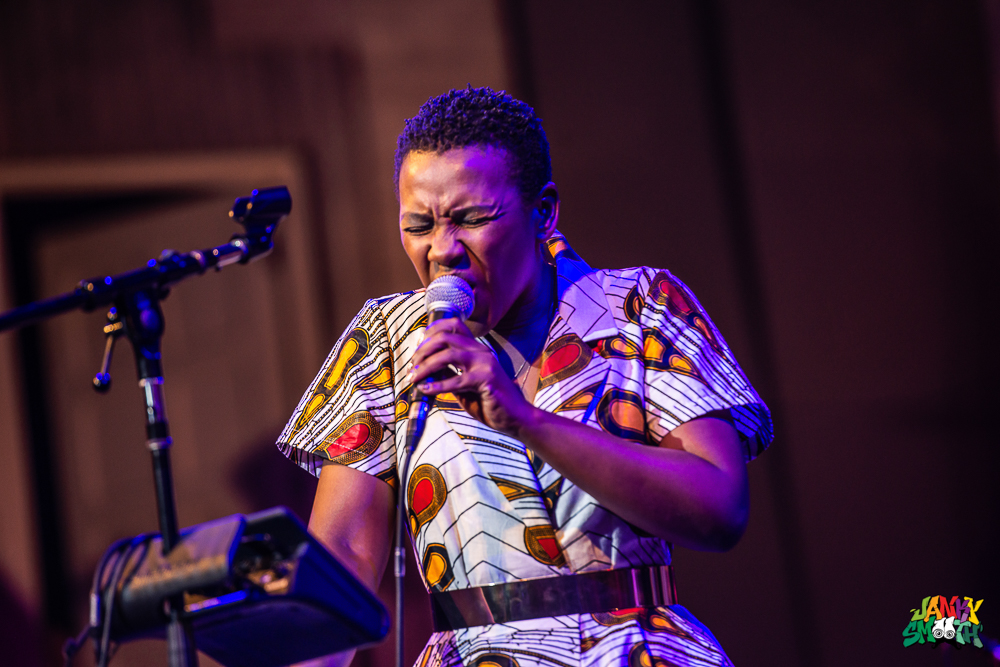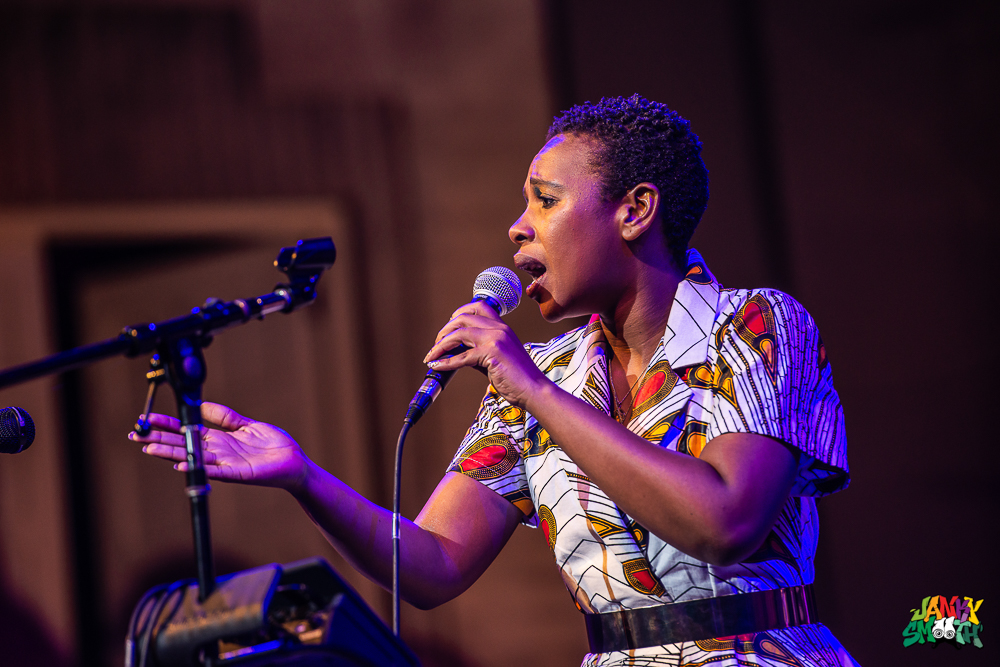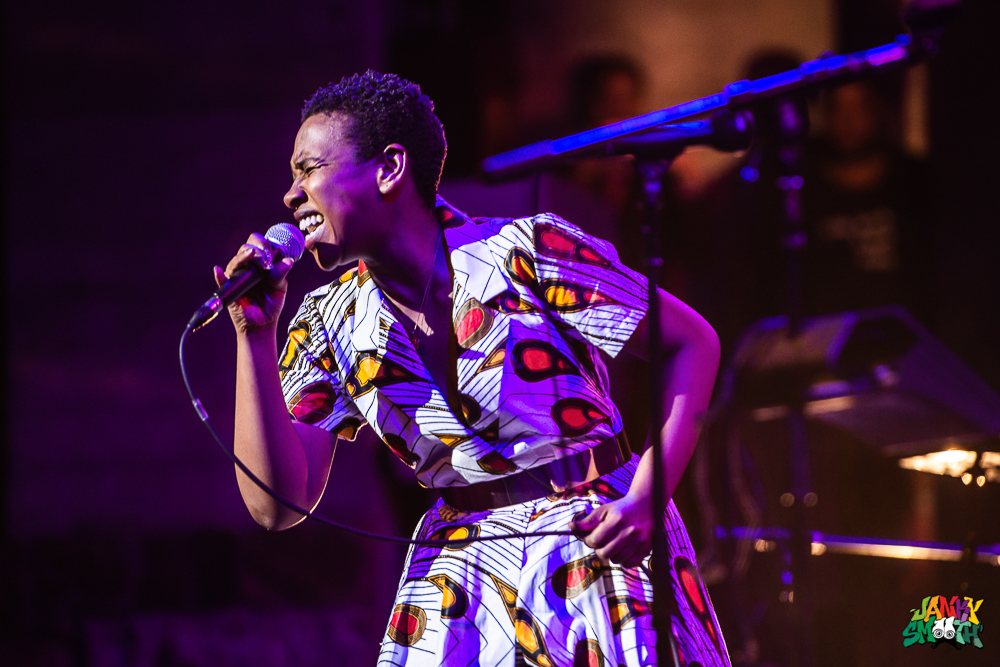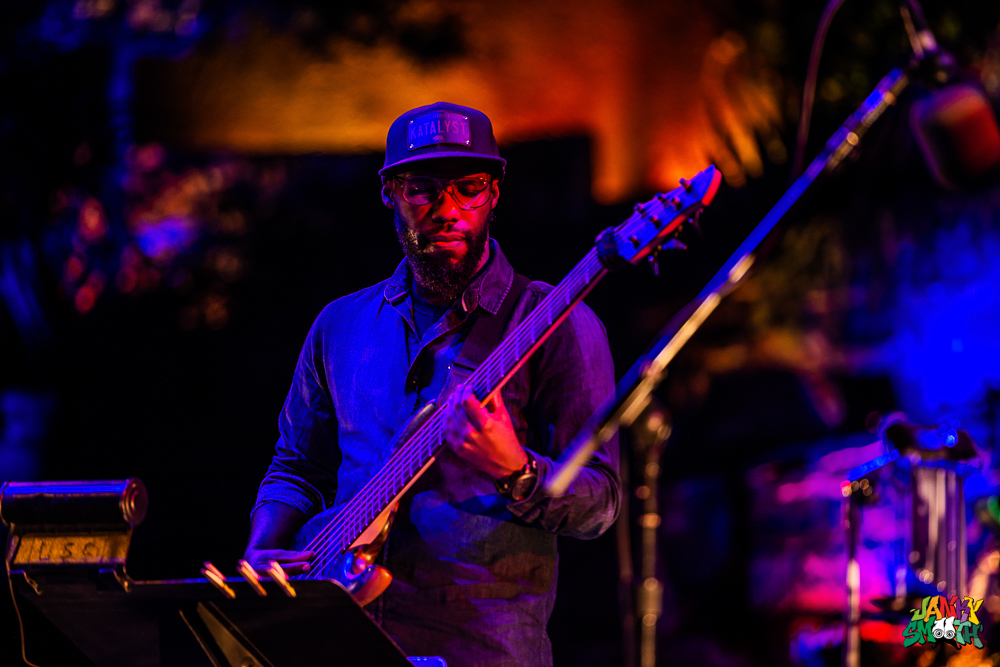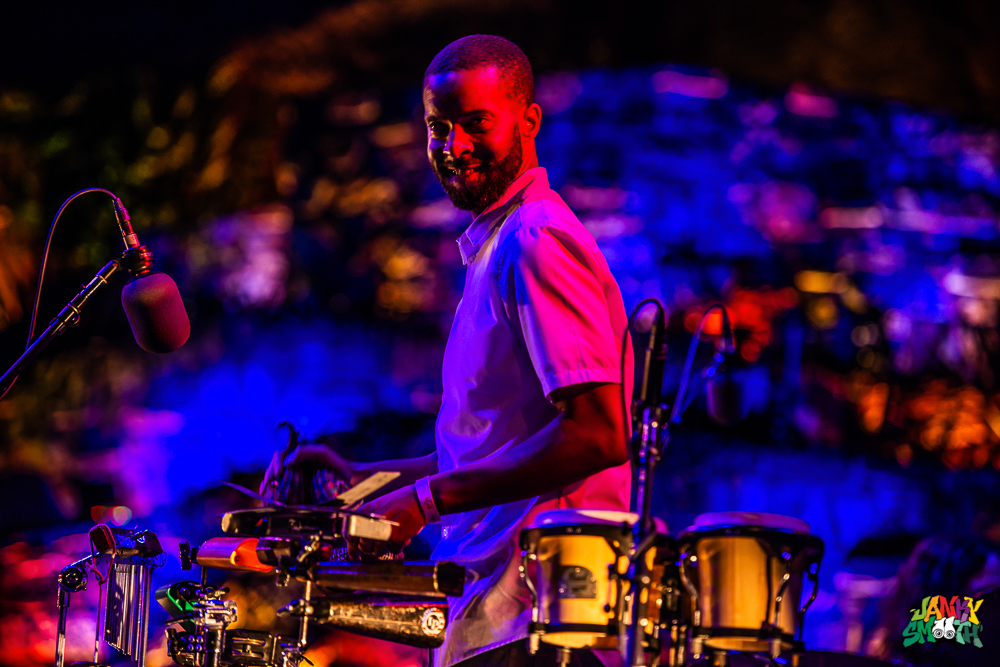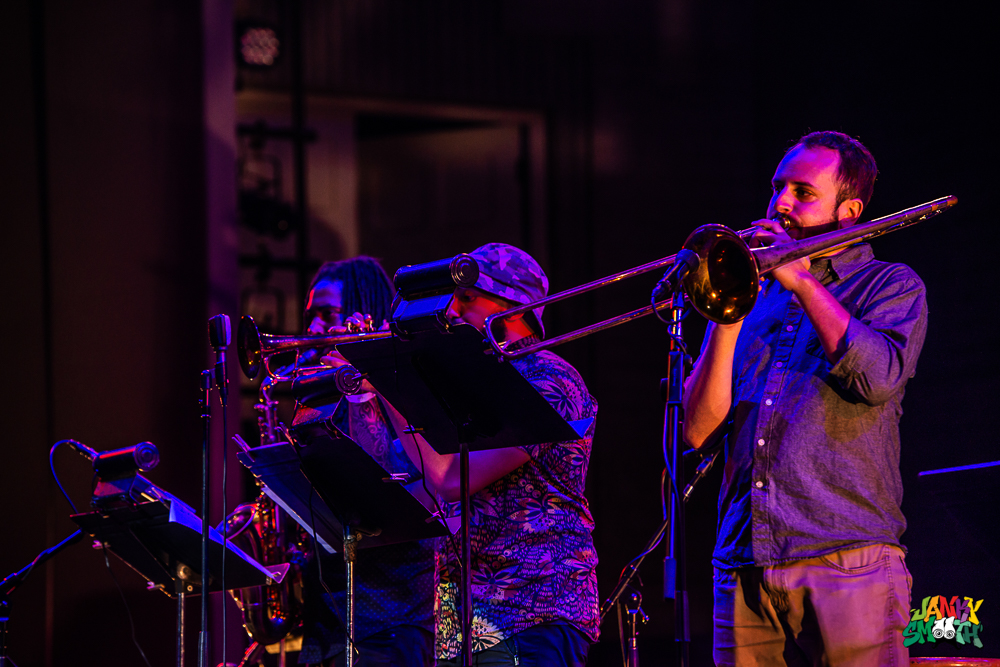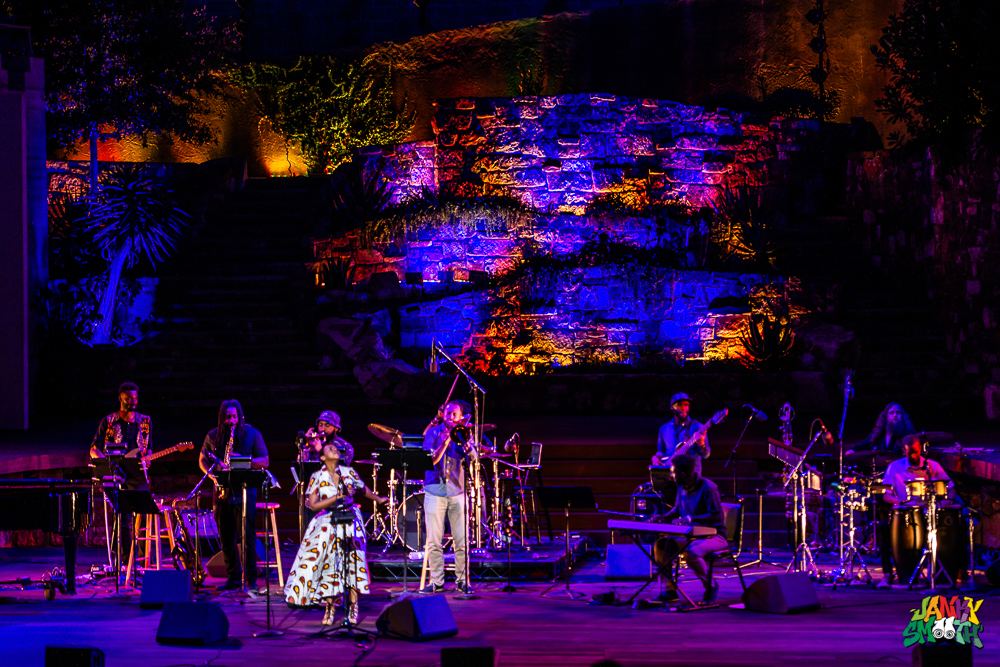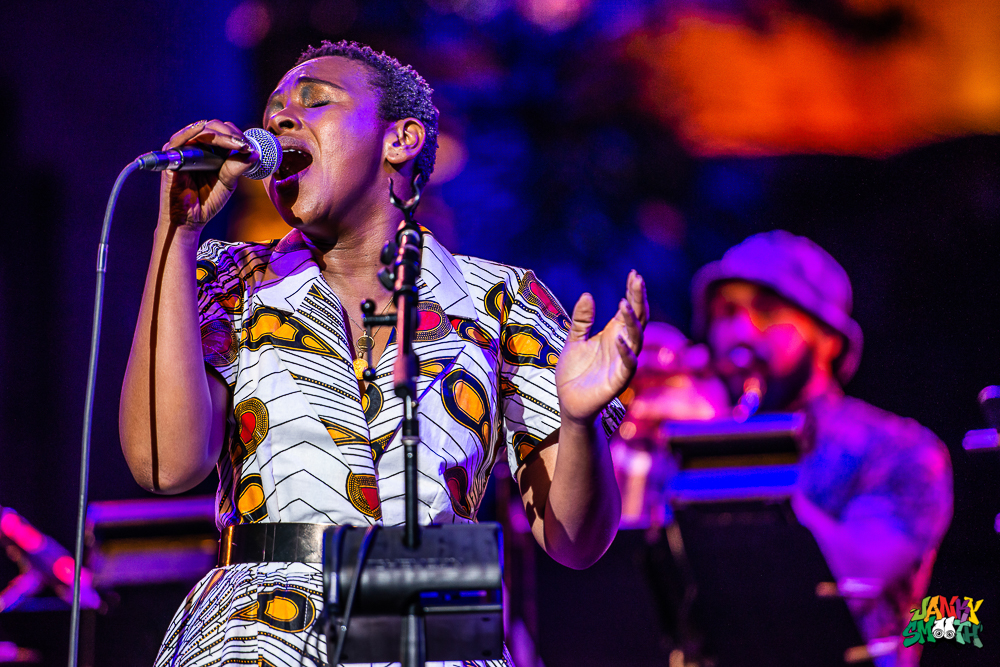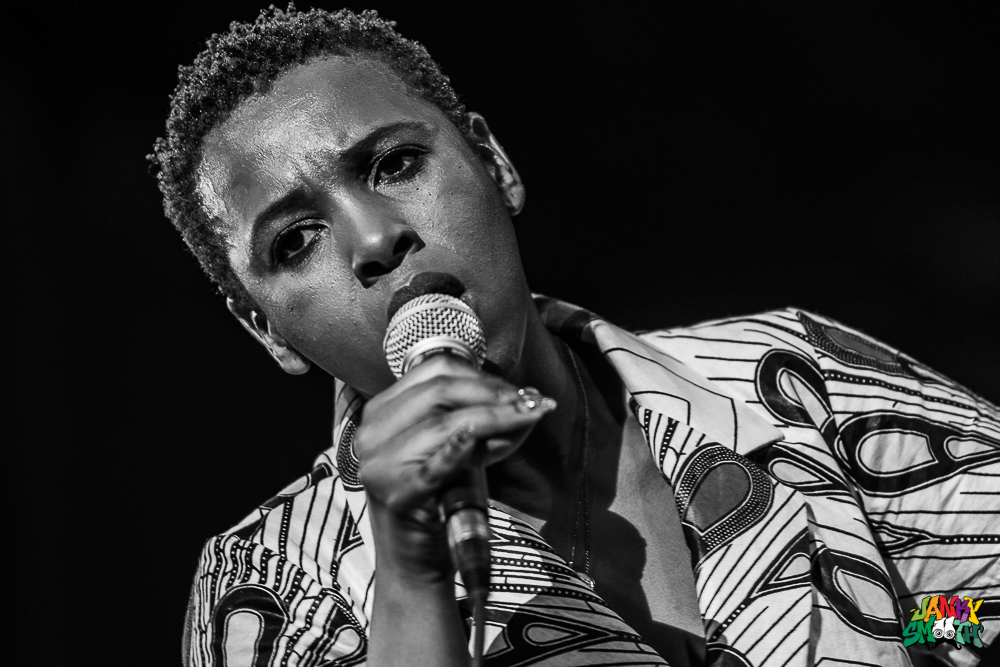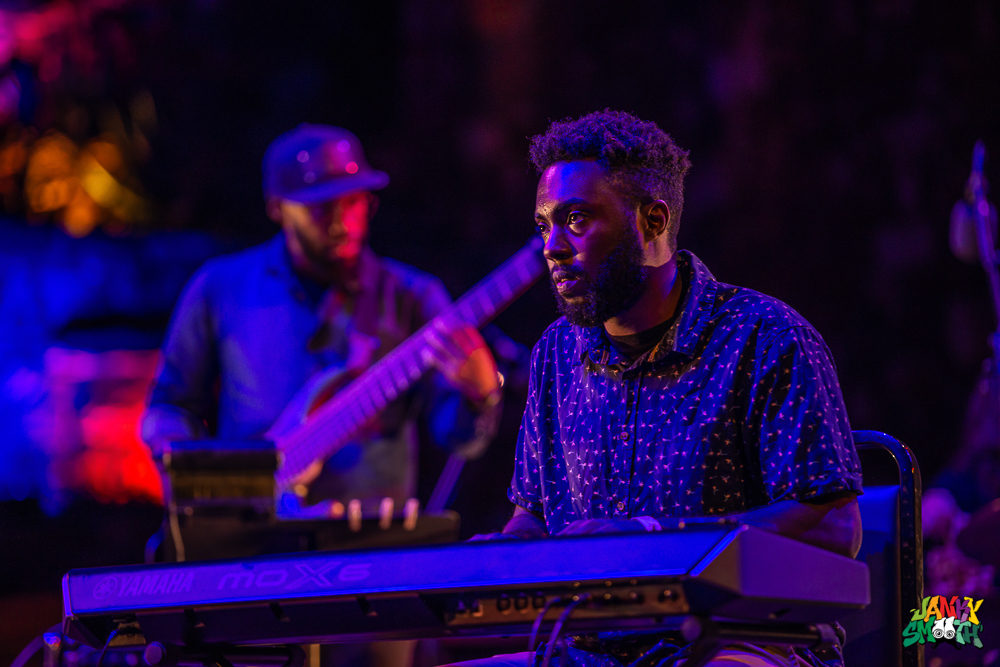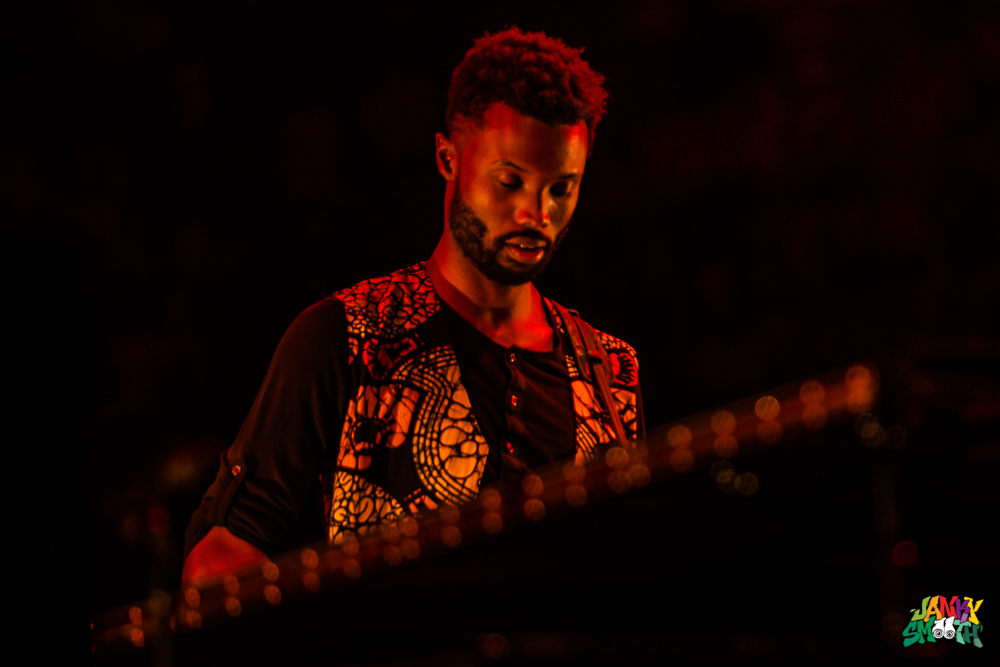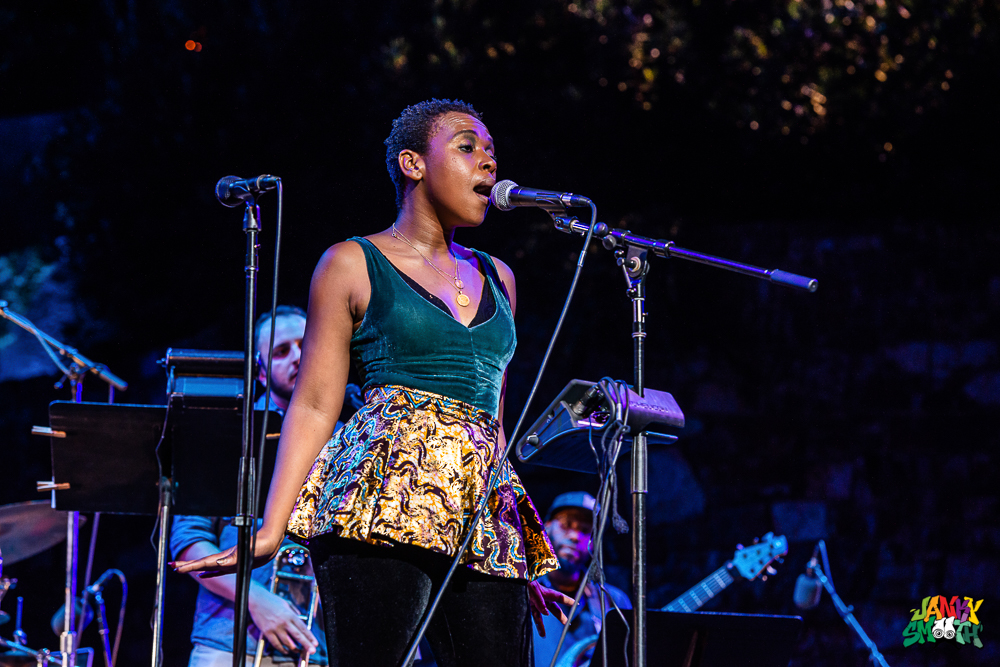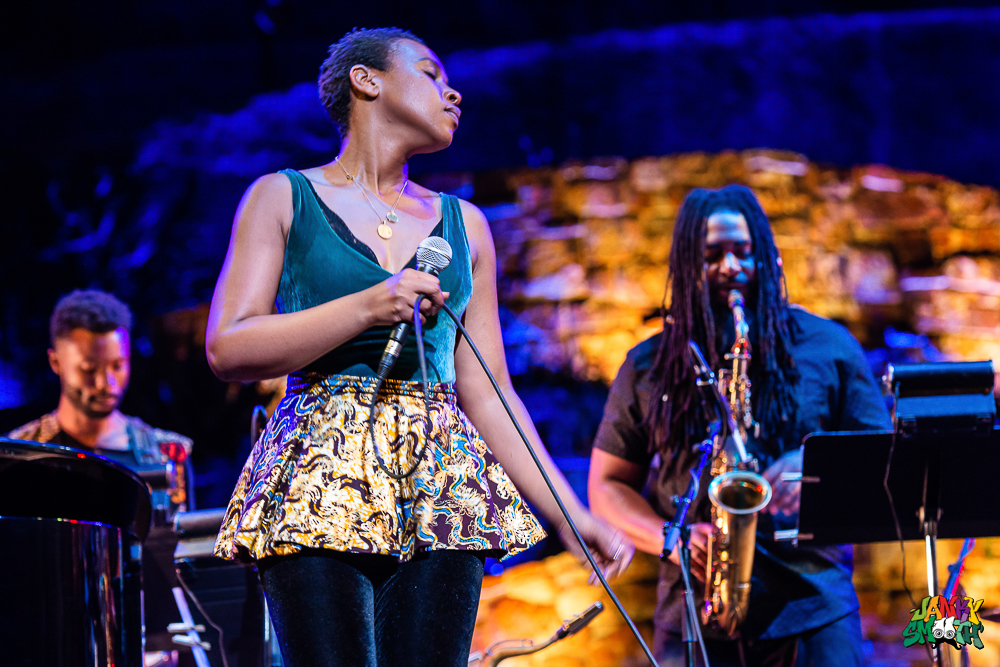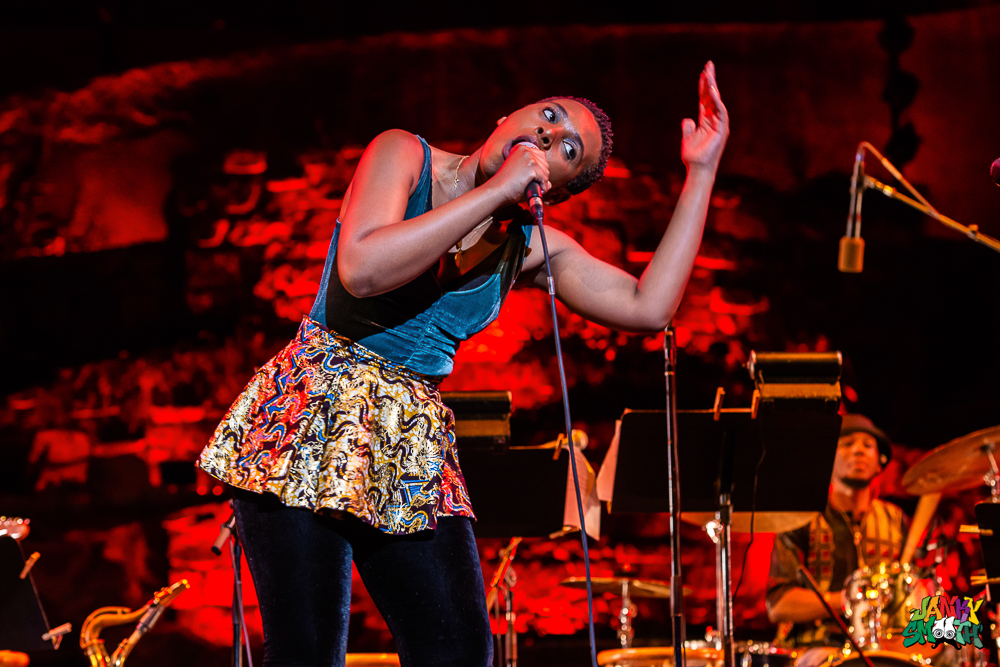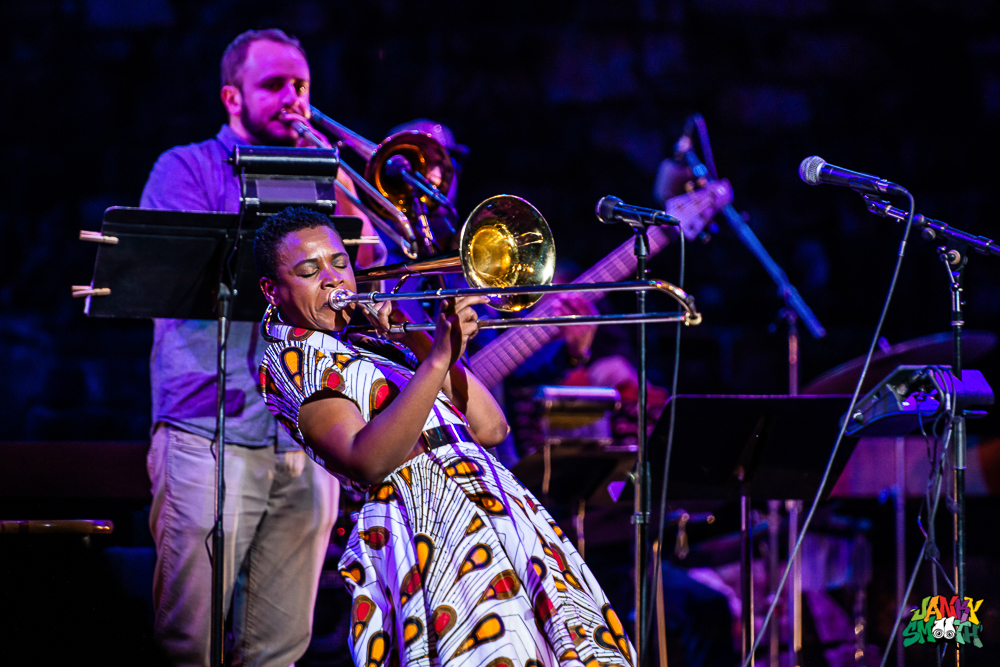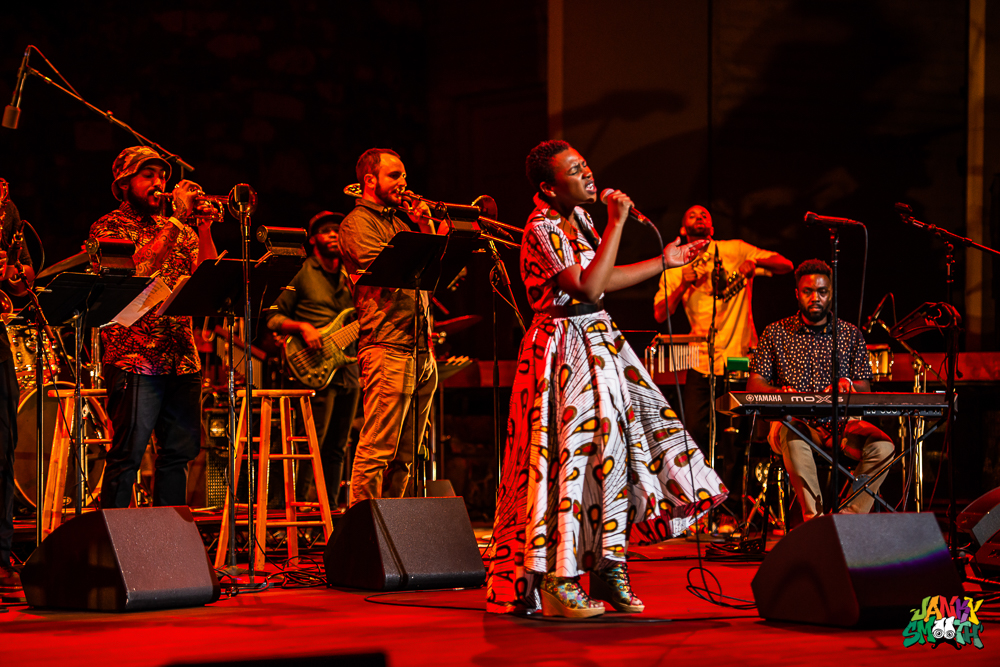 Half way through the set, Siya left the stage momentarily and returned dressed in a more playful, edgy ensemble that would match her mood for the rest of the performance. She gave the audience a brief introduction of the inspiration behind the sound of her punk inspired band IppYFuzE of which she would be performing songs from for the duration of the evening. The fervor of the high energy jazz fusion sound gave the crowd the second wind needed to rise from the comfort of their seats and dance for the rest of her set.
While this concert marked Siya Makuzeni and Thandi Ntuli's first U.S. performances, we can only hope it will be the first of many to come. Keep an eye out for Siya's new, all femme band Banou Azania, they plan to be doing big things in 2020! Also if you want to be in "the know" for all things "Jazz/Not Jazz at Left and Center" make sure you follow the Nonsemble, they are bringing the goods to the masses!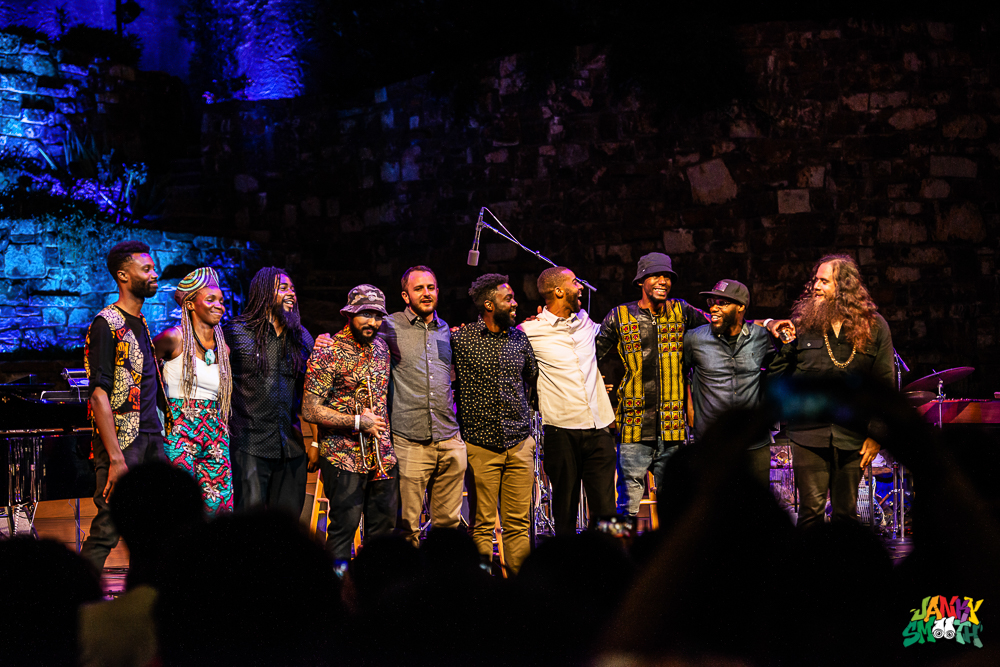 Words and Photos by: Jessica Moncrief