The Smell of Napalm Death at Belasco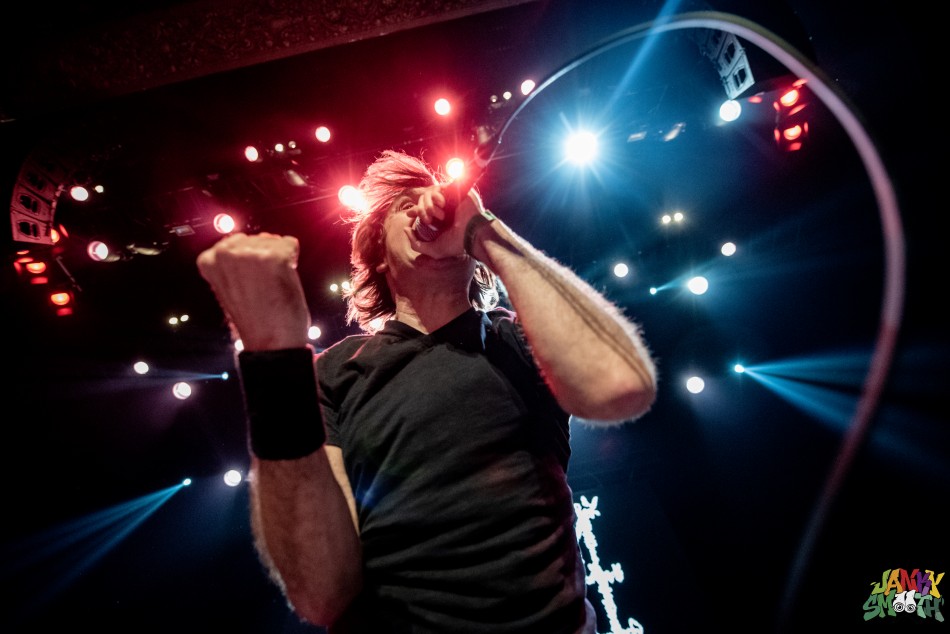 While punk rock and heavy metal are completely different genres in their sound and aesthetics, there has always been a crossover between the scenes due to the aggressive nature and the focus on rebellion against social norms found in each of them. Few artists embody the fusion of these two scenes more than Napalm Death, with their punk influence of playing as fast and hard as possible in some of the shortest songs ever written combined with their growling brutal vocals and distortion-filled breakdowns. Their recent sold out show at The Belasco proved how much love for these genres does crossover between the two scenes, as they hosted a massive lineup of thrash metal, death metal, and hardcore punk legends to open the eventful evening. Punk and metal may be covered separately when people often look at music history, but Napalm Death's recent sold out show was a testament to how these scenes are not limited to the boxes that people try to put them into.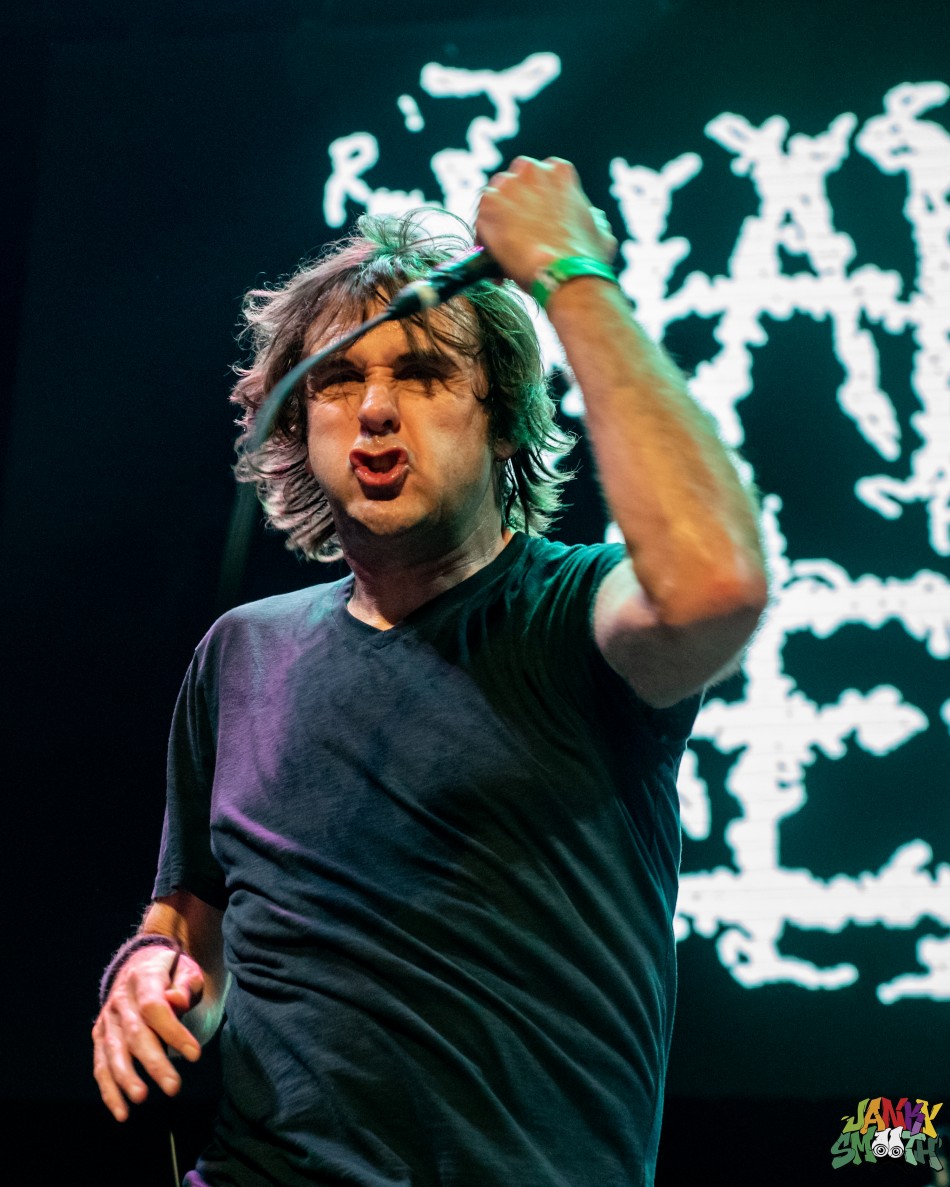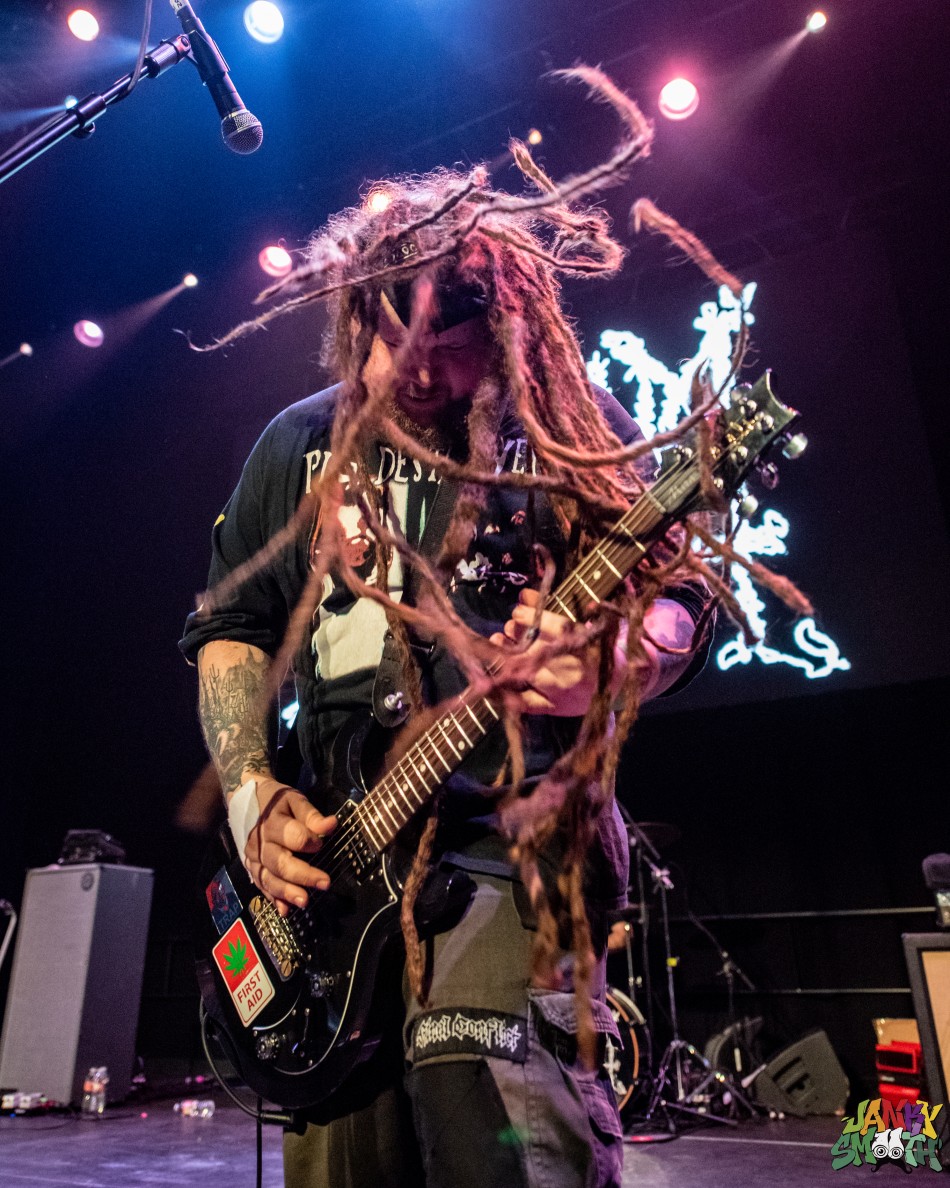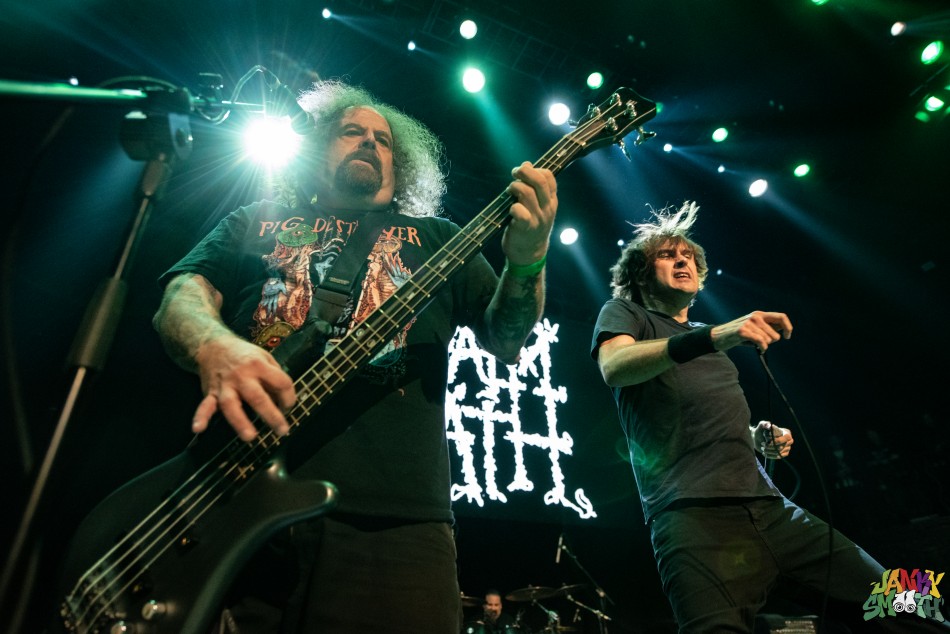 Frozen Soul was easily the darkest band on the lineup, with their blend of death metal and black metal influences creating a foreboding atmosphere to start the night off before the lightning speed intensity of the rest of the lineup. While much more serious in their stage presence and definitely having a more polished sound than the noise-y thrash throughout the night, Frozen Soul did personify the current shift in metal music away from rowdy chaos towards a more defined artistic vision. Napalm Death have always championed the underground and experimented with their influences, so Frozen Soul's more modern take on death metal felt right at home on the lineup even if their set provided a completely different environment.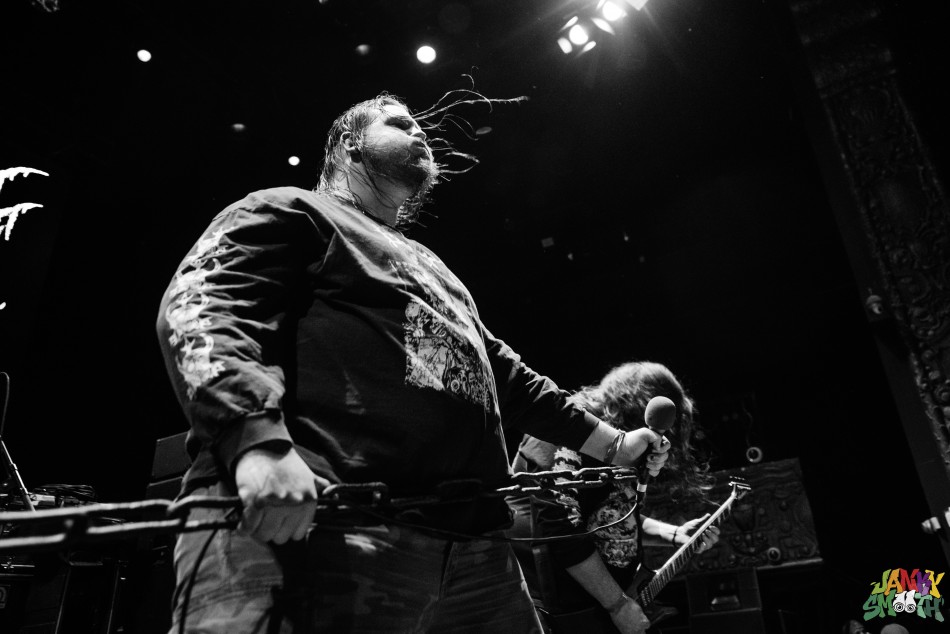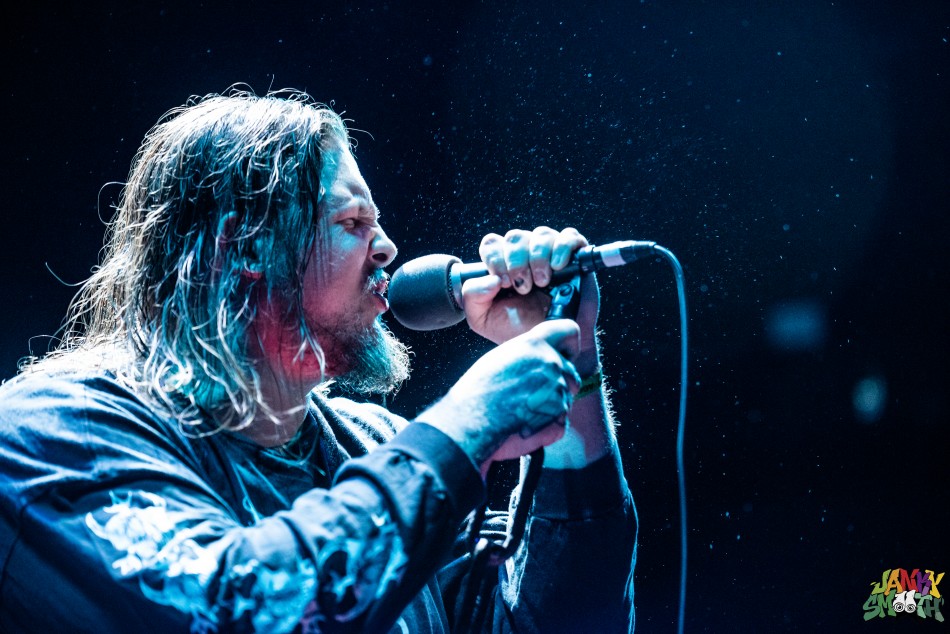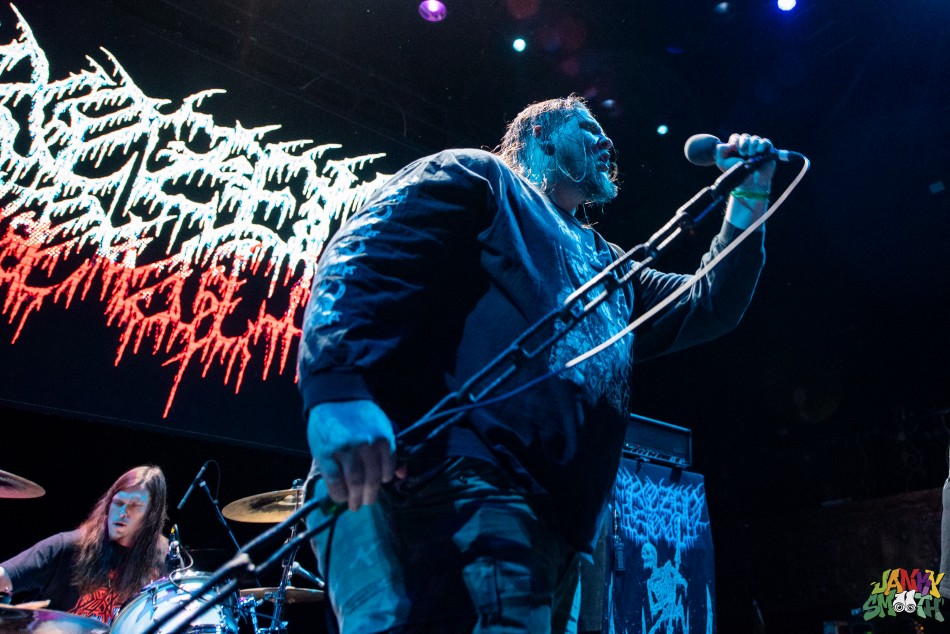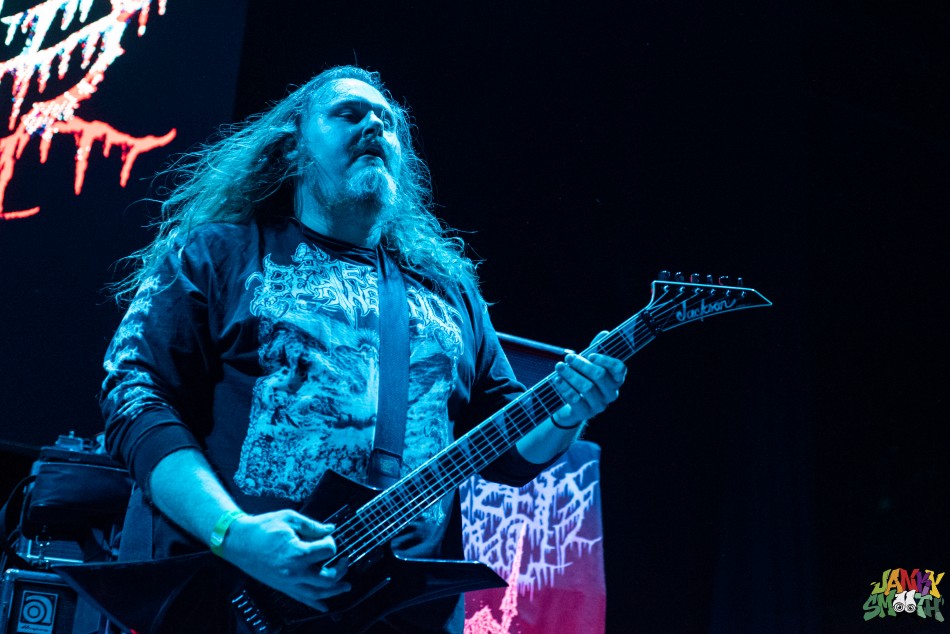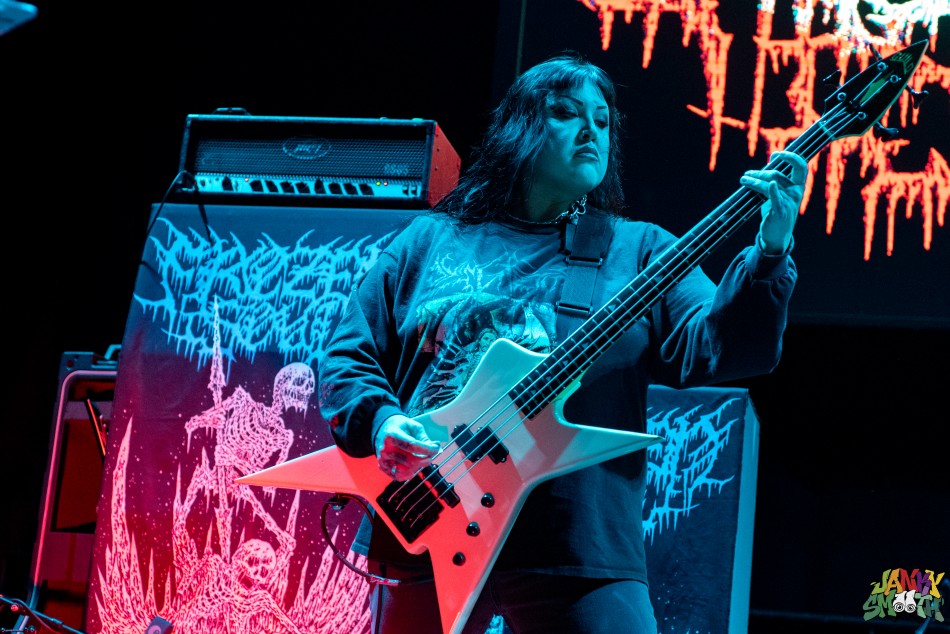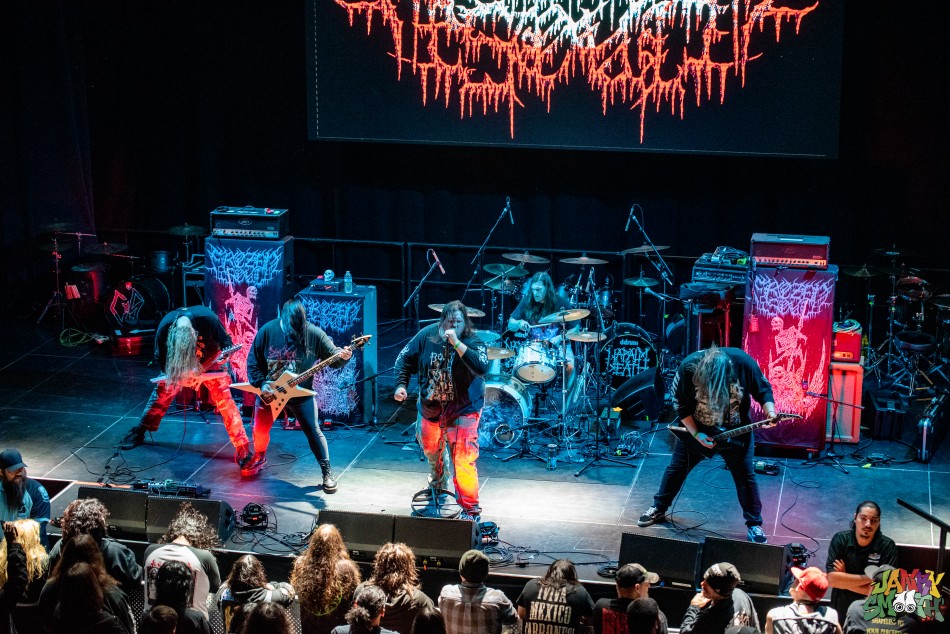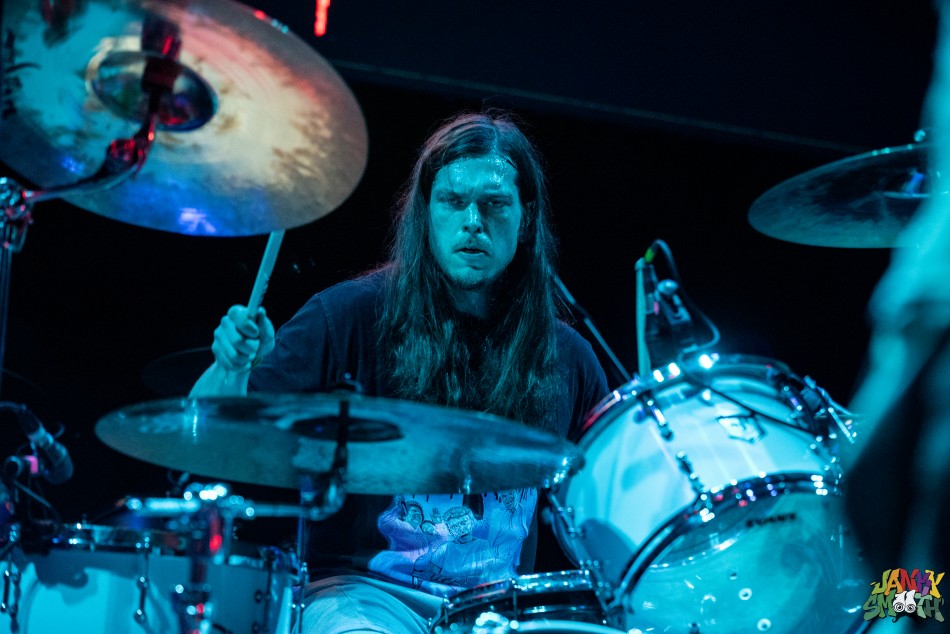 Right off the bat, Brujeria were far different from any metal band (or any band at all) that I had ever seen before. If any artist is looking to book an opening band that kicks the party off in the rowdiest way possible before the headlining sets, there could not be a more appropriate choice. As soon Brujeria's wide cast of characters wearing bandanas took the stage, the entire floor of the Belasco instantly erupted into a massive circle pit with sweaty bodies slamming in all directions. Brujeria only bantered with the crowd in Spanish and while I loved this aspect, I was disappointed that I didn't know what they were saying based on how wildly enthusiastic the crowd was each time they spoke. Based on their stage presence and imagery, I would have to guess it was mostly about satanic witchcraft, Mexican drug lords, or partying like it's the apocalypse.
The most defining aspect of Brujeria's unique sound is seen in their focus on group vocals, bringing an oi influenced type of environment that's rarely seen in metal bands due to the darker nature of the genre. While the harsh, muffled vocals during the verses are reminiscent of the growls you would hear in most thrash metal, the chanted group vocals create a rowdy party sort of environment with the carefree lively energy of what you'd find in a pop punk or ska show. Having four vocalists that do not play any sort of instruments and all acting as frontmen, Brujeria has a clear vision of hyping the crowd up as much as possible and bringing as much character into the room as they can. The last song of their set was "Marijuana", a parody of "The Macarena", and it was a perfect representation of Brujeria's focus on having fun and being goofy that more metal bands adopt into their performances.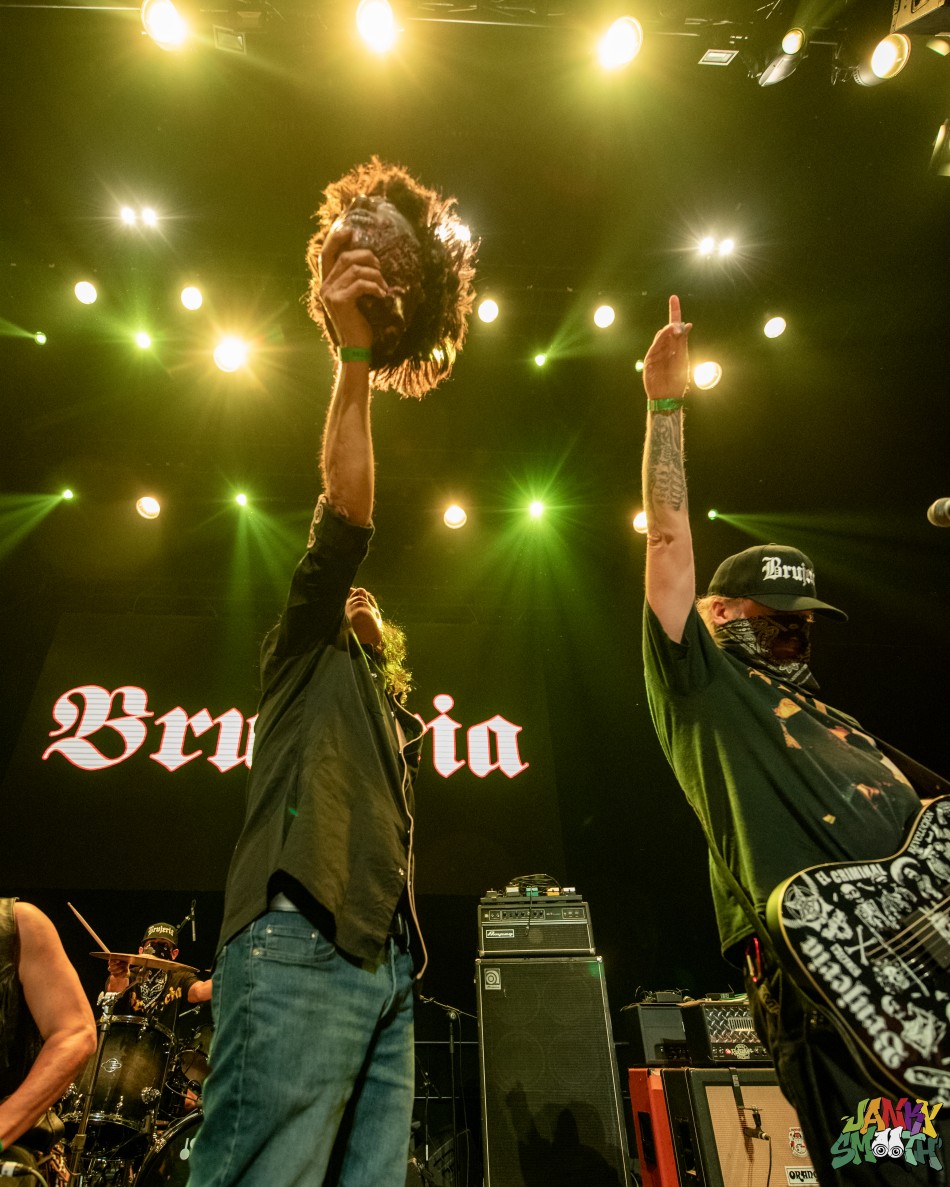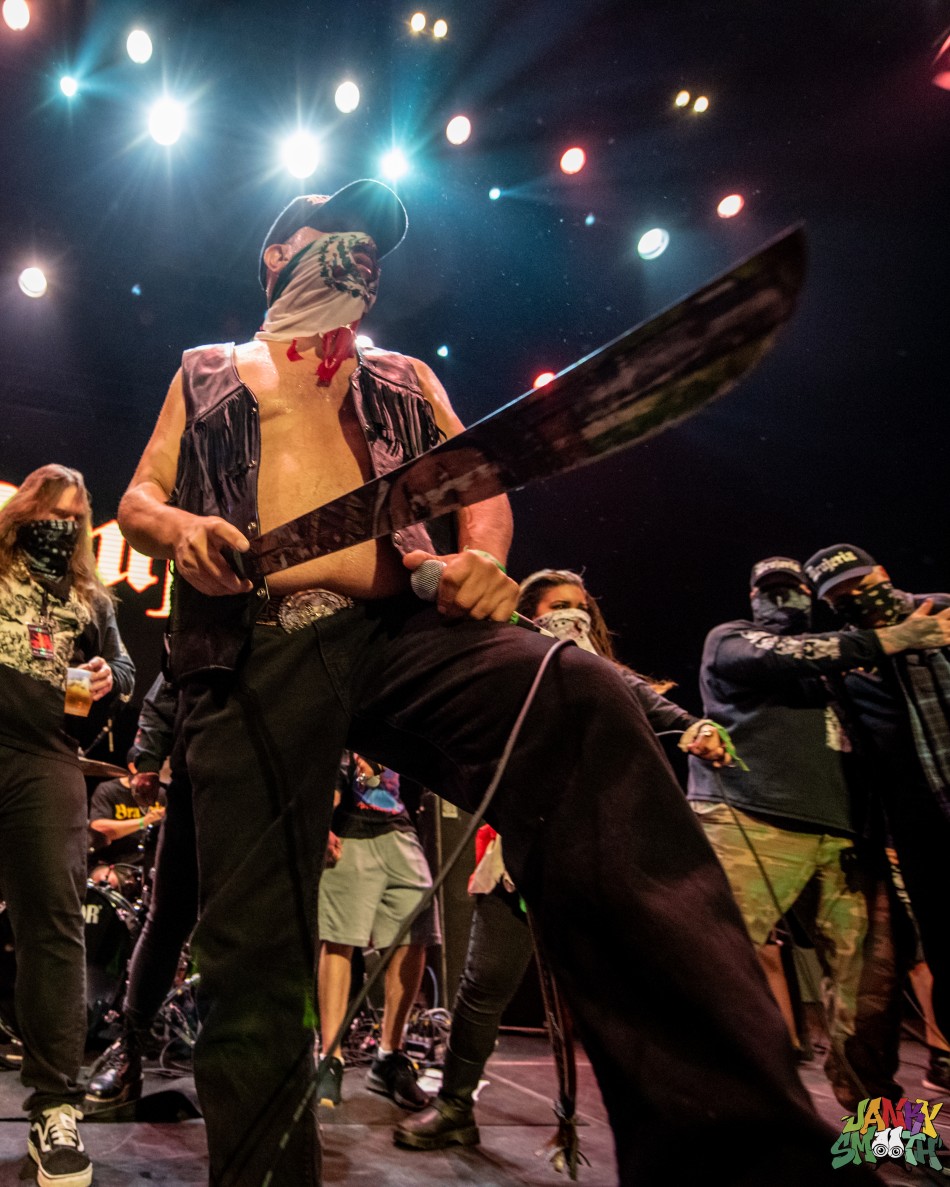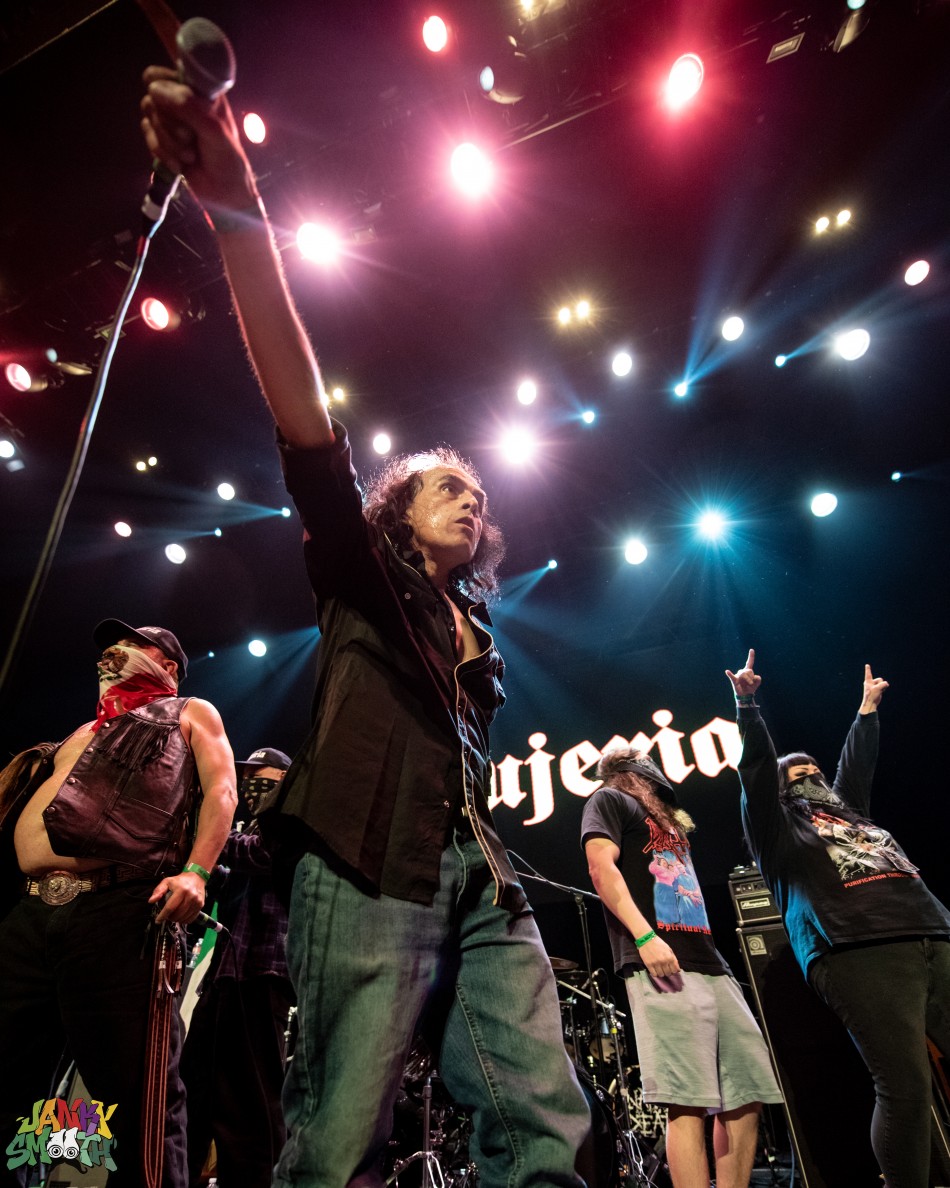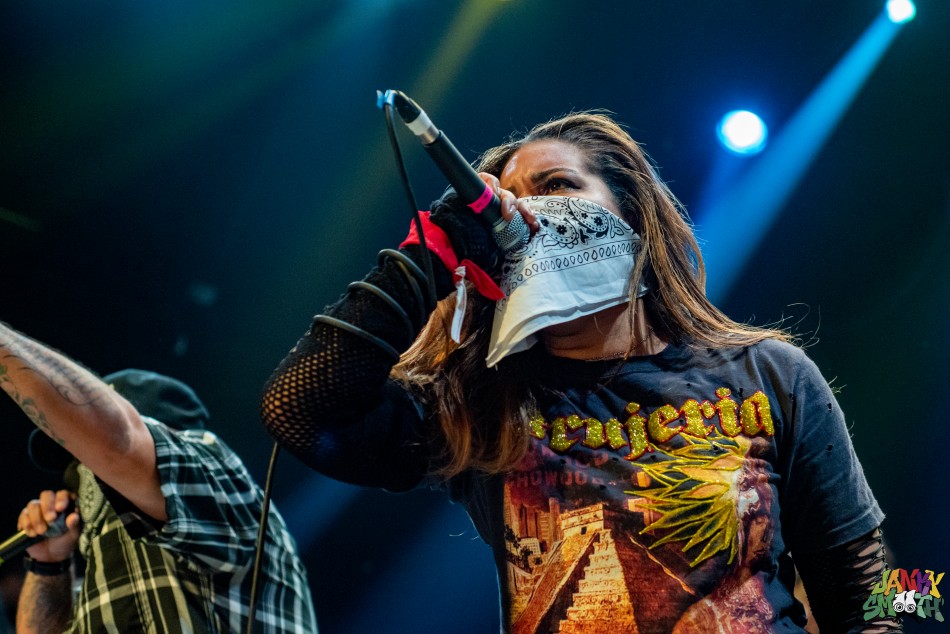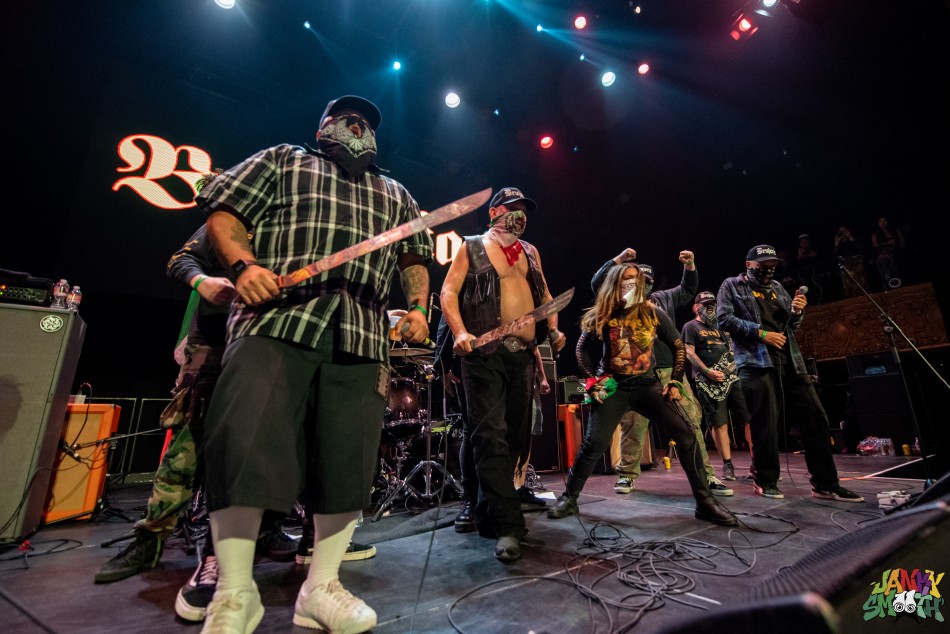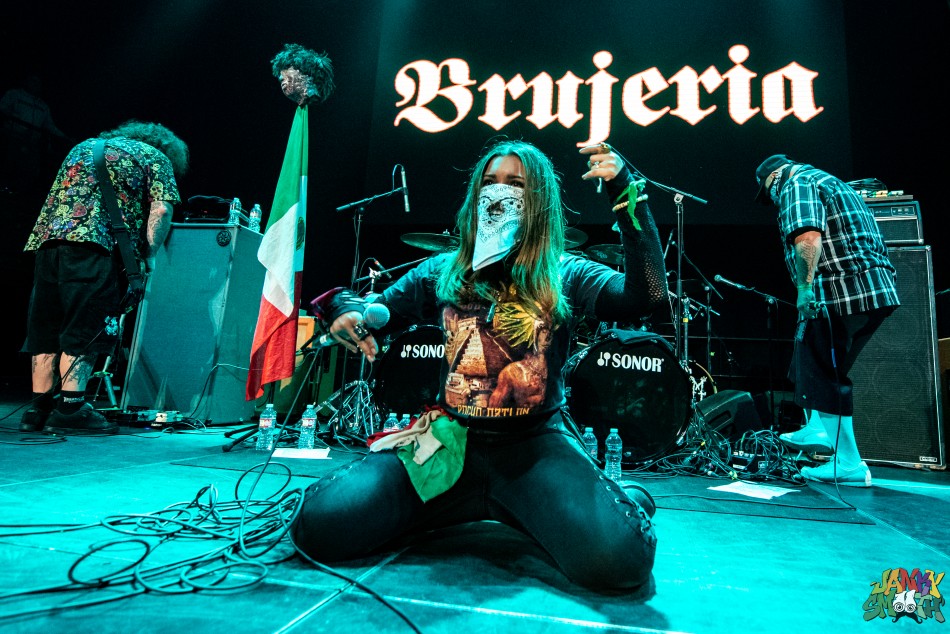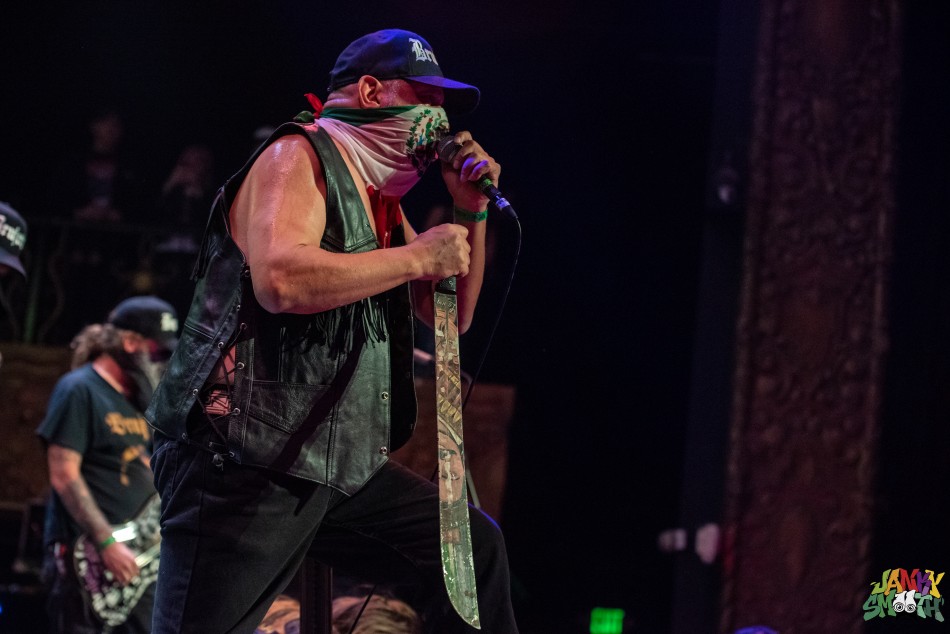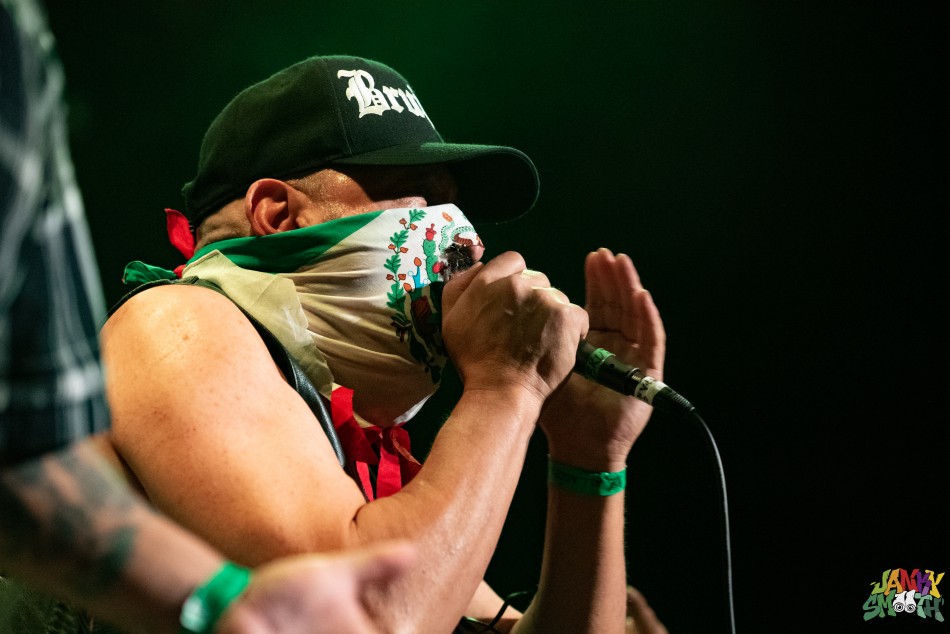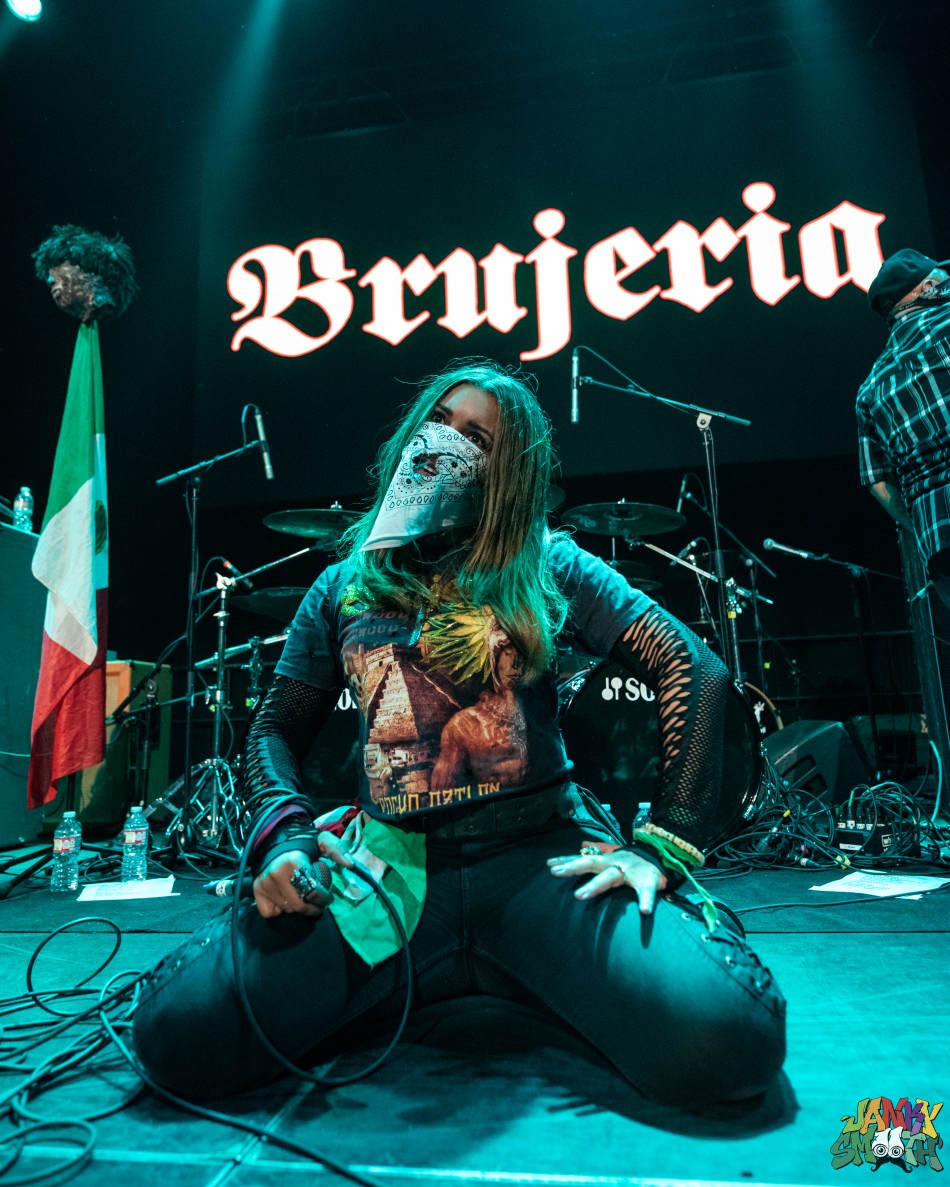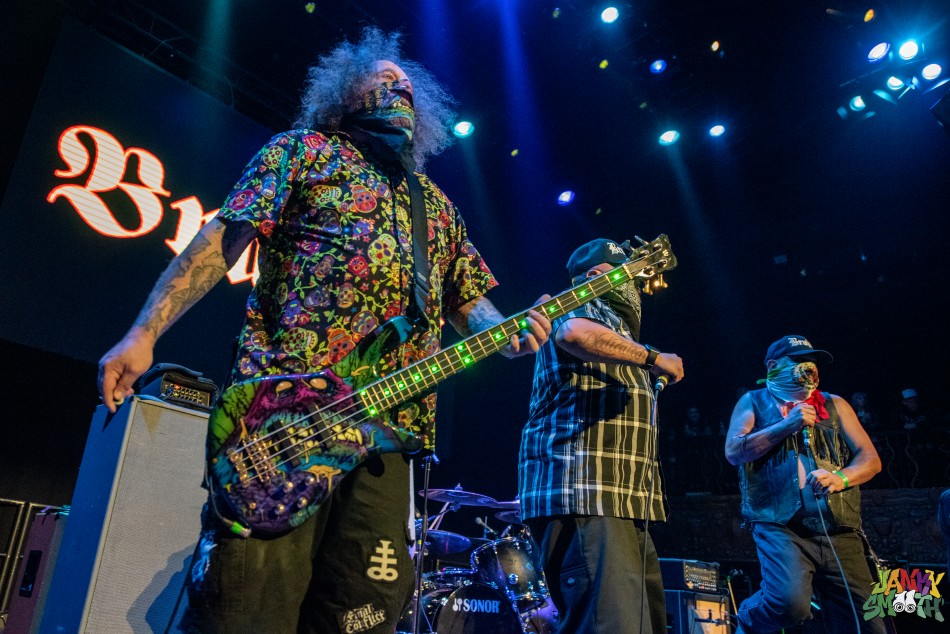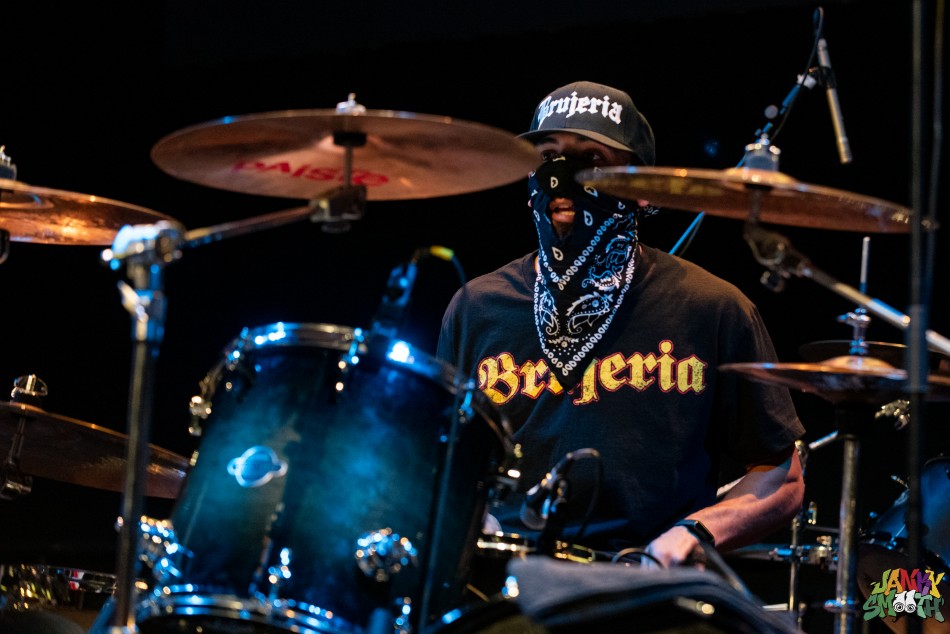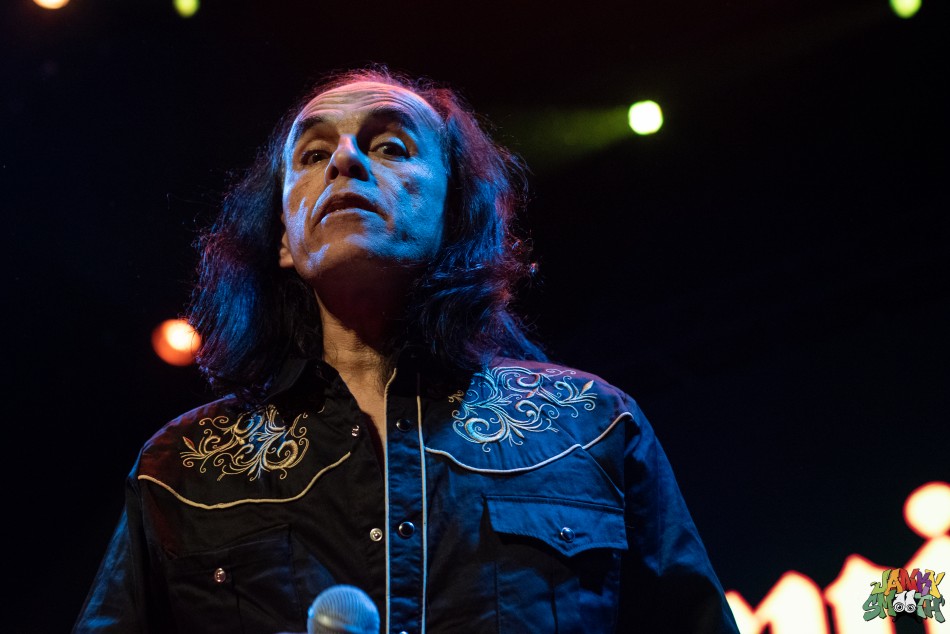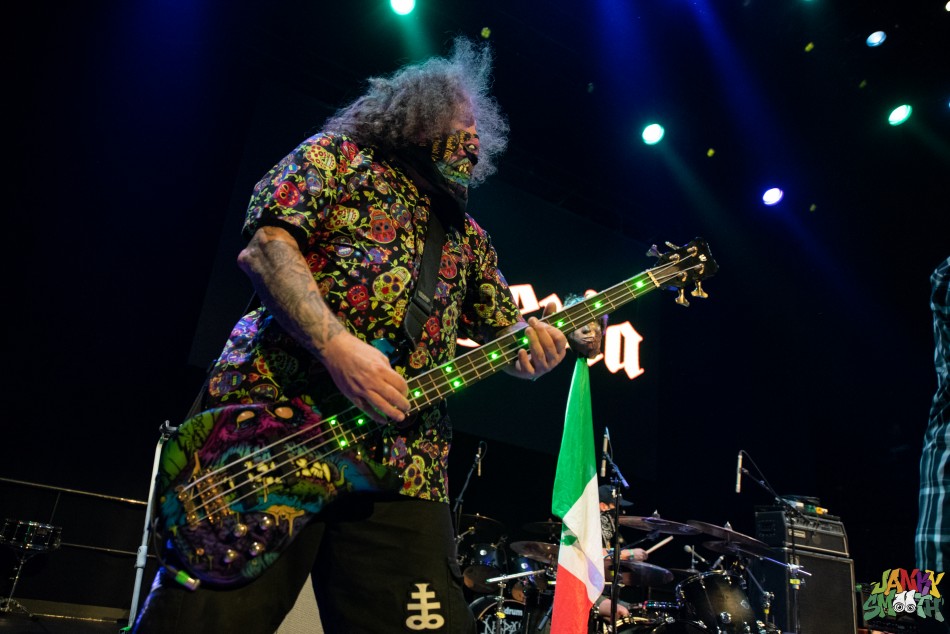 Cryptic Slaughter is criminally underrepresented when the 1980's thrash scene is reflected on by punk and metal fans. Cryptic Slaughter is in a strange spot as they are not as technical as thrash metal bands like Metallica or Slayer, but they also have a much heavier sound than thrash punk bands like Suicidal Tendencies. With the focus on bands that crossover heavily between genres on this lineup, their unique underdog status within thrash felt perfectly suited for the co-headlining spot.
Cryptic Slaughter's new vocalist Brad Mowen yelps a million words a minute in the rapid amphetamine-type of fury that thrash metal is known for, and his snarling punk character felt like a breath of fresh air from the downbeat screaming vocals from the rest of the lineup. One of Cryptic Slaughter's most distinctive aspects is their emphasis on short, catchy riffs during the breakdowns that inspire reckless dancing in the pit between the frenzied hurricanes of rapid noise. Original guitarist Les Evans absolutely shreds during his surprisingly experimental solos that completely transform the direction that each song is heading in, and this could definitely be seen most when they performed the psychedelic-sounding "Last Laugh" from their more avant-garde release Stream of Consciousness. Cryptic Slaughter may sound much more like a traditional punk band than Napalm Death or Brujeria, but they are just as explorative in their rebellion against following the expected standards within the genre.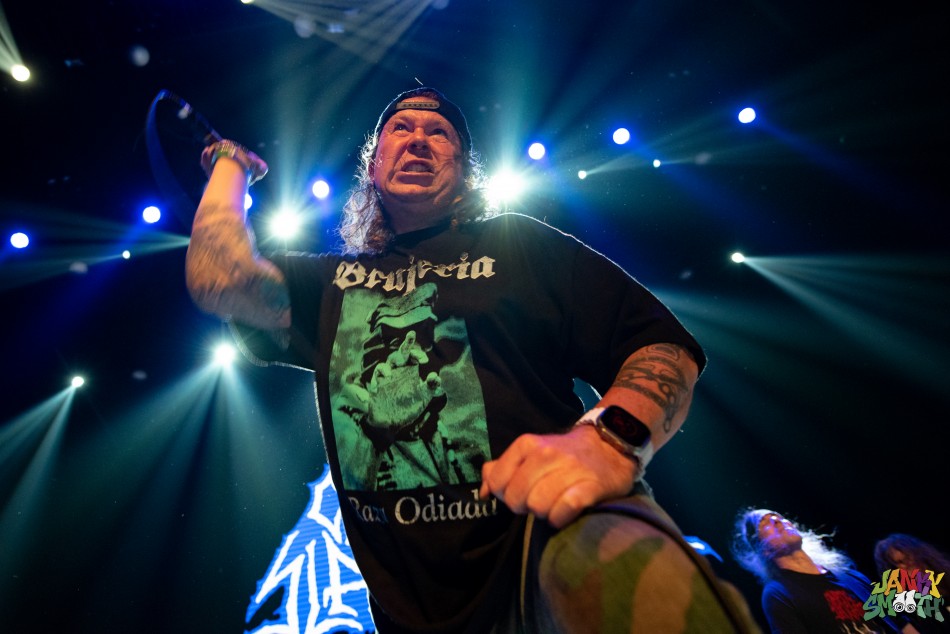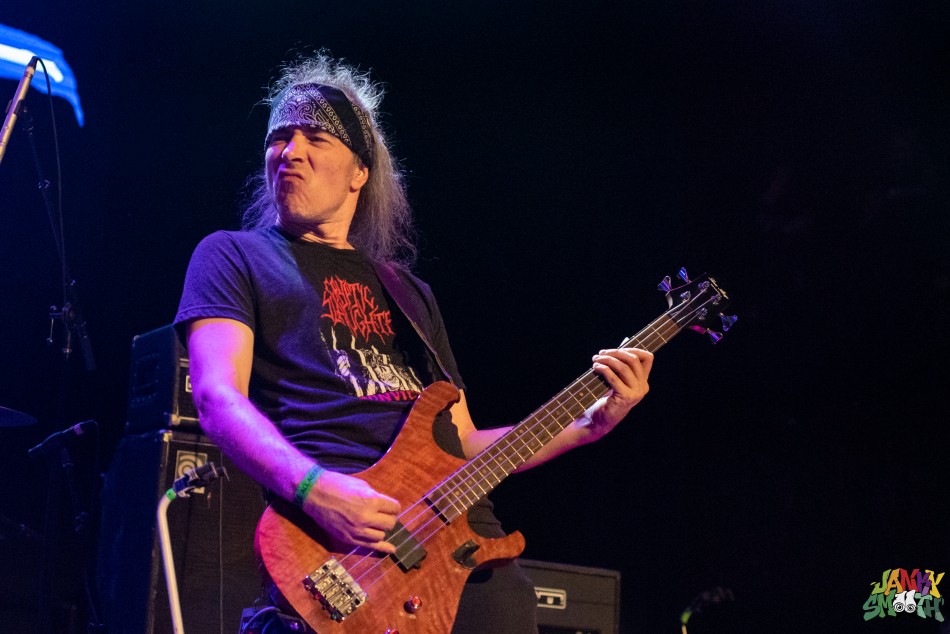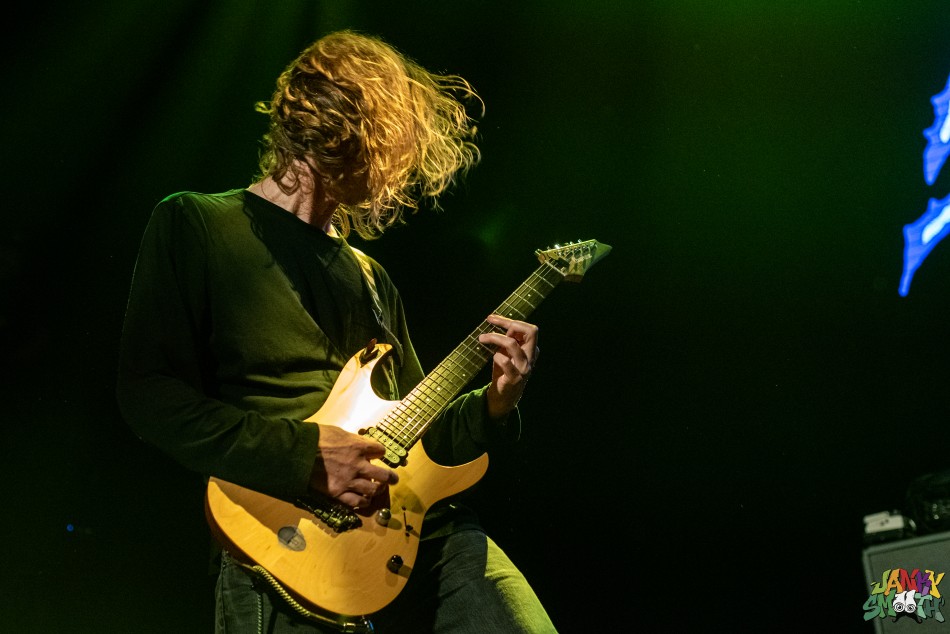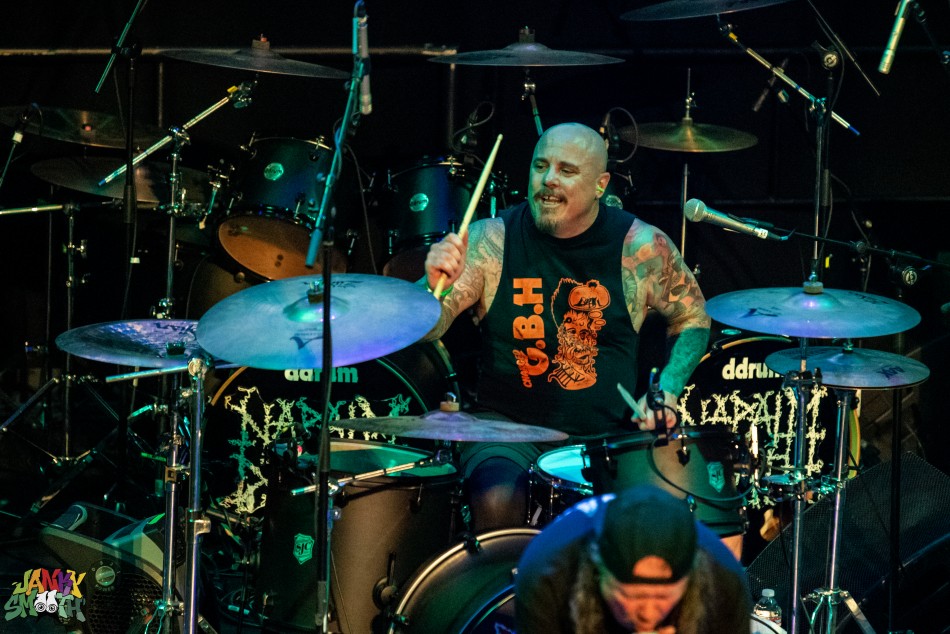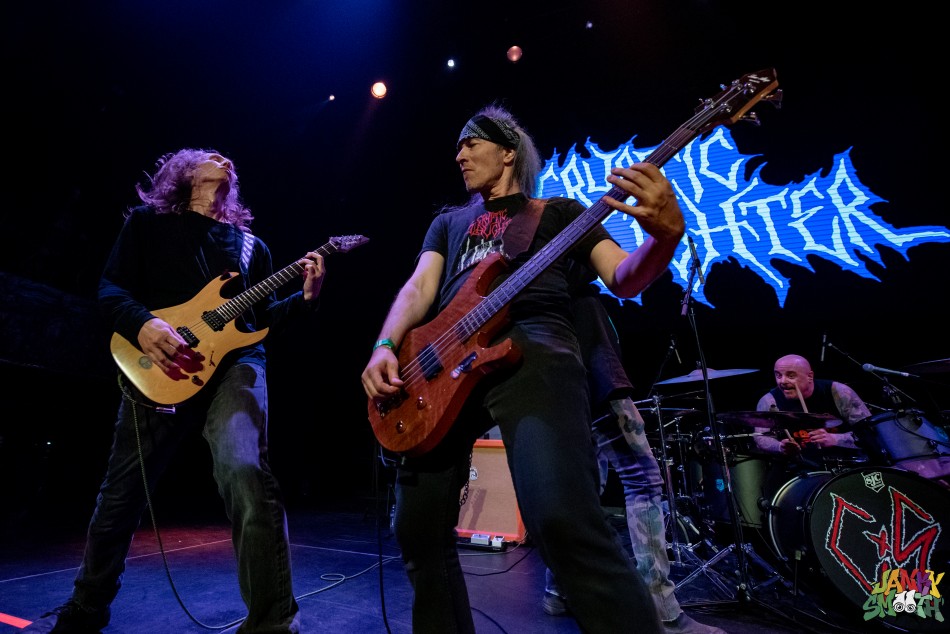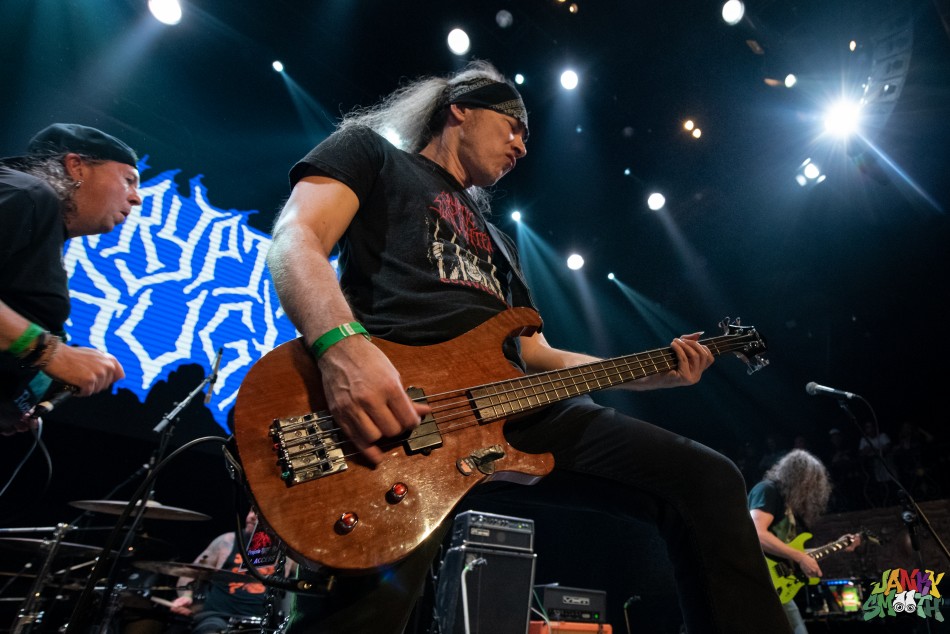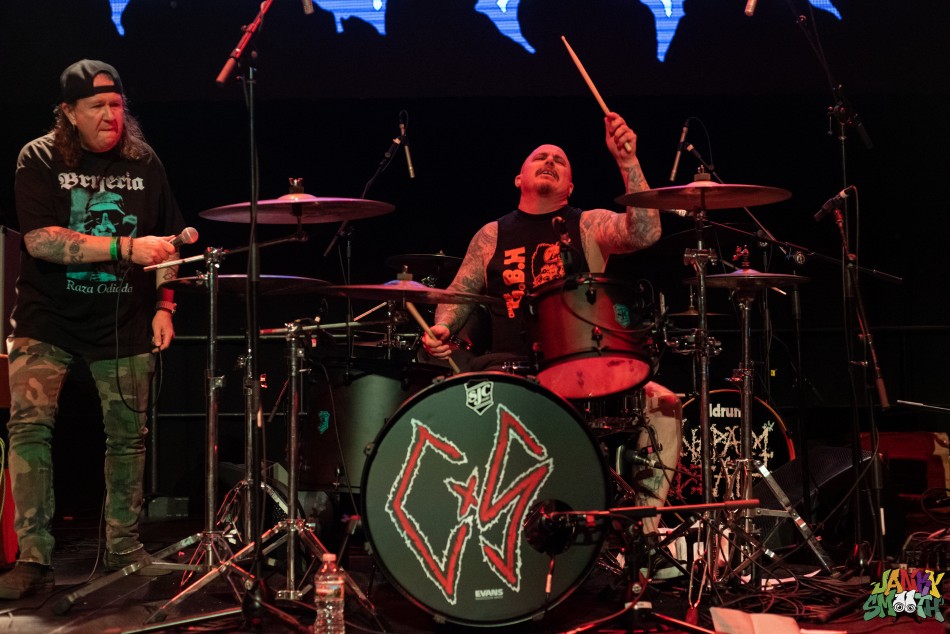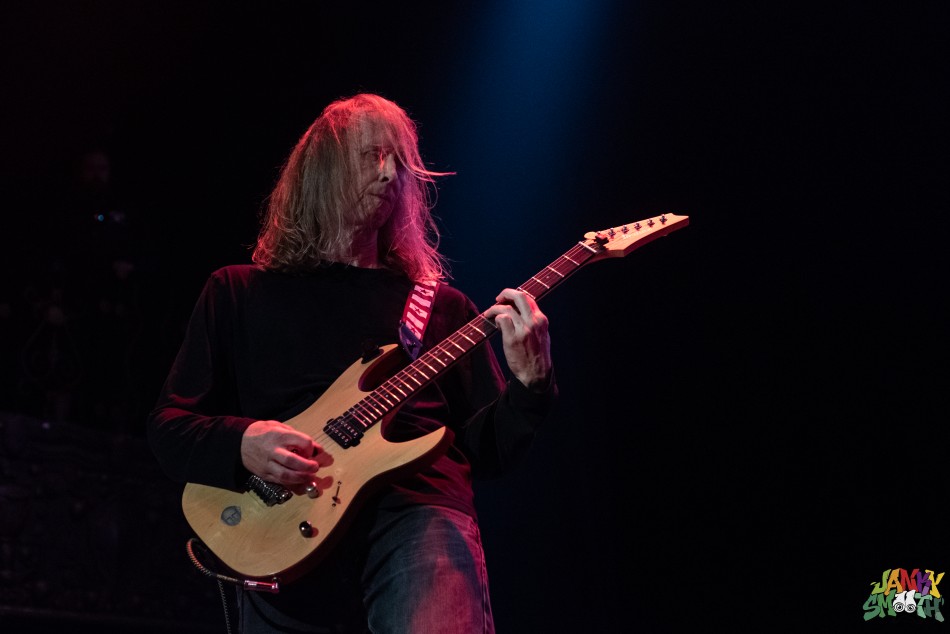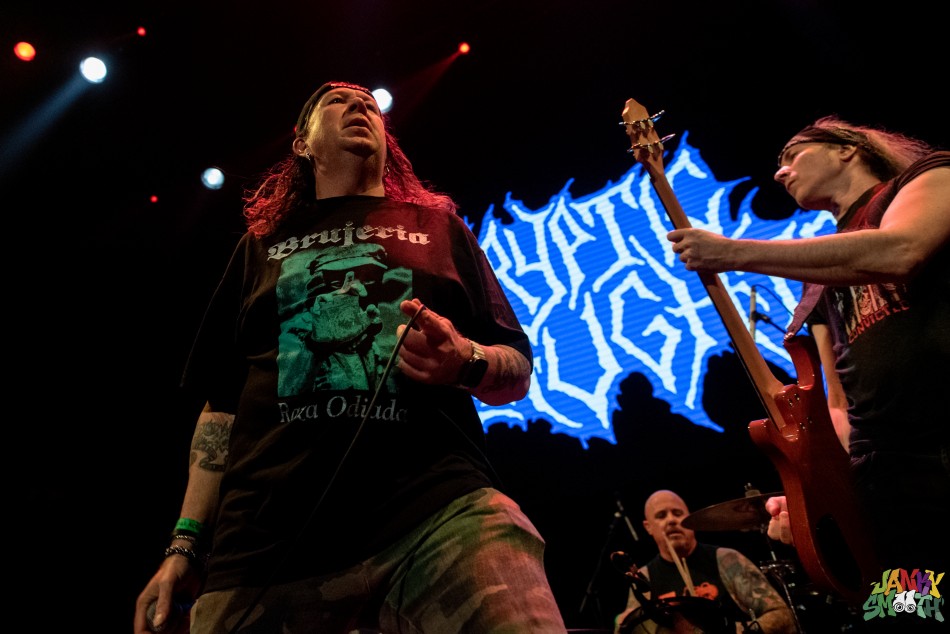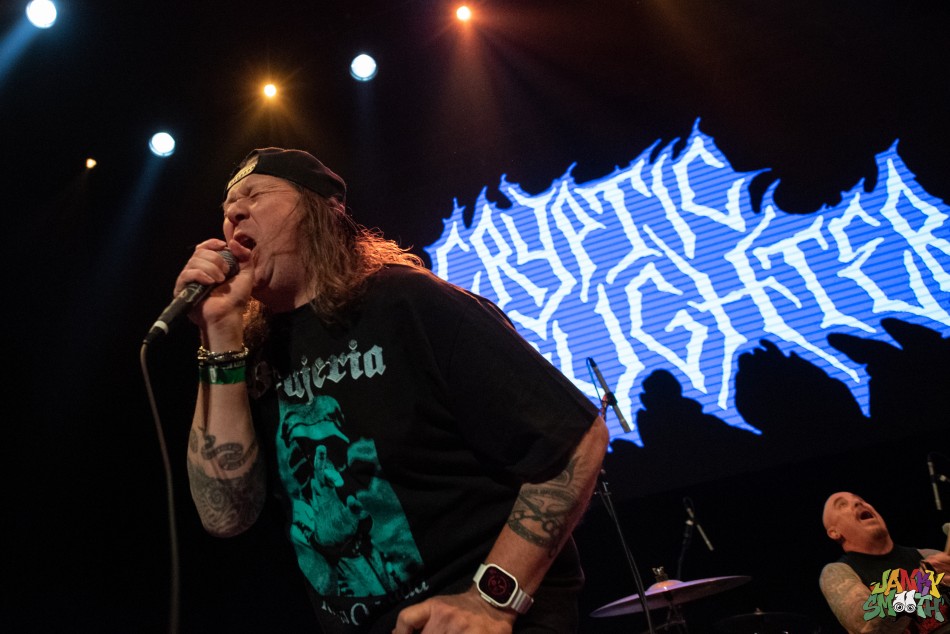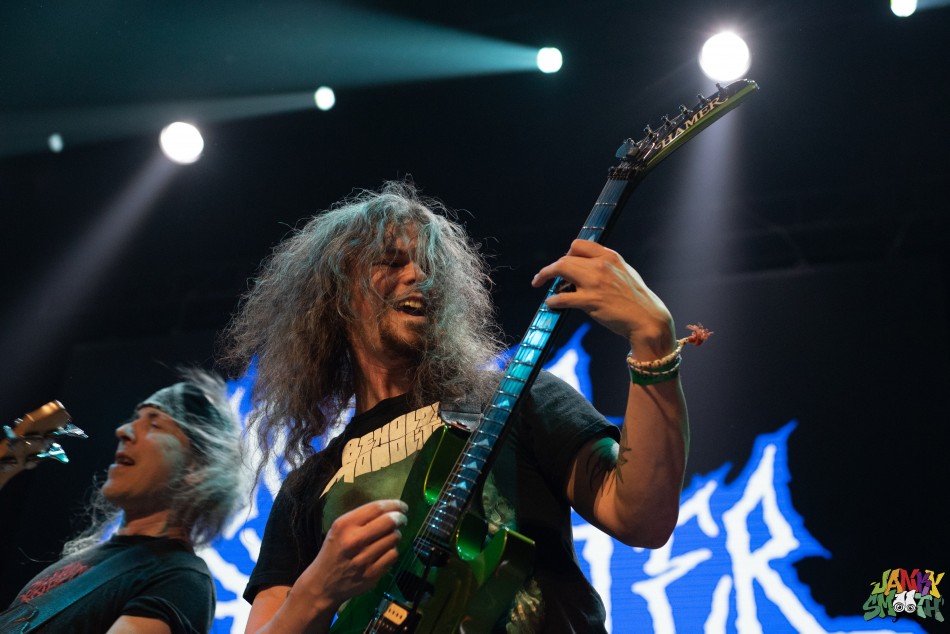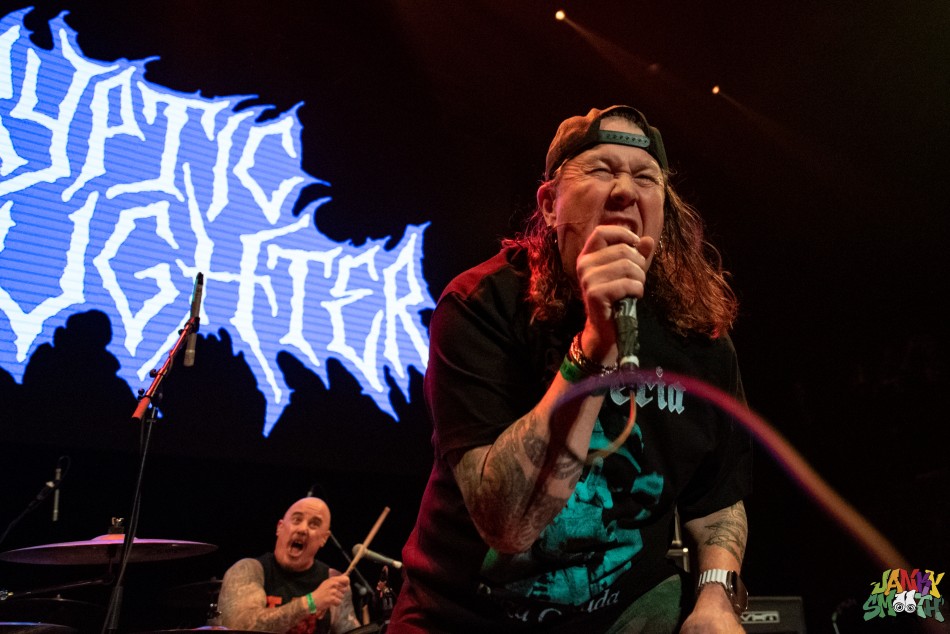 Although Napalm Death is mostly worshiped within extreme metal scenes due to being known as the founders of the grindcore genre, they actually resemble a classic hardcore punk band much more than any sort of metal band when performing live. Even with the growling vocals and noise-y feedback that fill each of their songs, their focus on short and rapid notes being played as fast as possible combines with their animated stage presence in a more rebellious and character-filled manner than the energy you'd find at most metal shows. The avant-garde nature of their experimentation with harsh noise elements is also much more an industrial than what you would usually find in either genre, however, so Napalm Death is the rare example of a band that really doesn't fall into any particular scene with how often they're breaking the rules of what is expected from them.
Frontman Barney Greenway may sound like a rabid dog wearing a muzzle as he screams over the blistering storm of noise crashing into the listener at full velocity, but his demeanor when speaking between songs is completely different as he speaks with a much more composed British accent while speaking about current sociopolitical issues. Greenway passionately spoke on topics like immigration reform and abortion rights, and it was apparent that he found the importance in having these conversations with the American audience who are dealing with these battles directly. Although many grindcore and powerviolence bands tend not to take themselves this seriously in order to focus on playing as spastically and rapidly as possible, Napalm Death takes full opportunity of their legendary status within the genres to speak for the punk rock ethics that were instrumental in building the scene they created.
One aspect of Napalm Death's set that I was very shocked by is how much influence from industrial music and post-punk that can be found in their later material, with melodic harmonies sprinkling themselves throughout tracks as refreshing breaks from the onslaught of harsh noise. A major highlight of the set was when Napalm Death announced that they would be performing a cover from their friends in the Dead Kennedys before breaking into "Nazi Punks Fuck Off", with more people in the crowd singing along than any of the other songs performed that night (most likely due to the growling vocals of their original tracks being so hard to understand). The clear intention of the cover choice was not lost on the audience, as it could not have been a better fit for the sociopolitical speeches directed towards American culture that Greenway was giving throughout the night.
After playing over 30 songs of ferocious chaos, with many of them being under a minute long, Napalm Death announced they would be performing their last song of the night with all of the members from the opening bands joining them on stage as a last hurrah. Considering how many members are in Brujeria alone, the stage was absolutely filled to its capacity with Barney Greenway barely having any room to skank animatedly around the stage as he did throughout the rest of the set. While Napalm Death may have been the headlining set of the evening, every band on the lineup played a crucial part in building the night into the defining celebration of punk and metal scenes that it was. It's rare that fans of these genres get to see a lineup that crosses over so heavily between the two, and Napalm Death could not have represented the history of this relationship more effectively.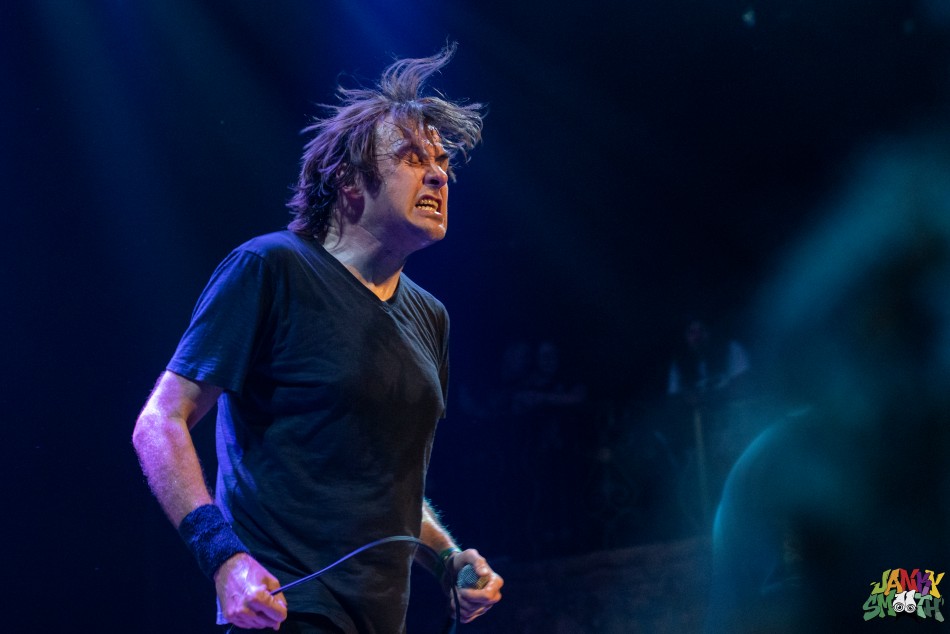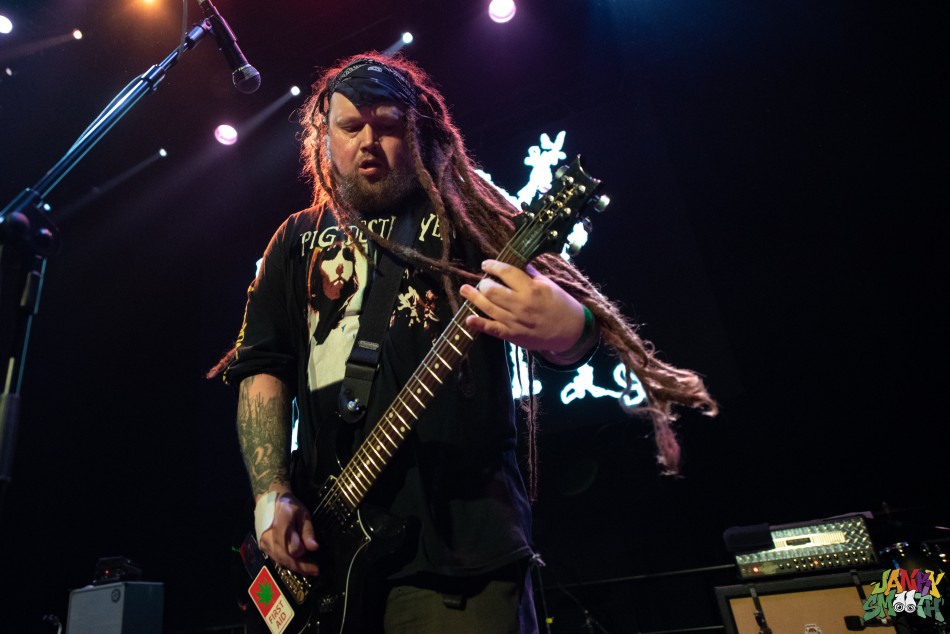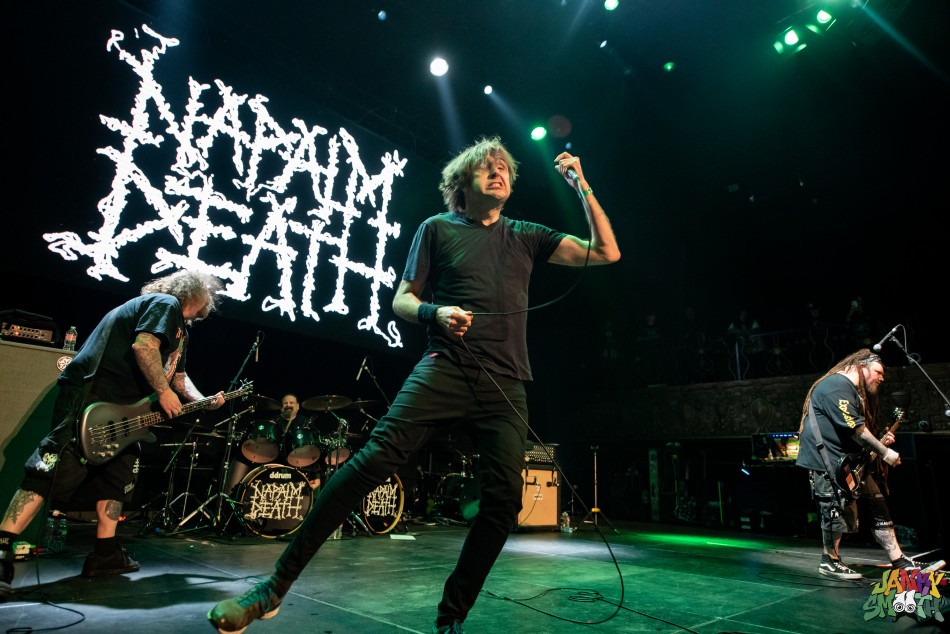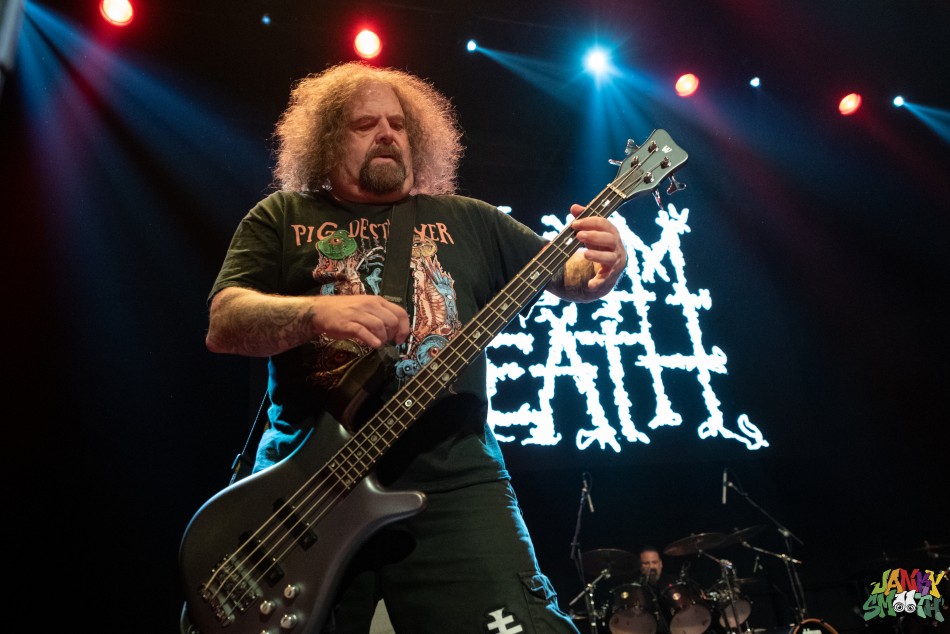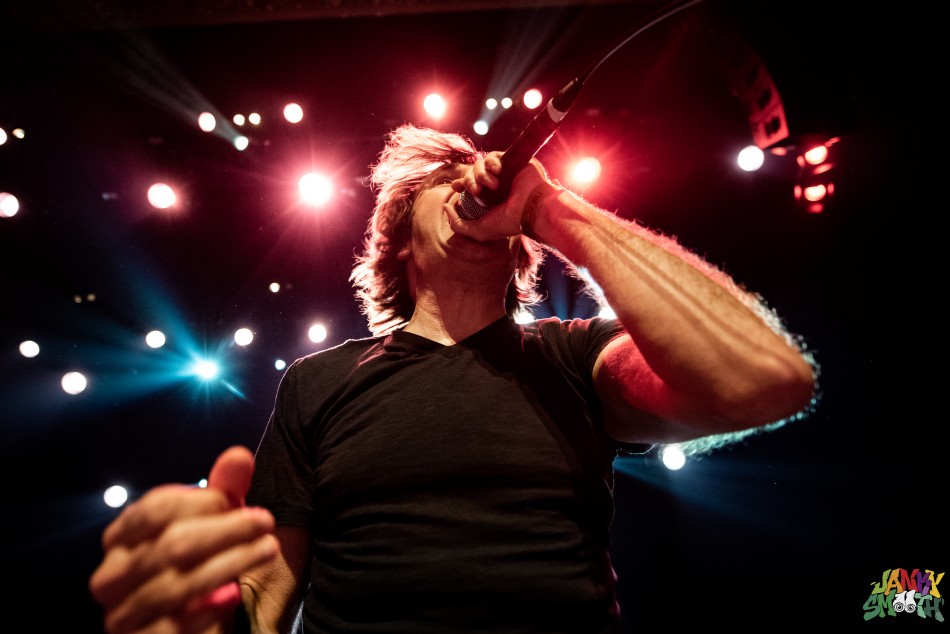 Words by: Danny Ryan
Photos by: Albert Licano