Folk Sensibilities w/ Larry and His Flask & Flatfoot 56 at The Echo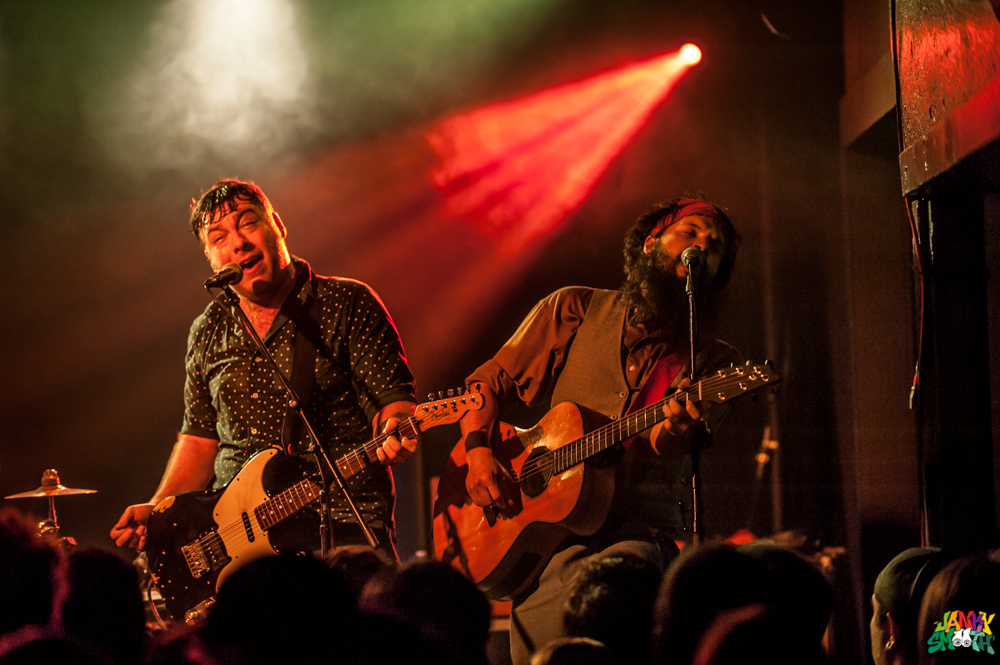 Larry and His Flask recently embarked on a tour with Chicago natives Flatfoot 56. While both bands differ stylistically, the light-hearted attitudes and instrumental diversity of both bands have served as key components in their compatibility. This is one of those line-ups where you aren't sure who should be headlining because they both have an equal amount of talent and clout. I had the chance to catch them on the Southern California leg of their tour at The Echo and I am certainly glad that I did.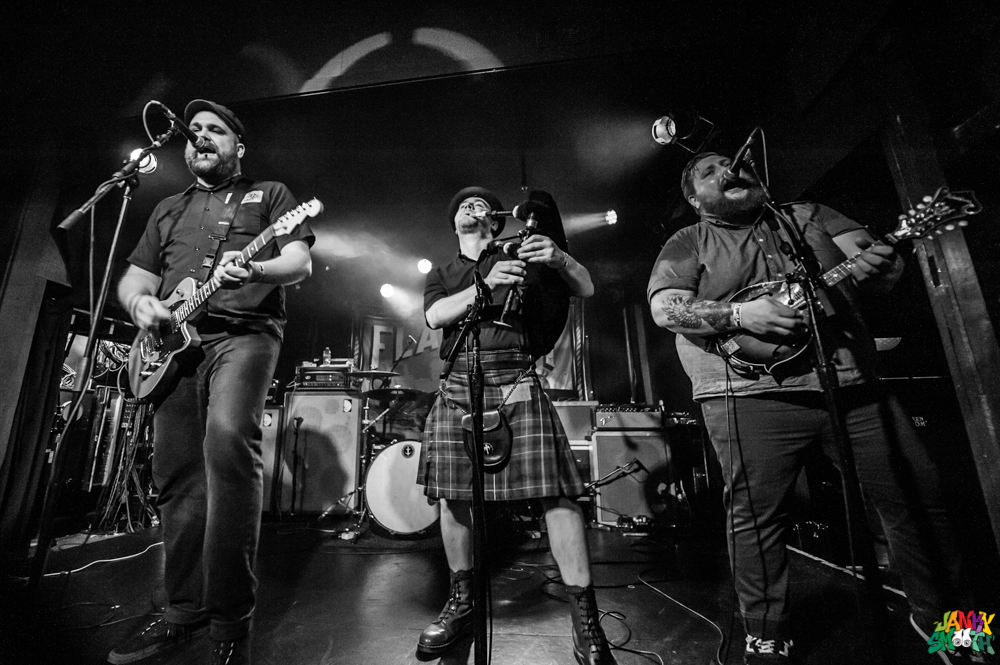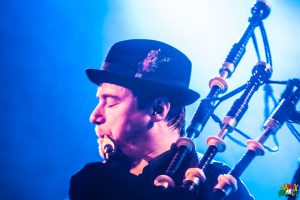 The show was an early one, and even though Flatfoot 56 had some serious issues with their tour van the day before, the show started promptly at 6pm, as scheduled. Generally speaking (from personal experience), when a gig starts that early, one could expect a light crowd for the opening bands. However, that was not the case for this show. I was pleasantly surprised upon arrival to see the ample amount of people that turned out early to catch their set; it speaks volumes for the fan base that Flatfoot 56 has built over the years.
Flatfoot 56 incorporates instruments like the mandolin and bagpipes, giving them a distinct Celtic sound with a serious punk attitude and energy. From their original tunes to their revved-up rendition of Albert E. Brumley's gospel classic "I'll Fly Away," Flatfoot's musical dynamic creates a jovial atmosphere that takes you to the little Irish pub in your mind, where you imagine yourself dancing and singing while wildly swinging a mug of ale. These guys never cease to amaze me and it's really no wonder that they have shared the stage with greats such as Cock Sparrer and Street Dogs.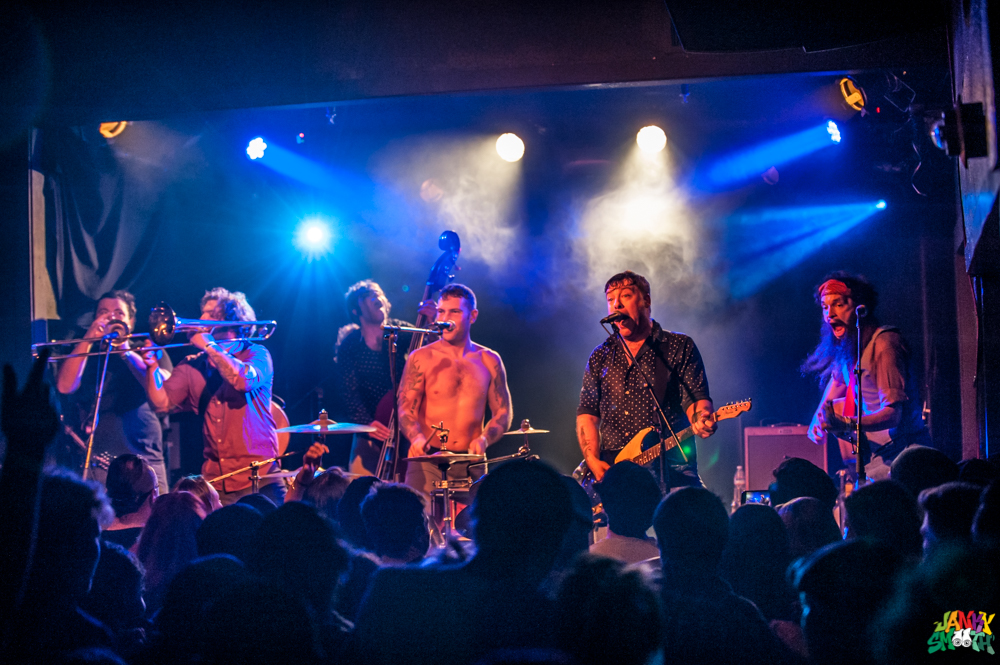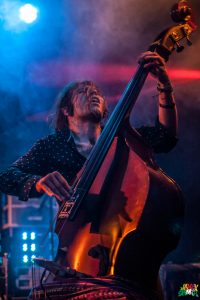 Hailing from Oregon, Larry and His Flask are a group of multi-talented world class musicians with busker-esk tendencies. Imagine hanging out at your favorite dive bar in the middle of nowhere, and these dudes pile out of a van and just start playing an impromptu set, such as what actually happened at The Mint in Bakersfield one time. Whether they are playing the Mint or large music fests such as Punk Rock Bowling, Larry and His Flask play with the same amount of fervor that has established their reputation.
With all of the gear and and members in the band, I was shocked that they were able to fit it all on the modest stage at The Echo. It's been about 5 years since that last time I've seen them play and I have to say, they have really progressed stylistically in the time since their first album.
The great thing about Larry and His Flask is that their style is as erratic as their stage performance. It ranges from Bluegrass, Folk, Gypsy, Jazz, Maritime, Punk, Ska, Lounge-style Vocals to even slightly Emo lyrics. It sounds like it should be a mess, however, with the sum of thier parts, Larry and His Flask just works. They push boundaries and navigate effortlessly through different styles, switching up their instruments as they flow from song to song. All members sing, including their drummer, who is set front and center and an upright bass player that shifts from picking and slapping his bass to eloquently playing with a bow, all while jumping around like a wild man. Other members switch from strings to brass and at one point even a tuba was employed.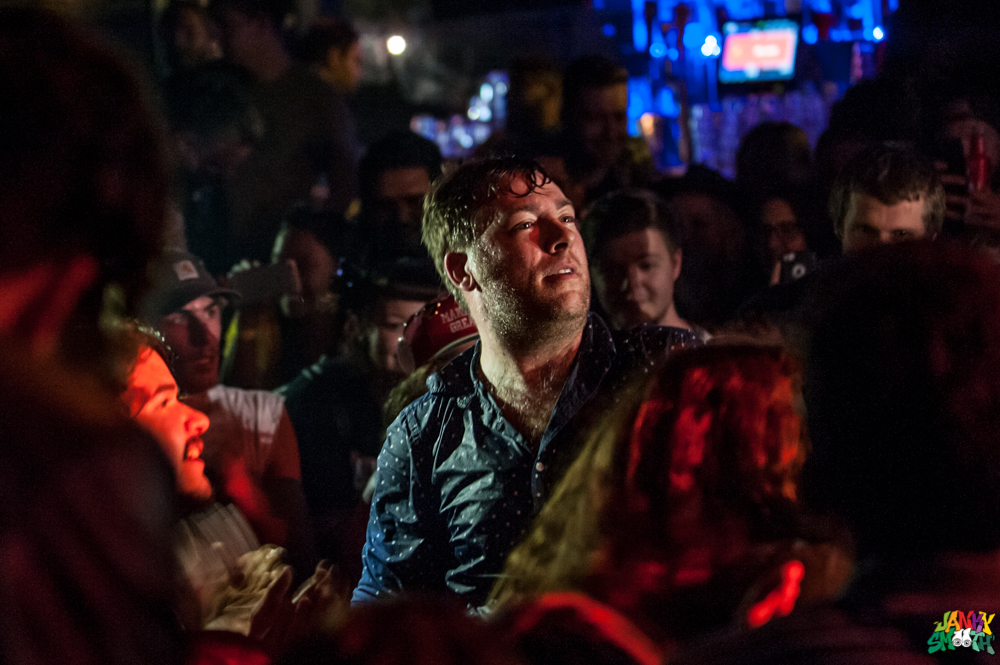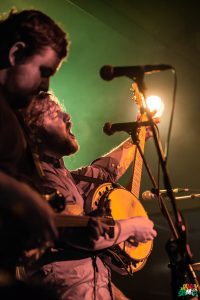 Towards the end of their set several members of the band descended into the crowd, their upright bass player hopped on the drums, and Aggrolites bassist Jeff Roffredo took over on the upright bass. Singer/Guitarist Ian Cook instructed everyone to get low. The crowd dropped to the floor and Ian stood in the center of the room with a huge smile on his face, surrounded by sweaty fans as the band constructed an epic instrumental build up. Just when the song peaked the crowd jumped up from the ground, singing and dancing along with arms raised to the ceiling. That easily could have been the end of the set but Jamin Marshall announced that they had one more song and made a remark about how encores were not really so much of a thing these days, however for everyone's satisfaction, they would leave the stage just before they play their last song. Larry and His Flask leaves me with a feeling like, "what the hell did I just experience…?" every time I see them, but in a good way!
If you ever get the chance to see them in a town near you, I wouldn't sleep on it. Just an FYI, they will be playing the Muddy Roots Festival in Cookeville, Tennessee this summer if you happen to be out that way.
Words & Photos: Jessica Moncrief