Detention With Danzig at The Montalban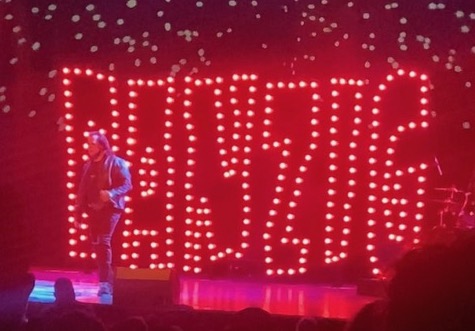 Still seething with bliss from the uproarious decadence of Danzig Sings Elvis at the Hollywood
Roosevelt on Devil's Night 2021, we set our ticket alarm and grabbed 4th row for our second
chance at seeing the dark King of Rock n Roll. Another historic Hollywood theater, The
Montalban was an odd choice but we, and a sold out crowd, were there for it. Parking was a
breeze next door and we stepped over the teenage, junkie living in the stairwell of the structure
and headed down to the theater.
The marquee was set with several, larger-than-life, close-up portraits of Danzig á la Elvis
headshots that served as photo ops out front of the theater and in the lobby, as there were
several reminders of no photography or recording inside the theater (more on this later…much,
much, more). The crowd poured in, many excited first-timers, a mix of black-leather punks,
leopard-print rockabillies, and even a few, tired, parents with their children. Let's be honest,
this was a predominantly over 40 crowd…which made it all that more confusing as to why we
were treated as though we were in trouble at a high school assembly.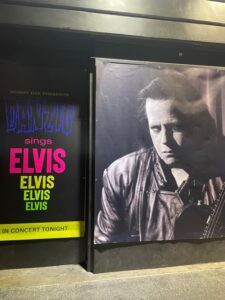 Between the emails, signs, and repeated loud speaker reminders, it was abundantly clear that
no one was to take photos. However, once a novice cellist appeared on stage, playing
unrecognizable notes that we guessed were to be Elvis songs, one by one people began texting,
scrolling and checking their emails. Like rabid dogs, the gestapo of security (who appeared to be
a gang of Venice sober dudes just out of prison) began harassing, growling, and Hulk Hogan-like
bullying anyone they could find with a phone on their lap. We actually never saw someone
trying to take a picture…just mom's probably checking on their kids and punk/Elvis fans trying
to stay awake through the poorly hit notes of a single, droning cello and being bored out of
their Crimson Ghost skulls.
The tone had been set so low and uncomfortable that we all had one foot out the door before
Danzig even came on. Once the "cellist" left the stage (who we learned worked with Danzig on
2019 horror film Verotika) a playlist of fun, delinquent 50s came on but by then it was too late.
We had been in a high school assembly, forced to sit through a cello recital, definitely
reprimanded and some of us probably sent to detention since we dare peek at our phone to
check the time.
It was a damn shame too because when Danzig finally did come out, his voice sounded amazing
and his banter was full of childlike sincerity as he fan-boyed through a set of Elvis classics and
several rare b-sides. Our punk rock crooner opened with "One Night", as he did at the
Roosevelt where the crowd went wild, yet the traumatized crowd at the Montalban just sort of
sat staring…afraid to move for fear of being yelled at by the army of men that patrolled the
aisles, pacing up, down, and around each corner of the theater. At one point, we almost alerted
security, thinking there was a drunk dude with a mad dog stare, looking for someone, ready to
fight, only to figure out he was security. A sharp contrast to the show onstage, Danzig lovingly
singing "Always On My Mind" with Shooter Jennings cheering him on in the wings.
Halfway through the show, as couples began to leave early, a woman with a clipboard appeared
and asked if seats were open as she quickly jotted down notes on her paper. Were those who
left early going to get a letter of disappointment in the mail? The high school assembly vibe
carried on. There were so many distractions at this show, if it weren't for the album, I wouldn't
be able to even give you the setlist. A friend in the balcony let us know that during "Fever", as
Glenn truly sang beautifully and captivatingly, the cell phone hounds encircled and threatened
a grown man with a taser if he didn't stop texting. A taser, in a seated theater, of adults over
40.
The fear mongering loomed over the rest of the nite and after a deep and haunting version of
"Lonely Blue Boy" (made famous by Conway Twitty but originally recorded by Elvis under the
title "Danny"), we made our way to the lobby for a breath of fresh air and freedom from the
hall monitors, I mean security. As the sweet notes of "Love Me" poured out of the theater, we
decided to do just that and leave. Nothing sounder sweeter than freedom from the prison
inside that theater. We'll let you know if that letter of disappointment shows up and if Danzig
tries this again with another promotor…because this time around gave more Jailhouse Rock
than it did Burning Love.
Words: Vanessa Burgundy
Photos: Will Never Tell