A Chat And A Dance With The Mummies at Alex's Bar 23rd Anniversary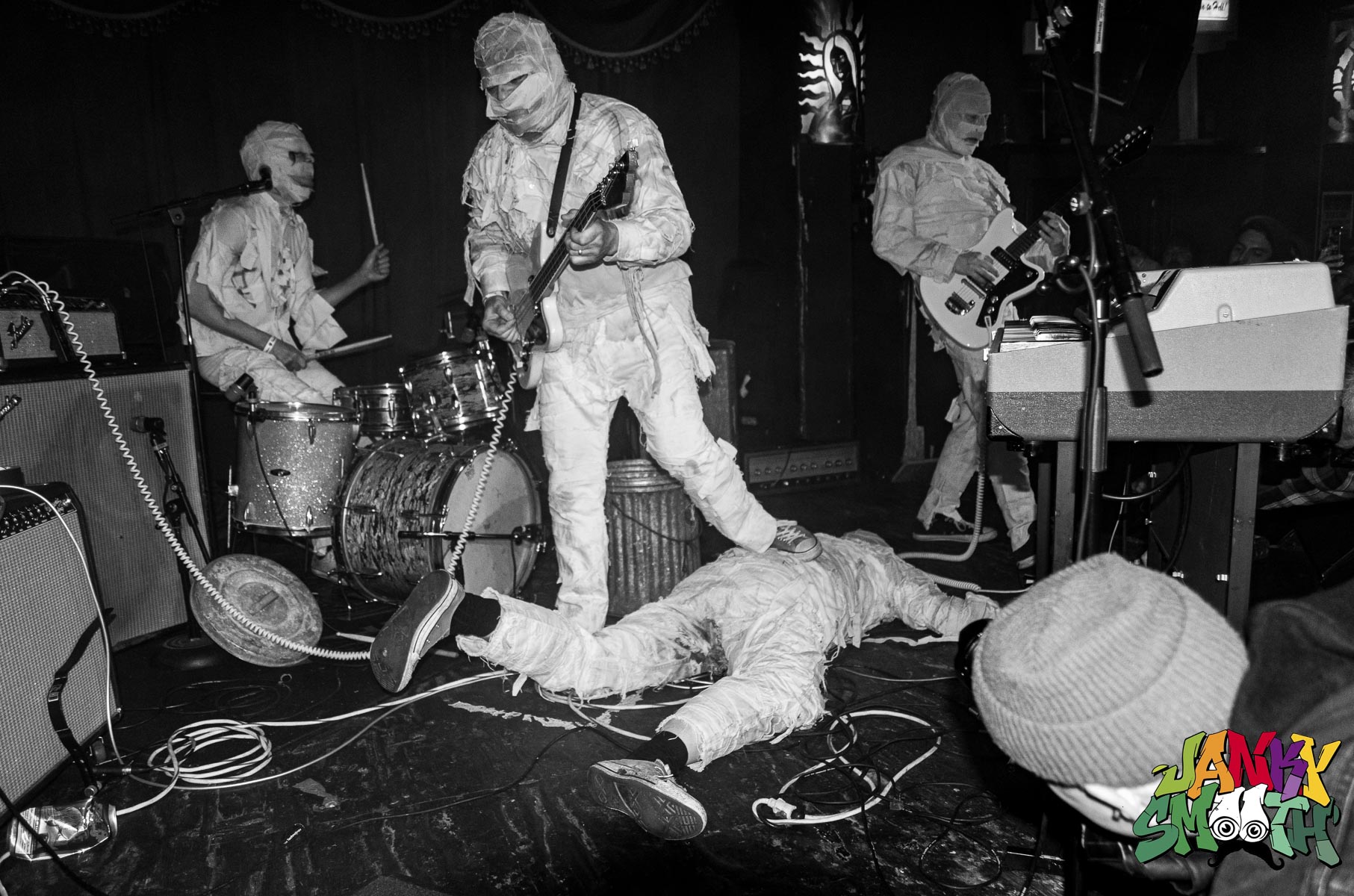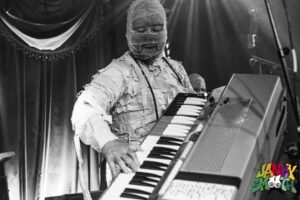 If there is one thing I always enjoy, it's a low budget rock shit show and there is one band that always delivers: the Mummies. And here we all were for 2 nights of the Mummies for Alex's Bar 23 year anniversary.
My own history with the Mummies goes back to the time of the pyramids when they played the community center in Costa Mesa with the Dickies,The Muffs and the Mono Men back in 89 or so. The Mummies were first or second on the bill. They got through most of the first song before the technical and other difficulties started. First the organ stopped working, then a fist fight ensued between the Mummies on stage, but someone somehow got the organ to work and they belted the now classic song, "She Lied". A few seconds into the third song, Trent lifted the organ up over his head and tossed it on the floor and it was broken again, and they were subsequently yanked off the stage. The rest of the show turned into a drunken takeover of the community center with security abandoning the last half of the Dickies' set and calling the cops. But by the time the officers came in, the show was over and everyone left very peacefully. Good times.
When I heard the Mummies were playing at Alex's Bar two nights in a row for Alex's Bar 23rd anniversary, I knew I had to go and do the impossible: score an interview with the true pharaohs of lo-fi. I was warned by Trent that the Mummies are notoriously bad at interviews. But I retorted I was notoriously good at it. so it should even out. I tried to combine it with a bit of a review of the shows.
Words, Interview and Photos: Dick Slaughter
related: Burger Boogaloo 2016: Bringing Rare Vinyl Back to Life For 7 Years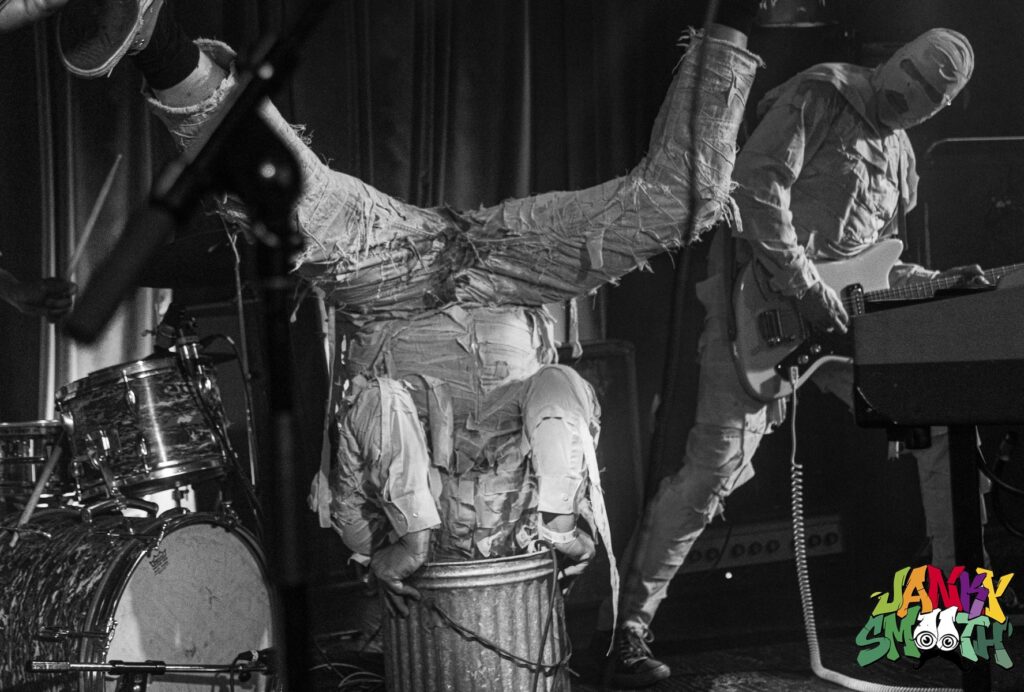 Are you able to walk around your shows without being recognized?
Trent: Yes. Did you recognize us ?
Yeah, I did but I know Russell from the old days.
Trent: Well I guess it's not working then. But Russell is easy.
How long have you and Russel been in the band?
Trent: Since 88.
What happened to the Ambulance?
Trent: We sold it.
Did you make money or lose money on the Ambulance?
Trent: We made money! Larry, we are astute business men.
Exactly. I noticed that you're in the pillowcase business and the band is much tighter now.
Trent and Larry: (in unison) Oh yeah.
I also noticed that you looked up in the air before you lifted up your piano over your head. Is that from experience here at Alex's?
Trent: No.Just generally a good idea.
How many pianos have you gone through?
Trent: This week or ahhh?
Yeah smartass, Mr. bad interview! I am going to make this work for you, Even though you refuse to cooperate and put on your mask so I have to look at you.
Trent and Larry: (laughing)
I would never out you with this video, but you know.
Trent: Oh I certainly hope not .
You never know, I guess it depends on if you sign my records or not.
Larry: that depends on if they are bootlegs or not
None of them are. I'm old. How long have you been in the band, Larry?
Larry Oh, since way back.
How far is way back?
Larry. Since 88.
Trent it's all the same people everyone is original
Oh really? Who knew? So there is a movie?
Trent. Yes there is a movie that is not quite finished yet.
Is this a tour?
Trent. no.
Are you going anywhere after this?
Trent. Home to bed.
Related: The Sonics Teach Garage Rock History 101 At The Observatory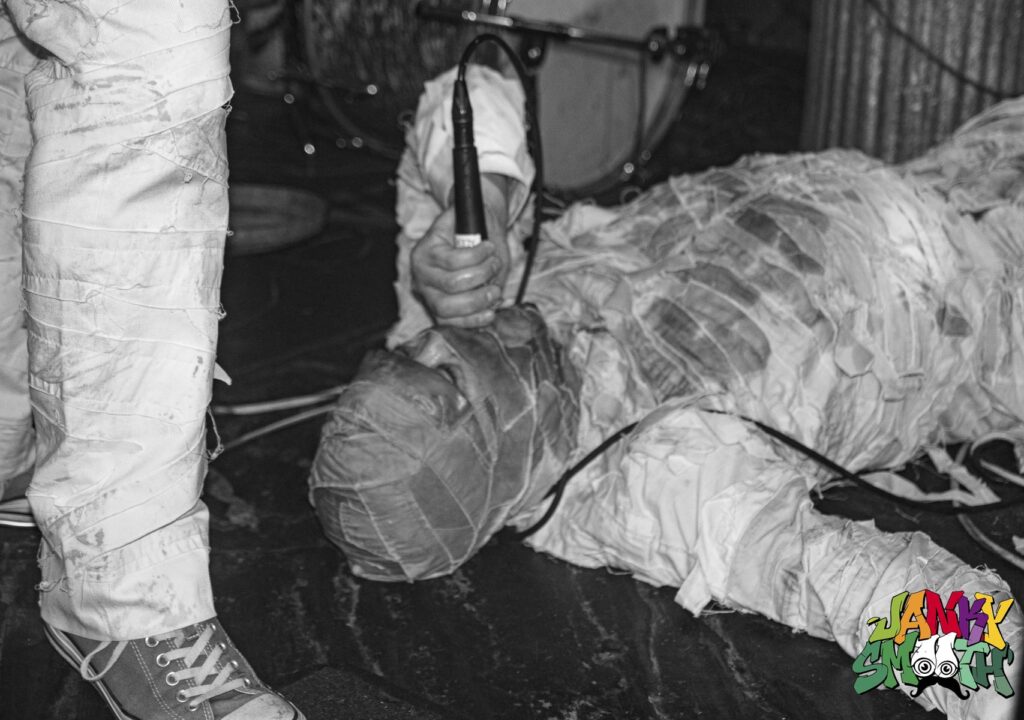 What is the worst show you ever did?
Larry. Last night.
Oh last night- that was a baby show.
Trent. Yea he is right. I think tonight will probably be the worst show ever.
Have you ever been to jail?
Larry: jail? you mean convicted?
Sure, Or just incarcerated? I mean I understand if you don't want to talk about it.
Trent: this week?
Just the last time for you smartass otherwise we will be here all day?
Trent. I don't remember being in jail?
Are you Lawyers or Mummies? Any new music you like right now?
Trent. Umm new music? (looking towards Larry)
What are your pronouns?
Trent, A lot of times people just call me motherfucker or asshole. But I identify as a sad fat old man. that is my pronoun fat old man,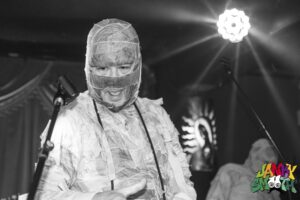 Do you like the new punks and the kids?
Trent. I don't know any! This is a different future than I signed up for. I thought we would have flying cars and shit by now but all we got was the internet
What was the last job that you had that you hated?
Trent. Being a singer in a band.
I ask that question so regular people can identify with rock stars and legends like yourselves.
Trent I know but this is a bad job.
I see, you do work hard, what's in the can?
Trent. Just water. Do you mean the garbage can?
Yes, smartass, the garbage can that you seem to go to the bathroom in during the show, you put your head in there. you drink from it. Where did you get the can?
Trent. I actually got it from Uncle Warren's house. It's a very nice can, it is vintage and he took very good care of it. I really like it.
I know how you feel. What is in your pockets?
Trent. My pockets? Larry. There is a hole! There is a hole in me pocket. Trent: Just my keys.
Lame. You guys don't have much of a web presence? I saw on your website it said don't look for us on facebook or twitter so I didn't.
Trent. Oh you found the webpage. I think if you go to the about page on the website that explains the whole thing.
When was the last time you washed those Mummies suits?
Trent: Washed?
Yeah, washed or got new ones. Not to call in to question your punk rock cred or anything. But they look cleaner and you got nice shiny guitars and amps. Everything sure is fancy, not like the old days. When Larry played his guitar on your organ. I couldn't help but notice you seemed a little upset and wiped down the scratches.
Trent: yeah that mother fucker was scratching it up. It is like someone keying your car.
I agree
Trent. He keyed my organ.
He certainly did. Why did you do that Larry?
Larry: it is a rental though.
Trent: You are a rental.
He has only been in the band since 88 I guess it is part time.
Trent: He is still on probation. I've got him on the layaway plan.
How did you guys meet? Did you meet up in the club? Did you answer a personal ad?
Trent: Most of us knew each other in high school.
Do you guys smoke weed?
Trent: No!
Are you in favor of legalization?
Trent: Yes. I just don't want to smell it.
Ok Dad, Well that is it. Thanks guys, I know you are busy with the pillow cases.
My records all passed inspection and were defaced by the whole band except Russell who was busy being mobbed by fans because he is too easy to recognize.
Saturday's show was much like Fridays. Alexs was stuffed to the rafters with senior citizens and influencers. Of course the boys delivered the goods both nights. With hits such as "Stronger Than Dirt", "She Lied", "Come On Up" and all the rest. There were girl fights, beer cans flying and mayhem. The only opener I caught was Thee Cormans on Friday with the highlight being a googly eyed monster playing the guitar with a buck knife while being relentlessly heckled by a hobo. I really thought a Tik-Toker was gonna get stabbed for sure. I couldn't think of a more fitting celebration for the 23rd anniversary of Alex's Bar. .