Rebellion Fest 2022: Punk Rock's Family Reunion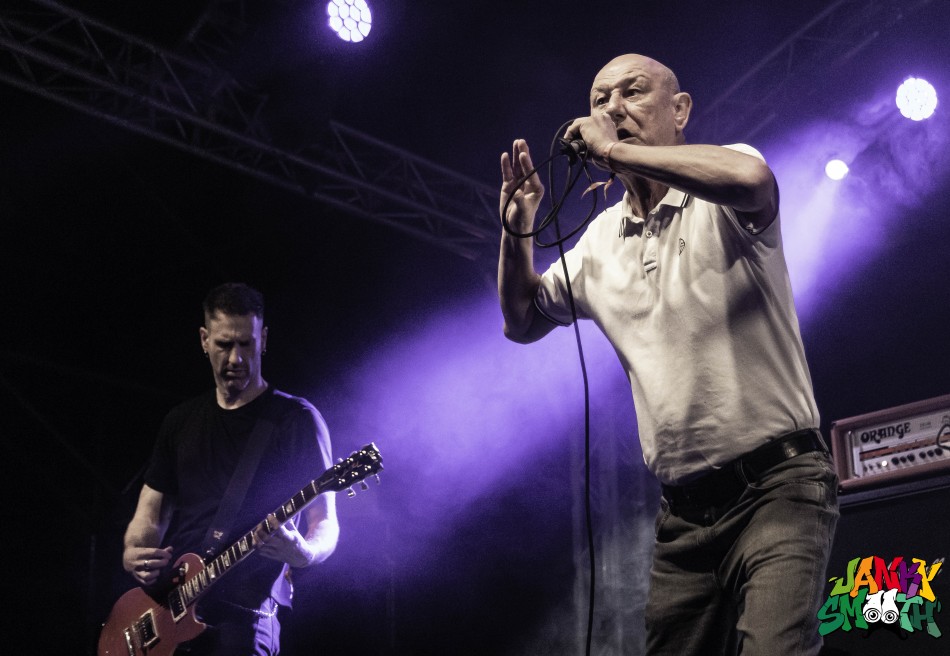 Words and Photos by: Dick Slaughter
People in the know say Rebellion isn't just a concert: it's a family, it's a journey, it's a bucket list item, and it's a life-changer. All of this is true, and everyone emerges from Rebellion with stories to share.
I missed the 2019 Rebellion Festival, then Rona killed 2020 and 2021, so I was beyond excited for this year's super-sized festival at the Winter Gardens and new R-fest, a giant makeshift arena just under the historic Blackpool tower on the beach to accommodate an even bigger crowd. Some fans held on to their tickets for 3 years, and with punks on their way from all over the globe, the expected attendance numbers reached over 15,000. The city of Blackpool was ready and waiting for us, fully stocked with beer and Buckfast.
I hopped on a train full of punks from London to Blackpool, and five beers, three hours and some new friends later, I arrived buzzing in Blackpool along with 15,000 other punks who seemed to have taken over the town. It was Wednesday, the day before any actual official festivities, and you couldn't go outside without seeing someone with a mohawk and a beer in one hand and a bottle of Buckfast in the other. Fathers and sons with matching mohawks and leather jackets, babies in tiny battle vests and moms with liberty spikes made this a true family affair. With kids under 12 being free and loads of family friendly activities in and out of Rebellion it does make for a great family vacation. Although I came to Rebellion to enjoy considerably less wholesome activities, perhaps next year I'll bring the grandkids.
It seems everyone in Blackpool loves Rebellion. I spoke with a woman on the tram on my way to the Winter Gardens on Thursday who was well into her 70's, who commented that Rebellion is always great for Blackpool and the punks are so nice. I arrived at the Blackpool tower and the R-fest grounds, which are huge and very impressive, and as I made my way to the Winter Gardens, the area was swarming with punks. You are allowed to drink on the street in the UK and it seemed everywhere you looked there was a punk picnic, everyone drinking and laughing. The Winter Gardens is a huge convention center and entertainment complex with 6 different theaters, plus countless bars, cafes and room for about 500 vendors. So you have to prioritize and catch what you can in between.
The first band I actually got to take in was The Warriors, an English Oi! band I'd never heard of before, but now, I consider myself a fan. Catchy, hard and fast that had that room moving. I then waited for Steve Ignorant's incredible Slice of Life. Slice of Life is not derivative of CRASS—the only thing they have in common is that Steve is one of the singers. It's kind of folky, kind of punky, kind of its own thing and definitely the perfect direction for Steve's work. The performance felt very intimate and spectacular at the same time.
I made my way back to the Casbah for the last 3 songs from ANTI-FLAG. They had a huge crowd and no one was leaving because the Circle Jerks were next. Southern California's own wasted no time and machine-gunned out 32 songs that just blew us all away. After the Circle Jerks, I ran down to R-fest for the LEVELLERS because how could I not? The R-Fest arena was completely packed. I couldn't even get close enough for photos but I stayed until the end and it was fantastic. The LEVELLERS never disappoint, always putting on great show.
I was back bright and early on Friday at noon for Migraña Social, my favorite hardcore band from Mexico City and they were fucking awesome. You don't need to speak Spanish to understand their music, it feels very universal.

After that was Tiger Sex. Singer Kelly not only crowd surfed while drinking beer from her shoe and serving it to thirsty fans, she climbed to the very top of the stage scaffolding, scaring the crap out of event staff. It was great.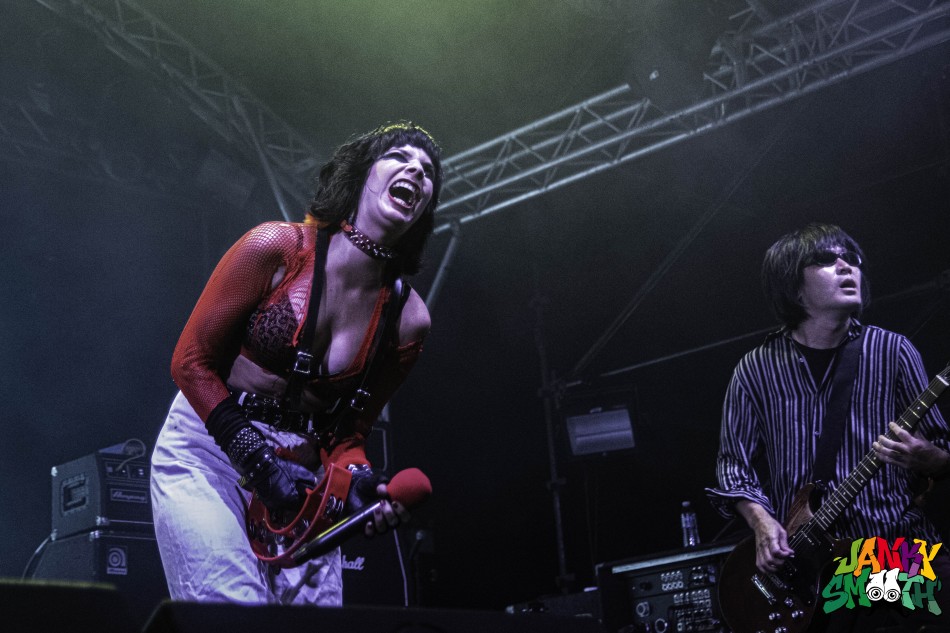 I then went to check out Booze and Glory, which was a rollicking, crowd-surfing, chaotic good time. Afterwards was Paul Cook's The Professionals who alway put on an excellent show. Next up was the SUBHUMANS: Dick Lucas had the crowd in his hand at every second with an extremely high energy performance. The whole room seemed to move in unison. Next was the big one for me—Steve Ignorant Presents the Songs of CRASS with Carol Hodge on female vocals. It was definitely the most emotional set of the festival, with crying, cheering, and a lot of people almost hypnotized, just transfixed on the stage with mouths open. It felt historic.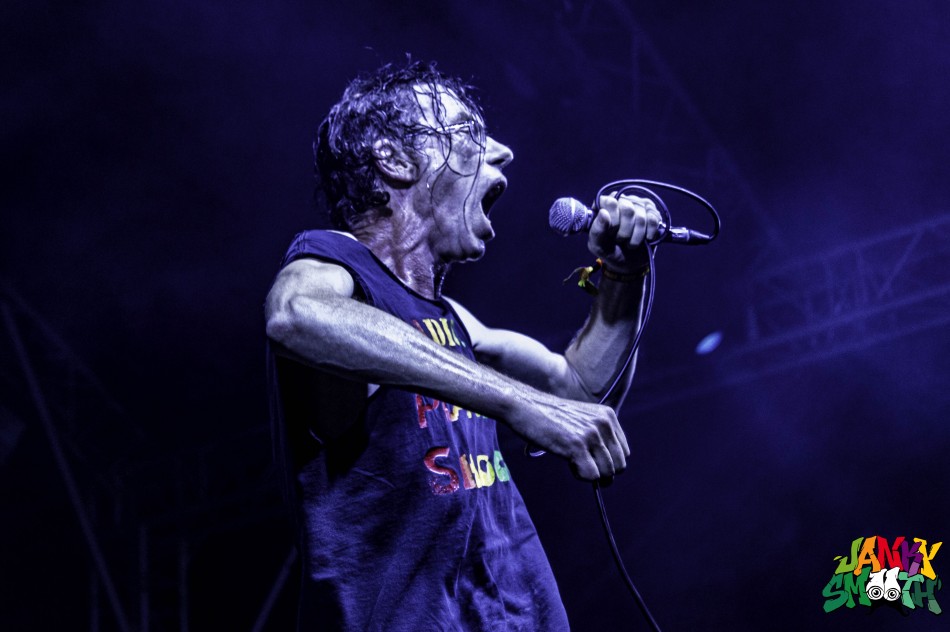 At one point, Steve brought up Jona (his life partner) in front of the crowd and said that without her, none of this would be possible and the entire audience cheered. I'll admit a tear came to my eye as well. I had a chance to talk with Steve and Jona, Charlie and Yuko of the Uk Subs, and a few other punk couples, and all the gentlemen echoed the same sentiment: the job could not be done without the women basically in charge of everything. So, I would just like to take this opportunity to say thank you. Your hard work does not go unnoticed.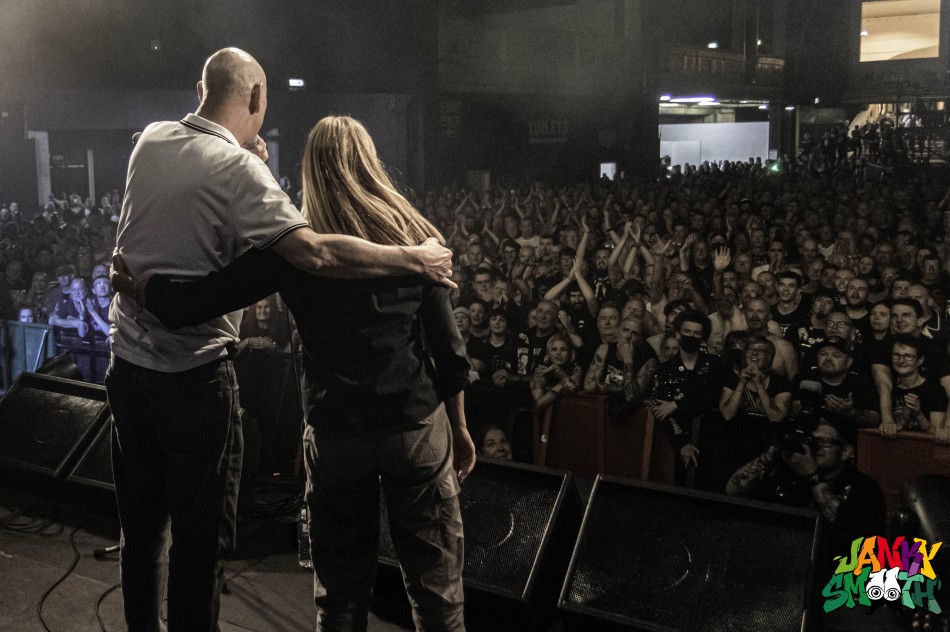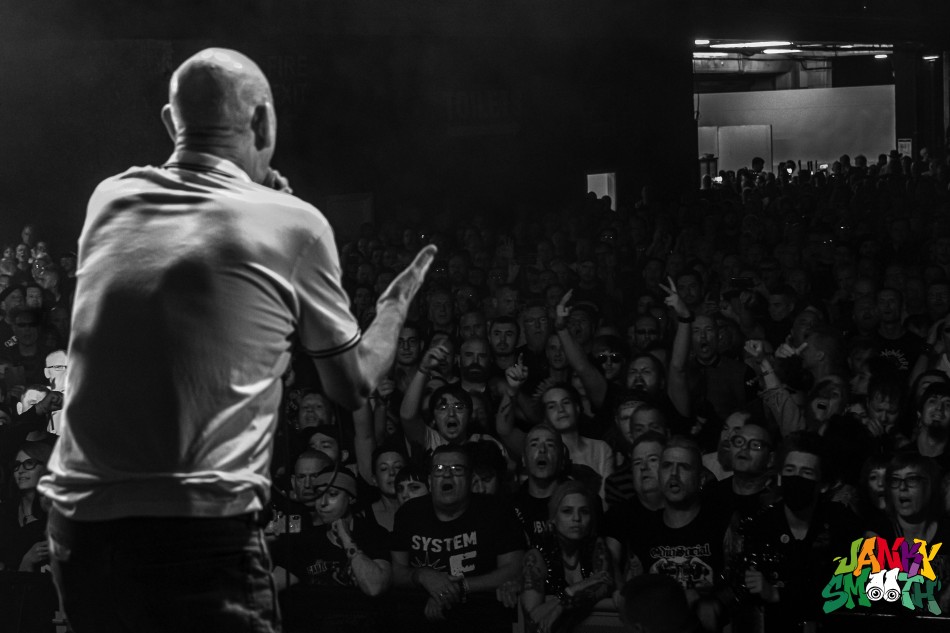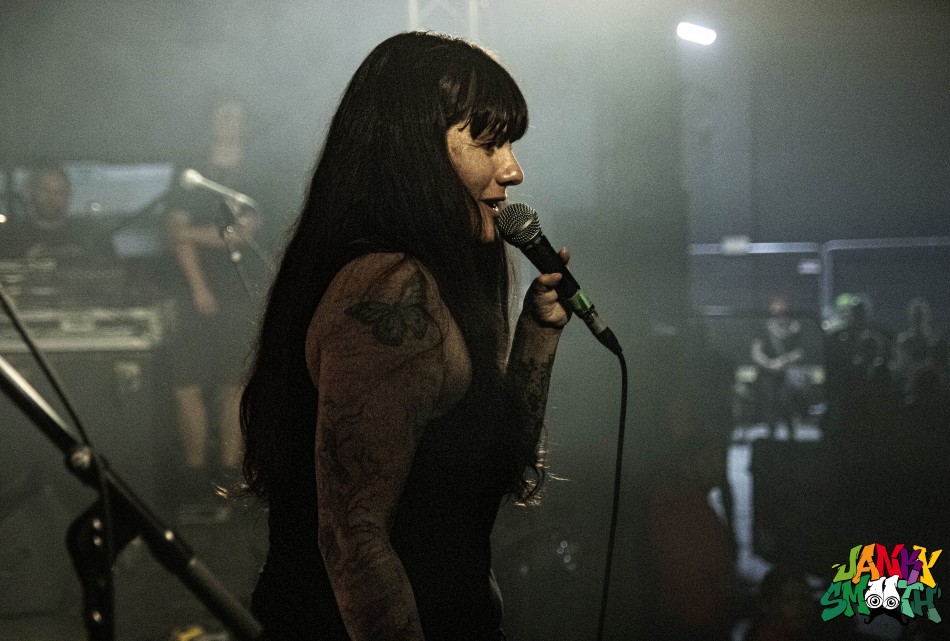 During the CRASS set, I was able to run over to Empress Ballroom and catch a little of Sham 69. They sounded great and frontman Jimmy Pursey looked really good in his own crazy sort of way. He would often just hold the mic to the audience and let them sing the chorus: it was pretty incredible to hear a few thousand punks sing along to "Rip Off" and "Borstal Breakout".
Saturday was a big day and I had a very long list of must-sees, starting with Los Fastidios, an Italian anti-fascist Oi! band fronted by a husband and wife team who always put on a great show. Then it was time for 999 who killed it at the Empress Ballroom. I also wasn't going to miss the Last Resort who really had the Casbah jumping. Then I was able to catch a bit of Rumkicks, a 3 piece all-girl group from South Korea that performed in traditional Korean dress (called hanbok) and with their hair in liberty spikes as they rocked that stage. The crowd adored them.