(You Don't Know) Maniac Squat at Dublin Castle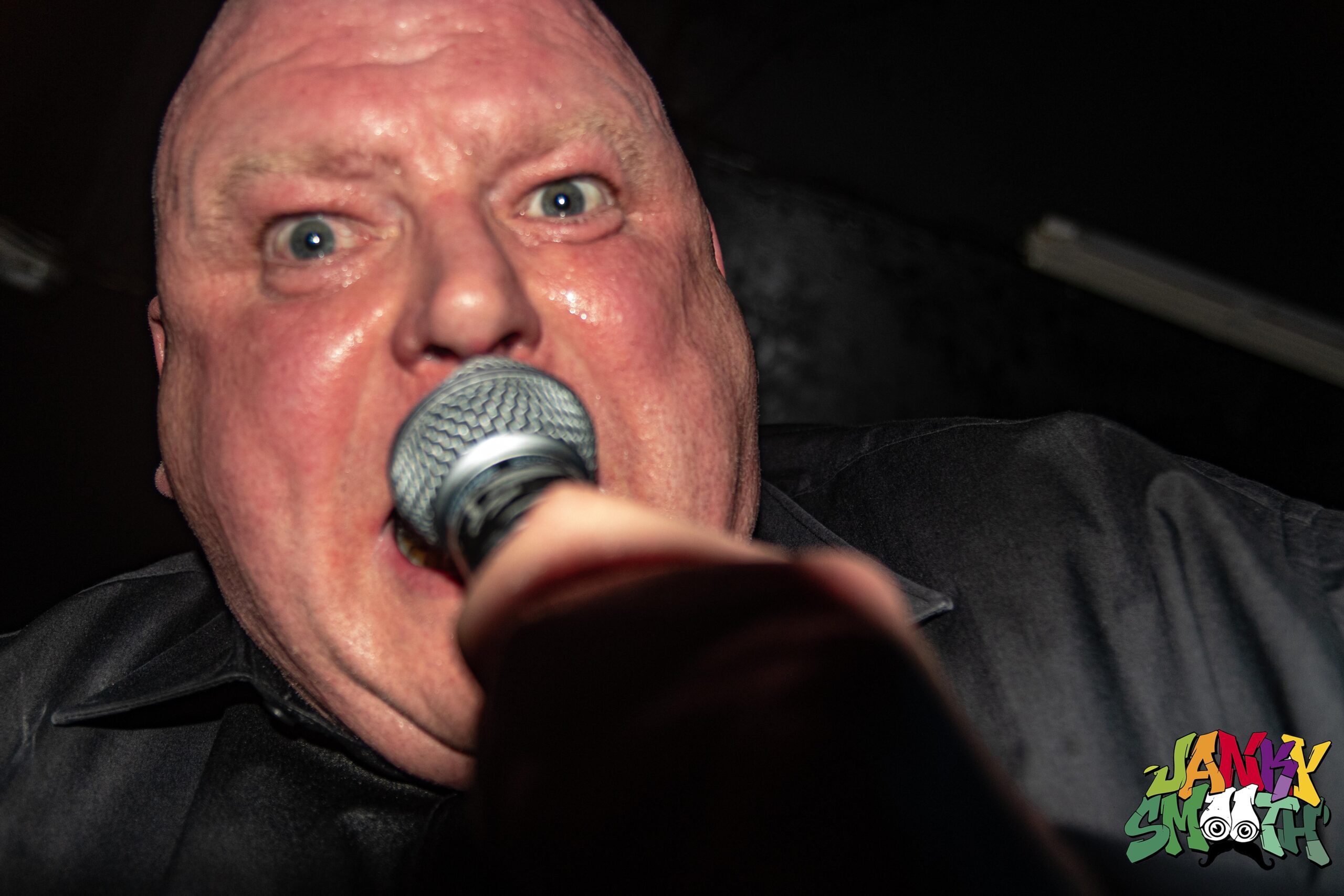 If you have been to a punk show or even a punk pub in England, you've probably heard Maniac Squat's 1995 punk anthem and cult classic "FUCK OFF," which seems to be played on the PA before every show or as the very last song as staff shows you to the exit. You'll often hear people say "Oh bloody hell, FUCK OFF already" as they down that last pint. It's basically the Brits' version of "Closing Time" but way better.
Maniac Squat got their start in Colchester, with their very first gig at the prestigious Colchester Arts Centre. They were immediately banned for life for using an industrial grinder as an instrument and smashing a hole in the stage with a guitar. They have been trying to get back in for 25 years or so to no avail. But that didn't slow them down–they immediately jumped on tour with Babes in Toyland and Zodiac Mindwarp, and as soon as there was a buzz about the band in magazines like Kerrang, in true punk fashion they broke up and all grew into respectable citizens.
Saying that Maniac Squat frontman Tom Wilcox became a very big man in the UK art and music scene is putting it lightly. I'm not talking about the fact that he is the definition of a man-mountain at approximately 6 foot 7 inches of sexy. His accomplishments are many: he's the former managing director of Whitechapel Gallery, founder of Counterculture LLP, a not for profit organization and a music producer/songwriter extraordinaire. My introduction to Tom came first through "Fuck Off", a serendipitous secret Maniac Squat gig around 6 years ago, which happened to be a very exclusive gathering of legends and my obsession to document art I feel is important. I snuck in my camera, and to my delight, Tom had no problem with me shooting and was all around a shockingly gracious and thoughtful guy.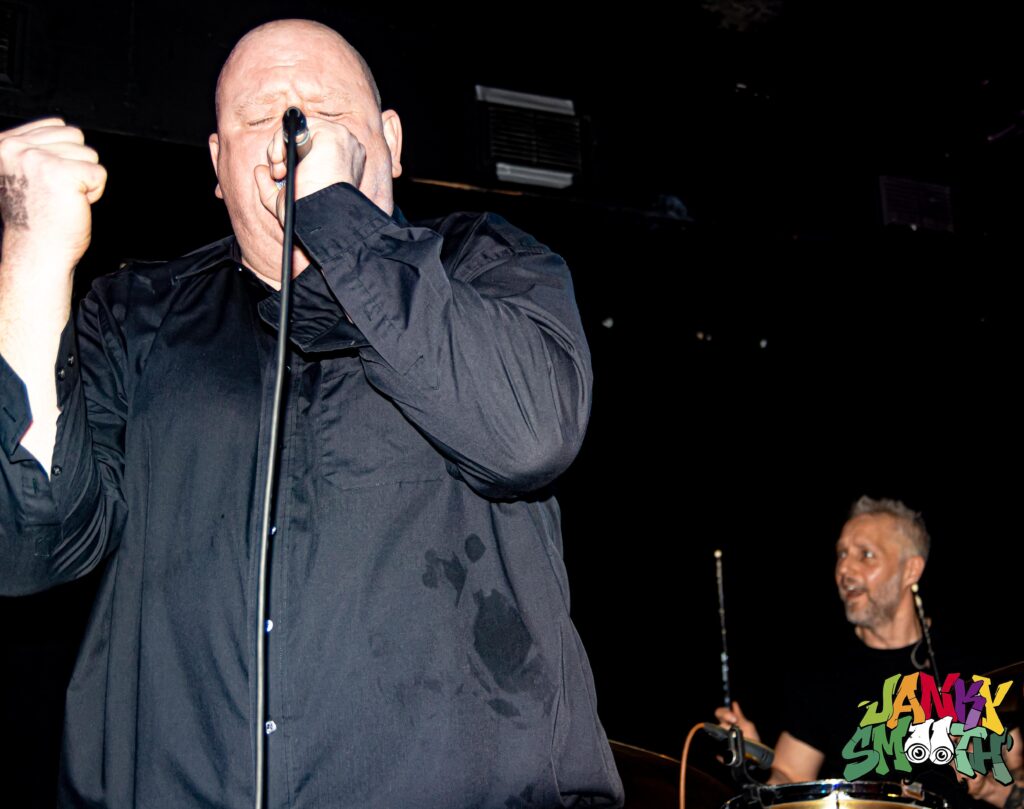 Fast forward to my trip to the UK in December 2022: I was actually there to cover two other historic events–the release of Rebecca Binns' book, Gee Vaucher: Beyond Punk, Feminism, and the Avant-Garde, and the completely sold-out Bob Vylan show at the Electric Ballroom. It was a big night for Bob Vylan, as the Bobs have reached 13 on the UK charts and won the first-ever Best Alternative Music Act MOBO Award. For an album they recorded and released from their apartment. Again by sheer luck, my good friend Jacqui Giffin (Iggy Pop fanatic and punk connoisseur) clued me into the Maniac Squat show at the Dublin Castle. When I asked who was in the band?, she replied "Kevin Armstong on guitar, and Mat Hector on drums for sure that is all I know."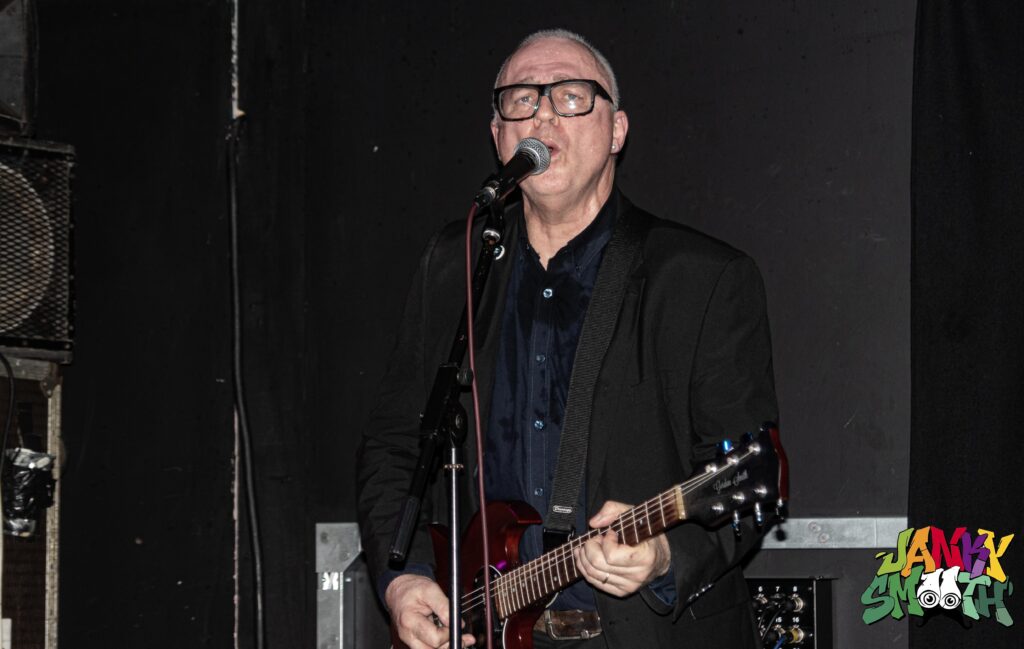 Holy shit– Kevin Armstrong is a GOD. Kevin was the middle of a "that's my guitar player" tug-of-war between David Bowie and Iggy Fucking Pop in the 80's. He played at Live Aid with Bowie and has worked with Eno, Morrissey, Grace Jones, Paul McCartney and was in Alien Sex Fiend, to name a few. Most recently, Armstrong has made the move into cinema with his award-winning work on the brilliant short "Squirrel Mountain 'Iggy to the Rescue'" staring Iggy Pop himself, a must-see which brought me great joy during the lockdown. I was overjoyed for Kevin as he has reached the pinnacle of his career, and was selected to perform with Maniac Squat at the world famous Dublin Castle, and along with the aforementioned Mat Hector (also in Iggy's touring band) that was very much part of my own life changing journey..
Mat is a genuinely down-to-earth sweet guy despite the fact that his rockstar resume is absurdly impressive. Of course playing with Iggy Pop is more than enough, but he's worked with Marc Almond, Razorlight, the Gutterdamerung show, Spent years looking at the back of Thomas Dolby, and more–a real heavy-hitter as they say in the biz.
So it seemed like I better get on this show if I could finagle a way in. I went about it in true punk fashion by lovingly insulting Tom over Facebook: "Hey Tom, it's Dick. I am coming to your show, you lucky bastard, you want to be like Iggy so much you stole his band. If you really want to be like Iggy, put your photo face on and put me on the list."
As I arrived at Dublin Castle, birthplace of Madness and where Amy Winehouse was a waitress and house singer, I was taken aback by its majesty and poshness; it was like being in a real castle. Immediately, there was Tom holding court with one rock legend after another. Audience members that I spied included: Neal X of Sigue Sigue Sputnik and the Marc Almond band, Terry Edwards of PJ Harvey and the Higsons, Liz Westwood of Westworld, James Stevenson- the guitarist of Chelsea, Gen X, Gene Love Jezebels, the Alarm and the Cult (he gets around). I got a pint, mingled, and struck up a conversation with Kevin himself. We talked about the Iggy Pop tour, the surprise popularity of Squirrel Mountain, and the time he was playing with Iggy Pop at Desert Daze many years ago: he was listening to Maniac Squat on a little speaker in his dressing room and in came Henry Rollins asking who that band was. His response: "You don't know Maniac Squat? Fuck Off!" As he finished his story, I realized who was standing next to him: Clare Hirst, saxophonist for Bowie at Live Aid and member of the band Belle Stars–a true genius. I realized she was sitting in with the band as she had her sax and I wondered who else was going to be in the band tonight. I didn't have to wait long to find out, as a moment later out of the lavish band room walked original Maniac Squat bass player Michael Giaquinto. It was as if Glen Matlock or Ron Ashton walked out; I was so star stuck I could not even muster hello.
Then the highlight of the evening, if not the whole trip happened. I ran into Mat Hector and he actually recognized me, calling out "Hey, Dick Slaughter! What are you doing at such a little show?" I replied, "It's Maniac Fucking Squat and you guys are here; I wouldn't miss it." When I told him I was also in the UK for the Bob Vylan show, he was full of praise for the duo, mentioning how much he liked their message and that they are going to be big.. He also went out of his way to give me a compliment (because that's the kind of guy he is)–he told me I was a talented photographer and not to stop., and when I told him he was being too kind, he showed me his phone lock screen- a photo I had taken of him years ago at an Iggy Pop show. I felt beyond honored. We walked together into the VIP performance room to catch the opener Fifteen Lions.
Fifteen Lions is not a punk band in any way, but rather a solo project consisting of Stuart Fiddes who sings songs or love and loss somewhat reminiscent of Tears for Fears or the Pet Shop Boys. You wouldn't think he would be a good fit with the notorious stage-destroying punk spectacle that is Maniac Squat, but you would be wrong–as the VIP Room is full of folks in those bands whose records you would put on when you wanted to make out with your New Wave girlfriend. And they appeared to really enjoy it, and so did I as it was relaxing- like the proverbial calm before the storm.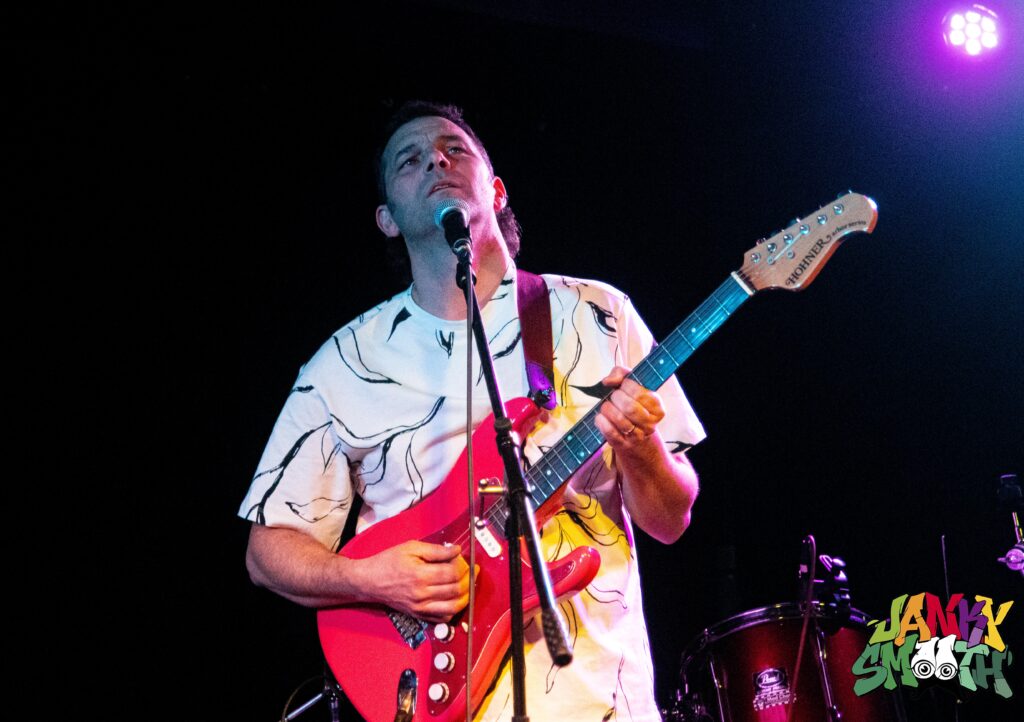 Maniac Squat took to the stage quite unceremoniously and launched into "The Cloud upon The Sanctuary" and then right into "Spit On Me"– that was the first time Tom came off the stage and directly at me. When two geezer punks start to relive the glory of our rough-and-tumble youth, it is never pretty and usually results in soreness the next day. But it was on: we bashed into one another and the force of this 800 pound collision slammed our bald heads together so hard you heard the clunk over the roar of the band. I could see in Tom's eyes that he was as dazed as me, but he was in full rock-and-roll frenzy. He darted around the room, on and off the stage, scaring the crap out of the elite of eighties popular and underground culture, belting out Maniac Squat classics "Mutant Sex", "Alien Attack" and "Just a Fucking Tory". He only paused occasionally to get a little philosophical, musing, "You know when I sing these songs that I wrote as a teenager, it's like singing something written by another person." [pause for dramatic effect] "A person who was a cunt."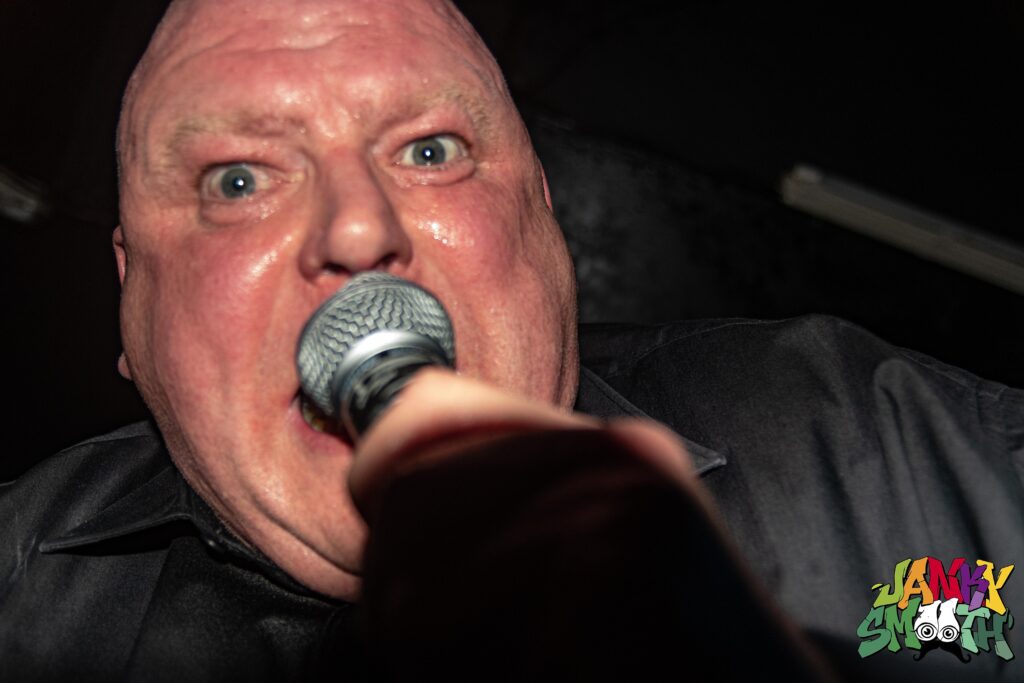 "Somethings never change," I yelled back while rubbing the bump on my head. Tom retorted: "That one hurt Dick." I knew at that moment I had fucked up. Kevin and the band dove into "Roadkill," which is what I was about to become as Tom flew off the stage to give me the full Iggy treatment, ran me over with ease and bounced his crotch on top of my bald head. It was like being hit by two ten-pound bags of potatoes. He proceeded to sing the rest of the song in my face as I lay on the ground in a daze. and then calmly walked back up the stairs leaving me lying in the fetal position on the pristine floor of the Dublin Castle VIP photo pit area. The rest of the set consisted of yet more mayhem and fortified the fans with more classics: "Ich Liebe Dich," "Nuclear War", and the 32nd best version of Iggy's "I Wanna Be Your Dog" I have ever heard. And of course they closed the show with "Fuck Off." and in true punk fashion they didn't play anything from the new album.
I have to say my sojourn to the UK was quite a trip: I got to document two major cultural events, the release of Rebecca Binn's book about the legendary Gee Vaucher and the triumph of Bob Vylan over the gatekeepers of British culture at the Electric Ballroom; I caught up with friends old and new. But the undisputed highlight for me was getting tea bagged by Tom Wilcox. You big bastard.
words and photos by: Dick Slaughter